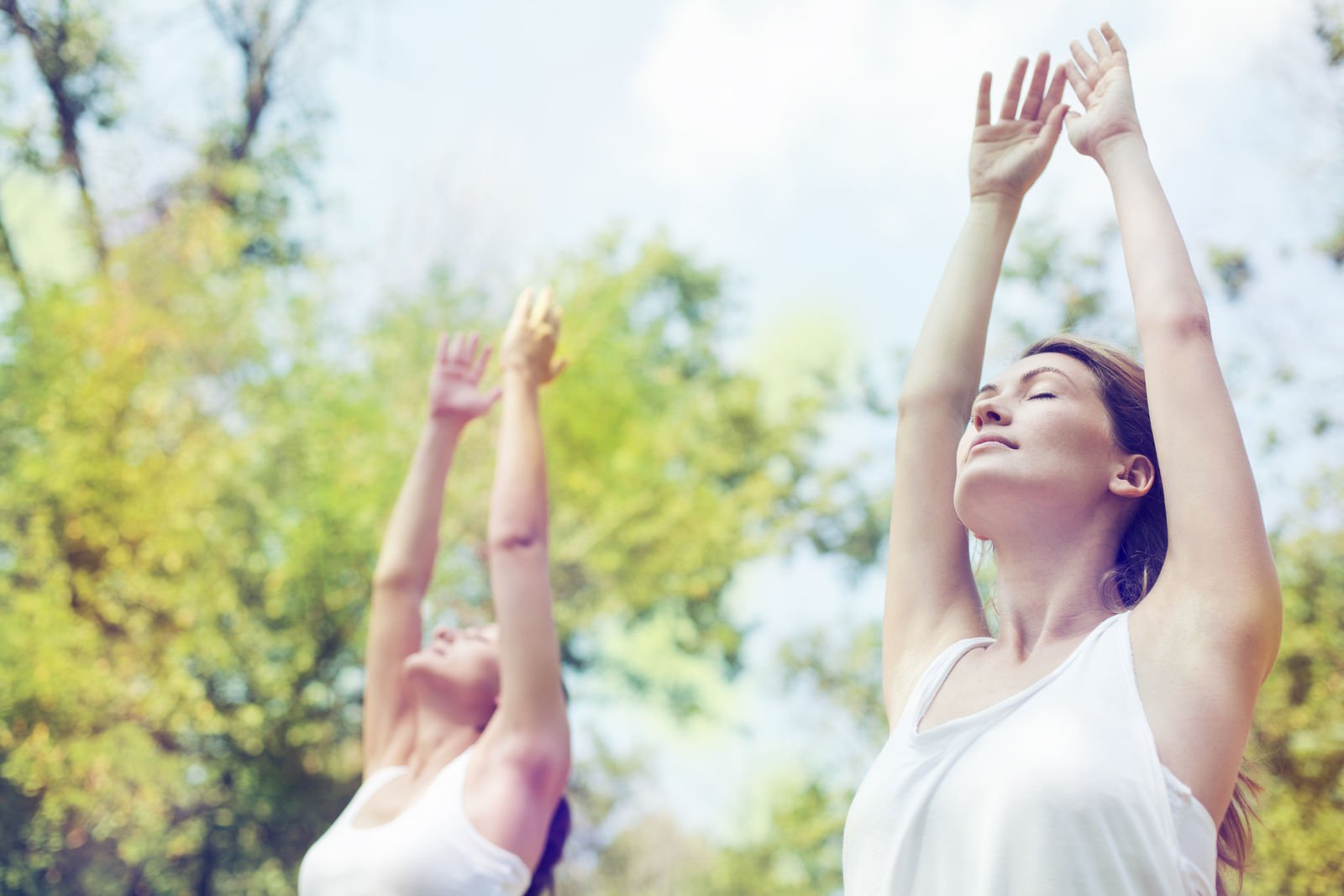 Yoga is known for many things — stretching, creating space in the body, meditation and more. But, what's often overlooked about this ancient practice is the incredible strengthening aspects of the preparatory movements.  Yoga depends on the core to stabilize the body — especially for things like backbends and inversions (handstands + all the cool Instagram poses), so it's something we need to continuously work on in our practice!
My name is Jenay (aka Namaste Jenay), and I am here to walk you through some of my favorite core moves for a toned tummy. Each dynamic movement is working multiple areas including the low belly (transverse abs) and upper abs (rectus abdominis), side body (serratus anterior and obliques, aka muffin top or love handles), and the arms.
Through every exercise, think about really engaging your core bringing your belly button towards your spine or by tightening the muscles, and moving slowly with control.  When you begin to shake, you know your abs have officially fired up! Lean into that, utilizing the breath as a tool of control. Focusing on your breath in each posture will allow you to find a sense of calm, enabling you to push past your normal edge.
Here we go!
Pose #1 – Low Boat to High Knee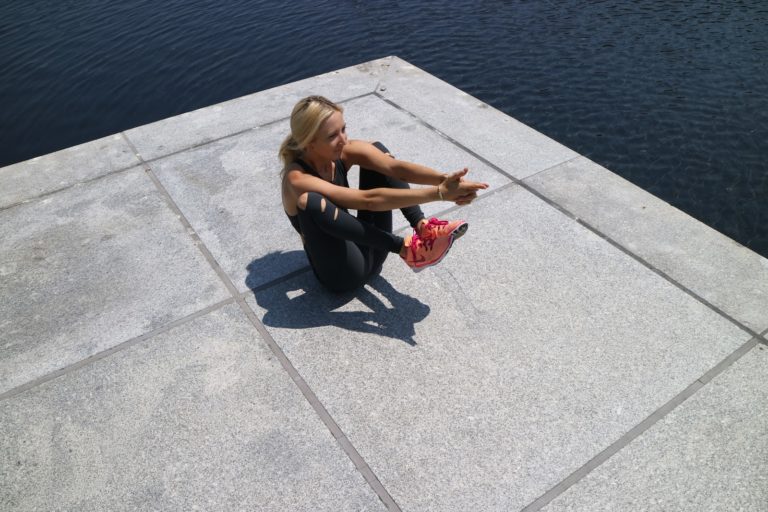 Inhale into a low boat position, fingers clasped.
On the next exhale, bring your knees in as close to your shoulder as possible keeping your toes together. To make the pose more manageable, try bringing your knees in to touch your bellows.
Inhale into a low boat position.
Repeat for 30 seconds to 1 minute as fast or as slow as you'd like, keeping the form.
Holy core. You will feel this one almost immediately! If it becomes too much, bring the knees in towards the chest instead of to the outer arms. Bringing the knees to the outer arms will get you ready for all kinds of inversions, strengthening every aspect of your core. Keep the belly engaged the entire time here to really build out the abs by shredding body fight and developing your deep core muscles.
Pose #2 – Swan Dive Sit Ups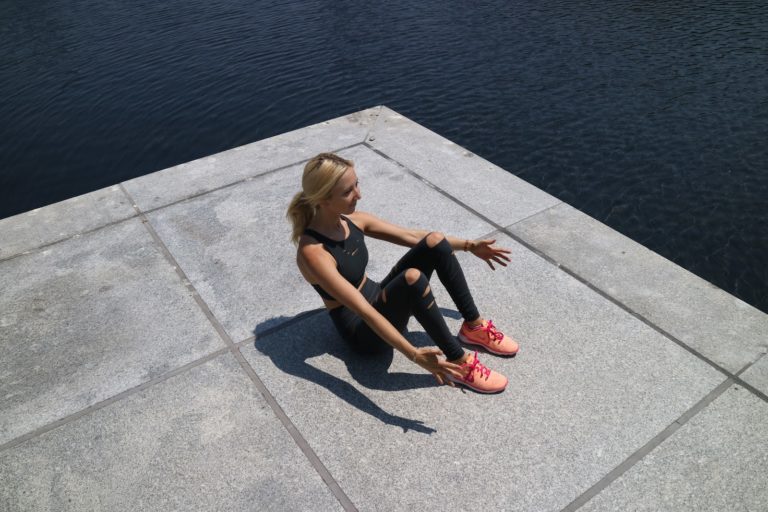 Start in a sit up position to feet on the floor, knees in the air, lying on the ground. Pro tip: tuck your feet under a 20lb weight or your couch
Inhale your arms up over your head
Exhale bring the arms around the body to touch the sides of your feet or ankles
Inhale to slowly lie down, bringing the hands out in the same circular motion
Repeat for 30 seconds to 1 minute as fast or as slow as you'd like, keeping the form.
These are a great workout for the lower belly, side waist/side body and arms. Use dynamic movements to create flexibility and strength simultaneously.
Pose #3 – Plank Crunches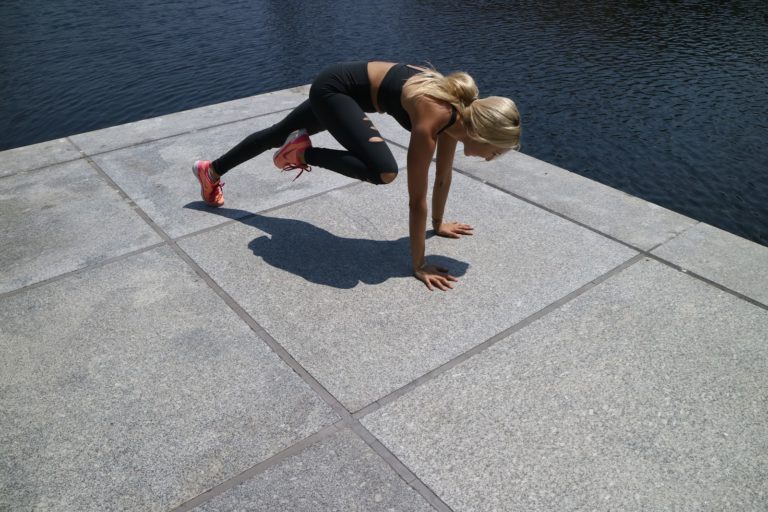 Start in a plank position, your body should be in a straight line, abs engaged, feeling as if you could pull your toes to your wrists yet nothing moves.
You can stay in a plank position, or on an inhale bring the right knee to meet the right shoulder/elbow, repeat this on the left side. To make it even more dynamic, move into crossovers bringing the right knee towards the left elbow and the left elbow towards the right knee.
Repeat for 30 seconds to 1 minute as fast or as slow as you'd like, keeping the form.
Plank is one of the most classic positions for working your core. If you have any wrist pain, come down into a forearm plank. To engage the belly, thinking about bringing the belly button towards the spine the entire time. This is not sucking in, but a tightening motion for the lower abdomen. You are building heat quickly here and can make crunch the elbow towards knee as fast or as slow and controlled as you want. Just be sure to move mindfully, matching movement with breath.
Pose #4 – Side Plank Crunch

Start in a plank position, then roll to the outer right foot and hand. Left side stacks on top of right side bringing you into a side plank.
On an inhale, hover the right foot above the left and reach the right arm out over you. Extend through the foot and fingertips as if you could grow an inch.  If this is enough, feel free to stay here.
On an exhale bring the knee towards the elbow. Re-extend and repeat! This will test your balance and work the side body, "love-handles," and, of course, that core.
Repeat for 30 seconds to 1 minute as fast or as slow as you'd like, keeping the form.
Do the entire exercise set 3 times for 30 seconds to 1 minute each rep for an incredibly strong side body and toned tummy!
---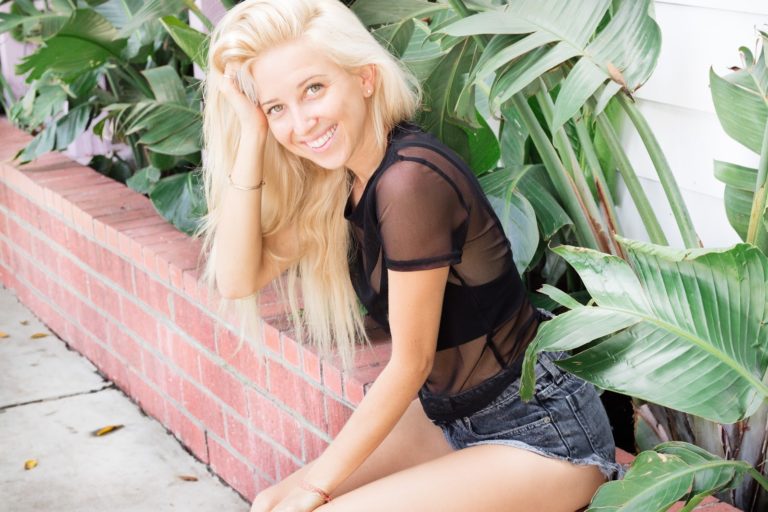 Jenay Rose, aka @namastejenay, is a Certified Yoga Teacher and Wellness Influencer based in Los Angeles. With a Bachelor's Degree from USC, she left her successful corporate job to pursue her passion for health and fitness. She uses her social media platform to make meditation and mindfulness more approachable to all. Her first eBook Manifest Your Best Self is set to release within a few short months. To keep up with Jenay, or request a private/corporate yoga session: Instagram: @namastejenay, Website: NamasteJenay.com, and Email: namastejenay@gmail.com