Get the Basics...
Whey protein is a derivative of cow's milk, so it can go bad eventually.
Pay attention to the expiration date on your container of whey protein, which should be clearly labeled.
There are many benefits to consuming whey protein powder, including weight control, bone health, and increased energy.
Everything has a shelf life, including
whey protein
powder. Whey protein powder always has a date of expiration clearly marked on the container.
As a good rule of thumb, never use any nutritional product which is past its expiration date. Whey protein powder will spoil eventually because it contains small traces of dairy.
Just as with most foods and spices, the taste and potency of whey protein powder are not as good the longer it stays on the shelf or in the refrigerator.
Ever tried to use fresh ginger instead of your old container of ginger that has been sitting on the shelf for years?
If you had someone blindfolded and presented them with a cookie made with the fresh ginger and another made with the years-old ginger, chances are they'd be able to tell the difference.
What is whey protein and how is it made?

Whey protein is a derivative of cow's milk. Cow's milk is made up of two proteins which are about 80 percent casein protein, with whey protein making up the final 20 percent.
Whey protein is usually considered the better of the two proteins and more nutritious in comparison. This could be because whey protein is increasingly more soluble than its counterpart casein.
Believe it or not, whey protein is actually a side product that is produced during the formation of cheese. The following are some of the steps taken to produce whey protein:
First, fresh milk is tested, approved, and pasteurized
The curd, which is also known as casein protein, and other milk fats are separated out of the mixture of cheese (in some parts of the country, the cheese curd is sold as a snack food)
Whatever mixture remains is considered liquid whey
The liquid whey goes through a series of filters to make sure the whey is separated properly from lactose and other ingredients
To further concentrate the liquid whey, it is put into an ion exchange tower and purified (a mild process that does not break down the protein)
Because the whey is still in a liquid phase after purification, the next step is to let the whey protein dry so water is removed from the mixture
The final step of the development of whey protein is to isolate the powder into containers of several sizes and package it for shipping
What are the benefits of using whey protein powder before it spoils?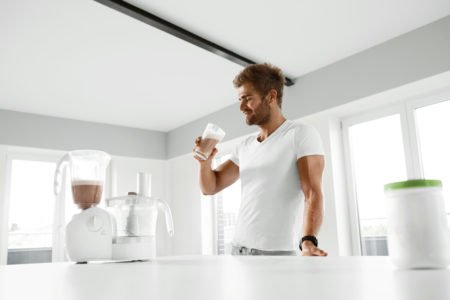 Your body needs protein in order to run properly. According to studies by the US Department of Agriculture, there is evidence to suggest that the consumption of whey protein may help to reduce blood pressure.
Protein can help repair body cells, control processes involving metabolism, provide energy, and also build and repair bones and muscles in the body.
Not only is whey protein packed with amino acids, but it's a complete protein providing you the nutritional "Cadillac" of all proteins. Whey protein is packed full of amino acids because it's the best source of naturally occurring branched-chain amino acids, leucine, isoleucine, and valine.
Those who are active will benefit greatly from this chain of amino acids. Following a period of strenuous exercise, the skeletal muscles take these amino acids up directly rather than waiting for the liver to metabolize them.
For those who are less active and need to decrease their weight, the addition of whey protein to one's diet is a great way to start weight loss. Whey protein isolate contains no fat or carbohydrates.
Whey protein isolate is the favorite choice for weight loss. It is available in several meal replacement products and other brands of weight loss products.
Not only does whey protein reduce blood pressure, but studies have also shown that people who use whey protein in combination with regular workouts build additional lean muscle tissue.
With an increase in lean muscle tissue, the body tends to lose increasing amounts of fat and burn more calories per day naturally.
Protein, in general, is more slowly metabolized in one's body, but whey protein has been shown to promote a sensation of fullness greater than that which follows intake of milk, which is made up mostly of casein protein.
For five simple ways whey protein can benefit you, watch this brief video:
What sets whey protein apart from other proteins?
As stated above, whey protein is a very high-quality protein. One factor that sets whey protein apart is the rich amounts of amino acids it contains.
Some of the other things that separate whey protein from other proteins are digestion and absorption rates, purity, fat content, and taste. Whey protein is also absorbed by the body much more quickly and efficiently than other proteins, especially when combined with an exercise regimen.
There's no time like now to get started on an exercise program to pair with your healthy diet and protein supplements. Check out our Pro Annual Plan today to see how we can help you stay active and motivated all year long!