Searching for an alternative to Trainerize?
We're glad you're here!
There's a more powerful platform that can propel your training business.
And it's right at your fingertips.
Do More with Less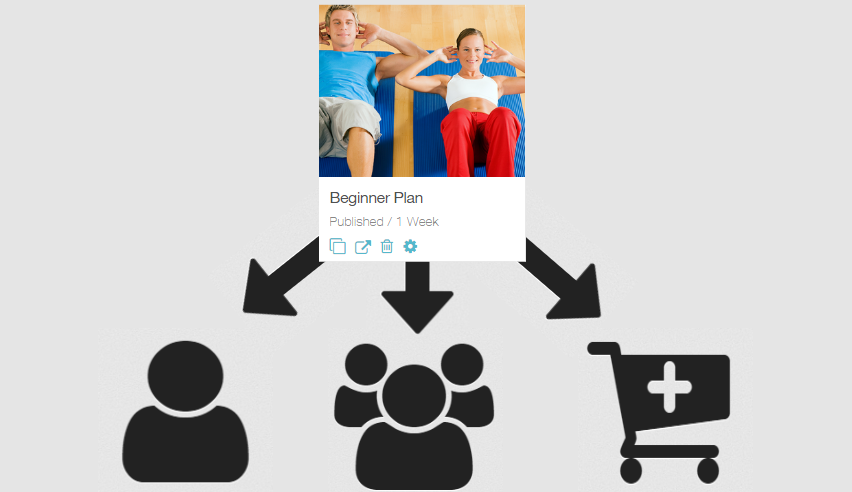 At Exercise.com, you can leverage one fitness plan multiple ways: for individual clients, groups, automated memberships, and one-time sales.
With our software, the world is your oyster! And that's no cliché.
That's the life you want.
Simply, Work Harder and Smarter
With our flexible programming, your exercises can take on many forms. They won't be as cool as shape-shifters, but pretty close.
You can add and remove as many workout parameters as you want: sets, reps, weight, time, and more. Easily organize progressions to keep your clients moving forward. Add alternative workouts for those with injuries.
All it takes is a few clicks on our user-friendly interface to help your clients reach their potential!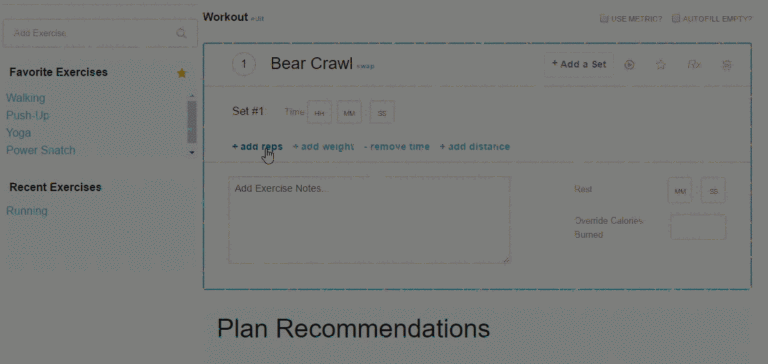 Ready to do more with your training?
Engage Clients
It always helps to see the numbers. So give your fitness users all the data they need to track their progress and stay focused.
After logging workouts, they can view their totals, find in-depth data for specific exercises, and view all workout records.
You'll keep clients coming back for more!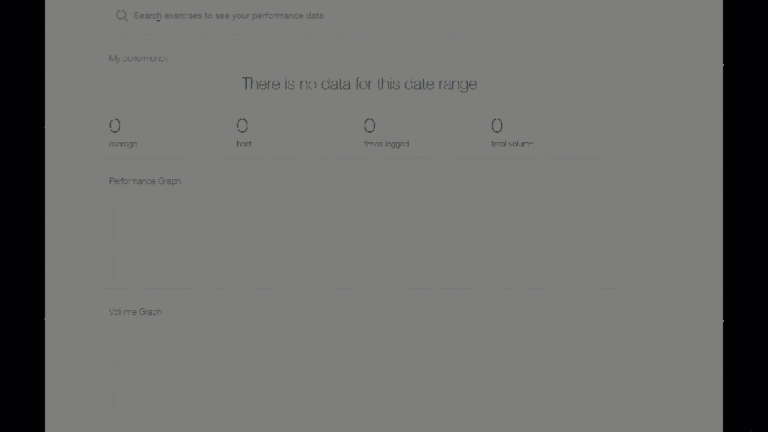 Set It, Forget It

Create training plans and videos, then watch them work for you.
Just schedule them to release at certain times, and while you're off pumping iron, doing yoga, or growing your business, you'll keep users on a steady, exciting path toward crushing their goals!
All while growing your business worldwide.
Generate Leads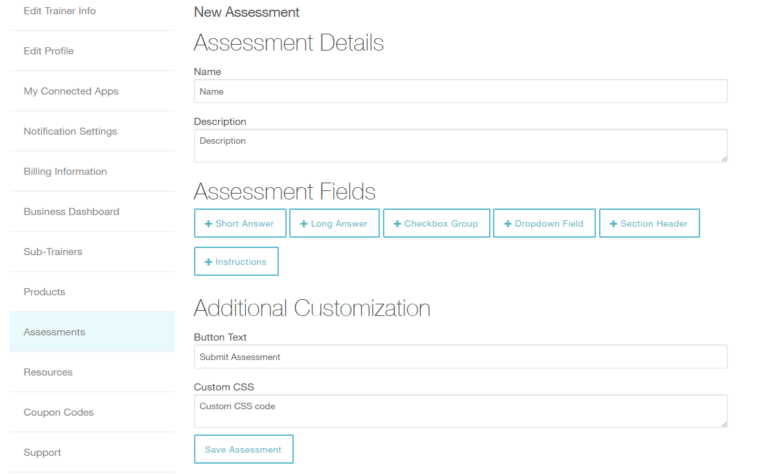 Expanding your clientele can be both efficient and fun!
You can approach new users through custom assessments that invite them to join your training program, help you understand their fitness history, and gauge their interest.
Create as many different types of questions and assessments as you want, and pass them along to current clients, too!
Train more, earn more!
Boost and Automate Sales
Set your own subscription prices for individual clients and groups. (You can even offer coupon codes for any lucky people you choose!) Automate your memberships, so that clients can sign up without your help.
If you want more reach, link your own personal website to your Exercise.com workout plans. We also help you build affiliate networks so that other people/businesses can promote your training.
We always lead people back to your expertise!
See Your Revenue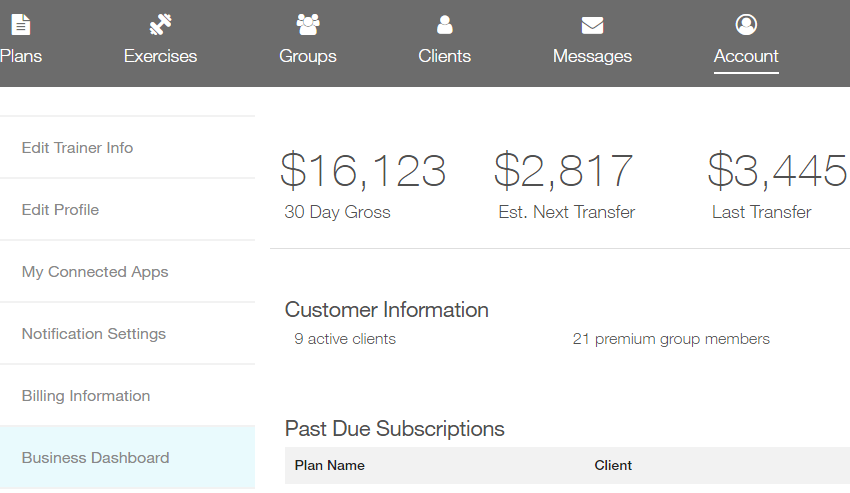 Clients aren't the only ones who need numbers to keep going! You do, too.
That's where your Trainer Dashboard comes in. You'll be able to view all your dollar data: 30-Day Gross, Estimated Next Transfer, and Last Transfer amounts. You'll also see how many active subscribers you have.
With this info, you can make informed decisions that are right for you and your training business.
Customize Training Groups
Along with other group-specific benefits you can offer, there's a discussion board feature that allows members to encourage each other and offer tips.
You can also leverage our group technology as automated training memberships. Simply schedule the training and have members join, all while you focus on other areas of your business. Run a training group on a time-release schedule, or make all of its videos and plans available at once.
The choice is yours!
Ready to increase revenue?
Use Our Custom-Branded Apps
Did someone say "custom-branded apps"?
Yep, we have those, too! They're tailored to your training brand, so that users know what sets your business apart.
Train Other Trainers
Give other trainers the opportunity to create their own businesses under your guidance.
You'll give them room to grow and learn the trick of the training trade!
You'll Get Support (and Success!)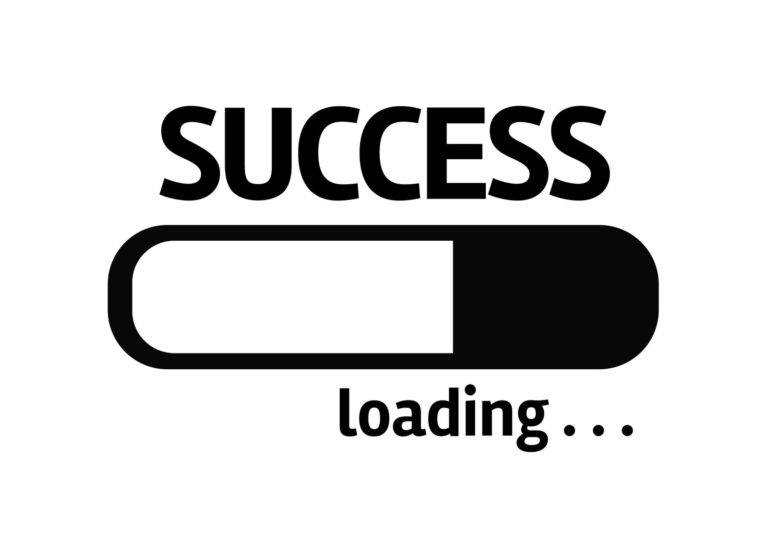 We'll never leave you hangin'!
Let our Support Team conquer your clients' requests and our Success Team train you to be an e-Training wizard! (Who doesn't want to be a wizard?)
Online Marketing Made Easy
If we haven't made ourselves clear yet, Exercise.com is about helping you build your training business the easy, fun, flexible, and efficient way!
We help you get clients, which helps you get sales.
And you help your clients get expert results . . . all while enjoying what you do.
So when it comes to the world's #1 training marketplace, we know what's up!
Let us show you how we can transform your business!