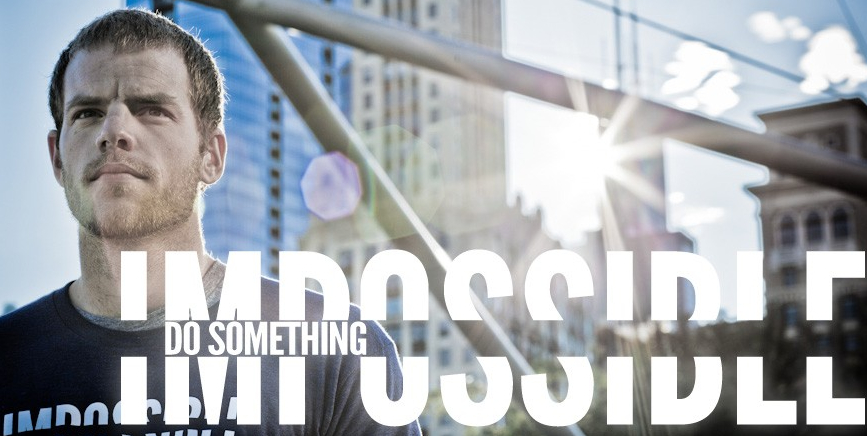 Is there something in life that you have always wanted to do but it just seemed impossible? This week's Exercise.com interview is from Joel Runyon, the man behind Impossible HQ!
A few years ago, Joel got tired of living the average life, just waiting for things to happen. He decided to make a list of all the things in life that he felt were impossible for him to do.
After looking at this list, he decided he would give them a shot and work towards accomplishing them. To his surprise, you didn't need to be "superhuman" to complete these things, you just needed the drive and desire to accomplish them.
How do you describe the phenomenon that is Impossible HQ?
Impossible HQ grew out of my original blog – the Blog of Impossible Things. I started it after getting laid off from UPS and living in my parents' basement.
I wanted to do all these things, but they all seemed impossible. But, I decided it was better to at least try them than live my whole life not knowing because I pre-disqualified myself from doing them. So, I made a list and set out to do them.
As I started to do more and more things, the blog's readership eventually grew and developed into a community, a manifesto, a brand, and various physical challenges to help people get unstuck, push their limits, and do something impossible.
What's been your favorite experience to check off the "Impossible" list?
My most recent six pack challenge was probably the single toughest thing I've had to do.
It sounds a little weird to put something that's seemingly so vanity-driven at the top, but the amount of focus, dedication, and willpower it took for a solid 8 weeks took a lot of effort and energy.
But, the end result and the photo shoot that followed were a lot of fun, looked really cool, and paid off in the end. As a result, we created Impossible Abs, a guide to teach people how to get a six pack as well.
What do you think prevents most people from going for their dreams?
A lot of people don't think they could do it. They put athletes, celebrities or people they look up to in a whole different category of personhood.
When you realize those people are actually quite normal, you start to believe that they're not simply born successful.
They had to work and fail and work and fail and work some more to get where they're at. When you realize that, you open up a whole new world of what's possible.
What advice would you give someone who wants to take the first step into improving their life by getting fit?
Pick a challenge, any challenge, but pick a challenge, make it very specific, and go after it. While it sounds nice, being "physically fit" is generally a terrible goal in the sense that it has no specific metric to know whether or not you've achieved it.
Pick a challenge, any challenge (even if it seems small). Be very specific with the metric and time limit and then go out and do it. Then repeat.
You'll start to see once you get in the habit of challenging yourself, you start to look forward to doing things you've never done before.
What's your biggest fear?
Being lulled back into a safe, boring existence.
The future looks bright for Impossible HQ! What excites you the most?
I'm excited about the fitness and challenging aspect of the community. A lot of times online, it's very easy for people to read on and on and on about stuff but not ever get out of their comfort zone and do anything.
I love the aspect of a challenge and that we have a bunch of doers within the community that come together to challenge themselves and make things happen.
Whether it's 28 days of cold showers, getting six pack abs or raising $25,000 to build an #Impossible school in Guatemala, having a group of people willing to step up to a challenge and do something about it is incredible.
Exercise.com would like to thank Joel Runyon for taking part in this interview and sharing it with our Community! It's great to see your journey and how you have used it to inspire so many people in different ways! Keep doing what you're doing!
Make sure you check out Joel's website, ImpossibleHQ.com and you can also keep up to date with him on Twitter: @JoelRunyon.