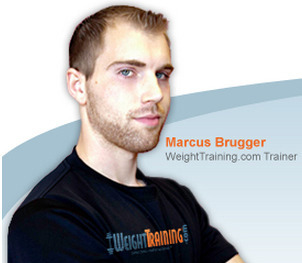 We're always on the lookout for fitness experts willing to share their fitness knowledge and experience, and today we're excited to feature personal trainer Marcus Brugger, who focuses primarily on helping people lose those extra pounds!
He has been a weight loss and fitness coach for 8 years now and has trained people of all different shapes and sizes. He's also one of Exercise.com's personal trainers!
His certifications include:
ACE Certified Personal Trainer
Lifestyle & Weight Management Consultant
CPR/AED Certified
ACC National Certified Basketball Coach
Marcus' approach is a little different than other trainers; he believes in functional training with high motivation. Keep reading to find out more about Marcus and what he has to share about fitness and food!
Tell us a little about yourself and what you do as a personal trainer.
I have been in the fitness industry for the last eight years. I specialize in weight loss and mostly higher-weight clientele. I've been lucky to work with so many different people with different personalities.
My passion is showing people they can accomplish anything. A number of my clients have had great success in losing weight and creating a long lasting healthy lifestyle.
Last year alone I was very fortunate to have 15 clients lose 50 pounds or more and even one amazing lady that lost 102 pounds at age 58! For me, that is what makes me absolutely love what I do!
What's the story behind your website, dcsweightlossexpert.com?

My goal is to inform people about the best ways to lose weight and be healthy long term. The fitness industry and news media put out so much misleading information that has left many people confused.
This, in turn, has contributed to higher obesity numbers in the United States.
I have had the opportunity to work with a wide spectrum of weight loss clients so many hours to truly know the healthiest ways to long term weight loss success!
What are your favorite 5 exercises and why?
Plate push – It not only works every muscle in your body, but it shocks your cardiovascular system.
Pushup variations – There is nothing like doing push-up variations! They keep your chest firing the whole time and also work on your stabilizing muscles in your legs, core, and shoulders. One variation is the Depth Push-Up or also known as the Plyo Push-Up.
V-hold crunch – It is a burner because it's an isometric hold. It works your complete core and uses your body weight, so you can do it anywhere.
This exercise is similar to the Jackknife Sit-Up demonstrated in the video below.  At the top of the motion hold and contract your abs and then continue with the movement.
Sprints – They are simply great. They burn huge amounts of calories and build muscle at the same time.
Compound exercises – Any exercise that requires your body to incorporate multiple muscle groups will create change faster. It makes your workout more efficient and builds your body up to be balanced and strong to prevent injury.
What is the ideal client for you?
I feel like I can help anyone who needs help losing weight, so ideal clients do not exist for me. I love challenges and meeting people who have tried everything under the sun (Diets, Exercise Programs, or even other Trainers!).
I love showing them how to accomplish their goals when they never thought it would be possible.
How important is diet in becoming fit?
Something everyone needs to realize is that how you eat is the #1 thing you should worry about when starting a fitness program. The food you put in your body controls everything about you.
How you feel, how you look, how healthy you are, how your workouts are absolutely EVERYTHING!
An easy way to start eating better is to just start off changing one thing at a time. Think simple. This will help you not get overwhelmed. Example: Start by eating only 3/4 of what you normally eat.
It's simple but easy to do, and you will lose weight doing it.
What's your secret to staying motivated?
I think variety in exercise and in your food choices helps keep people motivated. Also, for me and my clients, it's RESULTS! Positive results motivate them the best. We as people are wired to need to see things changing for the better.
The biggest thing I convey to people is consistency! The more consistent you are with how you eat, sleep and work out, the more results you get, which ultimately equals more motivation!
What's the best exercise advice you have received?

Start simple! Change one thing at a time and be patient.
It's not what you do. It's how you do it!
The easiest way may not be the best way!
Thanks for sharing with us some of your tips to having a healthier lifestyle! For more information on fitness, dieting and nutrition, check out Marcus' website.
To help build that consistency that Marcus talked about, log your workouts at Exercise.com and let our growing fitness community help you stay motivated! You can even join groups of people with similar goals as you!
Also, remember to keep checking out Exercise.com's blog for more professional fitness interviews, user success stories and other posts to help you achieve your results!