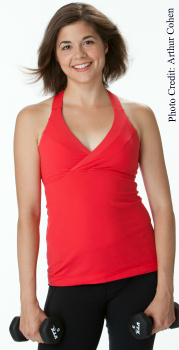 Have you ever wanted to lose weight but wanted to talk with an expert to make sure you're on the right track? Well, we have just the person for you! We were honored to have Nicole Nichols stop by and do an interview with Exercise.com.
Nicole is known all over the fitness world for helping people become more fit. She is also the fitness expert at SparkPeople.com — America's #1 ranked weight-loss and healthy living website.
Here are just a few of her outstanding recognitions:
"America's Top Personal Trainer to Watch" – American Council on Exercise and Life Fitness
Named one of the "Women of the Year" – Cincinnati Recognition
Youngest Graduate to Receive the "Distinguished Alumni" honor from the University of Cincinnati.
Nicole has been mentioned in some of the top fitness and news websites the Internet has to offer. Some of the websites include Fitness Magazine, Oxygen, SELF, Woman's Day, and CBS Money.
What "sparked" your interest in fitness and exercise?
I've always been active ever since I was a kid. I played a lot of sports throughout middle and high school and started lifting weights when I was just 14. By the time I got to college, I had to find a way to stay fit, so I had to learn how to do it on my own.
I frequented the Cincinnati campus rec center, took lots of group classes, continued lifting weights and doing cardio. It was a fun hobby for me, but I was actually an architecture major!
After a few years, I changed my mind and realized I wanted health and fitness to be my career, not my hobby. I switched majors, become a personal trainer and fitness instructor, and have never looked back. It was a natural fit for me.
What are your thoughts on people tracking their workouts?

I'm a big proponent of tracking any goal, including exercise. For certain personality types (myself included) tracking progress and results over time is extremely motivating. I'm a fan of fitness apps, fitness devices like the FitBit are great for motivating people.
I track my own workouts every single day on a calendar. When I miss a workout, seeing all my progress reminds me that one day off or one mess up isn't enough to make me throw in the towel.
What are the 3 benefits of connecting with people who have the same fitness goals as yourself?
Support

 

–

I can't say enough about having good support. We can't all be totally motivated and rely on willpower all the time. Sometimes when you have others looking out for you, their encouragement is all you need to stick with it.
Information 

–

Even personal trainers consult with and share ideas with other trainers. Everyone needs ideas and feedback from people who have them — and that includes not just the pros, but casual exercisers as well.
Fun! 

–

Most people are social creatures, and fitness fun can help you stay accountable and excited. When you have a community connection — whether it's people at the gym or a group of online friends — you're more likely to get results.
Be sure to join the Official Exercise.com SparkPeople group and begin your fitness journey with similar users!
You have a new DVD. Tell us a little about it.

SparkPeople: 28 Day Boot Camp features never-before-seen workout combinations and exercises for my followers. The whole concept means better results in less time. I know everyone says that, but this is the real deal.
The workouts are designed to combine strength-training moves in a way that engages more muscle fibers and burns more calories, so you get the full-body strengthening and cardiovascular benefit from every workout.
It also has this really cool 28-day plan, which is an interactive DVD menu that slowly progresses you from the shorter, easier workouts to longer, more challenging ones.
On top of that, we feature 3 trainers (including myself) that demonstrate 3 different intensity levels for every single move, making it completely customizable to any fitness level.
It's available at Target stores (as well as online), where it has been out-selling DVDs by Bob Harper, Jackie Warner, and even Denise Austin! It has received really excellent reviews and a great response from people who have used it so far. I am so proud of it!
Train Anyone, Anywhere in the World.
What tips can you give to someone trying to lose weight?
Probably the most important thing is not to follow any crazy fat diet or outrageous exercise plan. In truth, almost any plan can give you results if you're willing to stick to the plan for as long as it takes — and then even longer to maintain it.
That said, most fad diets or get-fit-quick workout routines aren't the kinds of things people can really stick with for the long haul.
For that reason, I recommend slow and sustainable changes you know you can live with like eating more fruits and vegetables, giving up soda for water, picking exercises that you enjoy and fitting them into your busy schedule (not the other way around).
Side Note: If you are looking to lose weight, you should start with Exercise.com's 10 lb Weight Loss Challenge! Challenge your friends and Exercise.com users while losing weight!

In the past, I crash dieted and over-exercised (before I knew better), but it simply wasn't sustainable for me to keep up with and I couldn't maintain the results. Not to mention, it made me crazy!
These days, I make healthy choices and reasonable exercise schedules that I can stick with.
For people setting out to lose weight, it's important to be realistic. Don't eat too little and don't expect the kind of results you only see on "reality" TV. Slow and steady is the way to go.
Find out how many calories you really need by using a tool like SparkPeople.com or another calorie tracker, and be sure to incorporate both exercise and dietary changes for better results.
Track your goals, get support from others to stay accountable, and just do your best. The most important thing is being consistent.
What is your favorite exercise/workout?
I don't know if I have just one! I love running, Pilates reformer and kettlebell training. Probably the coolest workout I've ever tried was ViPR, and I love full-body functional training moves like you can do with the TRX.
Honestly, I like a little of everything and I try to do a huge variety of workouts to keep myself from getting bored. I don't mind low-intensity stuff either. I work at a variety of intensity levels and a variety of resistance levels throughout the week.
Final Thoughts
We would like to thank Nicole for taking the time to answer these questions for our Exercise.com readers. If you would like to learn more about Nicole, check out her blog. Be sure to FOLLOW @Exercise and @SparkPeople for all of your fitness tips!
We truly love when outside fitness professionals take the time out of their busy schedule to share some insider tips. Now go and take these tips to become more fit! Check out Exercise.com's FREE workouts plans and start one today!