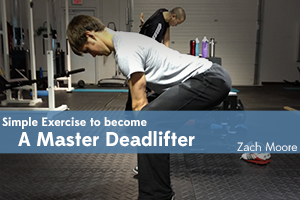 At the end of last year Exercise.com held a "Deadlift Battle" with Tony Gentilcore. The idea was to see who could lift the most total weight during the week. I thought this was a great idea, and it appeared that a lot of people had fun with it. Congrats to CoachA on the win!
Some individuals, however, are not quite ready to perform a straight bar deadlift. This movement requires good mobility and an understanding of how to load certain muscles and create tension.
For example, it is very easy to perform the deadlift by using mostly your low back musculature, but this is not ideal. This can lead to low back pain, and it fails to place an emphasis on the glutes and hamstrings, which are the muscles we really want to target and to help us perform the lift.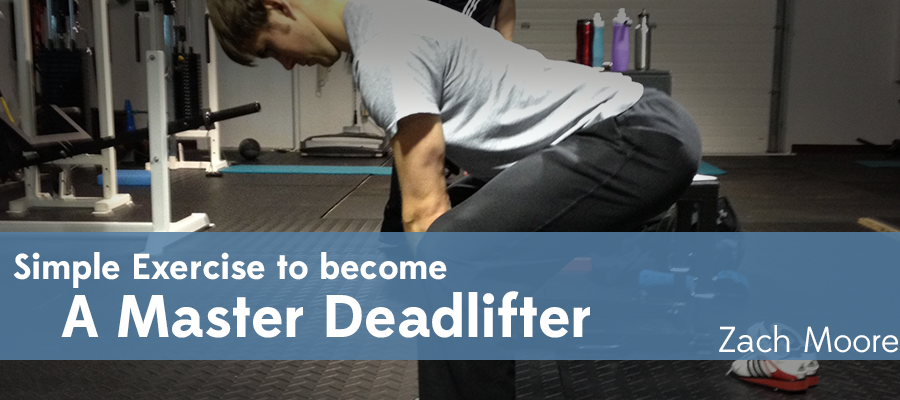 I recently had an athlete come to see me who could not perform a straight bar deadlift. He could hurdle jump 60 inches and broad jump over 10 feet, but if you asked him to load his hamstrings, he shook like a child. His back and thighs were very strong, and he relied on them for everything.
So, to teach him the movement, I took him to one of my favorite exercises for beginners and people similar to my athlete who cannot get away from overusing their back – the Kettlebell (KB)/Dumbbell (DB) Deadlift.
If you are new to the deadlift or still struggle with feeling your hamstrings and glutes with the deadlift, then I highly recommend this movement.
Below, I am going to provide some tips on how to perform this exercise. Even if you feel confident with the straight bar deadlift, you may find some beneficial cues to help increase your poundage.
How To Perform
A good starting position begins with toes pointed out slightly, hips back and butt out, knees slightly bent, a tripod foot, and a neutral spine.
I also like to line up the KB/DB with the heels so that you are forced to sit back and load your hamstrings to get to the weight (if you lack the mobility to pull from the floor you can elevate the weight on a box, which is shown in the video below)
Hips "Too Low/Knees Too Forward" (no tension on hamstrings)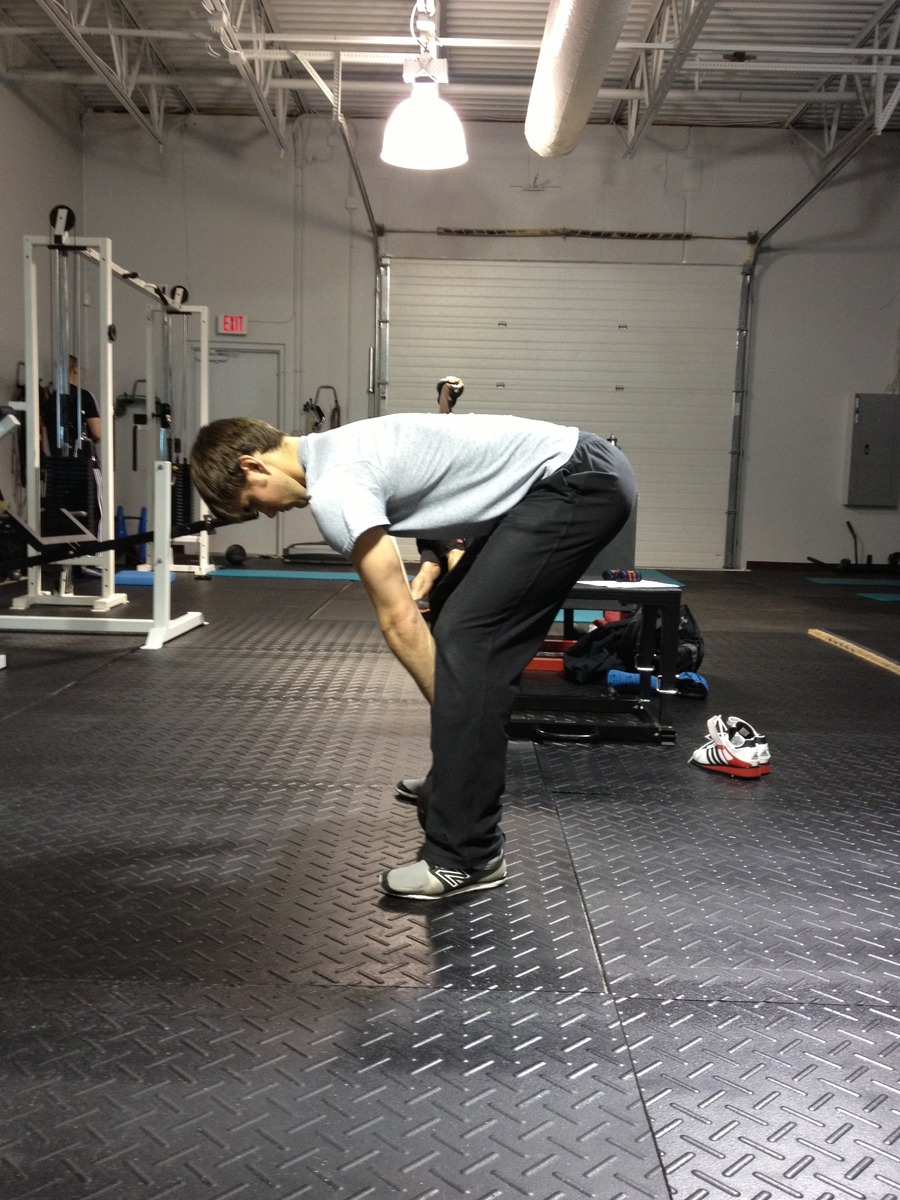 "Good Starting Position"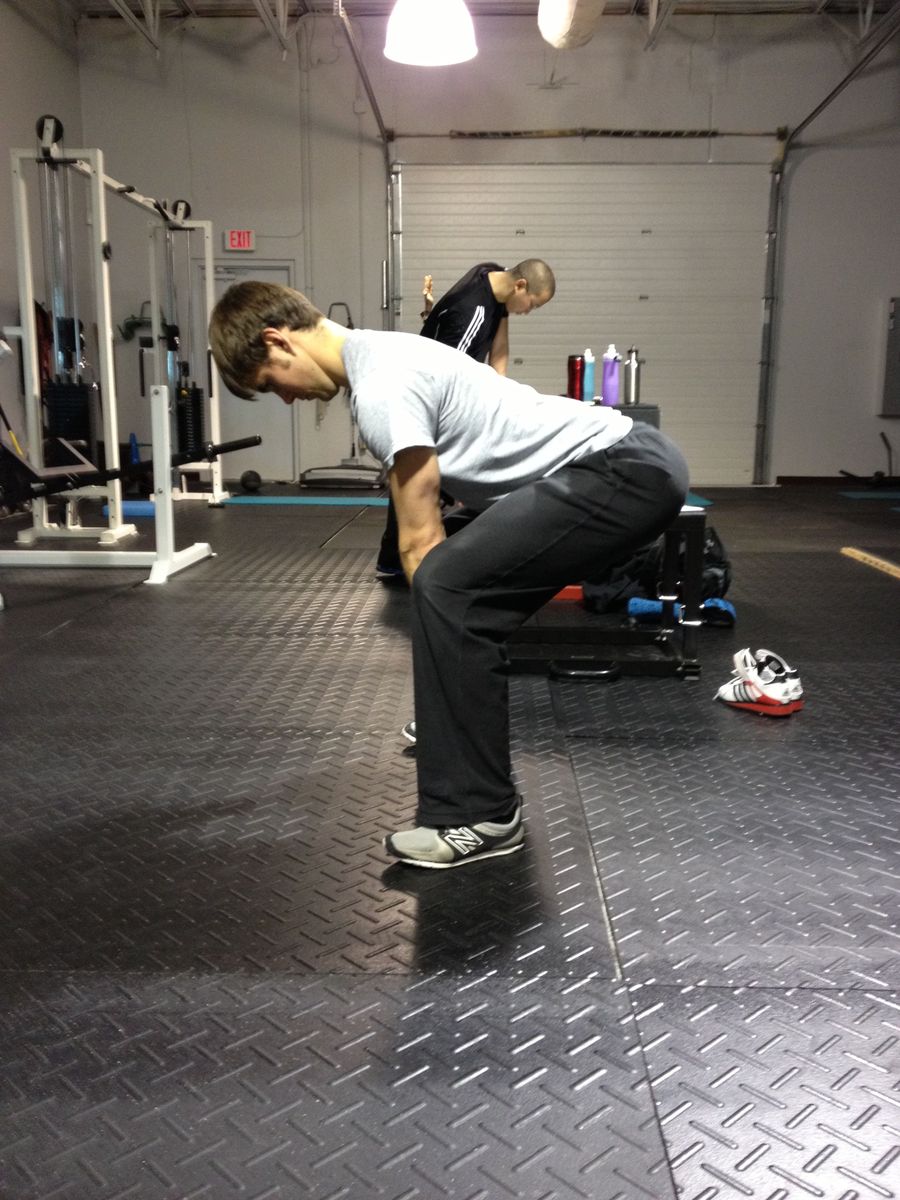 Secondly, get tight by setting the lats, pulling any slack out of your arms and legs, and getting a big breath to create intra-abdominal pressure and stabilize your core.
"Bad Shoulder Position" (shoulders are forward – lats are not set)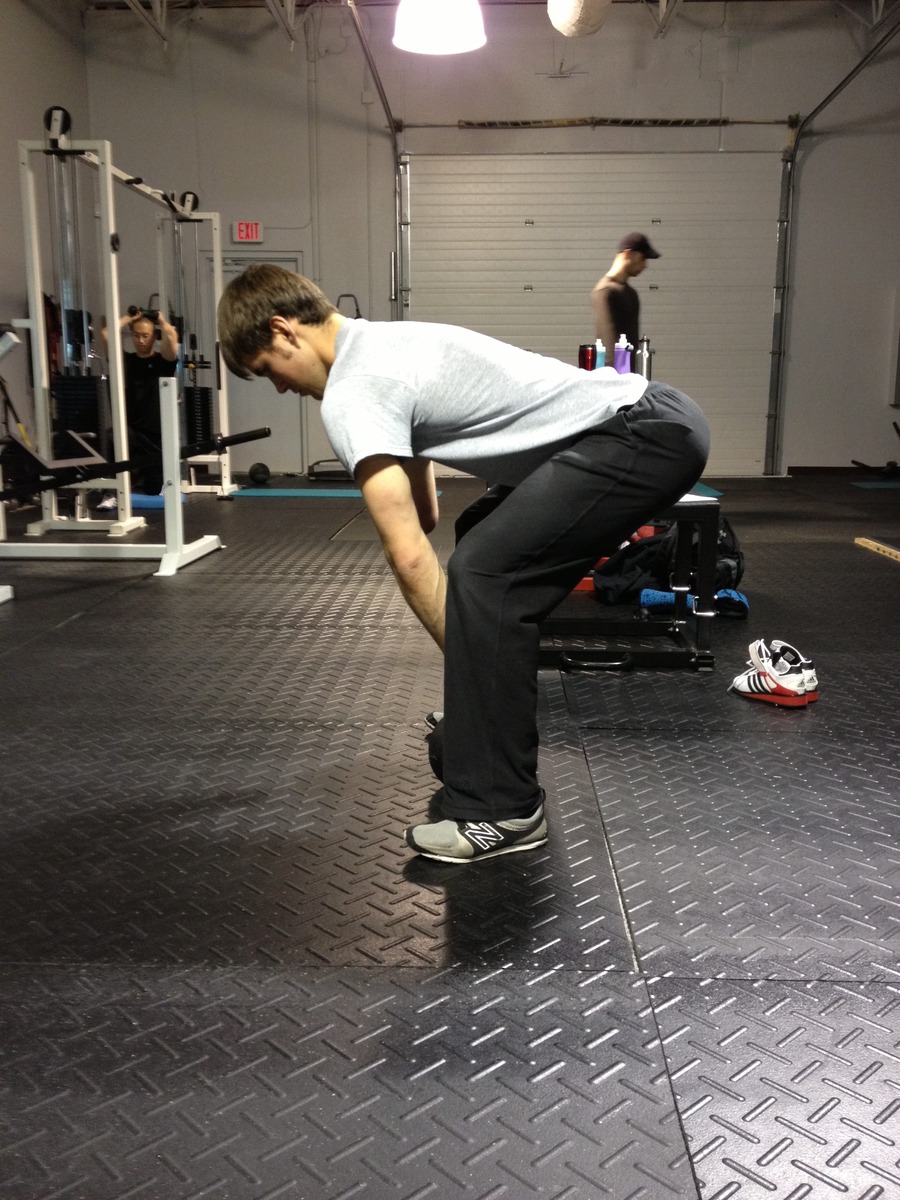 "Good Starting Position" (See above image)
Lastly, initiate the movement by driving through your feet and straightening your knees. Off the floor, the torso angle should remain the same until the weight passes the knee.
From just above the knee, simultaneously straighten your knees and hips until they are fully extended – the body should be in a straight line (ankles, knees, hips, shoulders, and ears) at the top of the movement.
"Swayback Finish" (hips are too far forward)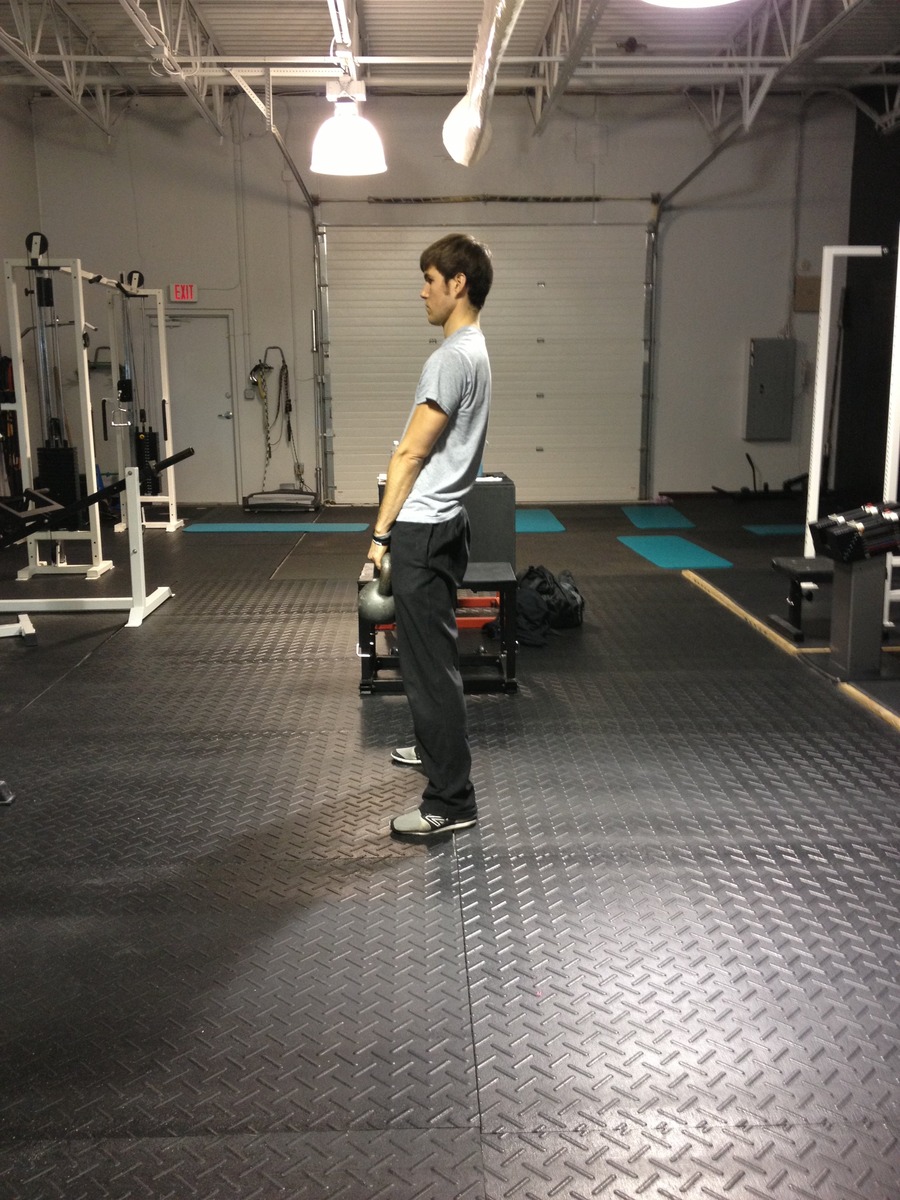 "Tall Finish" (good alignment)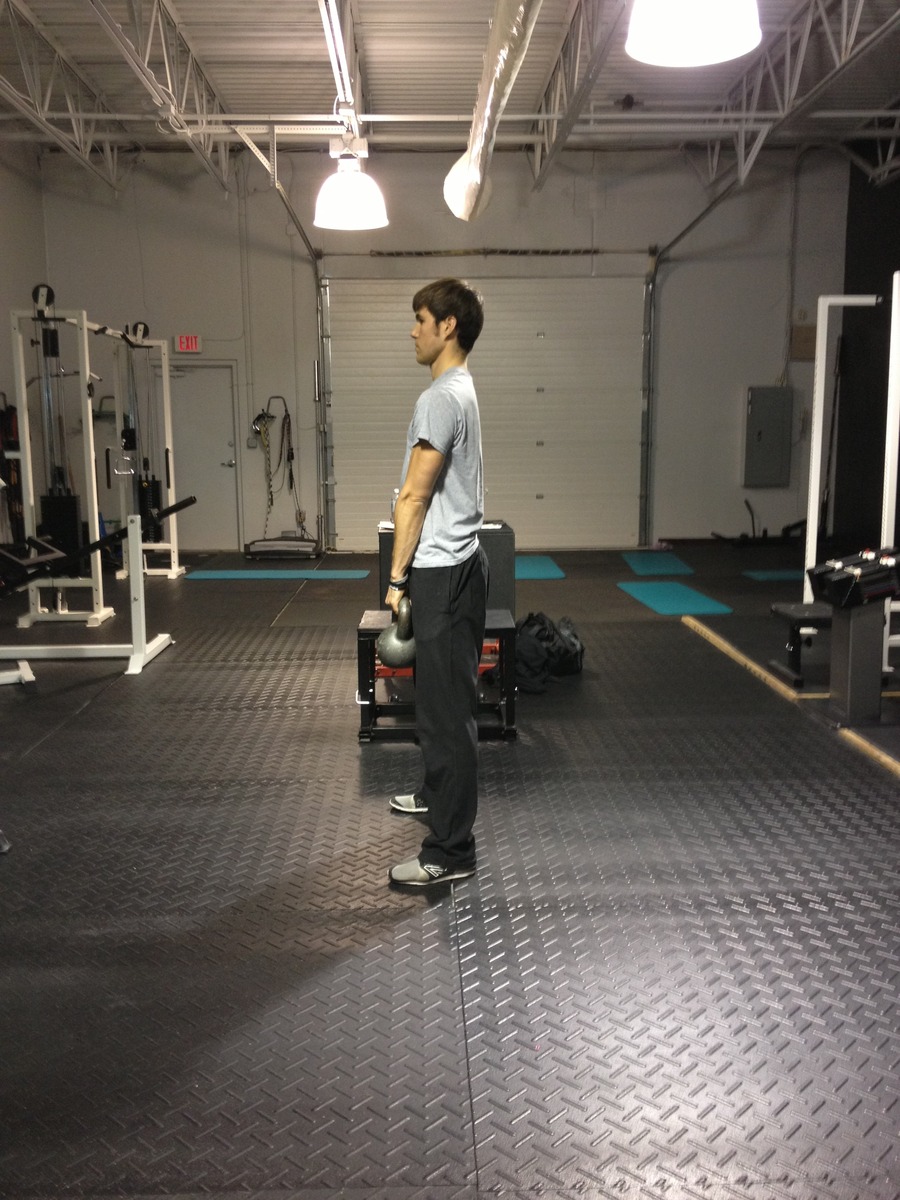 As I stated above, a common mistake is using the low back to initiate the movement. If you feel discomfort in your low back during the movement, make sure that your stomach is tight.
Also, a good cue I like to give people is to use your legs to push your body away from the floor. This will ensure that the load is being lifting by the glutes and hamstrings rather than the lower back.
"Low Back Extension" (back has too much inward curve as seen by the gap between the stick and my low back) This can lead to low back pain.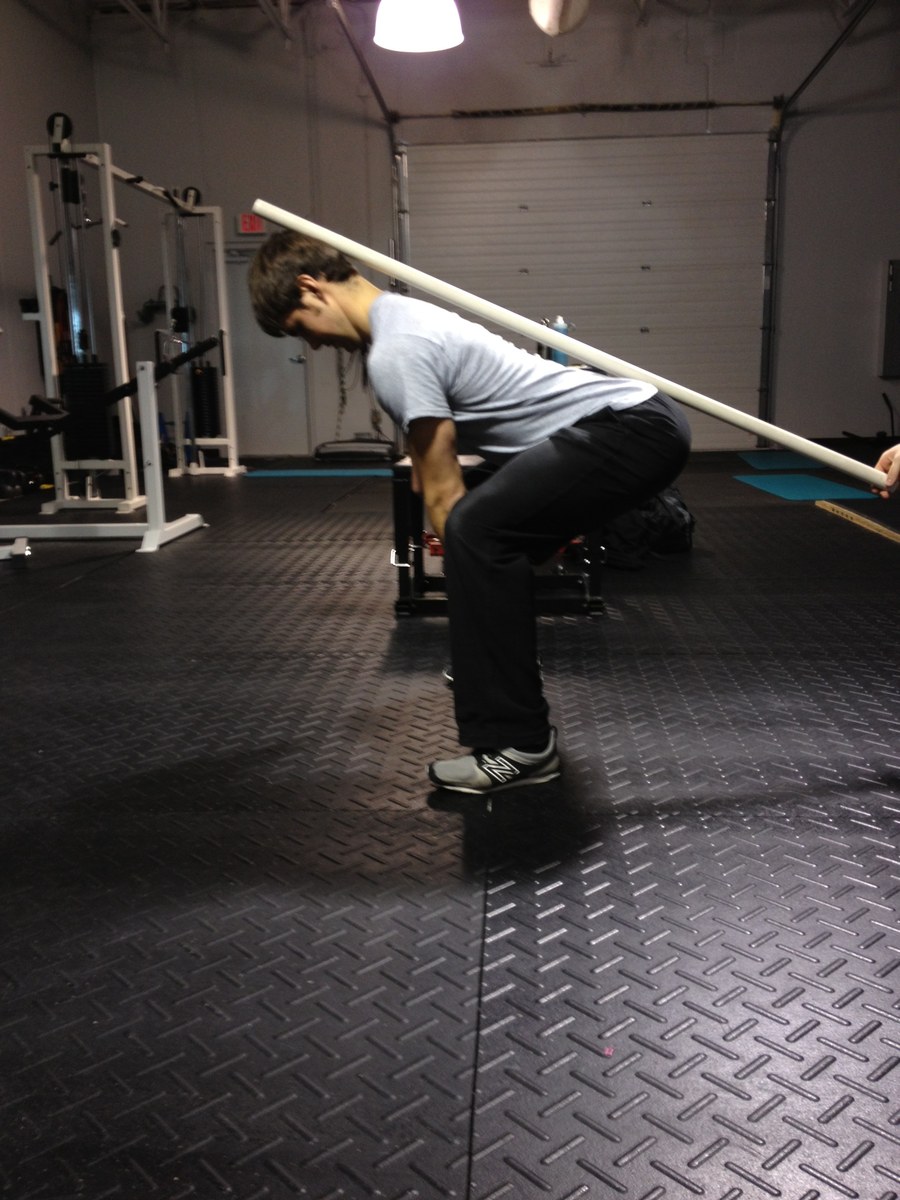 Below is a video of the exercise.
Note: You do not need to reset after each rep as in the video and you can move at a faster pace. I prefer two seconds down and one second up.
Comments/Conclusion
The deadlift is an excellent move that many trainees should aspire to get stronger at. However, it is important to load the correct muscles to prevent future injury and improve performance.
Teaching yourself to perform a proper deadlift pattern and to load your hamstrings and glutes is one of the best things you can do for a healthy back and the KB/DB deadlift is one of the best exercises I have found to achieve these two goals.
Final Coaching Points
Starting Position 
Feet about shoulder width apart and pointed out slightly
Tripod foot
Hips back/butt out (tension on hamstrings)
Neutral spine
Knee, hip, and foot aligned (pic?)
No slack in arms and legs (get tight)
Stomach tight
Ending Position
Tall, straight position (straight line from ankle to knee to hip to shoulder to ear)
Thighs and butt tight
Give the KB/DB Deadlift a shot, and let me know what you think. I am confident your glutes, hamstrings, and lower back will thank me.
Get Started Today!
If you are ready to challenge yourself to the next level, be sure to check out Exercise.com's PRO Membership.
You'll have access to exercise videos, workout plans and more. The Exercise.com community is ready to help you achieve your fitness goals! Get started now!