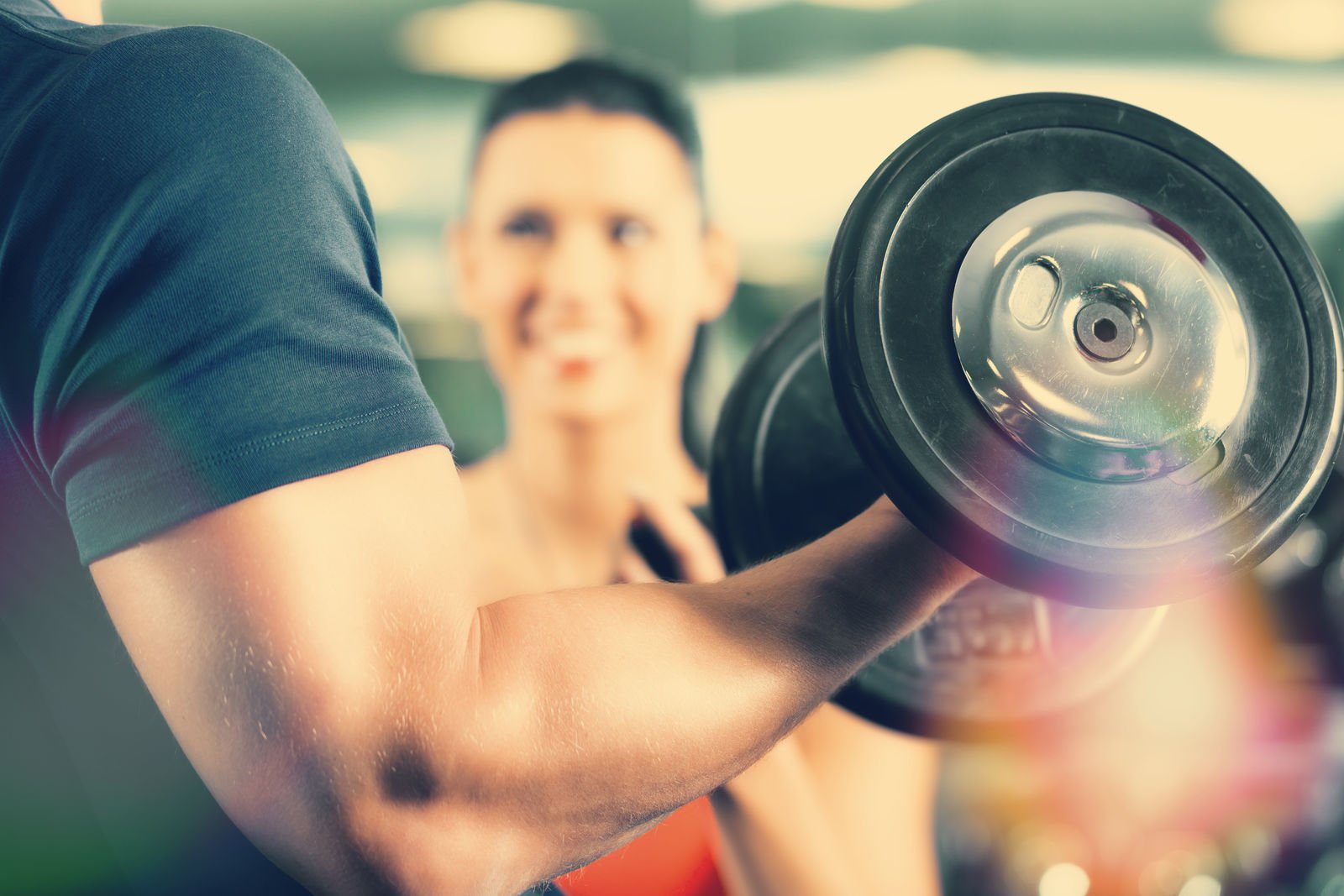 Get the Basics...
Your rationale for hiring a trainer will determine how long you train together.
A personal trainer can help you define your fitness goals.
Long-term training requires dedication and perseverance.
Before you even step onto the treadmill, your personal trainer will assess your fitness level, look for any muscle imbalances, and help you set realistic fitness goals. Afterwards, your trainer will guide you through your program, making sure that you maintain the proper form and achieve your desired results, albeit losing weight, building muscle, or training for a sporting event.
Your rationale for hiring a trainer will determine how often you need to meet. And throughout your relationship, your trainer will offer encouragement and motivation to help you reach your goals.
The Novice

If you haven't worked out for a long time, meeting with your trainer two to three times a week is a good starting point. This type of regularity ensures that you learn the proper form when exercising. Not learning the basics not only hinders your results, but it also increases the risk of injury.
Meeting with your trainer at regularly scheduled intervals also eliminates any excuses you may find to avoid working out.
After you've seen your trainer consistently for several months, you may only need to see them once a week or even once a month. As long as you are comfortable working out on your own and continue to make progress, it's perfectly okay reduce the number of supervised sessions.
Sport-Specific Training
To maximize your strength levels, you should squat, pull, and push heavy weights in the gym. But what constitutes strength? Are you a beginner, intermediate, or advanced athlete?
If you work out at a local gym, you can try to assess your own level by watching what other people are lifting. But to accurately gauge your overall progress, you should work with a personal trainer who can identify your strengths and weaknesses. Typically, athletes work with a trainer for a few months or more to be in peak condition.
Marathon Training

Running a marathon is a huge undertaking that shouldn't be taken lightly. Whether your goal is to only finish the race or be one of the first ones to cross the finish line, you can't be too prepared. Depending on your current level of fitness, you may need to work with a trainer for an entire year.
Training for a marathon takes determination and sacrifices. If you're new to running, you need to learn the basics of proper breathing techniques, stretching, and ways to increase your endurance. As a beginner, your trainer will initiate an introductory phase of aerobic development, which can last between 10 and 12 weeks. For runners at this level, this crucial period cannot be overlooked.
The more time you spend working on aerobic development, the better your lung capacity will be. During this time, you probably won't be running long distances. To transition to higher volume training, your trainer may have you focus on swimming, spinning, and stationary bike riding. Over time, your trainer will increase the duration and intensity of your workouts to make the transition to long-distance running as smooth as possible.
Exercise Enthusiast
If you go to the gym regularly but have plateaued, you should consider working with a trainer. He or she can evaluate your current workout routine and make recommendations. Whether you need to tweak your current regimen or completely change what you've been doing, the longer you spend with your personal trainer, the greater your benefit.
After meeting once or twice a week for six to eight weeks, you should have developed new exercise habits and will probably start to see physical differences. At this point, you may even decide to continue working with your trainer.
Enjoy Your Workouts

Above all else, you need to enjoy what you are doing. If you hate running, it's unlikely you will stick with it. Living a healthy lifestyle is a lifelong commitment, so you need to do exercises you enjoy. There are a lot of activities you can do, and you might even discover that you like something you never thought you would do.
Exercising for Weight Loss
Did you know that exercising only to lose weight is one of the worst motivators? Think about it: You want to shed a few pounds but dread going to the gym. You are constantly finding reasons why you can't make it. Enlisting the help of a trainer can break the vicious cycle.
A personal trainer will hold you accountable, which increases the motivation factor. Knowing that you've paid to work out with someone is not the same as paying for a gym membership.
If you're working out to lose weight, remind yourself about all the ways exercise makes you feel good about yourself. From increased energy to better sleep patterns, there are many reasons to exercise regularly.
Personal Training Timeline
Just as no two people are alike, neither are their goals. While one person can achieve their fitness goals in a month or two, someone else may need four to six months to achieve the same goal. Even if you're not a superstar athlete, you can still set fitness goals for yourself. Your best course of action is to meet with a personal trainer, discuss both your short and long-term goals, and create a fitness plan that you enjoy doing.