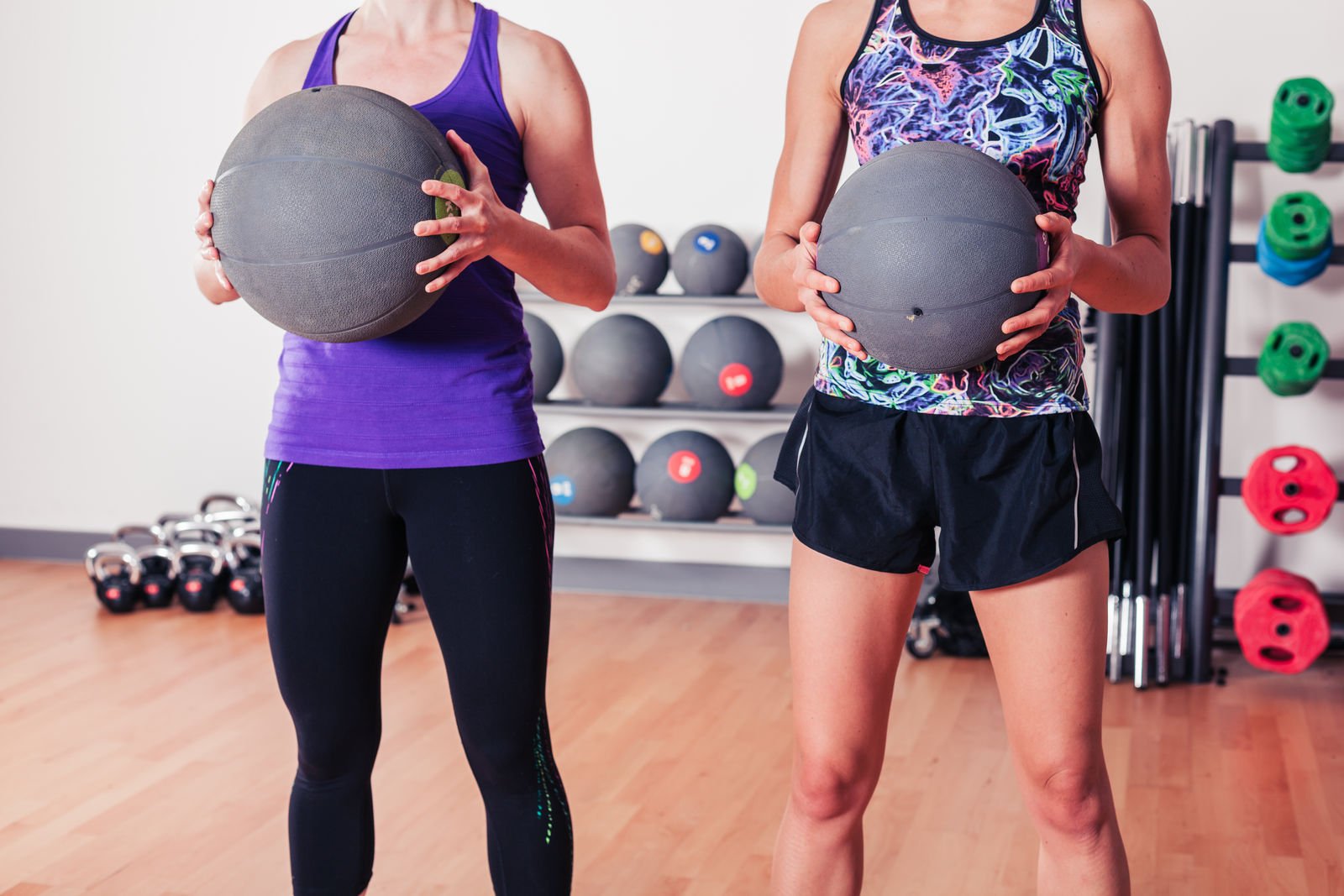 Get the Basics...
Your results depend on the amount of time you invest in fitness training.
Your personal trainer can guide you, but it's your responsibility to show up and do the work in the gym.
When ready, slowly increase the duration of your cardiovascular workouts.
Personal training is the backbone of fitness. When you hire a trainer, you're paying for their assistance to help you reach your fitness goals. And although a personal trainer accelerates the process, they aren't a magic pill. The results you'll see depend on the amount of time you invest and your goals themselves. To successfully reach your goals, you need to understand how much time you need to spend in the gym.
Duties of Your Personal Trainer

According to the National Federation of Personal Trainers, trainers are fitness professionals who apply fundamental exercise principles to create an exercise program that helps clients meet their health and fitness goals. Personal trainers teach clients how to reach their individual fitness goals by promoting safe training regimens.
– General Information
Your trainer collects general information, which should include your age, height, and weight. Your occupation also helps your trainer determine your daily activity level. You should be honest about your dietary habits, sleep patterns, and the most recent exercise program you've practiced.
– Fitness Assessment
Regardless of whether you've been going to the gym regularly or are just starting out, your trainer is responsible for performing a fitness assessment. He or she should administer a body composition test to determine your percentage of body fat. Muscle strength and endurance testing will determine the intensity of your workouts. A step test will also help your trainer evaluate your cardiorespiratory ability. A sit-and-reach test will assess your flexibility.
Newbies
If you are new to exercise or haven't see the inside of a gym since high school, you should start off training two to three times per week.
This type of regularity ensures that you are developing proper form when you exercise.
Since muscle memory is powerful, you don't want to develop bad habits in the gym. During your first month of training, scheduling regular sessions with your trainer helps you eliminate the reasons why you can't get to the gym. After seeing your trainer consistently for a month, your muscles are primed and ready for you to increase the intensity of your workouts.
The Agile Athlete

If you're already active in the gym, training with a professional improves performance and agility. Your program should focus on exercises that will work both agonist and antagonist muscle groups. Focusing on different muscle groups allows you to balance your physique while strengthening major muscles.
Targeting Fat
If you're trying to lower your body mass index, you'll likely meet with your trainer three to five times a week. At least two sessions will focus on strength training to preserve muscle mass. The remaining sessions emphasize cardio.
For example, you may focus on strength training on Monday and Wednesday and practice sprints on Tuesday and Thursday. On average, you'll lose one to two pounds a week, seeing results within three to six weeks. As you continue to strength train, your trainer may also suggest that you decrease the percentage of fatty foods in your diet.
Training Solo

There's nothing wrong with doing more than the bare minimum, but talk with your trainer first. After your Monday deadlift routine, you might add in a circuit training session alternating between burpees and pushups for 10 minutes. However, if you're having flexibility issues, it may be prudent to follow up your strength training with a yoga class. With added flexibility, your range of motion is improved for heavy lifts while making your sprint sessions more efficient.
Realistic Goals
Yes, your trainer can help you define your fitness goals, but reaching those goals is dependent upon you. If you're 100 percent committed to working with your trainer at least three times a week, you'll start to see results. If your goal is building lean muscle mass, you should start to see noticeable results within a month. If your goal is fat loss, you'll probably start seeing results closer to the six-week mark.
Personalized One-Month Fitness Goals
Since everyone's body is different, the results will differ depending on the goal. Some may see changes after a week, others after a month, and in some cases, it may take three months to see any visible progress.
Someone who is overweight and doesn't exercise on a regular basis will probably notice a change sooner than someone who is lighter and exercises frequently. Since someone who is heavier requires more energy to move, they end up burning more calories compared to someone who weighs less when performing the same exercise. Losing weight can happen pretty quickly. It's not uncommon to see a difference on your scale at the end of the first week.
Typically, it's because you shed excess water weight. While this realization can be a huge motivator, it's important to lose weight at a healthy rate.
On the other hand, gaining muscle takes longer, so the visible changes are likely to show after the first month of working out. Above all else, it's important that you don't focus only on your reflection in the mirror. If you base your success on this alone, chances are you will be disappointed at some point. Turn your attention to the way working out makes you feel. A positive attitude goes a long way toward reaching your fitness goals.