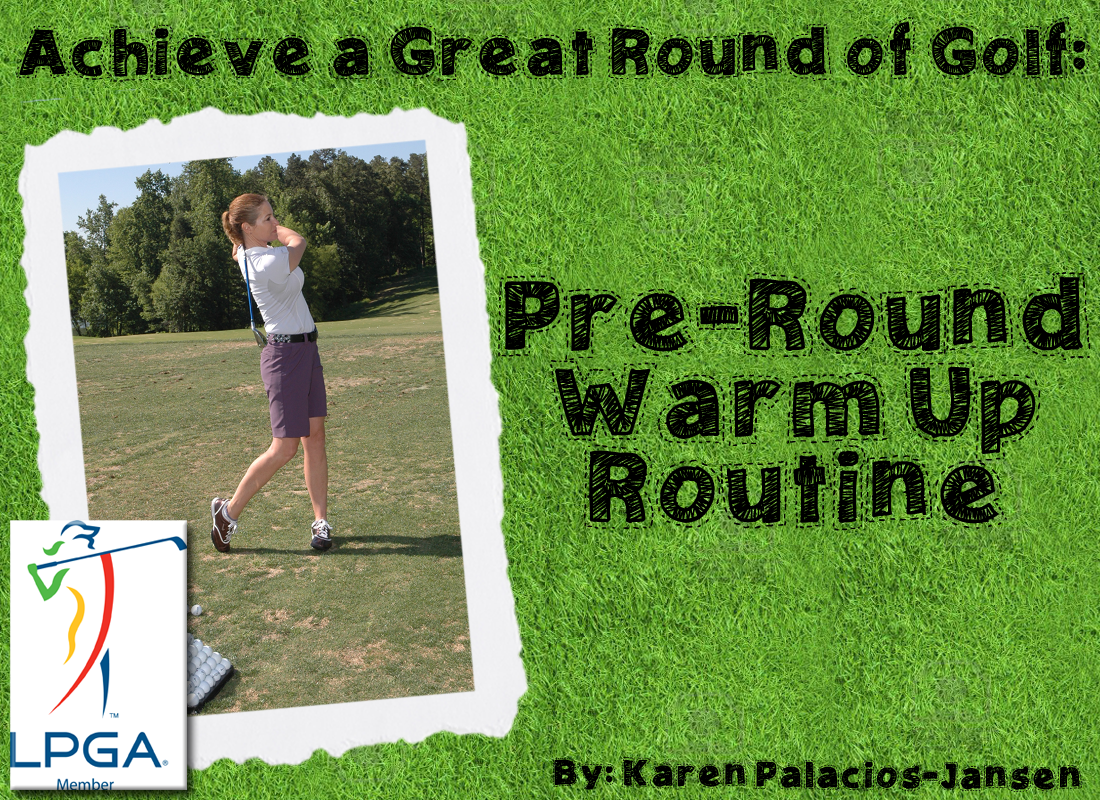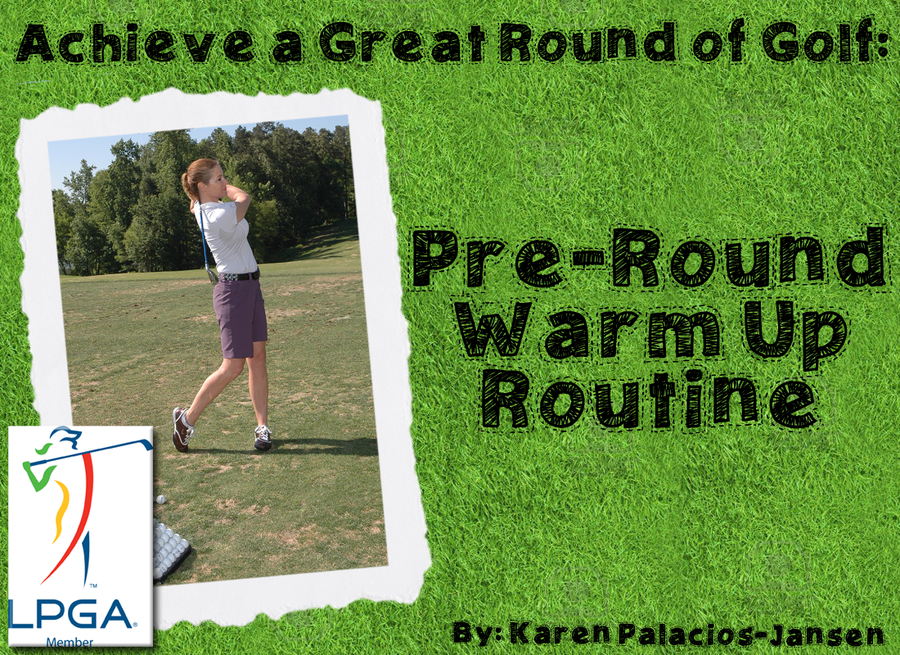 If you have ever participated in another sport or some form of exercise, you have most likely performed some type of warm-up routine before competition. Why wouldn't you warm up before a round of golf or even a practice session?
In just one round of golf, you end up swinging a golf club up to 300 times, including practice swings, and at speeds upwards of 90-miles per hour. That's a lot of stress on your muscles, tendons and joints!
Recreational golfers have typically skipped warming up before play and practice because of the misconception that golf is not a strenuous activity, or due to lack of time. When we have time to play golf, we are anxious to get out on the golf course, and we often make the mistake of skipping the warm-up.
Skipping a warm-up may mean that it takes us four or five holes before we loosen up and gain our form. By that time, our score may already be ruined.
If only we had spent a few minutes warming up before the first tee, we could not only have avoided those big numbers on our scorecard the first few holes, but also could have increased our flexibility, meaning more power and consistency.
My 5-minute Warm-up Routine
A few great things about this routine:
It will loosen your muscles and joints
It is specific for golf
If you do it every day, you could increase your flexibility.
It starts by warming up the lower body; then moves into the core, which includes back, abs and chest; and finishes with loosening your shoulders, arms, wrists and hands.
If you feel you look silly doing this warm up on the driving range, then do the routine at home before leave for your round of golf – as long as you don't have a long drive to the golf course.
If you need help maintaining your balance, try holding on to a club, golf bag or golf cart.
These exercises not only will warm up your muscles in all planes of motion, but will also challenge your balance and strengthen your supporting leg.
Hip Swing
This exercise warms up hip flexors. It also prepares hips for a full range of motion and promotes relaxation and fluidity in hips for effortless weight shift.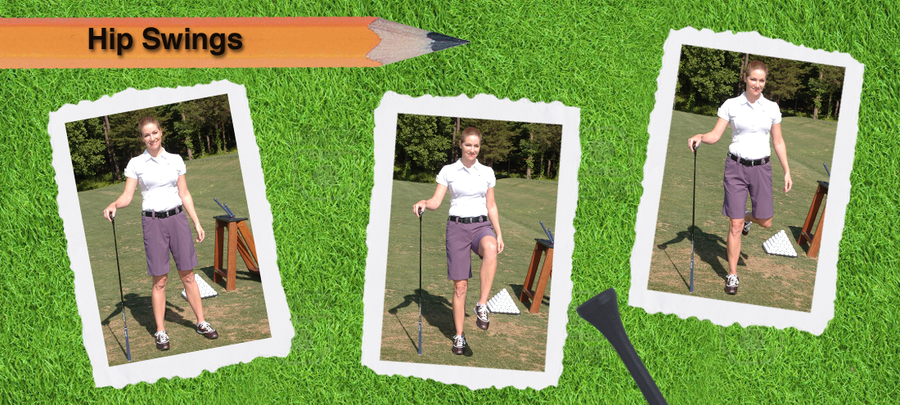 Balance on one leg.
Raise your opposite knee and swing your leg from the hip joint from front to back.
Repeat for 8 to 10 repetitions.
Do this exercise on the opposite leg.
Inner and Outer Thigh Swing
This swinging motion prepares the thighs, hips and legs for a more fluid weight shift.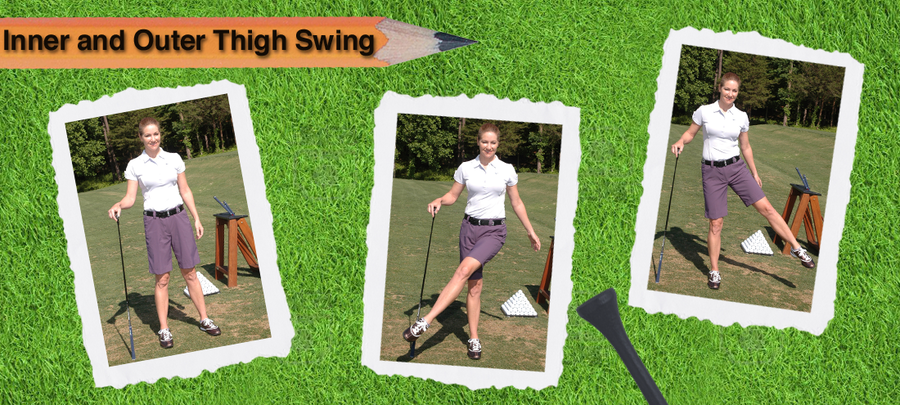 Balance on one leg.
Keep your leg relatively straight and swing your leg laterally in front of your supporting leg in a controlled motion.
Repeat for 8 to 10 repetitions.
Do this exercise on the opposite leg.
Cross Crawl
This exercise will not only raise your heart rate to get blood pumping to muscles and joints, but it will challenge your balance and coordination as well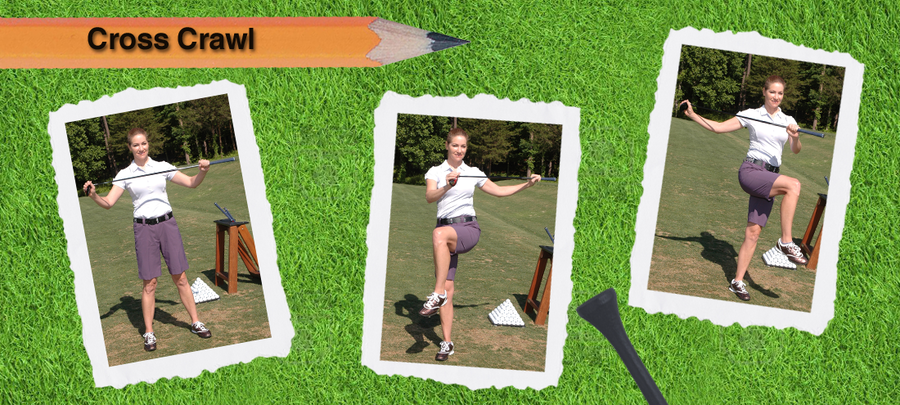 Stand holding the club parallel to the ground with your feet shoulder-width apart.
Simply lift your knee up and across to the opposite elbow as you twist at your torso.
Return to start position.
Repeat on other side.
Do this exercise for 8 to 10 repetitions on both sides of body.
Squats
This exercise will activate muscles in the core and legs. Golf is a squat sport. You start in a squat position, and you want to maintain that position throughout the backswing, then explode out of the squat at impact to gain power.
Performing squats will strengthen your core and legs.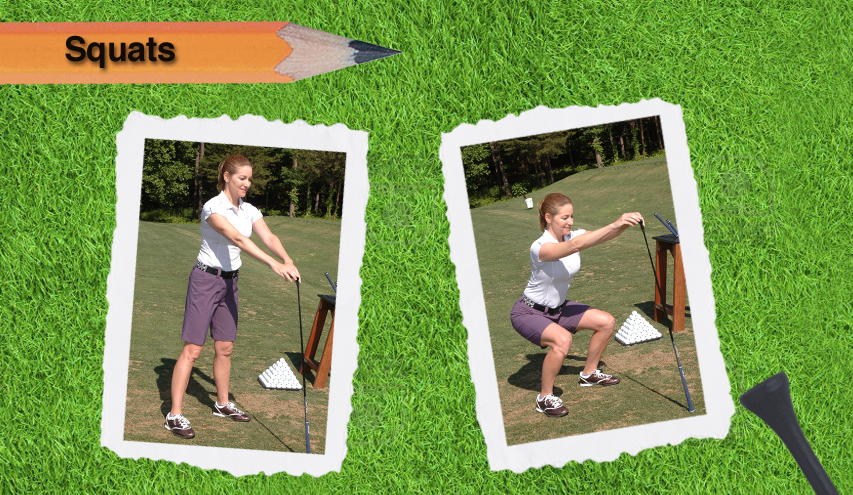 Using a club or golf bag for support; stand in a shoulder-width stance.
Simply squat toward the ground while trying to keep your feet flat on the ground. Do not squat to a level below parallel with your knees.
Return to the start position.
Do this exercise for 8 to 10 repetitions.
Pivot Drill
This exercise will activate your core muscles, mimicking the golf swing motion. You will be rehearsing the weight shift in your golf swing. It is important to practice the motion you are going to be doing for the day.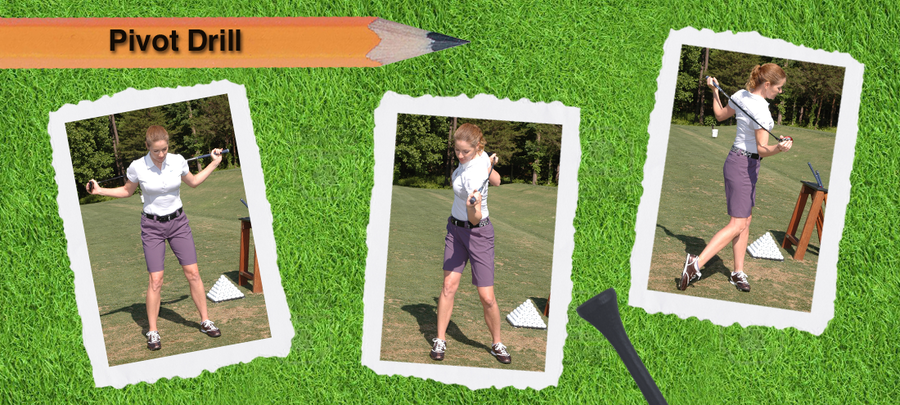 Stand in your golf posture with a club behind your shoulders.
Turn as if you were making a backswing. Hold this position for a moment and then turn your body as if you were if you were shifting your weight to hit a ball and follow through.
Return to start position.
Do this exercise for 8 to 10 repetitions.
Arms and Shoulder Stretch
This exercise will help you improve your flexibility in your triceps and shoulders.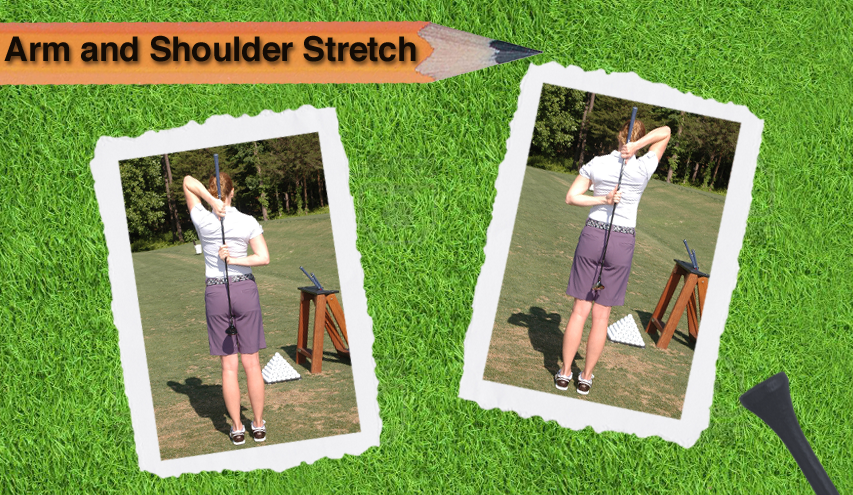 Grab the club behind your back, with one elbow pointing up and the one elbow pointing down.
Pull the club in both directions so that you feel a stretch in your triceps and shoulder muscles.
Hold the stretch for 10 to 15 seconds.
Repeat exercise on the opposite side.
Shoulder/Chest Stretch
This exercise will help you increase flexibility in your upper body to prevent restrictions in the backswing and follow-through.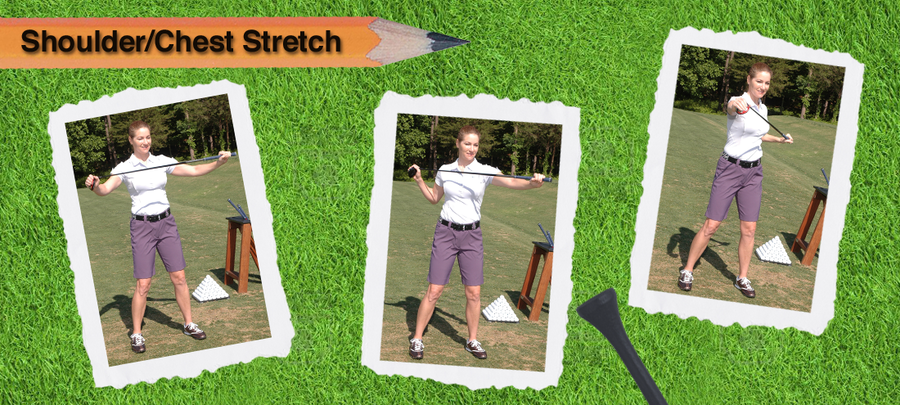 Stand in a shoulder-width stance.
Hold the club out in front of your chest parallel to the ground with palms facing down. Simultaneously push out with right arm as you pull back with the left arm.
Keep hips stable.
Hold this stretch for 10 to 15 seconds.
Repeat on opposite side.
Rotator Cuff Stretch
The shoulder joint is very active in the golf swing, which is why it is one of the most commonly injured joints. Do this exercise to prevent golf injuries.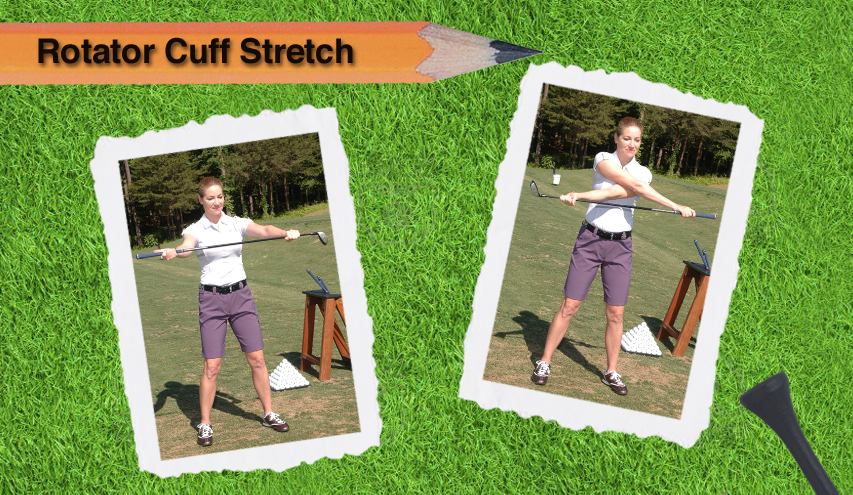 Hold club in front of your chest, parallel to the ground.
Hold the club with one palm up, the other palm down.
Rotate right arm over the left arm.
Hold this stretch for 10 to 15 seconds.
Return to start position.
Repeat on opposite side.
Now you are ready to hit a few practice shots! Roll a few putts and head to the first tee. A proper warm-up will have you set and ready to start hitting those fairways right away!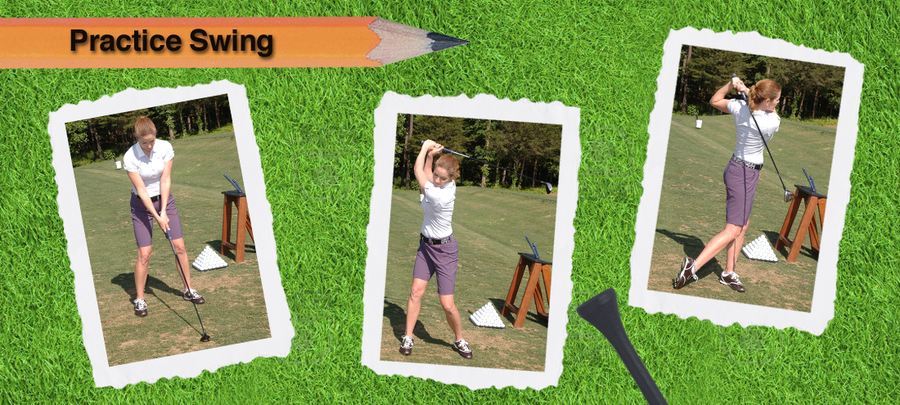 We would like to thank golf pro Karen Palacios-Jansen for sharing this awesome golf warm-up routine with us!
Karen Palacios-Jansen is an LPGA Class A Teaching Professional, a Certified Personal Trainer specializing in Golf Fitness, and a Nike Golf Performance Specialist.  Make sure you check out her website!
If you're looking to make the most of your WeightTraining.com experience, make sure you check out the benefits of becoming a PRO User!

Just to name a few of the features, you'll get advanced workout stats (including calories burned per workout) as well as an unlimited number of "Ask a Trainer" questions!