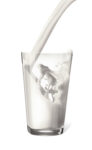 Many bodybuilders have found success using whey protein powder.
You may have questions such as whether it is right for you, or should you take whey protein powder with milk.
If you have chosen whey protein powder as part of your supplement regimen, it is important to be sure you are taking it correctly.
Nevertheless, you probably do not want to mix your whey protein with milk because doing so may actually work against you.
As you know, it takes commitment and hard work to get the bodybuilding results you desire.
You must also give your muscles the tools they need to perform at peak levels.
Whey protein powder could be useful in giving you that edge.
What is whey protein?
You see it on the store shelves all the time, in containers that could be a tough fit for most kitchen cabinets. What exactly is whey protein? Simply put, whey protein is the product that is left over after cheese is produced from milk.
Why do bodybuilders recommend whey protein powder?
Extra protein is often required by those who regularly engage in vigorous weight lifting exercises. In addition to the protein most people get from eating a normal diet that includes lean red meats, chicken and dairy, your muscles can also use a protein supplement for an added boost.
According to the helpful medical site WebMD, a lot of your muscle is comprised of protein so every little bit matters for maximum results.
Convenience is another factor in choosing whey protein powders. These supplements give you the protein you need at times when you are not able to prepare a full meal. They are also useful for people who are on any kind of limited diet for health improvement or weight loss.
Among other supplements and even other protein powders, whey protein is touted as being easily digested. However, if you are lactose intolerant, you might want to try some of the other protein products, such as casein or egg protein.
Whey protein is also beneficial for those seeking to gain muscle mass and lose weight. In order to see muscle definition, you have to get rid of any fat that surrounds it. Protein can play a big role in your efforts.
The more protein you consume, the fuller your stomach feels so you tend to eat less. In addition, protein provides nutrients to your muscles so you feel stronger and might be motivated to work out longer.
Of course, eating less and exercising more is the key to dropping pounds. Whey protein can help you get on the right track for building lean muscle tissue.
Protein is made up of amino acids. Whey protein is said to contain a larger concentration of BCAAs (branched chain amino acids) than some other supplemental protein products.
Whey protein is typically available in the health foods, weight loss or vitamin section of your local supermarket or nutrition store. You may notice that it comes in isolate, blended or concentrated forms.
In order to determine which product is right for you, it is important to know the difference. Whey protein isolate is considered to be the purest form of this substance, and it is also the priciest.
The concentrated variety includes other items such as sugar and milk fat but it is less expensive than the isolate. The blended form contains both types and has a mid-range cost level.
Should you mix whey protein powder with milk?
Everyone is an individual with their own preferences. Some people believe that the whey protein powder tastes better when mixed with milk.
However, it may be best to reconsider this choice and use other liquids. Regular milk contains fat and calories. Therefore, you are adding these substances unnecessarily to your whey protein drink.
In addition, milk often takes a bit longer to digest compared to other fluids like water or juice. One of the biggest benefits of using whey protein is its capacity to be digested quickly for immediate use to your muscles so combining it with milk detracts from that advantage.
For these reasons, a whey protein supplement may actually be better than milk for weight lifting purposes. You would not want to stop drinking milk altogether since it is a good source of calcium and helpful for bone health, you just should not do it right after working out.
It is also a good idea to be careful of using sugary substances to mix with your whey protein.