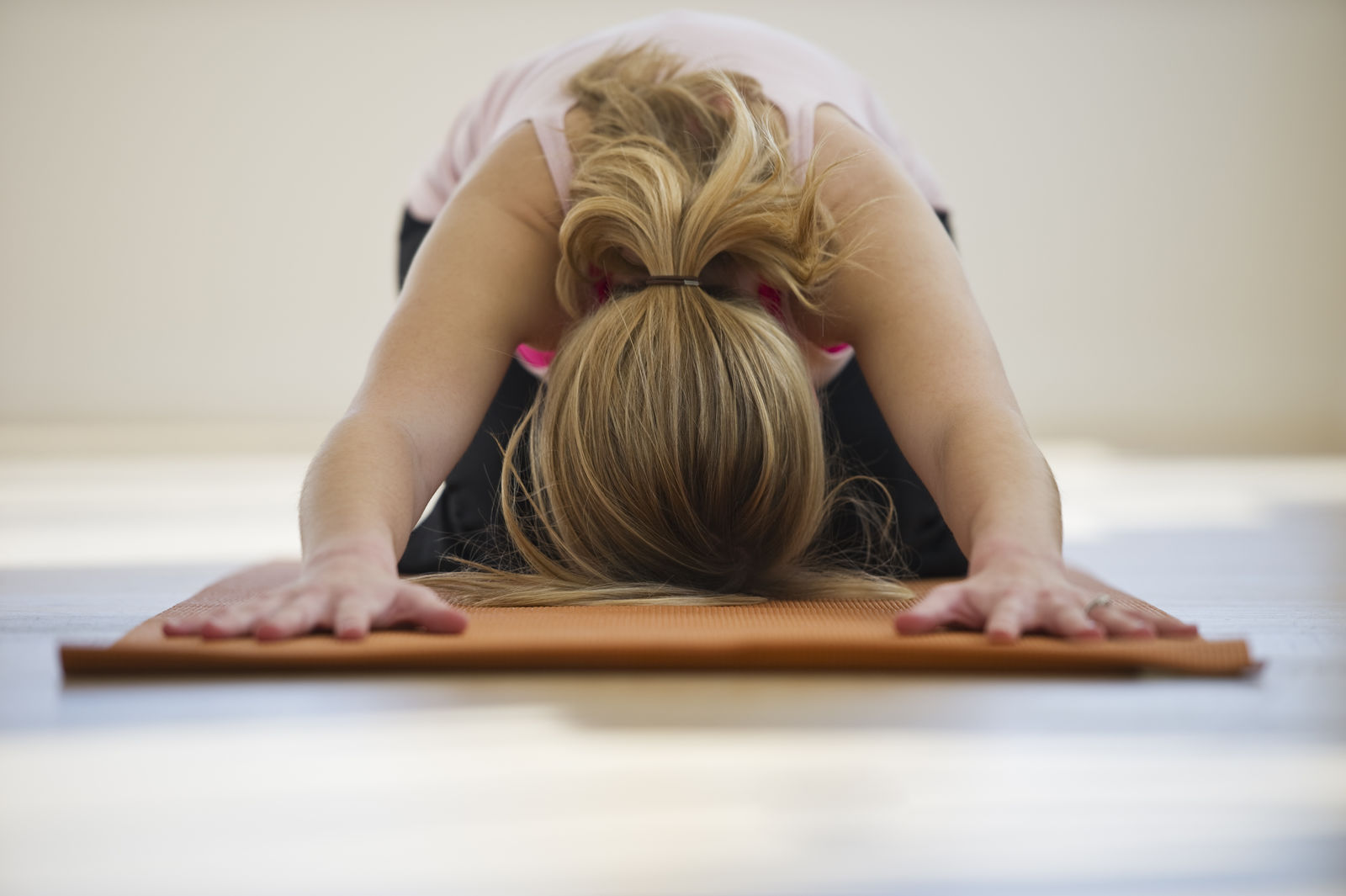 Get the Basics...
If you regularly suffer from a tight neck and sore shoulders, stretching can help alleviate the pain.
Learn how to do stretches such as neck-releasers, the wall press, and the spine roll.
Check out videos on how to perform stretches on Pilates equipment.
Strengthening an area that is tight due to weakness is essential. But when life is busy, there is no time for a massage! So try the simple stretches below, and add in a few exercises to prevent tightness from returning in the future.
Neck-Releasers
After a long day at the computer or a bad night's sleep, it can be difficult, if not impossible, to have full range of motion in the neck. If you find yourself in this situation, try an easy-to-do-anywhere neck-releaser.
Standing up tall, shoulders directly on your back, take note of how far to the right and left you can look. Then take your left hand to the top of your right shoulder near your neck. Grab onto your upper trap, and hold it tightly. Then lift and lower your right shoulder in the socket.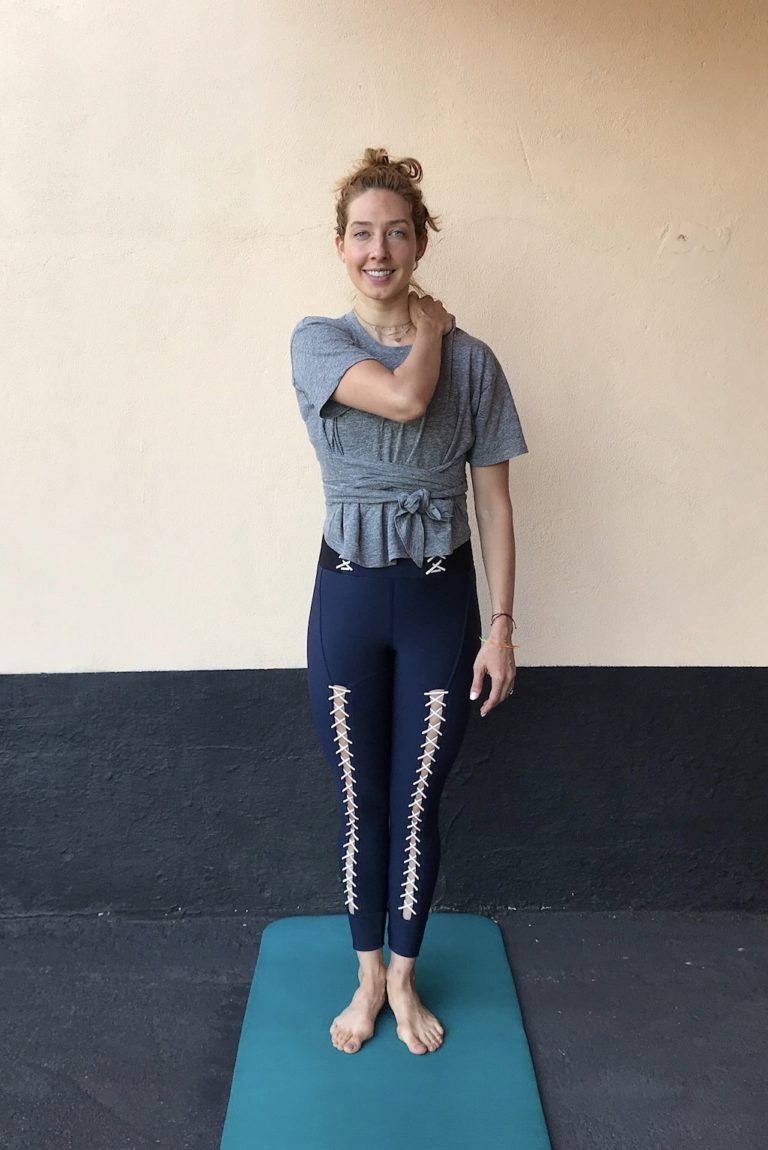 Continue to hold it tightly as your shoulder moves up and drops down. Let go after three to five times. Then look to the right and left, and notice that your range of motion has increased. Repeat the same thing on the other side, right hand to left shoulder.
Another easy way to help out your neck is to also stand up against a wall. Place your head, shoulders, hips, and heels against the wall. This position is an easy way to find proper alignment.
Remind your neck muscles of where to hold your head, and help prevent the neck and shoulder tension that results from the head being too far forward while using technological devices.
If you have time and Pilates equipment handy, hop onto the Cadillac and the Reformer for the chest expansion exercise:
– On the Cadillac
– On the Reformer
The Wall Press
The neck and shoulders are partners in crime. When one acts up, it pretty much brings the other along. Find yourself a wall where you can stretch your arms out straight in a T-formation. Your head, shoulders, lower ribs, and hips will be against the wall.
Place your feet about one footstep away from the wall. Press the back of your hands into the wall and notice what happens with your spine.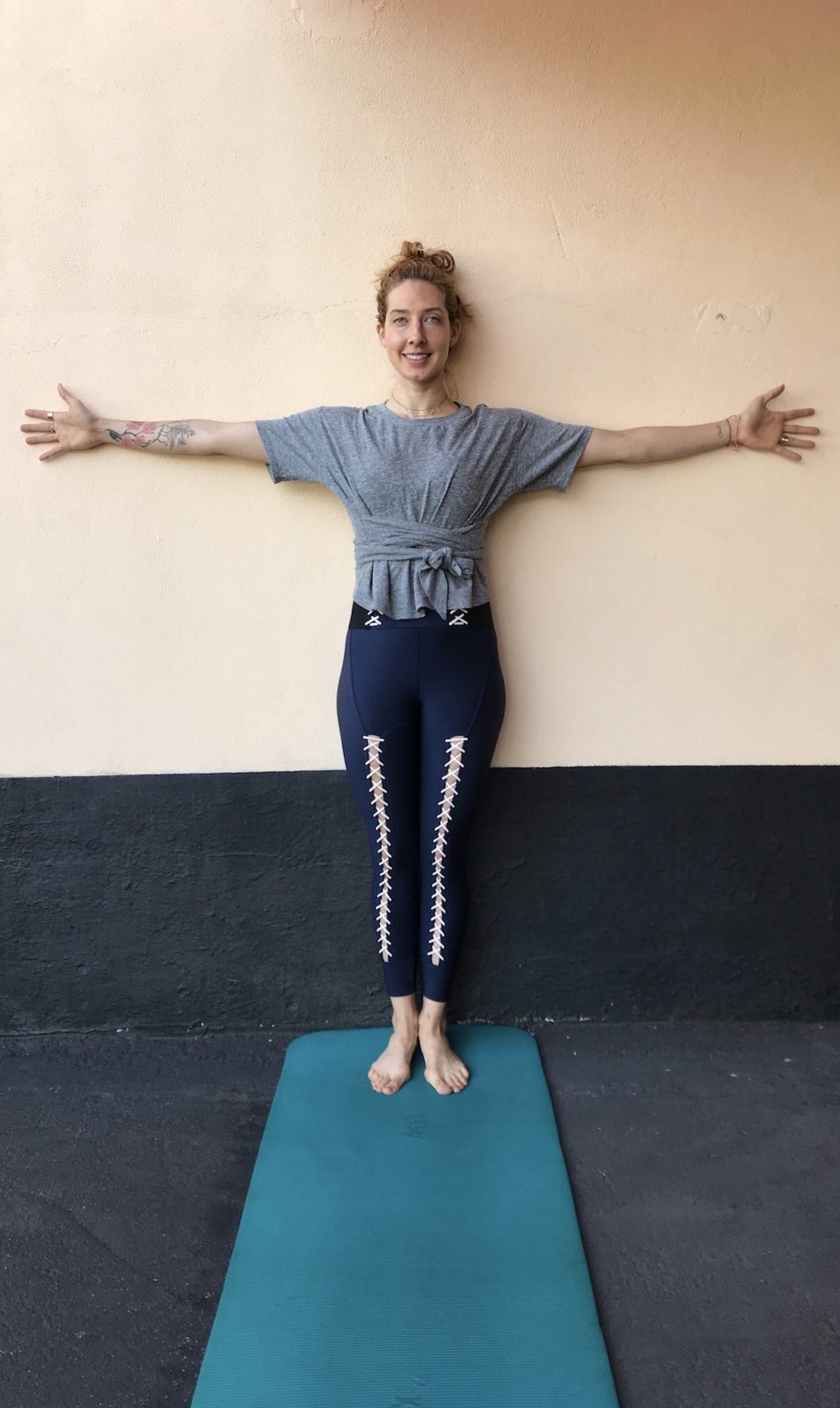 Do you need to arch your back off the wall? If so, bring the arms into a "goal post" position. Try to get your elbows and hands against the wall without sacrificing your body's placement.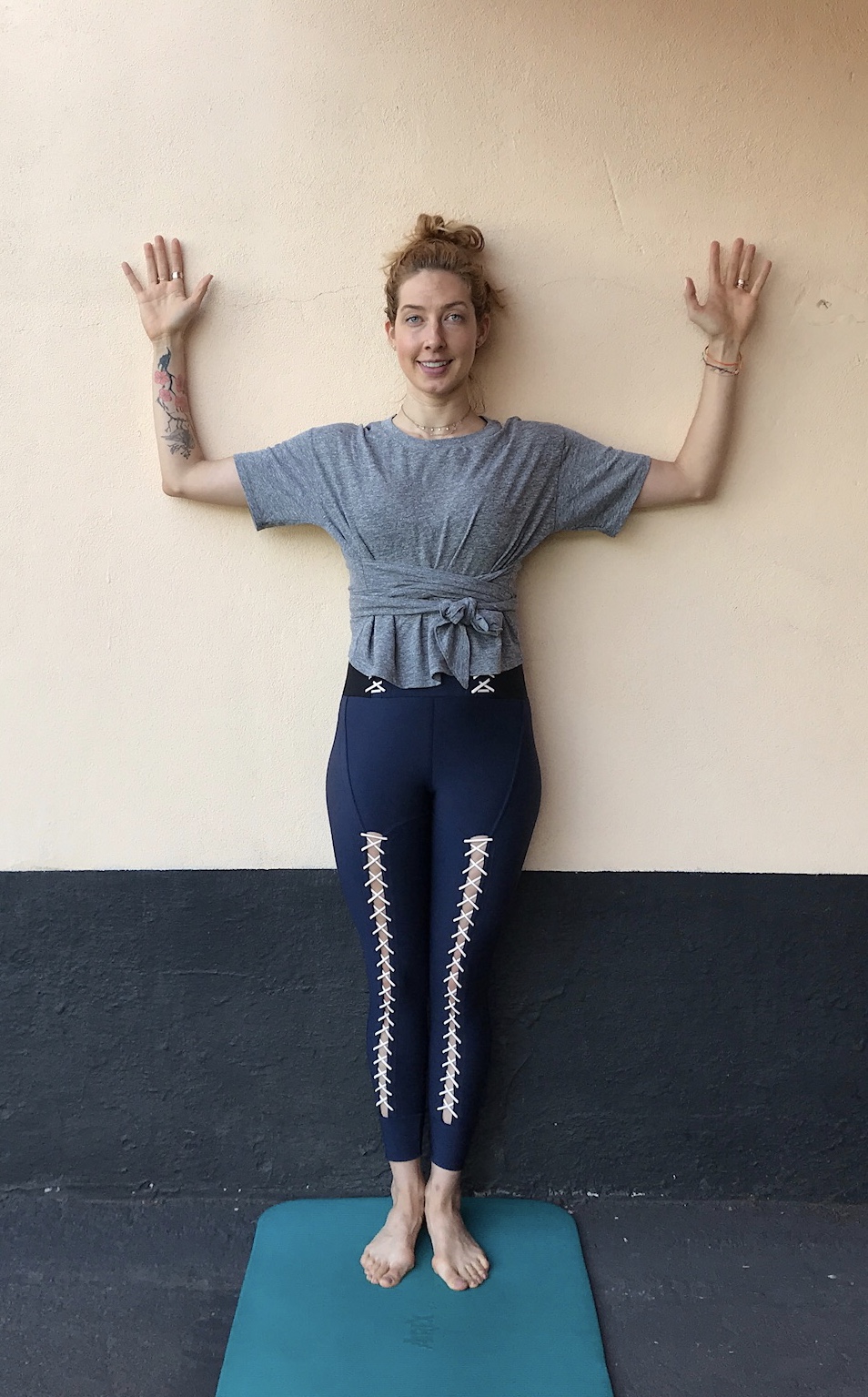 If you were able to maintain your arms in the T-shape, hold it for one to three minutes, which will stretch your chest and strengthen your core and shoulder girdle.
If you are in the "goal post" position, begin to slide your arms up and down the wall. Notice where you feel the most resistance. Hold here and breathe. Then repeat the slides and check in with your new range. For best results, do this stretch daily.
The Spine Roll
After you have warmed up with your wall press, reach your arms straight forward and draw circles. They can be as big as you can maintain your shoulders, head, and torso on the wall. Do 5-10 in each direction.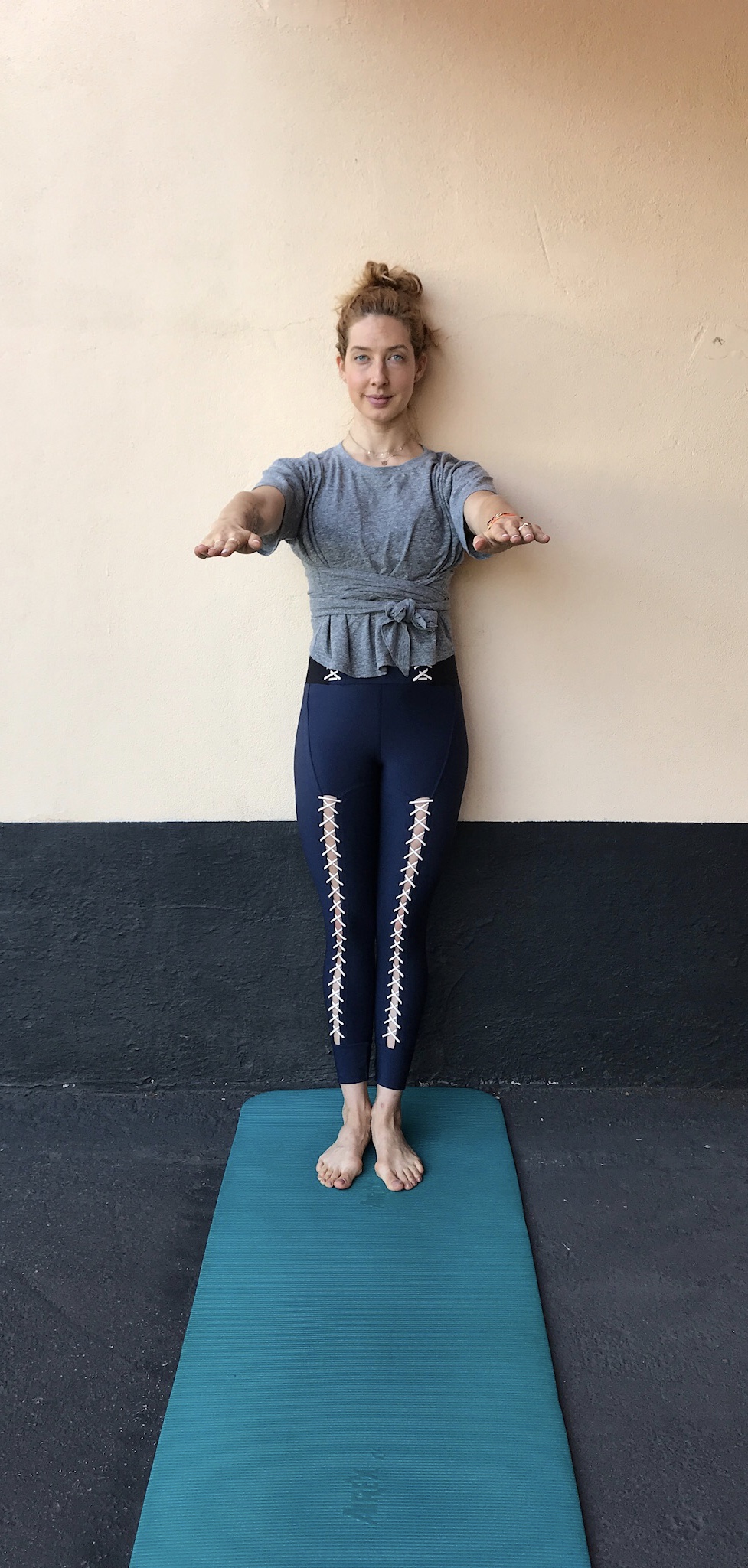 Then roll your spine down the wall about halfway, letting your head and arms hang loosely. Shake your head back and forth to double check that it's nice and relaxed.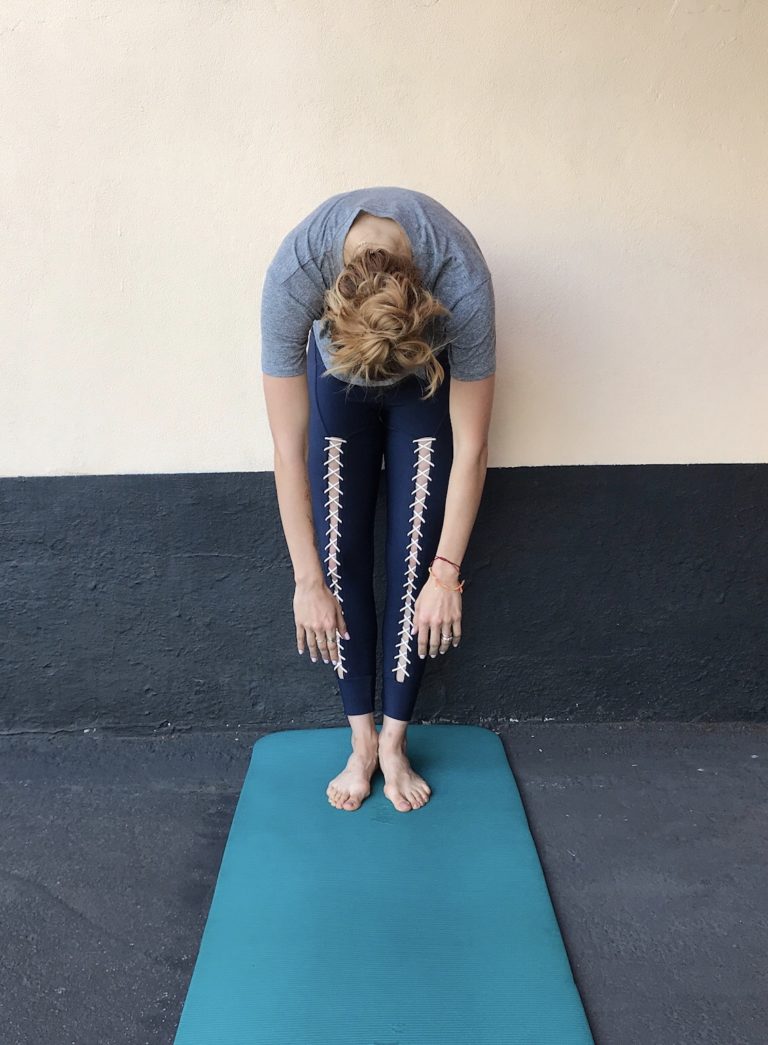 Then without forcing it, imagine a gust of wind came through and caused your arms to circle in both directions.
Roll up and repeat if needed. This stretch is best if done daily.
If time and access to equipment permit, check out this shoulder stretch and strengthener on the Pilates Barrel:
---

Lesley Logan is a fitness business coach and a PMA-certified Pilates teacher who leads international Pilates retreats. She is the author of Profitable Pilates: Everything But the Exercises, and her advice has been featured in Pilates Style Magazine and Vogue. Her Pilates workout and business coaching tutorials can also be found on PilatesAnytime.com.