What do a human flag, iron cross, and front lever have in common? They're all going to put you in a lot of pain! Why? Because they're some of the HARDEST exercises ever! One of the great things about fitness is that it never has to get boring.
There are always ways to improve, and always new things to try! If you're not trying to get better at what you're doing, you're going to fall behind pretty fast. Chances are, there's someone else out there working harder than you! Are you OK with that??
We didn't think so! We've got a hundreds of workout plans that will help you get the results you're looking for, whether you're just starting out, or you've been weight training for years!
While there's nothing wrong with sticking to the fundamentals, we decided to pick out the top ten hardest exercises to give you a serious challenge!

If you are sick and tired of your routine of standard bench presses and squats, we DARE you to add some of the exercises from our list below to your workout! If all of these look like child's play to you, go ahead and jump straight into the Ten Hardest Exercises Challenge – Good Luck!
WARNING: These are NOT for beginners! If you try these without preparing for them and training properly beforehand, you're probably going to fall on your face.
Please remember: if you're going to try any of these, be physically prepared, or at least get it on video so you (and the rest of the world) can laugh at it later, go viral, and make lots of money to cover your hospital bill.
Enough of the boring stuff because you probably won't listen to our warnings anway, let's get to the list of the Top 10 HARDEST Exercises EVER!
10. Aztec Push-up
We're starting off with the simple Aztec Push-up. All you have to do is explode out of the standard push-up position, bend at the waist to touch your toes while keeping your legs straight, and land back how you started.
Pretty straightforward, right? Yeah… it sounds easy enough, until you try it. We're not quite sure where the "Aztec" in the name comes from, but this sounds A LOT like Montezuma's revenge round 2 if you ask us.
To work your way up to this, we recommend first perfecting Plyometric Push-ups and Walking Push-ups.
As soon as you've got it down, you've completed the Aztec Push-up Challenge!
9. Two-Fingers Push-up

Remember Bruce Lee? He was not only among the fittest people ever, he liked to make things hard for himself. Why use two hands to do push-ups, when you can use two fingers instead? He loved the Two-Fingers Push-up.
These are tough because they're not just hard on he major arm muscles, but killer for your fingers as well.
Even if you're not a Kung Fu master showing off for a crowd, repping these out can get you some serious style points!
You should work on your One-Arm Push-up technique and probably some forearm exercises like the Wrist Roller before you try putting all your weight on just 2 fingers.
There's no doubt that Bruce Lee will be proud when you finish this Two-Fingers Push-up Challenge!
8. Superman Push-up
The Superman Push-Up looks pretty easy. We're here to tell you that looks can be deceiving, especially when it comes to exercise!
Put your hands out in front of you on the ground and use your shoulders and core to lift yourself off the ground. You can't touch the ground with anything but your hands and toes!
The first time you try this, you're probably going to end up grunting and going nowhere, with your friends wondering what in the world you are trying to do. Tell them you were just stretching, and don't try it again until no one else is around to see you fail.
Get in A LOT of Front Dumbell Raises and Pull-ups first to work on your upper body strength, and some Roman Chair Leg Raises and Weighted Decline Russian Twists for strengthening your core.
If you can finish the Superman Push-up Challenge, you're off to a great start on our hardest exercises list, but there still is a LONG way to go!
7. One-Arm Ab Roller
We've all seen the different ab roller routines. Out and back, blah blahhh… BUT have you tried this with just one arm? Yeah – we didn't think so!
Keeping your balance with just one arm and having the strength to keep from falling flat on your face in hurry is going to be tough, and that's only half the battle! You stil have to get back up to where you started!
You're going to want to master the Ab Roller and Standing Ab Roller exercises before even trying it with just one arm!
The One-Arm Ab Roller Challenge is pretty extreme! Take note from the video that he uses a dumbbell that will roll, rather than the traditional ab wheel.
6. One Finger Pull-up
Pull-ups are some of the best exercises you can do because they work a lot of muscles and you can do them on anything you can hang from safely.
One Finger Pull-ups, however, might be a little more of a problem! You don't want to hang there and go nowhere feeling (and looking) like an idiot, and you don't want to dislocate your finger trying this. If you feel a lot of pain in your finger when you start to hang on it, you're probably not ready to try this one yet.
Start with the basic Pull-up and move on to the One-Arm Pull-up before you try these!
The One-Finger Pull-up Challenge is no joke! If you can handle that, you can do anything, right?? Well, you might want to hold that thought until you get to the end of our hardest exercises list!
5. Planche Push-up
If you think you need a gym to get a good workout in, think again! Exhibit A: the Planche Push-up. With just a few feet of open space, you can give these a shot.
It's not just a great arm workout, it requires some serious core strength too! This is one where you're at risk of falling on your face if you try it without being well-prepared. Don't say we didn't warn you.

Some great exercises to prepare you for this are the Bench Dip, L-Sit on Dip Bar, and the Close-Grip Bench Press.
If you thought the Planche Push-up Challenge was a piece of cake, don't worry! We've got another exercise for you to add to that and crank up the difficulty coming up!
4. Front Lever Pull-up
Pull-ups themselves aren't easy, but some people tend to get bored with just the basics, so they add variations to increase the difficulty.
The Front Lever is a hard enough exercise on its own, but don't think we're just going to let you stop there! Ohhhh no – this is the list of the HARDEST exercises ever, remember?
The Front Lever Pull-up will work just about every muscle on the front of your body – that's a lot of injury risk!
First, you're going to want to be repping out Hanging Leg Raises no problem! Then, move on to the Front Lever without a pull-up included.
If you haven't spent a decent amount of time on gymnastics bars in the past, you might have some trouble with the Front Lever Pull-up Challenge, but if you work hard you can overcome any obstacle!
3. 90 Degree Push-up
Yeah, Handstand Push-ups are pretty hard. Wait until you see the complete 90 Degree Push-up.
Start with a handstand, then lower yourself down until your body is in a stright line parallel to the floor, then complete the previously mentioned Planche Push-up. Sorry, you're not done yet. Get back up to the handstand position.
Before you even think about trying this, work on your Handstand, then Handstand Push-ups. Once you've got those down, go ahead and master the previously mentioned Planche Push-up. After that, you MIGHT be ready to do the 90 Degree Push-up, OR you might just fall on your face again.
You probably should have a pillow strategically placed on the floor to land on – just in case.
Once you've put the time in to complete the 90 Degree Push-up Challenge, show it off to your friends, and get ready for the next one!
2. Ring Iron Cross
Gymnasts train… A LOT. They're in pretty amazing shape with cardio, strength, and flexibility all being necessary for success in their sport. They might even find some of these exercises relatively easy, but the Ring Iron Cross is one of the toughest gymnastics moves there is!
The world record for holding this out longest belongs to Zak Kerkoulas: 29.23 seconds!
Just skip this one – if you havent been training for years, you're not going to hold it long at all…Just Kidding! We believe in you! Just make sure you get your shoulders, chest, and core up to par before giving it a shot.
Considering that the world record for this exercise is holding it for under 30 seconds, we don't expect you to hold it too long for the Ring Iron Cross Challenge. Don't lower yourself down without pausing to hold for at least a few seconds though!
1. Human Flag
What's the hardest exercise ever? We're going with the Human Flag. This one requires ridiculous core strength in addition to the amount of upper body strength required to hold yourself in a straight line. You're also going to need some leg strength to get the full extension.
Remember: you're holding your body in a straight line out from whatever you're hanging on to. Just because it's called the human flag, doesn't mean you want to sway back and forth – keep it steady!
While you don't have to hold yourself out in a straight line all day for the Human Flag Challenge, you should aim for 5-10 seconds.
None of these top 10 hardest exercises EVER seem too difficult, do they?? Yeah, we didn't think so either. Let us know when someone does a One-Arm Human Flag – then we might be impressed! No holding your head against the bar for balance!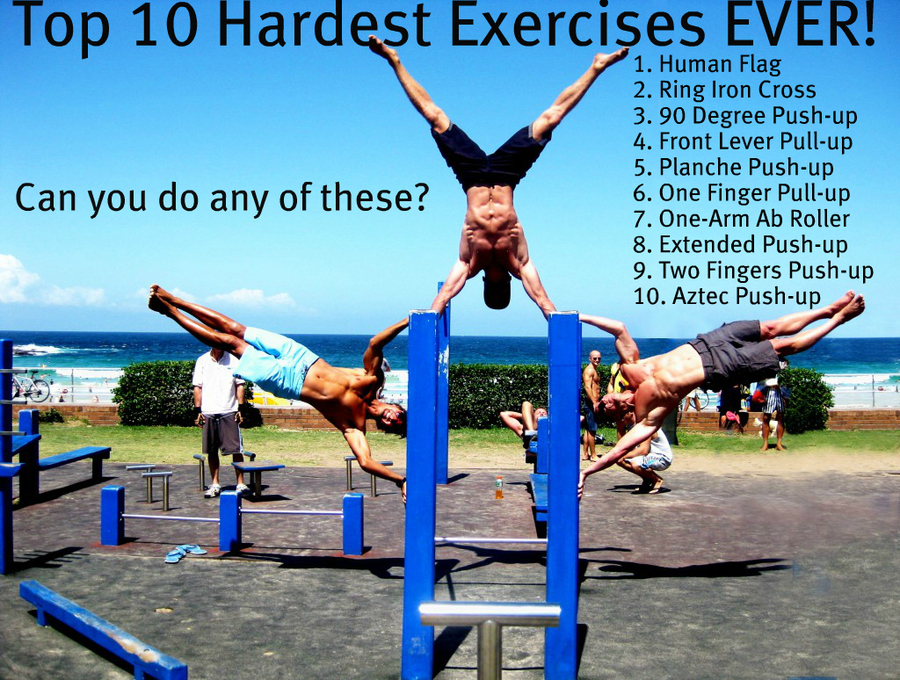 Let's just be honest for a second: you're probably going to need to stick to a serious workout plan for a while before you even THINK about attempting any of these. Get started by choosing from our hundreds of workout plan options, and track your progress on your way to completing ALL of these exercises!
Imagine how amazing it will feel when you finally can do all ten of these, and you check the 10 Hardest Exercises Challenge off your to-do list! Hopefully we've given you some ideas for pushing yourself to new limits. Don't forget to follow us on Twitter: @WeightTraining and connect with us on Facebook!
If you love our rankings here or hate them, or just have some suggestions for tough exercises we missed, let us know in the comments! We read them all!