Okay, we're not talking about just an adjustable set of dumbbells here. We're talking about going all out, creating the ultimate home gym, when you have the cash for all the flash. Buy lottery tickets, marry into a famous family with mucho dinero (with the early dismissal of Kris Humphries, there's a possible opening in the Kardashian clan!), or do whatever you can to get the big bucks. You'd need it for a construction project of this magnitude.
Ultimate, Extravagant, Upper-Class Home Gyms
This is the stuff dreams are made of, for luxury work-outs and six-pack abs made the comfortable way. These spaces have everything computer-designed for ergonomically-correct muscular development, even ambient lighting that minimizes the look of your enlarged pores while you're working up a sweat. The most extravagant home gyms have everything you could possibly want for your workout plan:

Ridiculously huge built in aquarium
Jacuzzi with your basic light therapy, aroma therapy, and a built-in stereo for your basic face-melting electric guitar riff therapy (Cue "Barracuda" by Heart)
Fully-stocked wet bar with health drinks, refrigerator, microwave, adjustable stools, granite countertops, and custom cabinetry
His-n-hers showers with dressing rooms
High-end audio-visual electronics (wall-mounted big screen TV, surround sound, 6-disc CD changers, Wi-Fi capability so you can surf the net and diversify your stock portfolio while you diversify your workout routine, etc.)
Architectural features, such as windows that let in the daylight, but become opaque for privacy at the touch of a button (when you don't want your gardener and pool boy to see your glistening, rock-hard body), and moveable glass walls that allow you to connect with nature and take your celebrity workout to the great outdoors (when you do want your gardener and pool boy to see your glistening, rock-hard body).
 The "Architect of Anatomy"
The renowned "Architect of Anatomy," Mark Harigian, of Harigian Fitness, Inc., designs and executes the most amazing home gym spaces for the likes of Bill Gates, Madonna, Scott Bakula, and Shaquille O'Neal. Also available as a
personal trainer
and motivational speaker, Harigian is probably best known for his custom "workout environments."

These Taj Mahals of the exercise world are outfitted with laser-etched stainless steel equipment, made at Harigian's own factory, to look great and work seemlessly. This is all state-of-the-art and top-of-the-line, but to get one built, you'll write a check with a-lot-of-zeroes. His website offers a glimpse into the home gyms of the celebrities for whom he has created one-of-a-kind, custom workout environments.
Just for fun, check out five of the most insanely expensive, unneccessary, and downright obnoxious home gyms that only the rich and famous could even think about affording.
1. Kate Moss – The Best of Both Worlds

Actress Kate Moss is raising eyebrows in her hometown back home in England, by having an elaborate home gym installed in her stately old English mansion. Her neighbors are up in arms that she's defiling the historic, 19th century home of noted English author Samuel Taylor Coleridge (That's STC, for you English Lit majors).
They describe the home gym as being in the style of the "Football Wives." But with the 850,000 pounds that Ms. Moss is doling out for this dreamy workout space and sauna, as part of a 2.5 million pound remodeling project for the old mansion, the neighbors are probably more jealous than ticked off.
If you love old luxurious mansions but also love to workout in the comfort of your own home, why not have the best of both the worlds? However, for most of us "ordinary" people, the best of both worlds would include a new flat bench and shiny dumbbells in our "stately" 1,600 sq/ft home.
2. Tiger Woods – Privacy is Paramount

Tiger Woods has worked out the nagging problem of finding space in his $60 million-dollar mansion for his home gym, by simply having a separate, 9,500 square foot building built to his specs, to house his specialized golf workout plan and get his mind off of his problems. It comes complete with an oxygen therapy room, too!

There were rumors last summer that Elin was demanding the whole Jupiter Island complex in the divorce settlement, if he wanted his kids to settle down in Florida. They apparently worked out something else, because Tiger still has his precious home gym. Don't you feel sorry for him; having to use a Segway to cross his compound, pass the jogging track, tennis court, golf course, and yacht dock, to reach his gym?
3. The Jewel of Maui – Vacation is no Excuse to Skip a Workout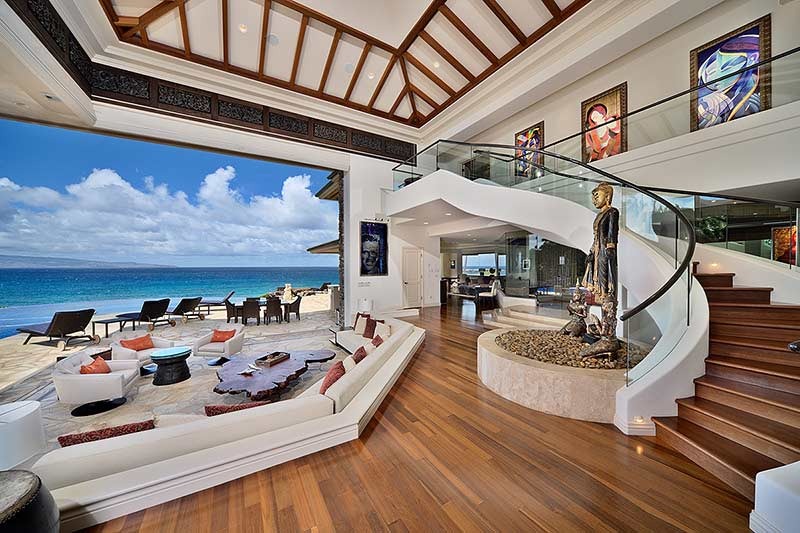 Available for rental, the Jewel of Maui is a fabulous Hawaiian mansion that has every possible amenity, and its workout room has something that very few other extravagant home gyms have, which is a view of the Pacific Ocean, set in the midst of paradise. While your next beach vacation may not involve staying in a luxury mansion, at least you can show off the results of your
beach body workout plan
for all to see.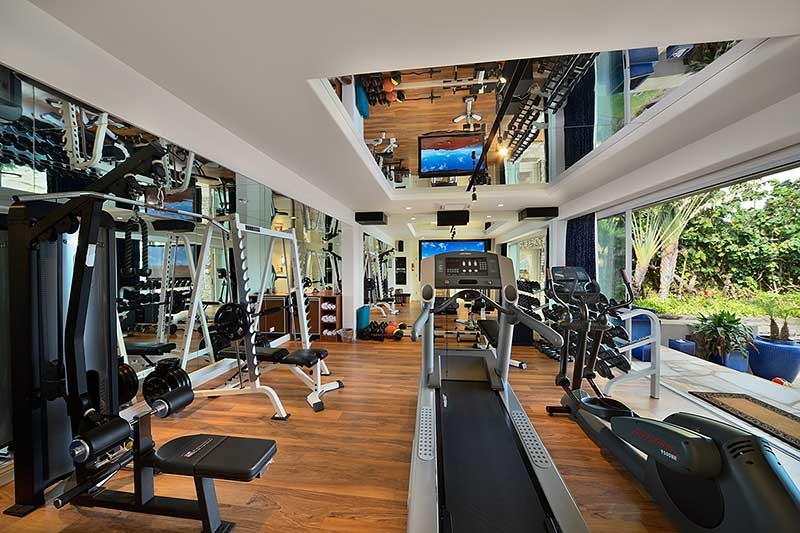 All of this seventh-heaven comes at a price of $6,750 to $8,250 per night, but hey, we're dreaming big here, right? If you're going to rent it, take lots of pictures of yourself to show everyone that you really have it all. I mean, why not show off, if you have this kind of money, right?
4. Madonna – Raising the Roof (literally)

Bought a Manhattan townhouse in 2009 after her split from Guy Ritchie, and is in the process of adding a new top floor to the mansion to house a swanky new home gym. The house cost, reportedly, a cool $40 million, and this new ultimate home gym will set her back another $2 million. For two hours a day, she and her personal trainer Tracy Anderson will be working out on those three-pound weights and putting Anderson's own invention called the "hybrid body reformer" to very good use.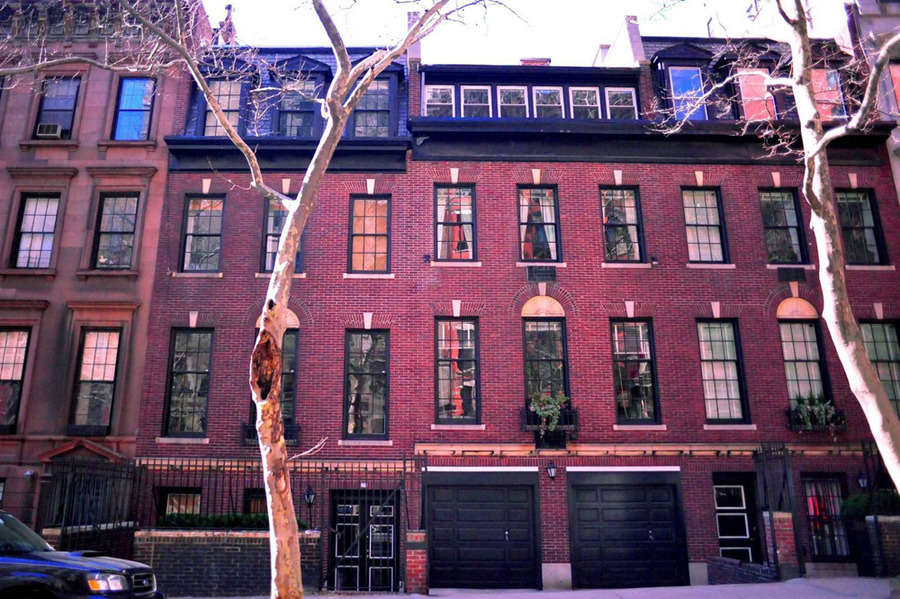 But seriously, Madonna really needs her own top-notch workout studio. She's over 50 now, and it's extremely important for her to stay in peak form in her line of work.  As Madge herself has said, "If I have to go out on stage and, you know, jump around in a pair of hot pants I better look good and also when I perform I'm like an athlete and I have to be in good shape." That comes at a price, but she can afford it.
5. Tony Parker –  A Basketball Paradise

Tony Parker, of the San Antonio Spurs and the ex of Eva Longoria, built this home gym as part of the $7.1 million dream home that he and Eva began building a few years ago, when they were happy newlyweds. For basketball lovers, this is a basketball workout heaven, where you can simply slip on some kicks, walk down from the bedroom and past the kitchen and walk into the gym (so long YMCA).

This personal home gym has a basketball court (with Tony's beloved San Antonio Spurs' team logo built into the hardwood as a centerpiece of the gym floor), soaring ceilings with skylights galore, a big screen TV hanging high overhead of the b-ball court, a workout room annex with top-of-the-line equipment, a volleyball court, a tennis court, a pool, and even a mini-water park, for cryin' out loud…which leads me to ask, why in the heck aren't they still happily married?
Build your Own (mini) Luxury Gym
Yes, this really is how the other half live. Or maybe how the 1% lives. Here are some of the toys that these celebrity home gyms have inside:
No Need to Spend a Fortune
So, why would celebrities spend this much of their fortunes on their workout spaces? ….Frankly, because they can. Most, if not all of these gyms are unnecessary when they can simply head down the road and get a gym membership. Think you overpay for your gym membership? Check out some of the most expensive gym memberships in country to compare. Of course you don't need a luxurious gym or expensive gym memberhsip to get fit, anyone can get a great workout with a simple home workout or even a no weights workout plan.
Browse our free workouts or sign-up for our pro membership to get access to all premium workout plans, automatic workout tracking, and more!