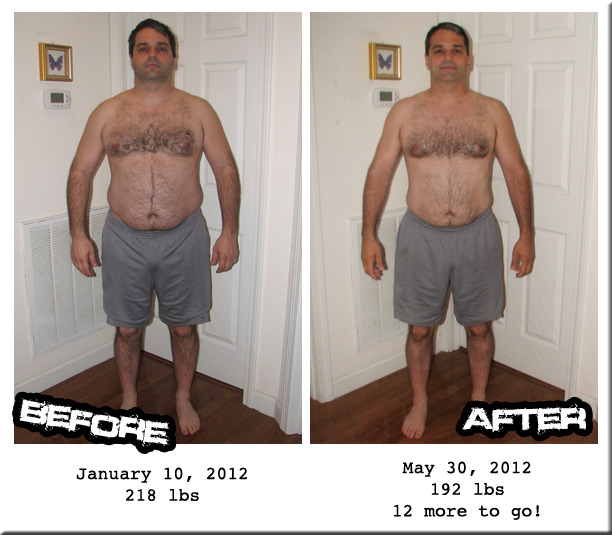 Since we want to learn more about all of our members, we will be bringing you a new User Story on the blog every week! Keep sharing your user success stories with us, we love hearing the results! We are excited to introduce you to Fastbreak101 this week!
This is an Exercise.com Pro user who made up his mind to make a change, and he has stayed with it, achieving some awesome results!
Fastbreak101 is currently 39 years old and married with 3 kids. In January, he started consistently doing our Brad Pitt Workout Plan. This was his first step towards success, helping him make his decision to change, stick and stay with his workout schedule.
Now that he has completed this workout, he is moving on to the more challenging Superman Workout Plan to keep his body guessing, allowing him to take his fitness to the next level!
What got you started working out?

I have always enjoyed working out since I was young, but never really stuck with it. I finally started working out on a consistent schedule this past January, after only being able to do 5 minutes on the elliptical machine.
After viewing myself in the mirror and discovering that I was 218 lbs, I realized that I not only needed a change in lifestyle, but I had better change my lifestyle.
Since I started working out in January, I have had a few interruptions due to health/injury, but otherwise, I have been consistent over the past 5 months!
Currently, what goals do you have for working out?
My biggest goal is to reach 180 lbs. I have also set some other goals for myself and given myself an easy timeline to complete them. These are what I wish to accomplish before I turn 40:
Bench press 

– 

225 lbs for 3 sets of 5 reps
Preacher curls 

– 

100 lbs for 3 sets of 5 reps
Pull-ups 

– 

3 sets of 15 reps
Push-ups 

– 

3 sets of 30 reps
40 yard dash in 5.0 seconds (I use to run the 40 in 4.7. I have no idea what my time is at the present).
Complete a 5k, a 10k, and a half marathon
If you had to choose one way not to exercise what would it be?
It's not so much a way, but a where! I hate working out at home, and almost anywhere other than a gym. I just don't seem to get focused or in a groove. Besides not having weights, even working with bands just doesn't feel comfortable.
Plus for me, there are too many distractions at home.

What's your food of choice right after a workout?
Chocolate milk, whey shakes, or Muscle Milk to start. After that, I try to eat a good amount of fruit, since I have a tendency to crave processed chocolate after a workout.
Otherwise, just watching my intake on my meals is normal.
Ok, be honest! What is your favorite non-healthy food?
Has to be processed chocolate! Candy bars of course, but if you add soda (which I no longer drink, 2 ½ years soda free) then by far soda!

Share with our Community the best fitness advice you've been given.
Just two simple rules to getting my workout in gear and completed without interruption:
If you ain't reppin' get steppin'!
Shut your mouth, crank the music, and get to work!
It's not the most elegant, but it was simple and straight to the point.
Last but not least, give us an interesting fact about yourself!
I am a professional mascot for the Triple-A Nashville Sounds, aka Ozzie The Mascot.
There you have it – the story behind the man inside the suit!! We'd like to thank Fastbreak101 for sharing about himself and the fantastic progress that he's made!
Seeing these success stories is inspirational to us, and we hope that it inspires you to reach your goals too! Keep up the hard work and smart eating; these User Stories are proof that it pays off!