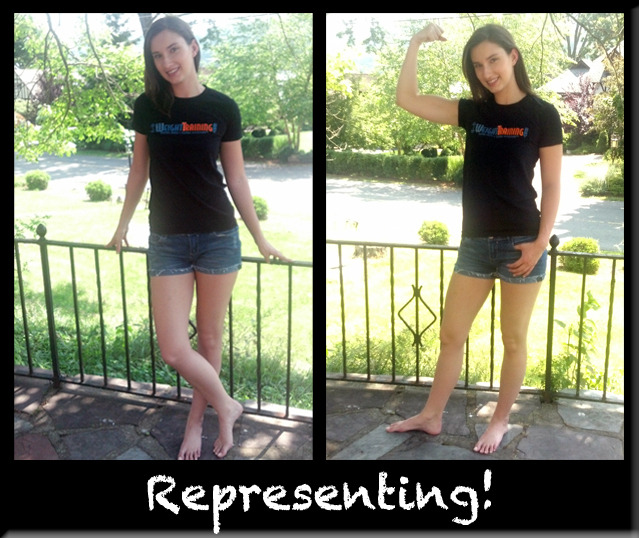 Continuing our run of awesome User Stories, we're excited to feature QueenofGymRats today! Read about her background and how she stays organized and motivated – two huge keys to success!
She started out thinking that she didn't have what it took to be fit but realized what changes would be required to be queen of the gym!
Share with us a little about yourself and where you come from.

I'm from a small town in New Jersey. I went to school for Corporate Communications but am currently working in a gym called go Performance & Fitness and studying for my personal training certification.
One day I hope to own a gym of my own, but for now I'm just getting as much experience as I can. Being able to inspire others and help them reach their goals is the best thing in the world!
How did you get into working out?
As a kid, I tried my hand at sports, but I wasn't that fantastic. I made a basket for the opposing team during a rec basketball game and around that time started to believe I was just meant to be that skinny artistic type.
I wanted to be a strong competitor, but I didn't think I was really capable.
In college, I had a roommate who dragged me to the gym one day, and as I started learning I just became hooked. At that point, I was going for overall fitness, but in late summer last year I discovered CrossFit, and my world was flipped again.
I owe it all to my roommate for getting me back into the gym, and I'm deeply thankful for my boyfriend for introducing CrossFit to me!
Competing against yourself in CrossFit to get stronger than you were the day before became so addicting. I started lifting with a purpose, and I knew I didn't have to be skinny and lanky forever.
As I started learning more about strength training I realized I wanted to become a personal trainer to motivate people and help them overcome fears or preconceived notions… everyone can change!
But to better answer your question, I was casually working out for three years and barely seeing any results. When I started CrossFit and planning my workouts, I finally saw a transformation.
With that strategy, it's almost been a year!
What current workout goals are you striving for?
I just finished doing a bikini competition, but now I'm taking a step back and working on adding muscle and toning.
I'm still doing CrossFit once a week, but I'm just addicted to a split routine which allows me to adjust the sets and reps for the goal of each muscle group.
I just want to be stronger than I was yesterday!
Do you have a set workout plan or make it up as you go?

I definitely have a set workout plan. After 4-6 weeks I'll take a look at my progress and see where I need to adjust or I'll switch things up a little to continue with my progress, but I'll always have a plan.
Having a plan and working out has not only allowed me to get into the best shape of my life, but it's also helped me mentally. Working out has helped me channel my stress and is maybe the only thing in life that I have control over.
What's your favorite not-so-healthy food?
Five Guys. They have the best cheeseburger and fries in the world!!! It was the first thing I ate after my competition and it's the best thing when you need some comfort.
What's the best fitness advice you've been given?

Slow down and don't be afraid to lift heavy! Many people rush through their sets.
Take your time and if you physically can fly through each rep then you need to add weight! And on that note, women need to lift and can't be afraid of bulking up. It's just not in our build to get "manly."
Between CrossFit and weightlifting, I've always pushed to lift as much as I could and to focus on good form. I wish more people (particularly the ladies) would do the same!
Share with our community an interesting fact about yourself to remember you by!
I'm obsessed with Cirque du Soleil! The strength, flexibility, and art that goes into those shows blow my mind! It's truly inspirational and if you get me going I may not stop for a while…
Be sure to also check out QueenofGymRats' Fitness Renaissance Website. We wish her the best of luck in where her career is headed, keep up the hard work!
If you haven't already, like Exercise.com on Facebook and Follow us on Twitter to stay up-to-date with everything fitness, and make sure to keep up with the blog to get to know more people from the site!