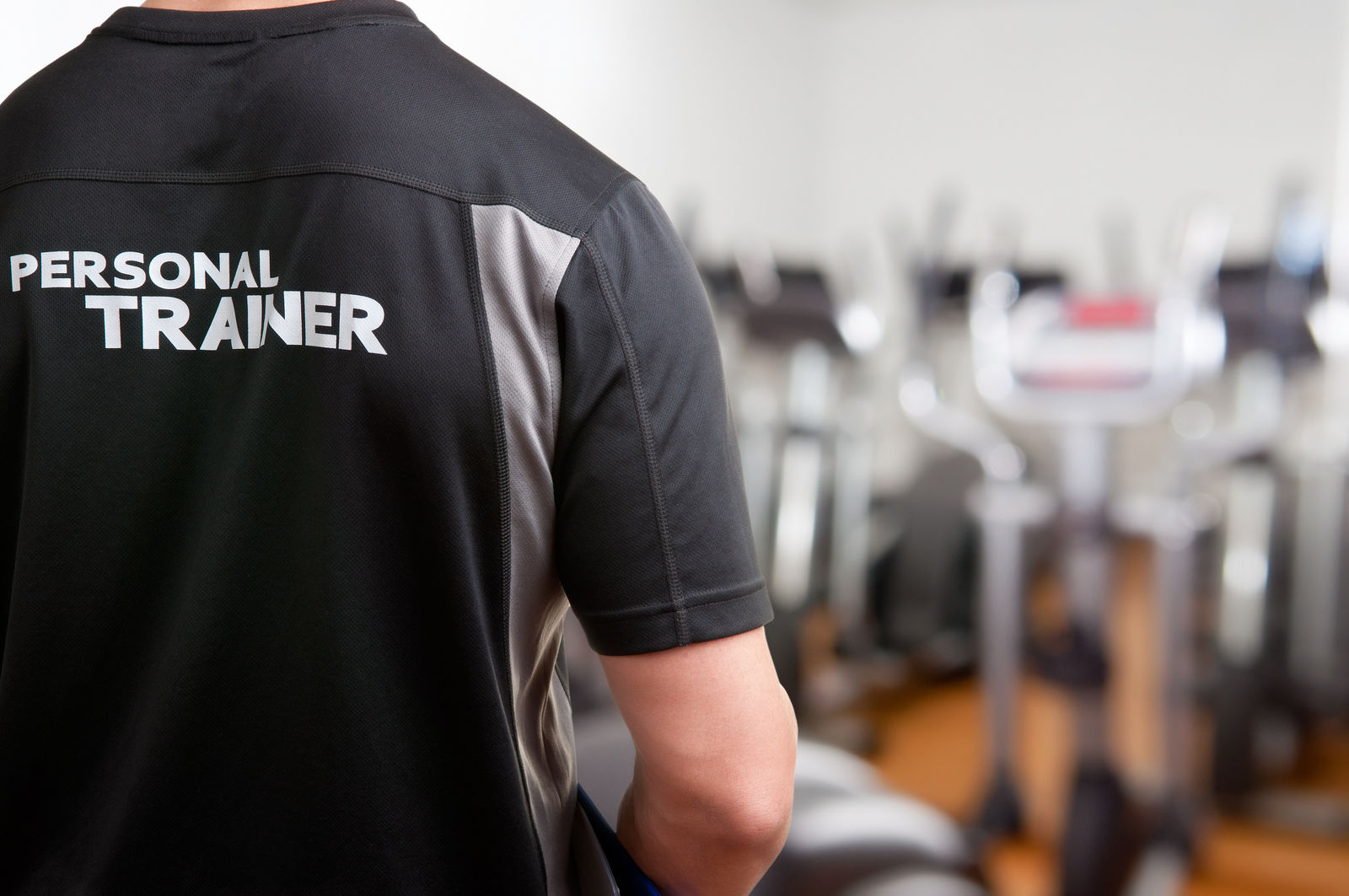 Get the Basics...
A personal trainer should wear clothing that makes it easy to demonstrate exercises.
Clothing should always look professional and clean.
Clothing shouldn't turn off or intimidate clients.
Stay on top of deals in the fitness fashion world.
Personal trainers working at a big box gym franchise don't spend a lot of time choosing what to wear. Trainers and other employees usually wear t-shirts with the company's name/logo on it. The word "trainer" may be emblazoned on the back.
The dress code exists for excellent reasons. One, the trainer is immediately identified and set apart from the gym's members. The trainer becomes noticeable, which helps the gym. If you watched a trainer do a good job with clients, wouldn't that lead you to think about signing up for sessions? Two, wearing the right outfit presents professionalism. Without a professional look, personal trainers don't exactly inspire confidence.
Are you planning on being a self-employed personal trainer? In addition to knowing the ins and outs of fitness, you must rely on your own good judgment for fitness fashion. Don't buy just anything off the rack! Choosing workout clothes requires a bit of thought. You don't want any choice in clothes to detract from your professionalism in any way.
Dress for Functionality

Style helps, but functionality ranks higher on the importance scale. The clothes you choose must make it easy to demonstrate exercises. Wearing jeans, for example, could prove disastrous when demonstrating heavy squats. The fabric won't allow for the full range of motion.
The same would be true when trying to perform shoulder presses while wearing flannel. Construction boots don't exactly make performing plyometric exercises easy, either. Besides, they look ridiculous in a gym.
Now, certain gyms may allow members to wear ill-advised clothing, but trainers cannot sport clothing that makes exercising difficult. Trainers should stick with flexible clothing designed with athletic performance in mind. Board shorts or nicely cut jogging pants and a well-fitting t-shirt come off as much more appropriate for training sessions.
You don't want anything making your training sessions harder to teach. The wrong clothes can do just that.
Dress for Professionalism
Personal trainers must dress in a way that creates a positive professional impression. Jeans and flannel not only hamper performance, but they also look totally unprofessional. Why would you wear something better suited for shoveling snow than training a client?
Purchase decent clothing made by a designer of athletic sportswear. You'll make a better impression this way. Sports apparel also shows a dedication to a certain lifestyle. Clients like trainers who show dedication in all walks of life.
Someone wearing Adidas or Nike clothing probably spends a lot of time thinking and learning about fitness. The clothes do make the trainer. Trainers wishing to be successful should look the part. Otherwise, you'll find it tough convincing clients to choose you for their personal trainer.
Trainers do need to beware of going too cheap or too expensive with their clothing choices.
Budget for Your Clothing

An investment in the proper clothing isn't just about looking good. The right sportswear is durable and won't rip or tear like third-rate apparel. Spending a lot of money to get nice looking and durable clothing isn't always necessary, though. Reasonably affordable clothing delivers the goods just fine.
Wearing clothes that are a bit too cheap, however, doesn't make a great impression.
And clothing that is too expensive can be a turnoff to potential clients. Clients might think their training fees are hiked up to pay for designer clothes.
Play it safe by donning nice clothes that are neither too costly nor too cheap. And keep them clean.
Train Anyone, Anywhere in the World.
Clean Clothes Count
Skipping out on washing and drying your clothes would be a terrible idea. Sweaty, wrinkled clothing does not exactly speak highly about a personal trainer. Disregarding basic cleanliness reflects a personal trainer who lacks self-respect and shows disrespect towards clients. Always wear clean workout clothes when training clients.
Stay Away from Controversial Clothing
Trying to be funny or making a political statement with a t-shirt could really backfire. A slogan on the shirt might really turn off potential or even current clients. Certain illustrated t-shirts might even be so inappropriate to the point of absurd.
Maybe you have even seen people wearing zombie apocalypse fashion. Living dead TV shows draw big audiences these days. So, specialty companies put out oddball zombie apocalypse t-shirts to cash in. The shirts might look fine at a horror movie convention, but they create a real world nightmare when worn by a personal trainer.
Don't make the mistake of wearing anything that causes harm to your business. A basic t-shirt with a solid color displaying the name of the designer is enough. A basic t-shirt causes no trouble. So buy a number of them. Keep them clean, too.
Don't Wear Intimidating Clothing

You are your own best form of advertisement. Looks count for a lot in a personal trainer. Showing off muscles can be effective, but you may have to dial back your flaunting.
Pumping heavy weights in a hardcore bodybuilding gym is not the same thing as training a client. Hitting weights hard with an aggressive attitude is fine. Being too aggressive or intimidating with a client isn't so fine. Attitude alone won't intimidate.
Clothing choices can cause gym intimidation as well.
String tank-top shirts showing off massive muscles can put off potential clients. They won't approach an intimidating trainer, much less sign up for lessons. Avoid clothing that intimidates. It won't impress anyone or help the cause.
Stay Up to Speed on Cool Exercise Clothing Trends
Smaller companies are always releasing new apparel. Keep current on the release of new clothing and any special deals available. The internet makes this possible so, when the time comes to buy new clothes, check out current sales.
Fitness celebrities frequently put out their own clothing lines. Most of these celebrities have worked as personal trainers or competitors. They understand how to get positive reactions through the right look. Hence, their clothing lines could be the perfect choices for personal training attire.