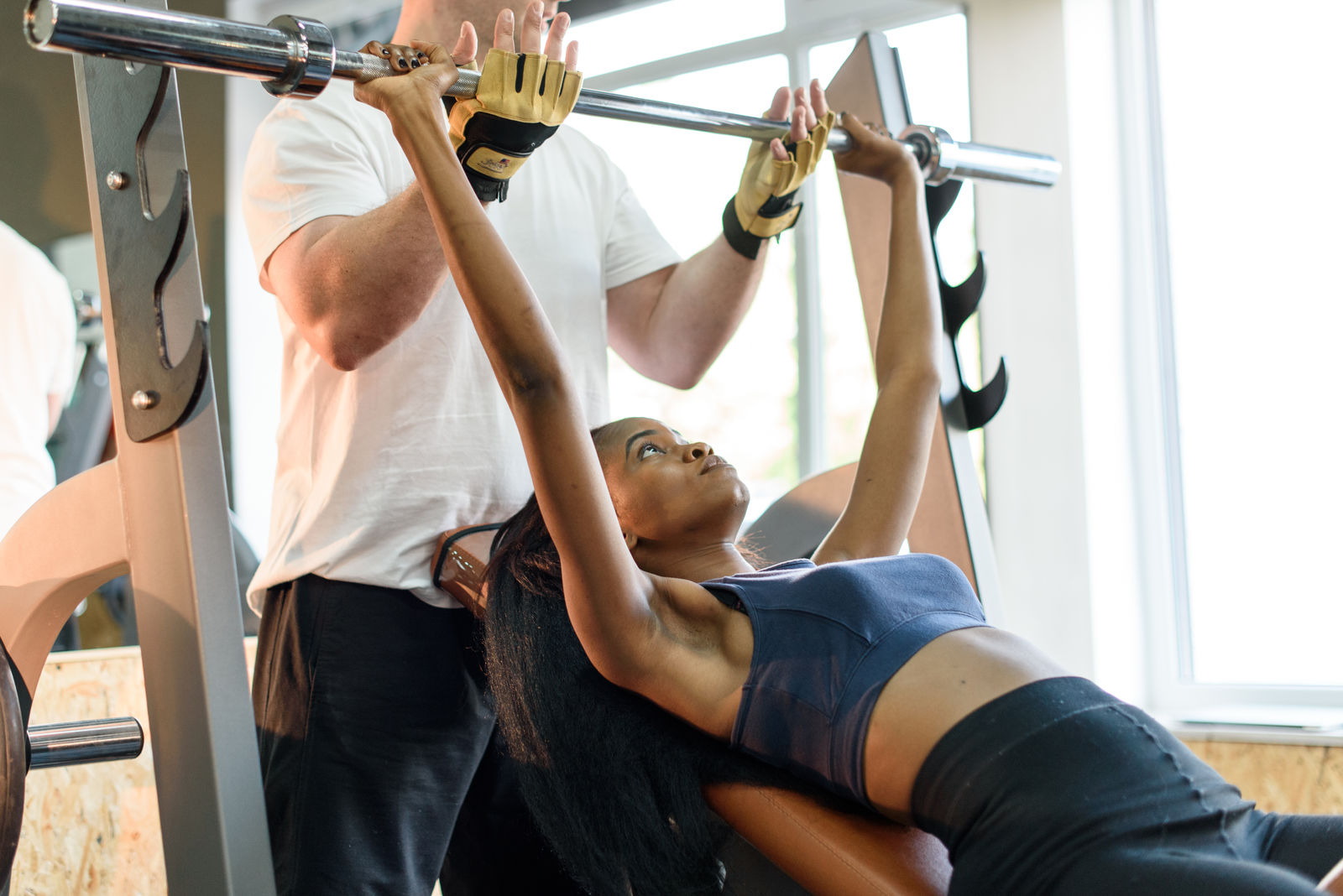 Get the Basics...
Having a healthy client-personal trainer relationship is essential.
You should never tolerate lewd comments or inappropriate touching.
Never underestimate the power of your instincts.
Girl goes to the gym to get in shape. The cute personal trainer flirts with her and steals her heart. It sounds like the beginning of a romantic comedy.
But in reality, this situation happens to females a lot and isn't always welcomed.
Unfortunately, the personal trainer who has been hired to help you get toned and feel good in your own skin may make you squirm instead. So, what do you do if your trainer is too touchy?
Warning Signs

Your trainer is supposed to help you perfect your form while demonstrating new exercises, which sometimes has to involve him getting close and touching you. Sadly, some trainers take things too far.
Warning signs that your personal trainer is getting too touchy:
He overtly leers at you.
He excessively touches you in areas where you don't want to be touched.
His comments make you feel uncomfortable.
Working with a personal trainer can be expensive, and you should only be receiving the best fitness instruction your money can buy. While it's not unheard of for a personal trainer to be flirty when trying to develop a rapport, he shouldn't be crossing any lines. See below for certain deal-breaker behaviors you should never tolerate.
Common Ways Trainers Cross the Line
Yes, you expect your personal trainer to be enthusiastic and conversational. And yes, there are times when he may need to make physical contact with you to correct your posture. But, despite the tall tales that encourage trainers to be flirtatious with their clients, engaging in this type of behavior is unethical and borderline illegal.
Specific behaviors that cross the line include:
Insisting that you meet up outside the gym to discuss your workouts
Asking you out for a date
Touching you longer than necessary
Blatantly staring at your body
Touching your belly, backside, hips, or breasts
Performing assisted stretching exercises that require lengthy physical contact
As a fitness professional, there's a particular level of expected conduct when training clients. You should expect trainers to respect and provide quality service to all of their clients.
How to Handle the Situation

If you feel like something is off, then it probably is. But what can you do? What if you've already paid for a training package? Should you walk away and lose all your money?
If you've only invested a few dollars, the easiest thing to do is walk away. But if you've invested a lot of money into a training package, you need to rectify the problem immediately.
– Don't Engage in Flirtatious Behavior
To avoid any misunderstandings, be conscious of your body language and what you say. Don't give your trainer the impression that you like the way he is behaving. It's never okay to feel uneasy by your personal trainer's comments or advances.
– Communicate Honestly
An overzealous personal trainer may not realize that they are doing something wrong. If this is the case, a light-hearted warning should do the trick. Reacting to unsolicited comments with a giggle or sheepish grin gives your trainer the wrong impression. In fact, it may encourage them to act even more flirtatious. Be straightforward and vocalize your expectations from the very beginning.
– Have a Few Tactful Comebacks Ready

To alleviate any uncomfortable feelings, practice a few comeback phrases to use. If your trainer continues to make unsavory comments, you may need to go to their employer and ask to be assigned to a different trainer.
Keep in mind this will only work if you are actively working out in your gym. If you're using a personal trainer outside of the gym, completely breaking things off may be the better choice.
– Stand Your Ground
If you have your training sessions in the gym, immediately report your trainer's behavior. Sexual harassment can escalate quickly. Keep a record of what has happened and leave no details out. Never remain silent because you are afraid of being embarrassed.
– Trust Your Instincts
Flirtatious comments and unacceptable behavior are easily identifiable, but sometimes you may encounter a confusing situation. If you've had a good relationship with your trainer but they suddenly start making advances, you need to address it immediately.
Everyone makes mistakes, so if you want to continue working with your trainer, let them know that while you appreciate the flattery, you want to keep things on a professional level.
Committing oneself to providing the highest standard of professionalism is essential for personal trainers. However, no matter how professional your trainer may appear, you cannot allow unwanted advances or comments go by the wayside. Allowing yourself to be objectified is never okay.