Get the Basics...
Training clients with a hip replacement includes different levels of exercises depending on their rehabilitative progress.
When prescribing total hip replacement exercises, you'll want to avoid hip adduction, internal rotation, or extreme hip flexion.
Workout software with a customizable exercise library can optimize efficiency while exercise programming for hip replacement clients.
Breaking into training special populations, like training clients with a hip replacement, can be a rewarding way for personal trainers to add a new stream of revenue to their fitness businesses.
To train clients with a hip replacement, it's important that you're not only well-versed in hip replacements, but that you have the tools in place to make your training as effective as possible; that's where personal training software comes into play.
By taking advantage of the features that personal training software has to offer, you can train clients with hip replacements in a way that works for them, not against them.
To learn more about the Exercise.com personal training software platform, book a demo today.
How to Train Clients With a Hip Replacement
To learn how to train clients with a hip replacement, it's imperative that you have a thorough understanding of what a hip replacement is and why it's important to follow certain procedures with these clients.
What is a hip replacement?
A hip replacement, or total hip arthroplasty, is a replacement of the femoral head and the acetabulum which together, allow for normal movement of your leg. Hip replacements are often performed on people with pre-existing musculoskeletal disorders such as osteoarthritis, rheumatoid arthritis, or osteonecrosis, according to Mayo Clinic.
There are different approaches to hip replacements, although a posterior hip replacement is the most common. For those patients, there will be some restrictions post-operation that will need to be considered when developing exercise programming for hip replacement clients.
These clients are advised to avoid flexing the hip beyond 90 degrees. To supplement, clients shouldn't adduct their replaced hip beyond their midline and they should limit internal rotation. For these reasons, it's important for people with hip replacements to work with a certified trainer.
Do you need to be certified to train clients with a hip replacement?
Clients with hip replacements may need additional guidance and support post-surgery. While recovery times are better than ever, some patients won't respond to the surgery as favorably as others.
It's important to have a basic-level training certification at the very least. It would be preferred to have an advanced certification such as
ACSM Clinical Exercise Physiologist (EP-C)
ACE Medical Exercise Specialist
NSCA Special Populations Specialist (CSPS)
These certifications can help draw in clients that are rehabilitating surgeries like a hip replacement. To your benefit, you'll also learn appropriate total hip replacement exercises and intensities for different stages of a hip replacement. There are different exercises to do before a hip replacement compared to exercises to do after a hip replacement.
Training Clients After a Hip Replacement
Some clients might be looking for exercises to avoid hip replacement whereas others might be looking for pre-hip replacement exercises. These exercises should help strengthen the hips through all three planes of motion. Simply put, you'll want to do basic exercises that isolate the muscles surrounding the hip in all directions.
Some examples of exercises to do before a hip replacement include:
Straight Leg Lifts
Heel Slides (Heel slides towards buttocks)
Buttocks Squeezes or Glute Bridges
Leg Slides (away from body)
Banded clams
Preoperative hip replacement exercises will vary from person to person depending on ability and pain levels. There are more advanced exercises a patient could perform if they are able, though most people that are anticipating a hip replacement will have some notable limitations.
Postoperative exercises will change depending on which stage of recovery a client's hip replacement is. During the first few weeks, the body will be working to heal and support the new structures in the hip – at this time, mobility will likely be restricted.
Even so, you can expect to be up and walking the day after your surgery, at the latest. You should be provided some take-home exercises from your surgeon or physical therapist. The exercises will be very similar initially to the exercises provided pre-operation.
Eventually, you should graduate to performing resistance band exercises after hip replacements. Weight training after a hip replacement doesn't usually begin for about three months after the surgery. When it does, you'll be emphasizing repetitions instead of load. If you were a powerlifter previously, those days may be in the past.
You'll want to keep doing hip replacement exercises for long-term stability and quality of life. There are some exercises to avoid after a hip replacement, however. Some of those are listed below:
Deep Squats
Advanced Lunges (Lateral, curtsy, etc.)
Jumping Jacks
Scissor Kicks
Reverse Crunches
This is just a small example of exercises that could include contraindicated movements like extreme hip flexion, hip adduction, and hip internal rotation. Even movements like kicking a soccer ball fall within those contraindications.
Book a demo to learn more about Exercise.com's custom workout software.
Train clients with hip replacements.
Software Tools for Training Clients With a Hip Replacement
It's obvious that training a client with a hip replacement requires careful consideration of the client's new movement restrictions and abilities. Some people are ready to walk immediately after their surgery while others might not feel comfortable for days. This difference might carry into the later stages of the rehabilitation process.
Fitness Assessments for Clients With Hip Replacements
When you first meet your client, you should always conduct a fitness assessment. As it relates to hip replacements, some clients might come to you for help before surgery whereas others will be introduced a couple of months after the surgery. In either case, you'll need to get a better understanding of how capable your client is.
Exercise.com's fitness assessment software helps fitness professionals develop, track, and organize assessments for clients of any ability. During the initial stages, trainers will likely be working with hip replacement clients directly to make clear judgment calls while adjusting assessments as needed.
As time progresses, your clients will become more and more independent. In addition, these clients will grow more familiar with the assessment demands and protocols so that they can conduct them without you present. In both situations, you'll be able to provide your clients with customized fitness assessments that will be logged and tracked to monitor progress.
Customizable Exercise Library for Clients With a Hip Replacement
Earlier, we discussed some commonly prescribed exercises for clients with a hip replacement. We also highlighted a handful of exercises that should be avoided. Even with the best programming, it's easy for clients to forget what an exercise is or how to do it. For example, names like "banded clams" might not be that easy to recall for newer clients.
What happens if your client wants to exercise on their own? How will they know which exercise to perform and how to perform it right? Exercise.com's customizable exercise library offers clients the resources they need to better understand an exercise before they do it, even if you aren't there.
Let's face it, many people with hip replacements are older adults on a fixed budget. They might not be able to afford one-on-one training three times per week. You can improve your value as a trainer by providing those clients with an informative exercise library complete with descriptions and videos.
Workout Software for Clients With a Hip Replacement
An exercise library is a helpful tool to keep clients informed about how to perform an exercise. To keep them more organized and motivated, they'll likely need more than exercise descriptions and videos. Combining an exercise library with Exercise.com's workout software can be an excellent one-two punch that helps clients reach their goals.
Again, not every client will be able to afford your direct services every day. That doesn't mean you can't still increase your revenue and provide a top-notch product to your hip replacement clients. Chances are, they will still want guidance. With versatile workout software, you'll be able to create, send, log, and analyze workouts.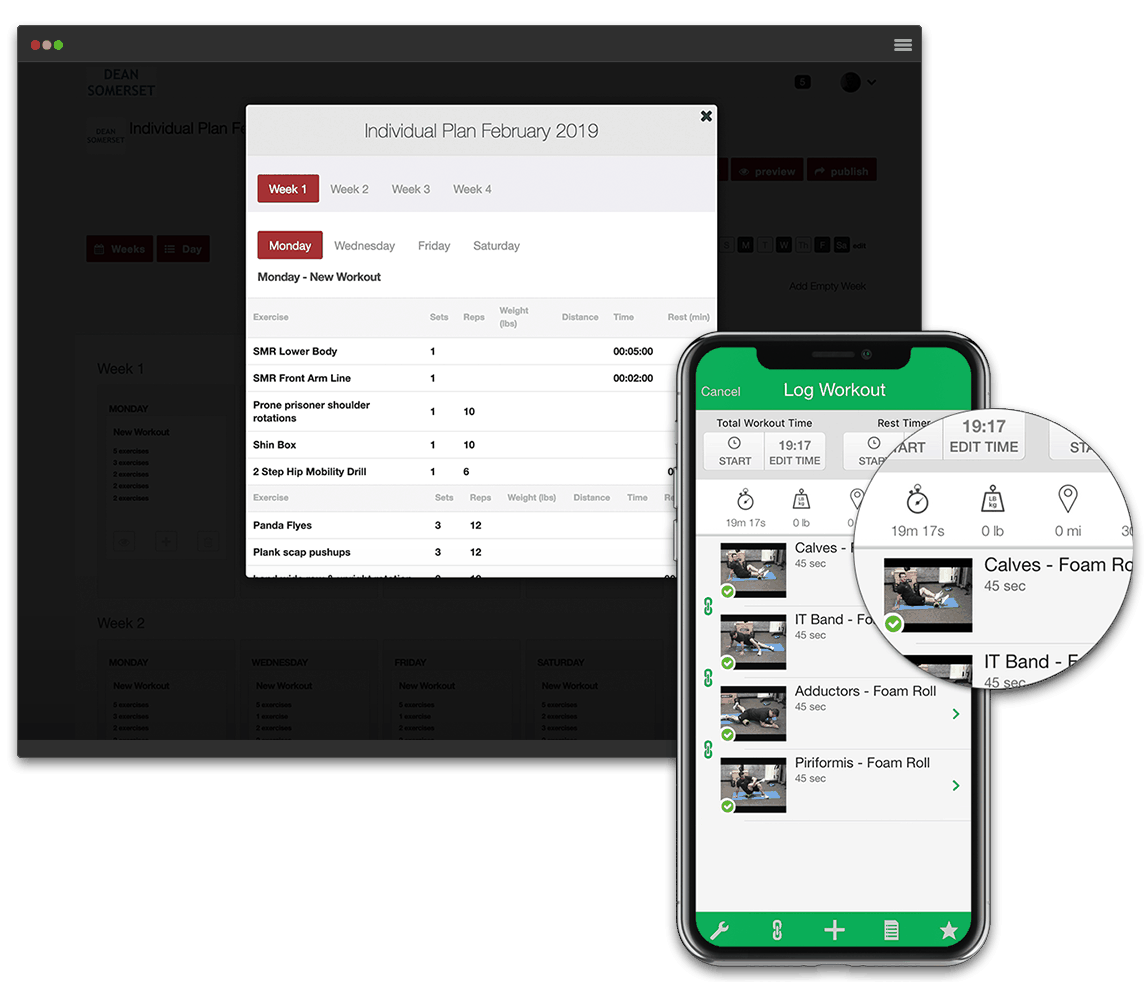 This way, you can provide your clients with the structured workouts they need while assuring they don't perform any contraindicated exercises, as noted above. You can also use this software to show your clients their progress with various charts and graphics, based on their performance.
To complement these features, your workouts can be created, scheduled, and automated for delivery so you can create workouts at your convenience while delivering them to clients at a time that works for them. You and your client will be able to view the progress so you can adjust workouts as needed.
Over time, your hip replacement client should be able to see changes in the complexity of the workouts compared to the initial stages of their recovery. You'll be able to show them those progressions and more with unique workout software.
Training Clients With a Hip Replacement: The Bottom Line
Training clients with a hip replacement requires a lot more than just general knowledge. It requires education, empathy, and a host of software tools built with customization and adaptation in mind.
To learn more about how Exercise.com can help you train senior clients, book a demo today.