Have you ever been sitting in the office and wondered what you could do to loosen up? Sitting for long periods of time with poor posture can have negative effects on your body.
Stretching throughout the day is a great way of minimalizing these negative impacts, and make sure feeling good when it comes time to hit the gym!
Fitness expert Molly Galbraith's weekly tip is on stretching during the workday. She offers a couple simple stretches that can be done to loosen the chest and back muscles. Watch the video below to learn more:
If you have missed any of Molly's previous tips, scroll to the bottom of Introducing Fitness Tips with Molly Galbraith for a complete list with all of the links you need!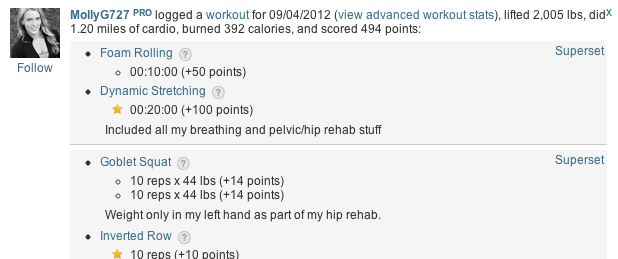 Dynamic stretching is essential for a safe and effective pre-workout warmup! Follow Molly Galbraith on Exercise.com to stay motivated and keep up with all of her workouts!
If you want to make the most of your Exercise.com experience, remember that PRO users get unlimited Ask a Trainer questions, access to all of our 200+ workout plans, advanced exercise statistics with every workout (including calories burned) and more!
Sign up to join our PRO membership and get access to Molly's exercise plans!