Get the Basics...
Fitness trainers are disciplined with what they eat.
We interviewed a few trainers regarding what they eat for lunch/post-lunch snacks and

why

.
This post is the third installment of our What do personal trainers eat? series.
We're back with our next post in the series on what personal trainers eat. We asked a few trainers what they devour during lunch breaks and how this meal fits into the context of their individual health goals, training styles, and schedules.
Read below to get a taste of these real-life eating habits from the fitness world. You'll even see post-lunch snacks peppered in.
Maybe something here will make you hungry for a diet adjustment of your own. Maybe you'll want to work with one of these trainers directly. Or maybe you'll eventually find yourself belly-deep in more fitness and nutrition articles until you realize you forgot to eat your own lunch.
But no matter what happens from here, we guarantee you'll walk away with new knowledge to digest!
You can also read our other posts on what personal trainers eat for breakfast, treats, and dinner, and sign up for a PRO plan today for access to workout programs to pair with your healthy diet.
Tiffiny says . . .
I love food and for many years struggled with my weight. Five years ago, I started my healthy lifestyle journey: getting in shape and getting certified as a trainer. I also started figure level bodybuilding competitions and have done six stage shows so far. It was the bodybuilding competitions that opened my eyes to nutrition and how different types of food can dramatically affect the way I looked and felt.
I love that I can change my macro-nutrients — proteins, fat, and carbs — so for off-season maintenance, I usually do 45-percent protein, 35-percent carbs, and 20-percent fat, which gives me a good balance of whole foods while keeping my carbs low. This eating regimen helps me keep my body fat low while maintaining muscle mass. It also keeps my energy high and my digestive system healthy and functional.
For lunch, I eat chicken breast, fruit or sweet potato, and vegetables (like spinach or kale). For a post-lunch snack, I eat homemade turkey meatballs with kombucha.
Sometimes I will do different meat, change my vegetables, or add nuts. I make sure that I get as close to my macros as possible.
Tiffiny Fambro is a fitness and healthy lifestyle speaker, certified trainer, and coach at www.BuildBodyWealth.com — an online community in which she teaches women how to create lasting habits to help them lose weight, build their strength, eat whole foods, and learn how to build confidence and self-esteem.
Rob says . . .
All ingredients are organic where possible because I try to minimize the levels of chemicals going into my body. I believe the quality of the ingredients is way more important than counting calories, macros, or anything like that.
Eating whole, minimally processed foods is sustainable, filling, and contains all the vitamins and nutrients your body needs. I aim for at least 2 liters of water a day — usually 2.5-3 if I am exercising. I don't believe in cutting out food groups, but I do reduce carbs if I am not exercising.
For lunch, I eat chicken with spinach, tomatoes, a gherkin (pickle), sauerkraut, salt, pepper, and olive oil. I also have black coffee, an apple, and 500ml of water. It's a low-ish carb lunch but high in filling protein and nutrients, and sauerkraut helps with gut health. In the mid-afternoon, I have green tea instead of coffee as there are additional benefits to it, plus some fruit, like a nectarine, to prevent hunger.
These meals come before a training session: weight training if I'm maintaining strength, or a sport-specific workout if I'm training for an event.
Robert Jackson is a certified trainer, exercise/nutrition coach, and owner of Minimal FIT — his gym in London, UK. He uses "The 7 Secrets to Sustainable Body Transformations" system to transform your body and create lasting changes. 
Get More Out of Your Health and Fitness Routine. Go PRO!
Sign Up
Julianne says . . .
I eat vegan because it reduces inflammation, has improved my autoimmune markers, has heart health benefits, and allows for better athletic performance and recovery.
My post-workout meal is usually a kind of lunch, which consists of a huge leafy green salad with nuts, homemade gluten-free breadcrumbs, and chickpeas. This meal is more than most trainers eat post-workout, but leafy greens help restore alkalinity and expedite recovery. I use the carbohydrates to replenish depleted glycogen stores.
A few hours after my workout, I'll eat a snack by Beyond Meat — a great source of protein — with broccoli. The broccoli is a great source of micronutrients and is amazing for alkalinity.
Julianne Soviero is a certified personal trainer, Beachbody coach, and the author of Unleash Your True Athletic Potential and Empowered Recruiting: The Student-Athlete's College Selection Guide. In Ronkonkoma, NY, she works primarily with athletes and has produced dozens of award-winning pitchers. 
Jamie says . . .
My diet is high-nutrition but also energy-based to fuel my workouts in the gym. I play hockey throughout the week, so I need replenishment, to rebuild muscle, and to have enough energy to get through workouts.
I eat filling foods that keep you full for a long period of time, as they are made up of those satiating substances such as protein, fiber, water, and healthy fats. I don't track calories but go by portion sizes and focus on taking my time to eat — to get full naturally — as opposed to eating too quickly, which can lead to overconsumption.
I eat grass-fed proteins, as they have a higher omega-3 content, contain no hormones or antibiotics, and are raised naturally.
I use some whey protein powder, specifically after training, to jumpstart muscle recovery. Carb-wise, I focus on sweet potatoes, oats, and fruits. I use a lot of olive oil and coconut oil. I especially use the coconut oil for cooking, as it has a higher smoke point and doesn't break down at higher heats as olive oil does.
Right now, a lunch I'm doing includes diced sweet potato sautéed in coconut oil with garlic and then some grass-fed beef, all combined together. I'll toss in some chopped green onion and put cilantro on top too. My current post-lunch snack is a green apple and almonds.
Jamie Logie is a certified personal trainer, nutritionist, and health and wellness coach in London, Ontario, Canada. He trains clients online, runs a blog and podcast called Regained Wellness, and is a contributing writer on fitness and health for places like The Huffington Post, Thrive Global, Lifehack, AskMen, and more. He has an Amazon #1 book called Taking Back Your Health.
For an overall healthy lifestyle, go PRO today for access to workout plans, nutrition trackers, and more.
NOTE: These responses have been edited for clarity.
---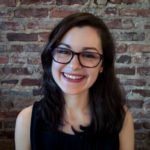 Lauren Smith is passionate about nutrition and holistic health (how the body, mind, and emotions intersect). She lives in Baltimore City, where she writes stuff, plays music, embarks on long power walks through the park, takes contemporary dance lessons, and enjoys healthy, flavorful cuisine. Lauren has written for a literary journal called Skelter and for Honestbodyfitness.com.