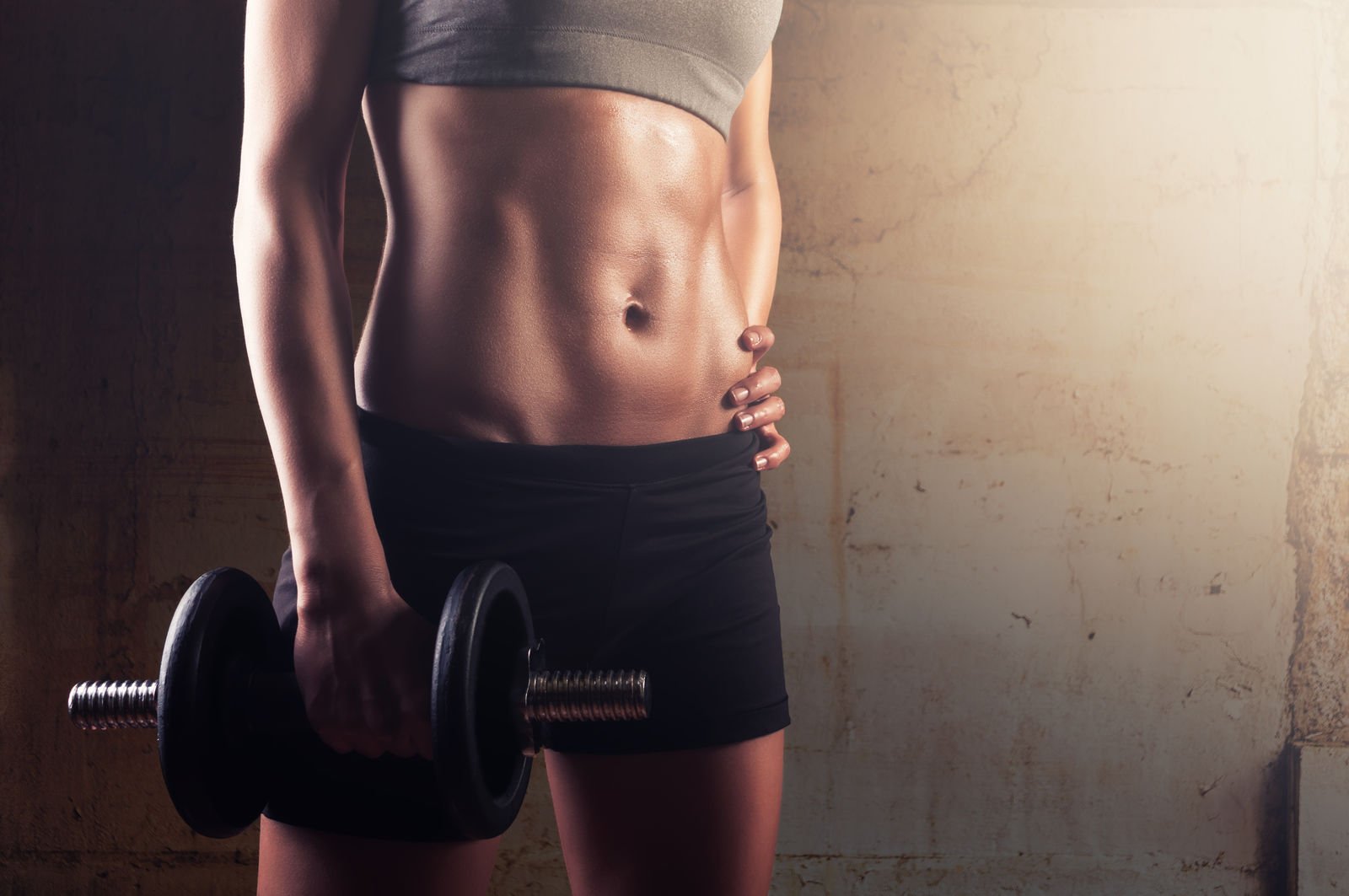 Get the Basics...
Fitness competitions offer a unique alternative to traditional women's bodybuilding.
The training for a fitness competition remains very specialized.
Working with an experienced personal trainer helps with getting the best workouts leading up to the competition.
Fitness competitions have grown beyond just the traditional men-only bodybuilding shows. Audiences who watched the classic 1980's film "Pumping Iron 2: The Women" learned about the path women trailblazed on the professional circuit. Today, female bodybuilding is joined by another category: figure and fitness competition.
The best way to describe this type of women's competition is it focuses on lean and in-shape physiques that are not massively muscular.
Acquiring a fitness competitor's physique requires a lot more than just working out. A total commitment to a strict diet and exercise program becomes necessary. Working out with a personal trainer allows a competitor to access the coaching necessary to arrive at a winning look.
Why work with a personal trainer for a fitness competition?

If you are planning on competing, you likely already have a lot of knowledge about fitness and working out. Training with your gym friends might seem like a decent plan. "Decent" won't cut it. You need the expert guidance of a brilliant personal trainer to make sure you are on the right path. A certified personal trainer can:
Devise the appropriate workout
Help with maintaining muscle mass
Keep you motivated and on track for a win
All of these three points are critical. Falling short on any one of these areas likely means you won't be up to par even in an amateur competition. Let's take a closer look at these points to explain their importance.
– Devising the Right Workout for a Fitness Competition
Stressing heavy bench presses and deadlifts would make perfect sense when training for a bodybuilding show. For a fitness competitor, packing on mass shouldn't be a top priority since massive muscularity isn't the goal or focus of the competitions. They seek a fit physique, which means the training program must lead to a trim and defined look.
A significant focus should be on cardio training. A variety of consistent cardio workouts supports the lowering of body fat. Cardio work must be chosen wisely, as too much could burn up muscle mass, undermining the desired look. Poor muscular definition does not come off as being fit.
– Maintaining Muscle Mass
Weight training does need to be a part of a fitness competitor's workout. The choice of exercises, the level of weight, and the number of reps and sets must be chosen carefully. You want muscle mass but not muscular bulk. Weight training must take into consideration the preservation of muscle mass. In a way, weight training can offset, at least in part, the muscle loss common with heavy cardio conditioning.
Diet also plays a role in maintaining muscle mass. Protein intake has to be correct to keep the muscle from burning itself during workout programs. Working with a trainer who also holds credentials in sports nutrition could be helpful with the diet side of training.
– Serving as a Motivational Coach
A trainer does more than just run people through a workout. Personal trainers also serve as reliable motivational coaches. 12 weeks or more of contest training can be arduous and repetitive. A skilled trainer keeps clients motivated to approach each workout with solid enthusiasm and rise to the level of a champion.
Why choose a certified personal trainer?

The trainer should be someone who is certified. A certified personal trainer who holds credentials from an accredited organization understands more than just working out. He/she possesses sufficient knowledge about exercise science, nutrition, and human anatomy.
Such diverse knowledge combined with experience further supports the ability to craft the right program for your training regimen. Among the top personal trainer organizations are:
American Council on Exercise (ACE)
National Academy of Sports Medicine (NASM)
National Federation of Personal Trainers (NFPT)
American College of Sports Medicine (ACSM)
These organizations also offer more than one certification. Personal trainer, strength and conditioning, and the aforementioned sports nutrition certification can be acquired. Coaches with multiple personal training certifications possess a diverse background of equally diverse knowledge.
Does the trainer need a background in fitness competition?
If definitely would not hurt for the trainer to possess a background in an actual fitness competition. A non-competitor trainer who previously trained others for fitness competition definitely knows what he/she is doing.
Since you're training for a specific reason and goal, you want a trainer with the necessary specialized background and experience.
That said, if you are not thinking about competing soon but want to do so in the future, working with a trainer of any background may be fine. Basic fitness, conditioning, and muscle building might be enough during the very early stages. A competent personal trainer could help you achieve these goals.
Where can you find a trainer who helps fitness competitors?
Former competitors often work as personal trainers. Check your local gyms to see if a former competitor has set up shop and is taking on clients. Send inquiring emails to local and national fitness competition organizations.
The organization may be able to guide you toward skilled trainers. Try not to look for a fitness competitor trainer at the last minute. When competition time rolls around, their schedules may start to fill up.