Exercise.com: Your TrueCoach Alternative
| Features | | TrueCoach |
| --- | --- | --- |
| Nutrition | | |
| Dedicated Account Manager | | |
| Dedicated Zapier Support | | |
| Client Automation | | |
| Performance & Measurement Reports | | |
| TV Workouts | | |
| Offer Online Workout Memberships | | |
| Run Workout Challenges | | |
| Sell Workout Plans | | |
| Group Training | | |
| 1-1 Training | | |
| Custom Exercises | | |
| Websites | | |
| Marketing Integrations | | |
| Custom Branded | | |
| iOS & Android Apps | | |
| Online Training | | |
| Sell Products | | |
| Payment Processing | | |
| Gym / Facility Management | | |
| Exercise Library | | |
| Assessments | | |
| Client / Class Scheduling | | |
| Workout Creator / Logger | | |
| Business Dashboard Reports | | |
Why Choose Exercise.com?
Here are five reasons why fitness professionals choose Exercise.com vs. TrueCoach.
Fitness Business Management Software to Run Your Business
Unlike TrueCoach, Exercise.com software is designed to have all components needed to run a fitness business in one place – making it easy and efficient to organize and grow your fitness business with client and class scheduling, check-ins, and billing — all from your custom-branded apps.
Fitness Business Management Software to Run Your Business
Unlike TrueCoach, Exercise.com software is designed to have all components needed to run a fitness business in one place – making it easy and efficient to organize and grow your fitness business with client and class scheduling, check-ins, and billing — all from your custom-branded apps.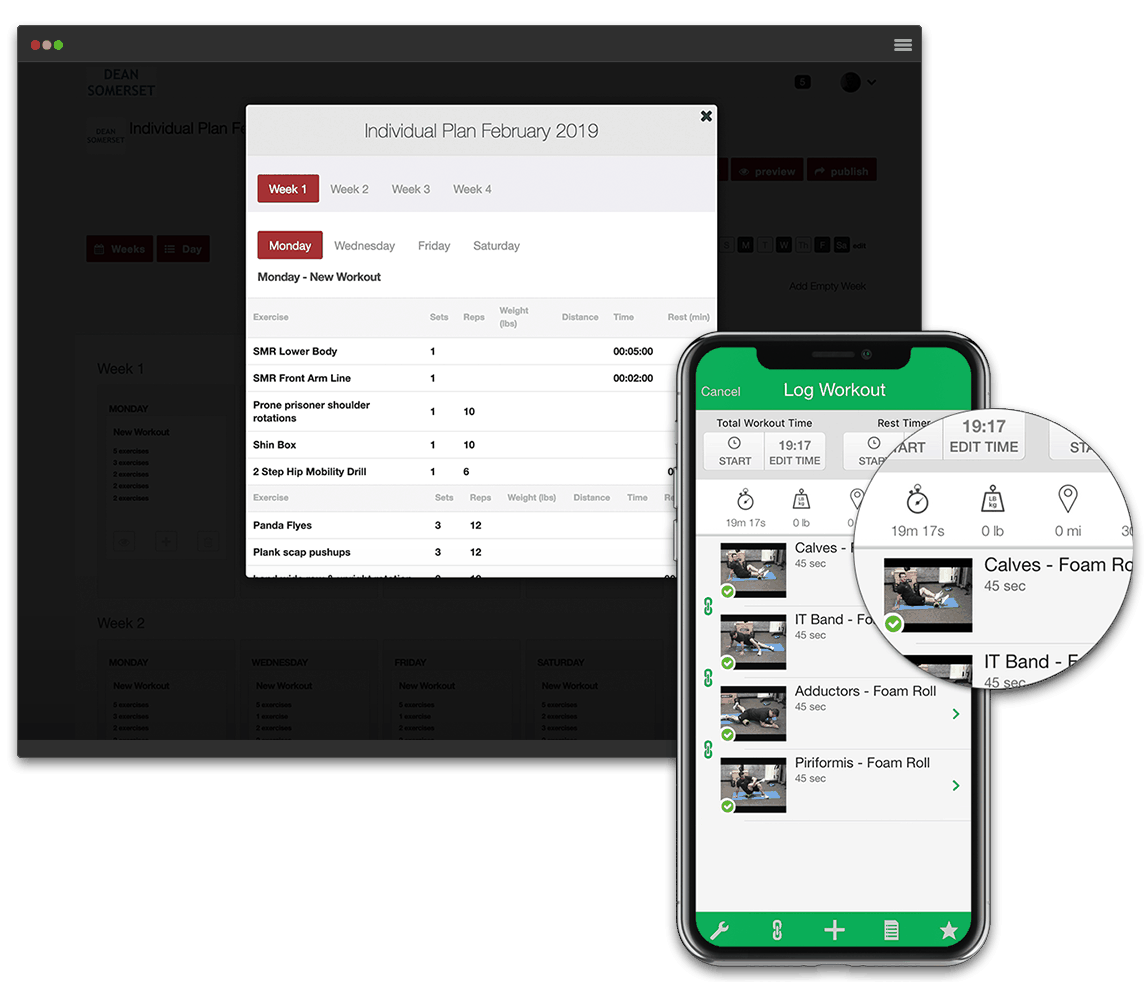 Workout Software to Power Your Training
TrueCoach workout software doesn't allow for clients to participate in TV workouts. The Exercise.com workout plan creator and exercise manager provide flexible solutions to save you time creating workouts with built-in integrations, tools, and more.
Ecommerce Software to Increase Revenue
Fitness professionals cannot use TrueCoach's ecommerce features to sell online workout memberships, workout challenges, or individual workout plans. Exercise.com, however, has full ecommerce capabilities allowing trainers to sell single workout plans, offer automated workout memberships, run workout challenges, and deliver individual training.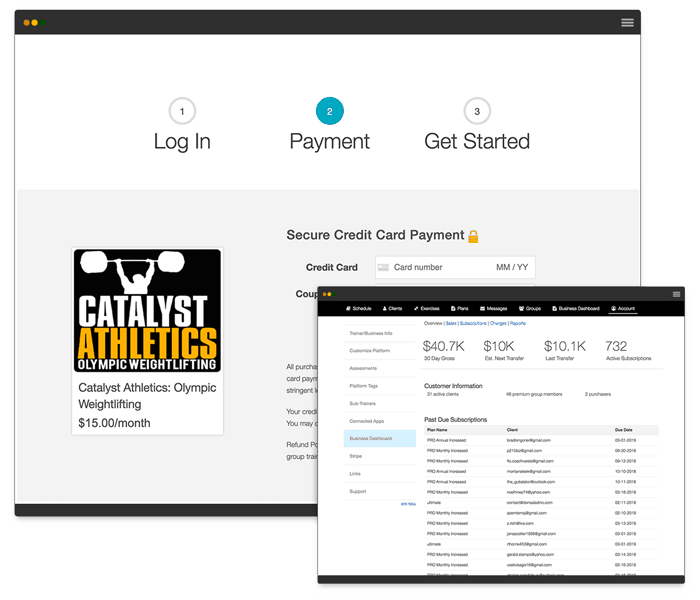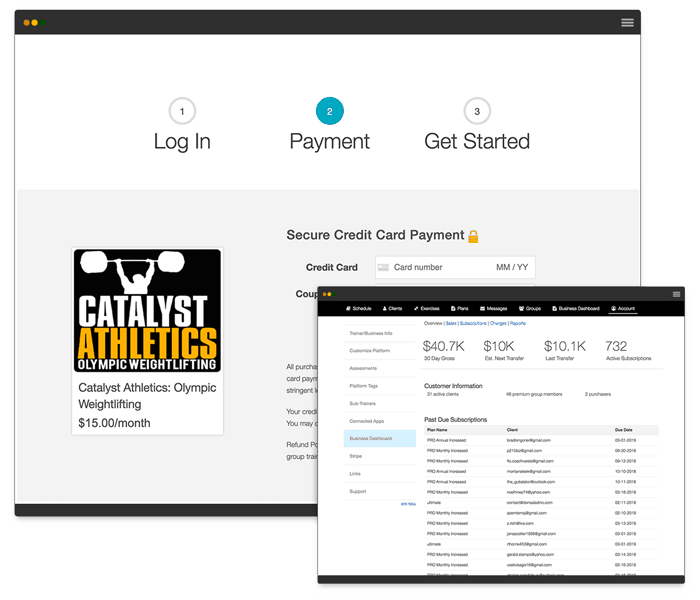 Ecommerce Software to Increase Revenue
Fitness professionals cannot use TrueCoach's ecommerce features to sell online workout memberships, workout challenges, or individual workout plans. Exercise.com, however, has full ecommerce capabilities allowing trainers to sell single workout plans, offer automated workout memberships, run workout challenges, and deliver individual training.
Assessment Software to Improve Client Engagement and Retention
TrueCoach has performance health software designed to track progress but does not include an array of assessment options like those included with Exercise.com. Take clients through personalized assessments to deliver custom workouts for their individual needs – providing massive growth potential and saved time.
Stand Out With Your Own Custom-branded Apps
TrueCoach apps provide no options for custom websites. Exercise.com, however, offers fully-customized apps and websites built to make your life easier by providing your clients with a unified scheduling and workout experience with your brand displayed front-and-center.
Stand Out With Your Own Custom-branded Apps
TrueCoach apps provide no options for custom websites. Exercise.com, however, offers fully-customized apps and websites built to make your life easier by providing your clients with a unified scheduling and workout experience with your brand displayed front-and-center.
If you're ready to get started with an easy-to-navigate, all-in-one fitness software, designed to fuel your business, request a demo with Exercise.com today.
And, if you want to see how TrueCoach's additional features stack up to Exercise.com software features, check out our in-depth online TrueCoach review guide below.
What is TrueCoach?
TrueCoach, formerly known as Fitbot, is a software company founded in 2015. The HQ for TrueCoach is in Boulder, Colorado. The company is estimated to have 10 employees.
Get App describes TrueCoach as: "TrueCoach is a web-based personal trainer platform designed for fitness trainers, coaches, and physical therapists to track clients' workouts and monitor training progress.
Online personal training software that remotely links coaches to clients relies heavily on mobile access and TrueCoach is no exception.
In any software you choose, the fitness mobile app will be seen most often by your clients — at minimum, every time they workout — so the opportunity to customize an app with your brand should not be missed. Keep reading to see what TrueCoach has to offer and how Exercise.com provides an overall better user experience (click here to learn more about custom branded fitness apps).
To learn how to use TrueCoach, refer to our article, "How do I use TrueCoach?"
Unless otherwise stated, all images and reviews below are of/about the Exercise.com All-In-One Fitness Business Management software platform.
Fitness Business Management Software (FBM)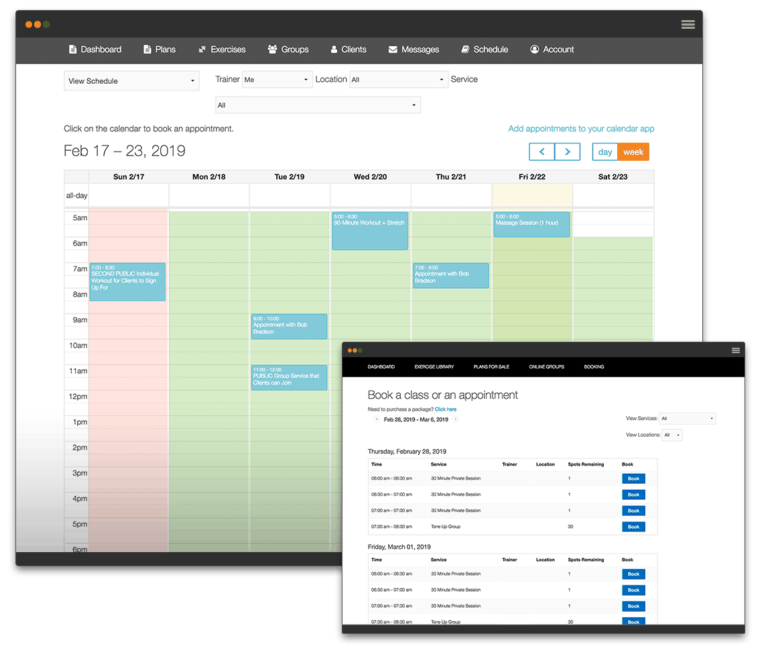 We here at Exercise.com created our Fitness Business Management Software (FBM) to help manage and grow your business easily and efficiently. With FBM you are able to onboard, engage, and retain more clients as you can schedule and book clients on the same platform. FBM also allows you to build workouts, sell plans, and deliver assessments so there is no need to learn or teach different systems. It's the same unified experience for your staff and clients from web to apps.
Fitness Client/Class Scheduling
TrueCoach features allow you to sort clients by name, workout due dates, and compliance rates but seems to lack in other client/class scheduling capabilities.
FBM allows for seamless integration with Google and Apple calendars. You are also able to track visits, book classes and sessions, and engage your clients with recurring appointment reminders via email and text. With FBM's calendar, you can sort by:
Trainer

Location

Service

Recurring

Time

Availability
Gym/Facility Management Software
You cannot use TrueCoach for gym management software as there are no gym/facility management capabilities within TrueCoach's software. The only option you have is to invite new coaches to your team and share your exercise library and programs with them.
With Exercise.com you never have to worry about sales, staff, clients, or data logged falling between the cracks with reporting at your fingertips in your custom web and mobile apps. Managing a staff of any size is time-consuming but FBM saves you time with assignable staff roles, so you can put staff management on autopilot.
Fitness Business Dashboard Reports
TrueCoach has a dashboard feature where trainers can see all the stats on their clients, such as missed and logged workouts, upcoming training sessions, client comments, and compliance training. However, because TrueCoach doesn't perform gym management, its dashboard has no business reports. This means you must find another software to track, manage, and analyze your business.
This is not the case with the comprehensive platform from Exercise.com! Not only does Exercise.com offer you a client dashboard, but you also have a business dashboard that allows you to easily access and monitor everything for facility management.
With Exercise.com, you get reports for transactions, taxes, subscriptions, ecommerce commissions, inventory, and so much more! We can even customize a report specifically for your business. With Exercise.com, choosing the best gym ecommerce software is easy!
Client Automation
TrueCoach highlights the ability to automate notifications but it is unclear what other automation options their system is capable of.
One of the most important things you can do for your business is to automate key systems and processes. Exercise.com has a number of automation options within its software, including options to:
Automate Emails and Texts/Other Automatic Features
Automate Workout Delivery
Automate Resource Delivery
Automate Assessment Delivery
Automate Reminders/Alerts via app, text, and email
Dedicated Zapier Support
Integration is important for your business. The more connected you are with other programs, the more connected you will be with your clients. That is why we have dedicated Zapier support in which you have options to integrate with over 2,000 applications.
Dedicated Account Manager
Another feature that sets Exercise.com apart from many other fitness business management software companies is our dedication to customer service and support. This is why we provide our clients with a dedicated account manager to help them through every step of the process.
If you want to redesign your website, your account manager at Exercise.com will get it done. If you want to set up an ecommerce store, your account manager won't blink twice. Whatever you need, our world-class dev team is there to help!
Custom Fitness Software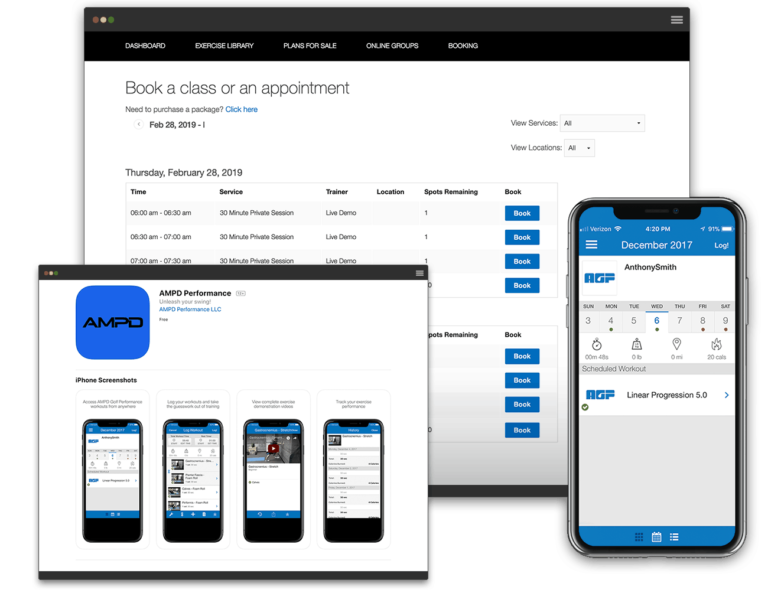 Your fitness business management software should be customized to your preferences to showcase your business. Your website and mobile apps may be the first look that a potential client or customer has of your business, so you want it to stand out. Customization allows consistency among your software online dashboard, mobile apps, website, social media, and any marketing efforts.
Custom-Branded
For both the online platform and mobile app, there is a limited level of customization often referred to as skinning with your brand. You can, however, add a logo to appear at the top of automated emails and on your full browser version and you can pick from a handful of color schemes.
Note that your company logo does not appear within the TrueCoach app. The only customization that will be evident to clients while using the app is the theme color selection, assuming there is a color option that matches your brand. Additionally, the app icon and the app's loading screen will always maintain the TrueCoach branding, not your company's.
Thus, TrueCoach does not offer what most would consider true custom-branding. This places it behind certain competitors that offer complete customization like Exercise.com.
iOS & Android Fitness Apps
As of October 2020, TrueCoach has a full customer app for iOS and a public beta access app for Android. This means that the app is prone to glitches, crashes, and errors. Also, a large swath of customers will have limited access to the features of the TrueCoach app.
Navigating a new and unstable app is challenging for trainers and has the potential to degrade the fitness experience for clients.
TrueCoach updated their TrueCoach Connect app in February 2020, where trainers can message clients, view logged workouts, and receive notifications from clients. However, the app has overwhelmingly poor reviews, even after revisions.
Neither app is custom-branded and only allows your logo and 14 different colors and themes. Everything else is dictated by TrueCoach.
Exercise.com offers you your very own custom-branded health and fitness app that perfectly promotes your brand through full customization on both iOS and Android devices. All the tools you need such as messaging, workout creation, and ecommerce can be operated within the same custom-branded app. There is no need to navigate through and learn different systems.
Just like quality personalized coaching, we begin with your needs and build a solution from there, not just giving everyone the same old template. It will be your brand front and center that clients find in the App Store and Google Play.
Custom Fitness Business Websites
TrueCoach also does not offer you your own website. This means that, with TrueCoach, blog, ecommerce pages, etc., all need to be added on your own dime through another software service. Contrarily, Exercise.com provides you with a custom-branded, SEO-optimized fitness business website where you can showcase your brand the way you want by including integrations, verbiage, and other custom dev options. Our websites are responsive and built to convert visitors to leads.
Security Features
TrueCoach claims to use reasonable efforts to protect your personal information from unauthorized access, use, or disclosure. However, it is unclear the specific methods used. Exercise.com provides the necessary security measures for Payment Card Industry (PCI) compliance and SSL (Secure Socket Layer) certification, while also utilizing Google Cloud.
Marketing Integrations
With Exercise.com you are able to connect and automate with well-known platforms like MailChimp, ConstantContact, ConvertKit, Zapier, Google Analytics, & Facebook Pixel.
Our marketing integrations allow you to:
Implement systems that save you time

Have all your management tools in one software

Manage your business from anywhere
Learn more by clicking the button below.
Exercise.com is the best TrueCoach alternative.
Workout Software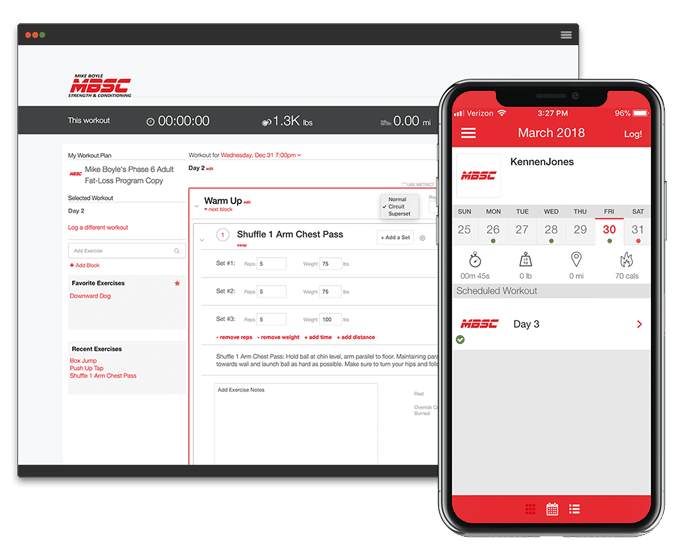 Being able to create, update, send, and track workouts and client progression through workout software can be fundamental in growing your business.
How do you use TrueCoach workout builder?
TrueCoach's flexible and easy-to-use workout builder is its bread and butter. Where Exercise.com beats TrueCoach at its own game is with the level of customization and automation available within its powerful workout creator. The exercise library and resources delivered to clients can be fully customized to your brand.
Exercise.com's workout builder helps you organize your programming ideas to deliver exactly what your clients need. Go as simple as sets and reps or as detailed as a strict movement tempo, our software lets you tailor every workout to your exact specifications.
When it comes to delivery to the client, the TrueCoach app has no frills. It opens directly to the clients' workout schedules in which they can preview upcoming workouts. The coach can set up how far in advance these previews show up by making adjustments in the app settings. Despite its ease of use, TrueCoach's workout delivery does not compare to Exercise.com's.
Use Exercise.com to have clients log workouts, view performance history, and send progress photos all within your custom-branded smartphone app. Also, in-gym clients can have workouts logged by their trainer during each session allowing you the flexibility of growing your business around the world or in your gym.
With Exercise.com you are able to build workouts for any scenario, including:
1-1 Training
One-on-one training sessions can be fully customized with Exercise.com. This setting allows trainers to create an effective workout plan, communicate with clients, and develop a positive environment that enables clients to reach their health and fitness goals.
Group Training
Group training sessions can be an effective way of engaging multiple clients to reach fitness goals. TrueCoach has a groups function that allows trainers to assign workouts and communicate with a specific group of clients. With Exercise.com, however, you are able to fully customize group training workouts to fit the needs of the group.
Online Training Software
Online training is a great way to grow your business for a number of reasons. For one, you can train your current face-to-face clients if they are out of town on business or traveling on a vacation. Second, you can add new clients to your client base no matter where they are located. Third, it gives you more flexibility for training clients in a hybrid format, partially online and partially face-to-face.
TrueCoach and Exercise.com both have online training software. With Exercise.com, you can train clients one-on-one, in groups, online, or hybrid. All of these options give you a ton of flexibility to maximize your time and revenue.
Exercise Library
TrueCoach and Exercise.com both have pre-loaded exercise libraries. With Exercise.com you have access to an exercise library containing many pre-built workout demos at your disposal. The exercise library includes numerous video demos, lists the muscles worked, the difficulty level, and helpful instructions. You are also able to create new custom exercises to add to the library.
Custom Exercises
Whether exercises are filmed at the gym, court, field, or the comfort of your home, your exercises can be specifically designed for the needs of your clients.
TrueCoach and Exercise.com both allow you to upload your own custom exercises. Exercise.com goes a step further by allowing you to merge your YouTube and/or Vimeo accounts with the exercise library.
TV Workouts
Exercise.com provides clients with the ability to watch demos of the exercises within their workout plans on television screens; gyms can also use the exercise library to cast exercise demos onto gym television screens during group classes or one-on-one training sessions. You can also stream the workout plan on a screen for group training sessions.
Gym Ecommerce Software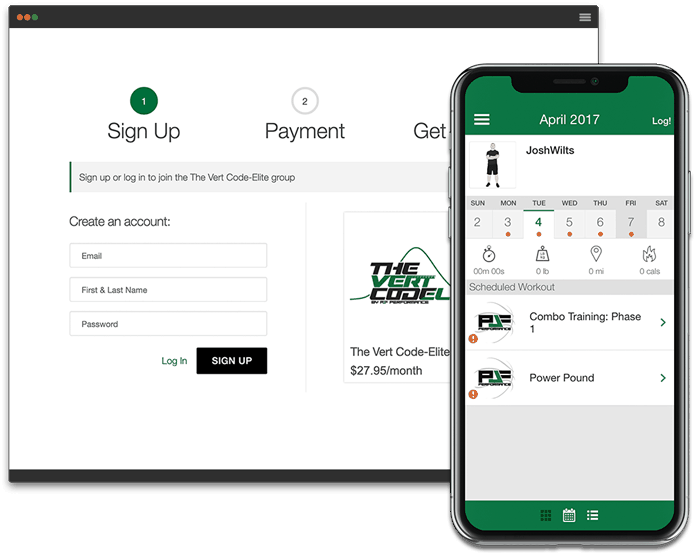 Ecommerce is essential to the modern fitness business. Customers have come to expect ecommerce options from a business, which makes ecommerce an excellent opportunity to keep customers engaged with your brand and boost your revenue. There are endless options to creatively sell workouts based on your business using Exercise.com gym ecommerce software.
Payment Processing
Both TrueCoach and Exercise.com use Stripe for payment processing.
Exercise.com makes it easy to set up packages for your training where clients can pay a one-time or recurring price with cash, check, or credit card. Plus accept direct deposits and allow online purchasing of packages — all in one easy-to-use software.
Sell Products
Exercise.com allows you to sell your own products online, like fitness apparel or other products. This is a great opportunity exclusive to Exercise.com to generate extra revenue and build brand loyalty with apparel featuring your logo or fitness business branding.
Sell Workout Plans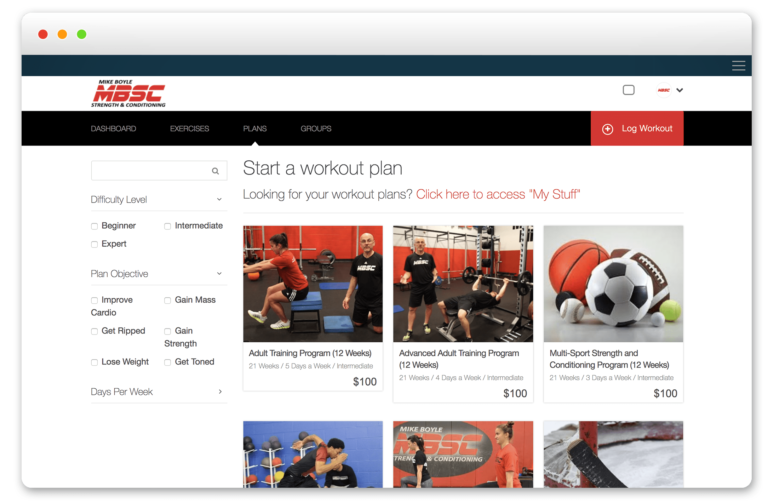 Sell customized workout plans to anyone, anywhere. You are able to create workout plans, save those plans, and assign those plans to one or more clients. You can add notes and upload files to those plans to further customize them to your liking.
Offer Online Workout Memberships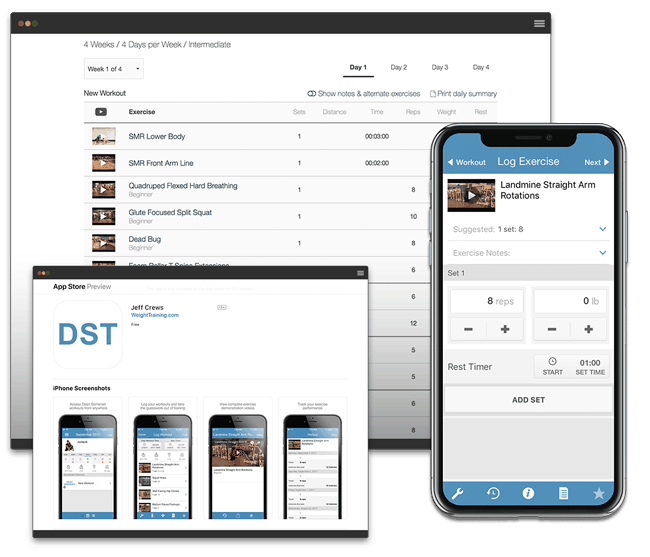 With Exercise.com you have the ability to offer and automate online workout memberships in which workouts can be sent automatically at a designated time/situation.
Sell Workout Challenges
Workout challenges can be a great way to attract and engage clients. With our software, you can sell customized workout challenges to clients.
Fitness Assessment Software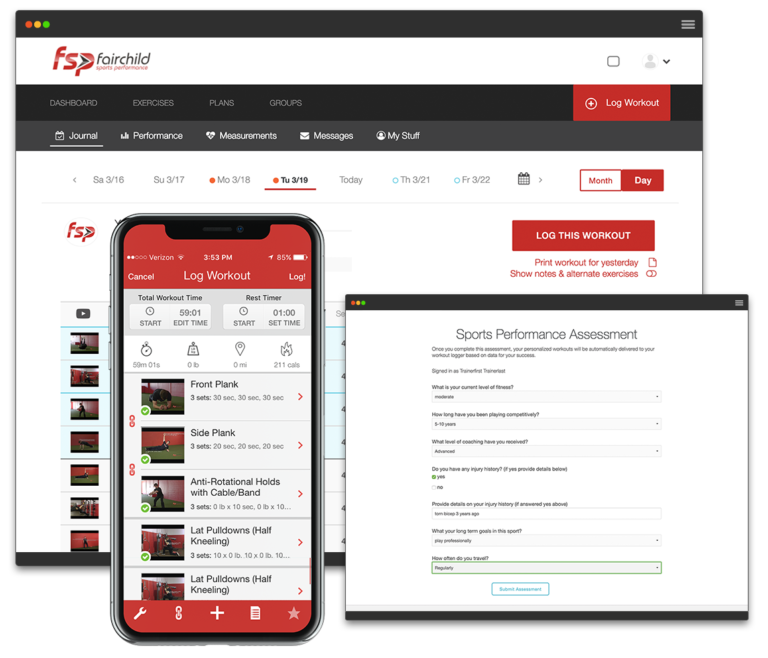 Exercise.com fitness assessment software allows you to:
Turn leads into clients
Engage clients through assessments
Gather baseline data about clients
Plan effective fitness programs to help clients meet their health and fitness goals
Track measurement data, injuries, etc.
Optimize the delivery of personalized workouts and nutrition
Use to compare to normative data of similar age and sex
Assessments
For coaches who want to begin new clients' training with a fitness assessment or provide ongoing assessments to gauge progress, TrueCoach uses Metrics.
It is important to note that TrueCoach will not automatically pick up on a metric test being performed just because you add the exercise to a workout; this comes as a result of the free form entry method which the software can't necessarily read and extract values from.
Thus, you'll need to either manually enter new values for the metric when a client completes one, or during workout creation, indicate that a particular exercise relates to a metric by selecting Link Result to Metric.
With Exercise.com's customized client assessments, you can more easily collect data that helps you build the most effective initial training program for a new client and retain current clients with progress tracking that proves results We offer numerous performance health assessment options such as tracking measurement data, injuries, and custom assessment notes.
Performance & Measurement Reports
Some of the measurements and assessments in our software include weight, height, activity level, distance runs, power output, range of motion measurements, and others.
For example, AMPD Performance uses a custom assessment to onboard their clients which allows them to see where their clients and athletes are at physically and what specific areas they need to target for improvement.
They are also able to assign future assessments to engage and gauge client and athlete progress and make smart adjustments to the programming based on smart data.
Plus you can use the assessment to trigger a workout developed for that client's success based on smart data from their onboarding.
These Performance Health Assessments are powerful because they save you time, increase revenue, and improve client engagement and retention.
Nutrition
Nutrition and meal timing plays a considerable factor in overall health and fitness. Both TrueCoach and Exercise.com have a robust nutrition tracker that integrates with MyFitnessPal so clients have optimal nutrition results. Exercise.com makes nutrition tracking as quick and painless as possible to help clients stay on track with all of their fitness goals.
TrueCoach Pricing
So, how much does TrueCoach cost? Like the majority of gym management and training software options, TrueCoach is priced based on the number of clients managed on their platform.
| TrueCoach Pricing | | | | |
| --- | --- | --- | --- | --- |
| Monthly Payment | $19 | $49 | $99 | Contact Vendor |
| Active Clients | Up to 5 | Up to 20 | Up to 50 | 50+ |
While monthly payment with no contract is the default method, users may pay annually for which TrueCoach grants two free months on their plan.
There are no other fees associated with using TrueCoach including the additional cost most competitors charge to add more coaches to your account.
TrueCoach Alternatives
In the web-based training software category, TrueCoach's biggest competition comes from these companies:
| Alternative | Min. Starting Price | Max Price |
| --- | --- | --- |
| TheStudioDirector | $39/month | $149+/month |
| Trainerize | $5/month | $250/month |
| 10to8 | $9.6/month | $40/month then customized pricing |
| ClubExpress | $24/month | $.40/member up to 100 then discounts for groups |
| EZFacility | *n/a, contact | Free Trial then Subscription |
| Pike13 | $129/month | $179/month |
| TeamSnap | $9.99/month or $69.99/year | $17.99/month or $129.99/year |
| Zen Planner | $117 | $414-964(software, website, marketing) |
Exercise.com, the best TrueCoach alternative, offers the most complete custom branding for your business's online platform and mobile apps. Our software is an all-in-one solution which fulfills the needs for payment processing and better nutrition tracking.
For an in-depth look at some of the more popular TrueCoach alternatives, check out our other fitness business management software comparisons:
The Bottom Line: Pros and Cons
Exercise.com makes choosing the right software for your business simple and straightforward. Now only do we offer a wide range of features, but we've made sure those features are user-friendly for trainers and clients.
TrueCoach Cons
TrueCoach may have sufficient personal training features, but it falls short in business management. Without facility management functions, business reports, a website, or marketing integrations, TrueCoach users must find additional business management software in order to be successful and profitable. Wouldn't it be simpler to have all-inclusive software?
TrueCoach also lacks in areas such as apps, custom branding, ecommerce, workout engagement opportunities, and more. All in all, TrueCoach doesn't meet the same standard as Exercise.com.
Exercise.com Pros
The Exercise.com all-in-one fitness business management software platform allows you to grow and manage your business with ease. We do it all: business management, workouts, ecommerce, and assessments. You'll never need to go looking for additional software!
We build your web and smartphone apps with your brand in mind. We don't use cookie-cutter software. Everything is personalized and made specifically for you and your business. Our world-class dev team has a proven track record of delivering software that just works.
If you're ready to grow and manage your business with software that can be customized to your business, book a demo with Exercise.com.