Exercise.com: Your ClubReady Alternative
| Features | | ClubReady |
| --- | --- | --- |
| Workout Creator / Logger | | |
| Client / Class Scheduling | | |
| Assessments | | |
| Exercise Library | | |
| Gym / Facility Management | | |
| Payment Processing | | |
| Sell Products | | |
| Online Training | | |
| iOS & Android Apps | | |
| Custom Branded | | |
| Marketing Integrations | | |
| Websites | | |
| Custom Exercises | | |
| 1-1 Training | | |
| Group Training | | |
| Sell Workout Plans | | |
| Run Workout Challenges | | |
| Offer Online Workout Memberships | | |
| TV Workouts | | |
| Performance & Measurement Reports | | |
| Client Automation | | |
| Dedicated Zapier Support | | |
| Dedicated Account Manager | | |
| Nutrition | | |
| Business Dashboard Reports | | |
Why Choose Exercise.com?
Here are five reasons why fitness professionals use Exercise.com vs. ClubReady.
Fitness Business Management Software to Run Your Business
Unlike the complicated multiple platforms of ClubReady, Exercise.com provides fitness business software solutions all in one spot – making it easy to organize and grow your fitness business with client and class scheduling, check-ins, and billing — all from your custom-branded apps.
Fitness Business Management Software to Run Your Business
Unlike the complicated multiple platforms of ClubReady, Exercise.com provides fitness business software solutions all in one spot – making it easy to organize and grow your fitness business with client and class scheduling, check-ins, and billing — all from your custom-branded apps.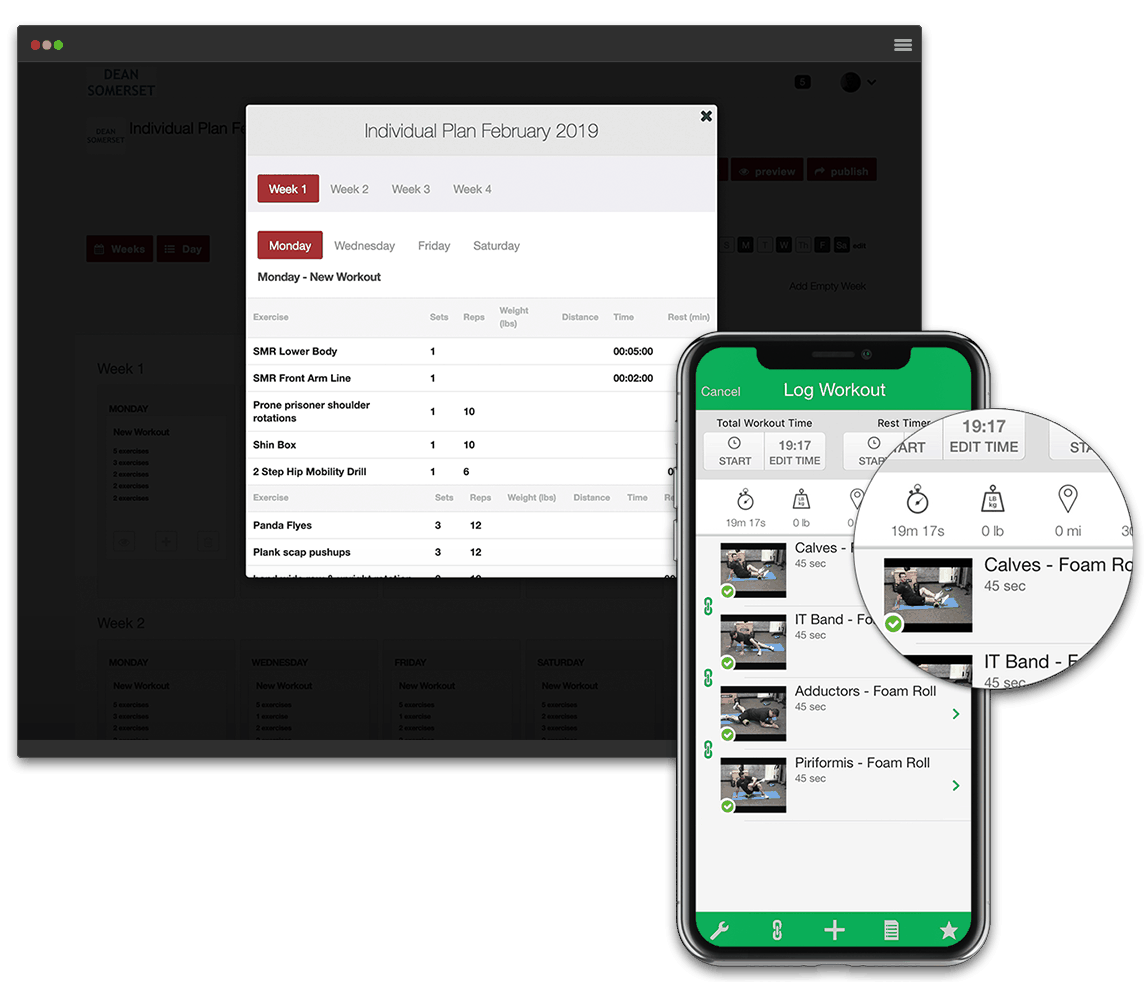 Workout Software to Power Your Training
ClubReady has limited workout software that doesn't allow for clients to access an exercise library or custom exercises. The Exercise.com workout plan creator and exercise manager provide flexible solutions to save you time creating workouts with built-in integrations, tools, and more.
Ecommerce Software to Increase Revenue
Fitness professionals cannot use ClubReady's ecommerce features to sell custom-built workouts. Exercise.com, however, has full ecommerce capabilities allowing trainers to sell single workout plans, offer automated workout memberships, run workout challenges, and deliver individual training.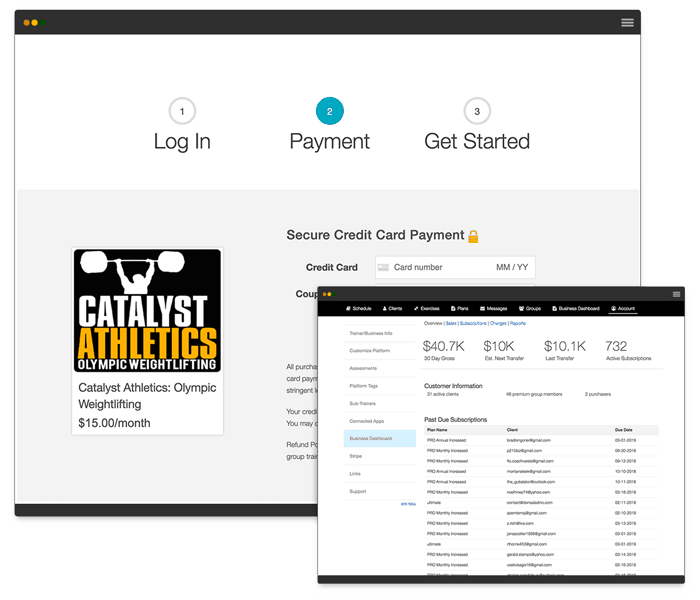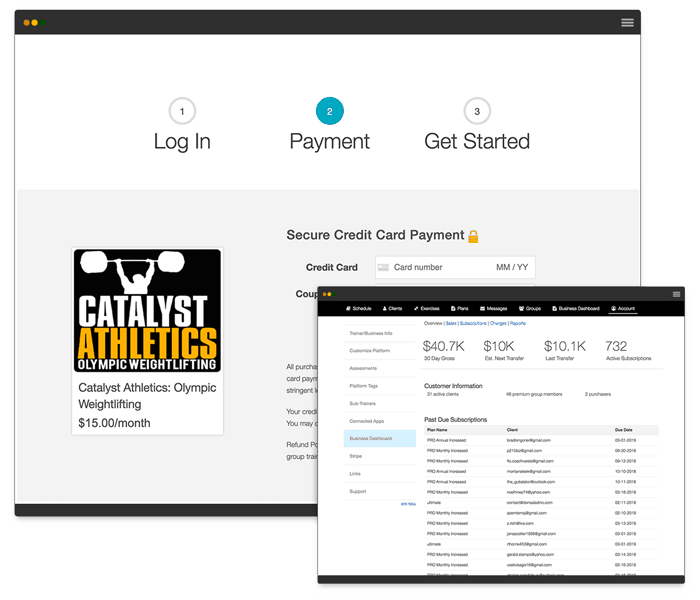 Ecommerce Software to Increase Revenue
Fitness professionals cannot use ClubReady's ecommerce features to sell custom-built workouts. Exercise.com, however, has full ecommerce capabilities allowing trainers to sell single workout plans, offer automated workout memberships, run workout challenges, and deliver individual training.
Assessment Software to Improve Client Engagement and Retention
ClubReady has limited assessment features within a separate platform, but that's not the case with Exercise.com. Take clients through personalized assessments to deliver custom workouts for their individual needs – providing massive growth potential and saved time.
Stand Out With Your Own Custom-branded Apps
ClubReady's apps only provide basic customizations, and there are no options for custom websites. Exercise.com, however, offers fully-customized apps and websites built to make your life easier by providing your clients with a unified scheduling and workout experience with your brand displayed front-and-center.
Stand Out With Your Own Custom-branded Apps
ClubReady's apps only provide basic customizations, and there are no options for custom websites. Exercise.com, however, offers fully-customized apps and websites built to make your life easier by providing your clients with a unified scheduling and workout experience with your brand displayed front-and-center.
If you're ready to get started with an easy-to-navigate, all-in-one fitness software, designed to fuel your business, request a demo with Exercise.com today.
And, if you want to see how ClubReady's additional features stack up to Exercise.com software features, check out our in-depth guide below.
What is ClubReady?
Founded in 2009 and incorporated as a full-fledged club management software application in 2014, ClubReady is a business-branded, web-based, fitness, health, and wellness club management platform. ClubReady is a mid-sized company of fewer than 200 employees. ClubReady is a privately held company out of Chesterfield, Missouri. Some companies that use ClubReady are 9Round, Anytime Fitness, Fit Body Boot Camp, and some pilates studios.
Exercise.com has a proven track record working with fitness businesses. Our vision is to build an all-in-one fitness business management software that allows both fitness professionals and exercise enthusiasts to reach their goals one workout at a time.
While ClubReady offers great business convenience features, the Exercise.com software platform's unique customization and dev team put your brand front and center in your custom-designed apps, making it easier for clients and customers to find you and trust your business.
With that in mind, let's see how ClubReady's custom software and features stack up to the customization features from Exercise.com.
Unless otherwise stated, all images and reviews below are of/about the Exercise.com All-In-One Fitness Business Management software platform.
Gym Management Software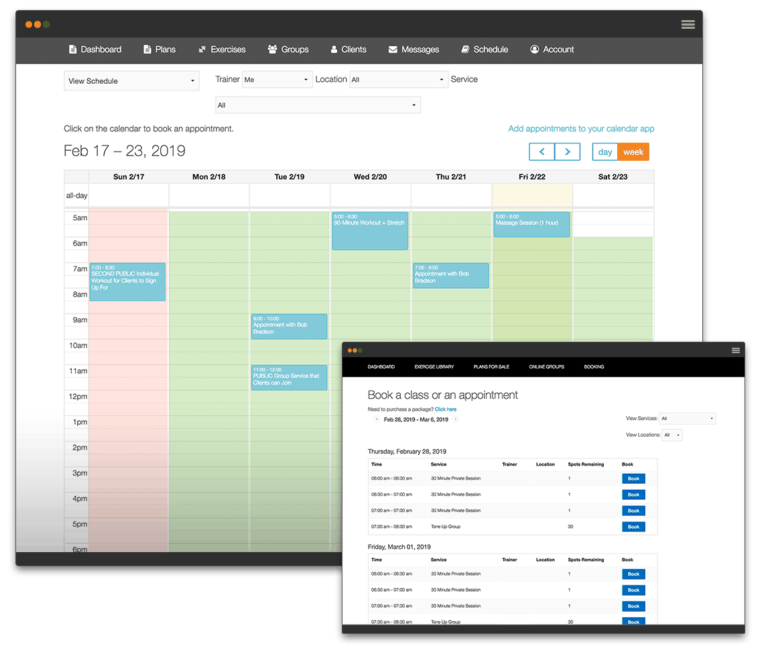 According to some clients, the ClubReady platform seems to feel a bit clunky or unresponsive when it comes to needing access to concise movements when selling membership plans/options or checking in on clients. For example:
"Club Ready had a lot of updates, which can be a good thing, but issues with CC payment processing before an update was a bit of a pain when you have customers waiting." – Capterra Review
"Custom membership options are difficult to piece together, and manual overrides for automated functions aren't always easy to implement."
– Capterra Review
"System crashes quite often, not that user-friendly, not that great for auto-renewals." – G2 Review
Client/Class Scheduling
With ClubReady, clients are able to log into member portals to sign up for classes.
The Exercise.com calendar also allows clients to sign up for classes and will empower gym owners and trainers to track visits, book classes and sessions, engage with clients with recurring appointment reminders via email and text, and provide calendar integration with Google and Apple for easy management. You can also sort by:
Trainer

Location

Service

Recurring

Time

Availability
Gym/Facility Management
ClubReady provides users with various gym/facility management features like staff permissions, payroll, and employee clock-in. They also offer a ClubReady clock-in kiosk for members to check-in. Users can utilize ClubReady's GymHQ software for access to features like customer service, past-due communication, accounting, payroll, operations guidance, and HR.
Exercise.com gym management software saves you valuable managerial time. Detailed but easy-to-understand reports are readily accessible on your app or desktop so you can make the best decisions for your business. 
Business Dashboard Reports
Both ClubReady and Exercise.com have a dashboard that features your business reports. The business dashboard from Exercise.com is fully customizable–you pick the layout, featured reports, and more, to fit your specific needs and preferences.
We also make reports easy — sales, business, appointments, class, and payroll reports are all in one place. There's no need for additional software. Plus you can sort reports by:
These reports empower you to have your finger on the pulse of your business, and if you're bringing on new trainers, you'll know how much to pay staff based on commissions.
Client Automation
ClubReady and Exercise.com both have automation features that make it easy to interact with clients.
The automation features from Exercise.com keep clients engaged and motivated. A few of the Exercise.com software platform automation offerings are:
Automatic Emails and Texts/Other Automatic Features
Highlight Exercise.com
Automate Workout Delivery
Automate Resource Delivery
Automate Assessment Delivery
Automate Reminders/Alerts via app, text, and email
Dedicated Zapier Support
The Exercise.com partnership with Zapier allows you to, in Zapier's words, "Integrate (link your web apps with a few clicks, so they can share data), Automate (pass info between your apps with workflows called Zaps), and Innovate (build processes faster and get more done – no code required).
Part of this partnership includes dedicated Zapier support to help you through every step of the process. With over 2,000 apps to choose from, you can rest assured that your company's website is as efficient and user-friendly as possible.
Dedicated Account Manager
Customer service matters a great deal to us at Exercise.com. Every client is provided with a dedicated account manager to help them with any and all software-related needs. From a website redesign to setting up an ecommerce store, your account manager is here to help.
Custom Fitness Software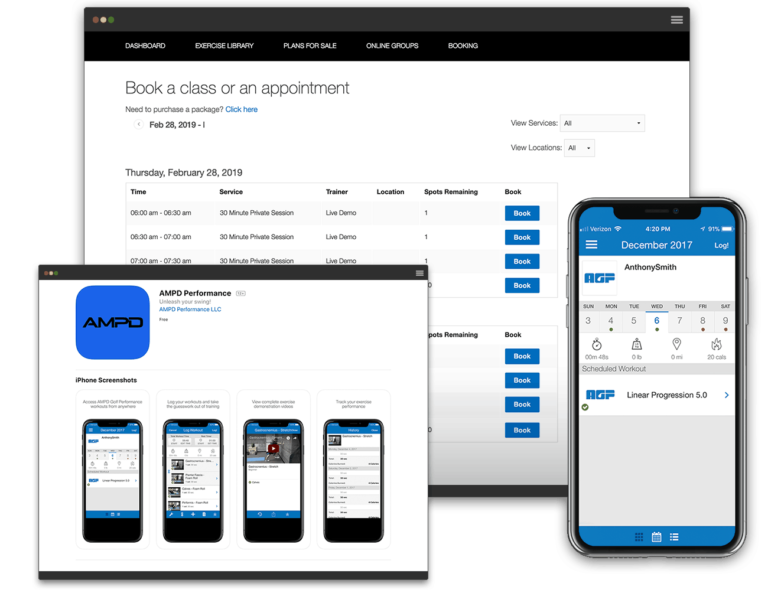 ClubReady offers basic apps with limited customization. Exercise.com, however, provides custom websites and apps. There are no additional fees for fully-customized software. When you sign up for Exercise.com software, everything is created by our world-class dev team with your wants and needs in mind.
Custom-Branded
ClubReady's apps and software are not fully customizable. Exercise.com's apps, however, are. With our custom apps and websites, it's your name front-and-center. It's your business that's being celebrated. It's your brand that's featured.
iOS & Android Apps
ClubReady has two apps: ClubReady Members for customers and ClubReady Team for staff members. Both apps are rated very poorly (ClubReady Members rated 2.6/5 and ClubReady Team rated 2.1/5). Users report numerous malfunctions, from the inability to create an account or sign in, to limited function and frequent crashes.
ClubReady's apps also have no custom branding or customization, making your brand second to ClubReady.
The difference is stark: Exercise.com empowers businesses to grow their brand. ClubReady is growing its brand through your business's brand.
When comparing custom-branded apps, Exercise.com is in a class of its own. With Exercise.com, your custom-branded health and fitness app can be customized fully. It's your brand and each app has customization options for your workout library, client language, colors, integrations, assessment software, and more.
Fitness Business Websites
ClubReady does not provide clients with custom websites. This means you must invest additional time and money into creating and managing your business website.
But with Exercise.com, you get a custom personal training, gym, and health club website created and managed by your account manager. Simply choose the custom features and layout of your website and our custom dev team creates a professional website that turns leads into customers.
Some of the features our custom websites include are:
Responsive
SEO optimized
Unlimited theme changes
Built to convert visitors to leads
Custom graphic work
Google Certified Partner
Security Features
Protecting the data of your business and your clients is incredibly important, which is why our custom websites and apps are outfitted with various security measures.
Exercise.com's security features include:
SSL Secure
Privacy Shield Framework
Google Cloud
Marketing Integrations
ClubReady integrates with several companies that enable you to track data, send text messages, upload signed waivers, and send emails, but seems to lack in providing users with a wide range of purposeful marketing integrations.
For your business' marketing, Exercise.com allows you to automate your efforts by connecting to an array of built-in integrations, including:
MailChimp
ConstantContact
ConvertKit
Zapier
Google Analytics
Facebook Pixel
Learn more by clicking the button below.
Exercise.com is the best ClubReady alternative.
Workout Software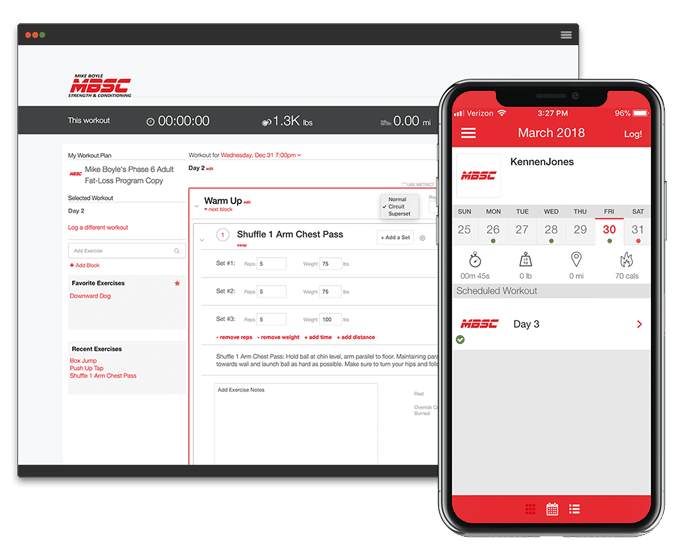 Exercise.com workout software towers above the workout software capabilities of ClubReady. Why? Because ClubReady focuses more on business management than it does on workout creation and implementation. For a fitness business that wants business management and workout software, Exercise.com has the upper hand.
Workout Creator/Logger
ClubReady doesn't allow workout templates to be created and sent to clients via their software application; instead, ClubReady partners with FitMetrix. However, there are some noted limitations with FitMetrix that don't exist with Exercise.com.
First, FitMetrix is primarily for group workouts. Using exercise videos from Wellbeats, trainers can create circuits and/or intervals for their group classes. While this may be a nice feature for group workouts, FitMetrix has no 1-1 workout creation. This means personal trainers are unable to create or send custom workouts to in-person or online clients, significantly reducing your client engagement.
In the FitMetrix app, clients can start, pause, and stop a logged workout, then select the activities they performed during their workouts, such as crunches or push-ups. However, clients cannot share these workouts with trainers, making collaboration, accountability, and success much more difficult.
Exercise.com software, on the other hand, contains a powerful workout creator that perfectly supports 1-1, group, and online training. There's no need for third-party software, making it easier for clients to understand and complete their workouts. Keep reading to learn more about our robust workout creator and how it redefines client engagement, improves fitness success, and boosts your revenue!
Our workout creator/logger provides users with endless possibilities for delivering workouts, tips, and encouragement to clients in any scenario, including:
1-1 Training
This classic personal training model is still one of the most popular services at a gym, making it a highly profitable component of your business. However, using ClubReady software significantly disadvantages your business because FitMetrix doesn't have any 1-1 training.
Exercise.com empowers trainers to craft creative, engaging, and effective workouts using our workout creator/logger. Workouts are automatically delivered in your custom app for clients to perform and log anytime, anywhere. This adds the personalized touch many clients are looking for and places Exercise.com far ahead of ClubReady.
Group Training
Although group workouts are the primary function of FitMetrix, many reviews from Capterra show that FitMetrix is unreliable during group classes. The workouts and videos are prone to glitches and trainers spend additional time getting their workouts to cast on the TV. This is not only frustrating but unprofessional and takes away from class time.
Exercise.com workout software allows trainers to use the same programming for 1-1 sessions and apply it to group sessions for clients to access online and in-person. This allows greater creativity on the part of the trainer to plan engaging and fun group workouts.
Online Training Software
As more fitness enthusiasts transition to a more on-the-go, digital lifestyle, fitness studios have had to adapt by offering online training. FitMetrix, however, has not adapted with the times–there is no online training option.
Exercise.com online training software allows users to send workouts to anyone, at any time, anywhere (and it allows users to sell online programs as well – more on that later).
Exercise Library
ClubReady does not provide users with an exercise library, but ClubReady users have access to the Wellbeats exercise library in FitMetrix.
Exercise.com provides users with an extensive exercise library full of professional workout demos. We also allow trainers to upload custom exercises to the library, as detailed below.
Custom Exercises
Exercise.com enables you to upload custom videos directly to the exercise library or merge your YouTube and Vimeo accounts with the library. By featuring your staff members in custom exercise demos, you help your clients better connect with your brand. This adds that extra personalized touch that clients are looking for and further promotes your brand.
TV Workouts
Not only can your clients watch demos of the exercises you've sent them, but you can also cast your Exercise.com demo videos onto gym television screens during group classes or one-on-one training sessions.
Gym Ecommerce Software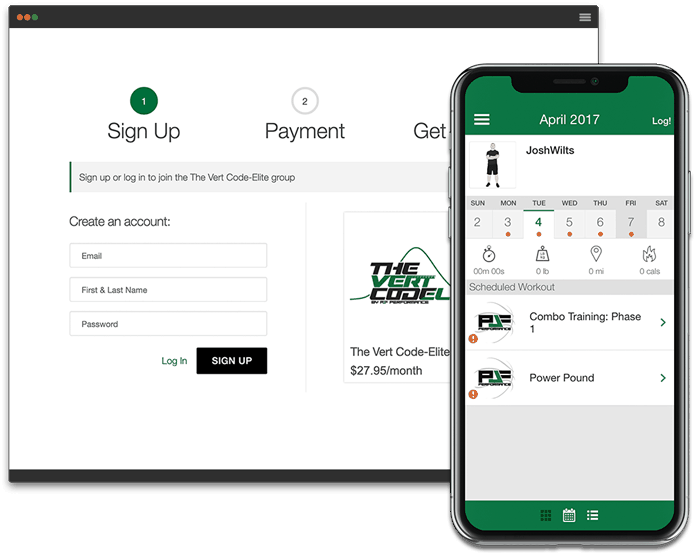 Ecommerce is an important part of business software, especially for fitness and health businesses. ClubReady and Exercise.com both have gym ecommerce software, but Exercise.com has more options and therefore surpasses ClubReady when it comes to ecommerce.
Payment Processing
ClubReady has payment processing capabilities and meets all PCI compliance standards.
Exercise.com's partnership with Stripe allows gym facility clients to pay one-time or recurring fees with cash, check, or credit card. You can also accept direct deposits and can set up a full ecommerce shop to allow for online purchasing of various packages and products. Sales and business reports are also readily available to make managing your business a breeze.
Sell Products
As stated above, ClubReady has ecommerce capabilities that allow users to sell products.
However, Exercise.com goes a step further and allows users to not only sell products and memberships but to sell these workout-centric items as well:
Sell Workout Plans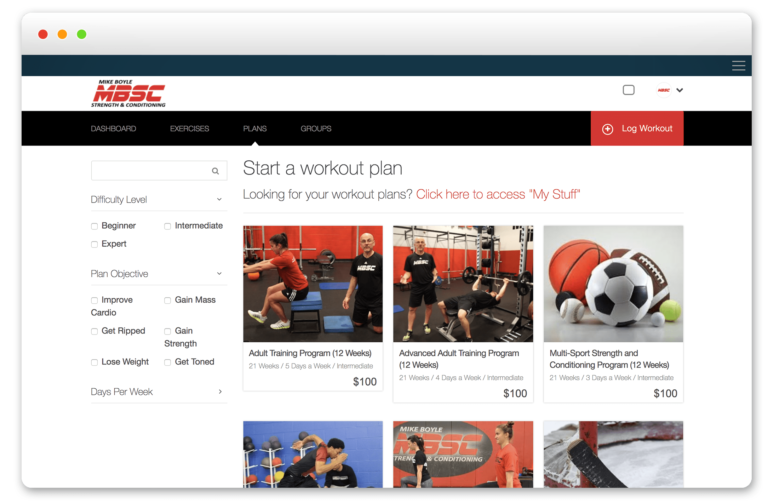 Sell pre-built workout plans with Exercise.com. Some clients may not have the money for personal training or may not feel the need to pay for a custom-made training plan. Pre-built workout plans are great for the client that wants a general outline to follow without the customization that comes with one-on-one training.
Our ecommerce system is simple to use and significantly lowers the amount of training your staff will need because it's the same software they use for workout delivery and to manage the day-to-day tasks of your business.
Offer Online Workout Memberships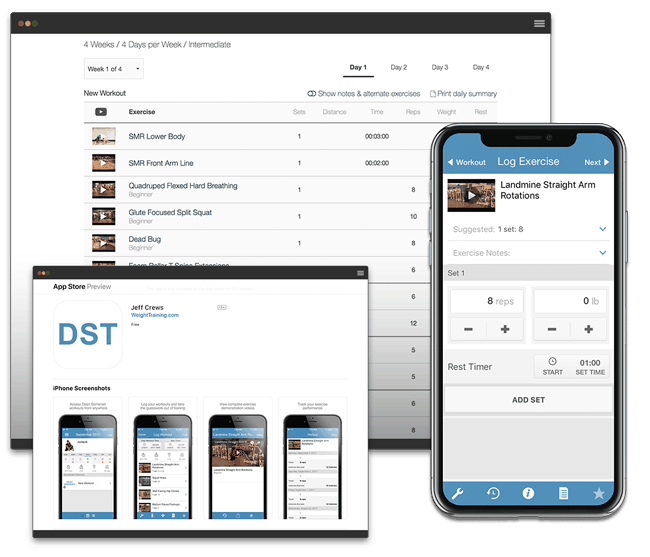 Some clients want custom-built workout plans but can't commit to working with a trainer in person. Online workout memberships are perfect for this crowd. They are able to receive, for example, six weeks of custom-built workouts but can tackle the workouts at a time and at a location that is convenient for them. However, this is exclusive to Exercise.com as ClubReady doesn't offer online workout memberships.
Sell Workout Challenges
In a fitness business, a sense of community is beneficial. Workout challenges are a proven way to improve your gym culture and retention. Your members will feel like they are a part of something and will likely provide your gym with free advertising by talking to their friends, family members, and coworkers about the challenge they just signed up for!
ClubReady can run workout challenges through FitMetrix, but with Exercise.com, you can run workout challenges without the need of a third-party seller. Exercise.com keeps everything in one place for a seamless and professional fitness experience.
Fitness Assessment Software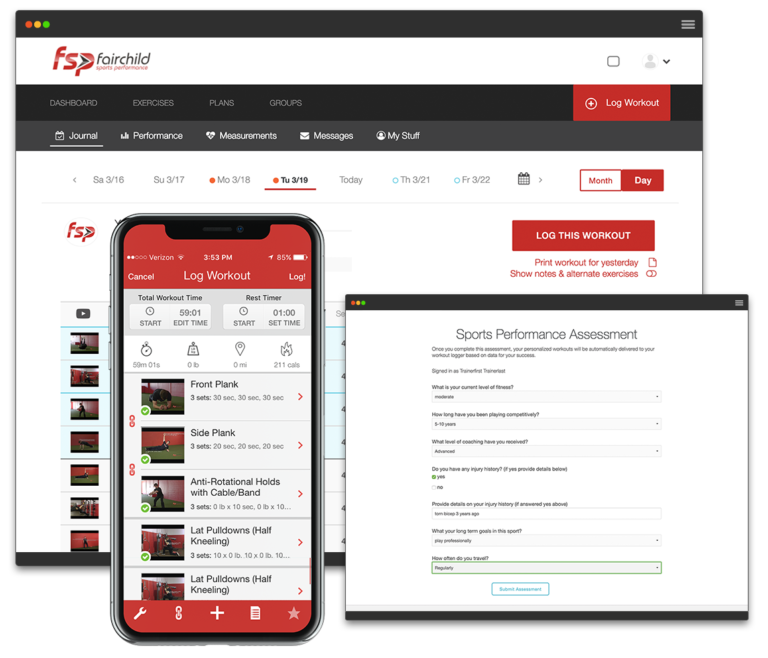 ClubReady's Performance Tracking systems allow club owners to track various metrics like heart rate and cycling stats through their performance data software, PerformanceIQ. Outside of tracking metrics like heart rate, calories burned, power, and RPM, how does this software stack up to Exercise.com fitness assessment software?
Let's find out.
Fitness Assessments
While ClubReady does have performance tracking software, it does not provide its users with custom assessments.
This is a disservice to their clients because assessments are valuable. Businesses can charge for them and trainers can use the results as a baseline for evaluating the progress of their clients. Exercise.com provides users with the ability to conduct custom assessments based on a client's goals or sport of choice.
Performance & Measurement Reports
ClubReady's PerformanceIQ reports are minimal compared to the reports provided by Exercise.com. With our software, trainers can log standard and client-specific performance and measurement reports for the most accurate tracking and greatest client improvement.
Keeping your clients engaged with your business is important; which is why Exercise.com gives users the ability to automate performance and measurement reports. Reminding them of their goals and progress is a great way to keep them engaged with your business.
Nutrition
The dietary choices clients make on a daily basis are crucial to clients reaching their goals. ClubReady makes it more challenging for trainers to help clients make lasting health choices by not including any nutrition software. Trainers and clients must use another app or software to track nutritional habits, which is inefficient and cumbersome.
Exercise.com knows the importance of nutrition in fitness, so we integrate with MyFitnessPal for easy, effective, and efficient nutrition tracking. Using the recorded data, trainers can provide guidance, tips, and, if necessary, referrals to registered dieticians.
ClubReady Pricing
At this time, ClubReady has not made its pricing for its software public. This includes base models and any customization upgrades and add-ons that may have available. ClubReady does offer a live demo.
ClubReady Alternatives
| Alternative | Min. Starting Price | Max Price |
| --- | --- | --- |
| TheStudioDirector | $39/month | $149+/month |
| Trainerize | $5/month | $250/month |
| 10to8 | $9.6/month | $40/month then customized pricing |
| ClubExpress | $24/month | $.40/member up to 100 then discounts for groups |
| EZFacility | *n/a, contact | Free Trial then Subscription |
| Pike13 | $129/month | $179/month |
| TeamSnap | $9.99/month or $69.99/year | $17.99/month or $129.99/year |
| Zen Planner | $117 | $414-964(software, website, marketing) |
The Bottom Line: Pros and Cons
Finding the perfect management software for your business can be a challenge. Fortunately, Exercise.com makes things easy by providing a wide range of features in a fully-customizable, easy-to-use format.
ClubReady Cons
Although ClubReady is a highly rated all-in-one health and fitness club management software that allows the business owner to gain access to a ton of features, ClubReady isn't built for customization.
One of the primary focuses of Exercise.com is customization. Our business platform gives you personalized POS options, automatic functions, workout and performance health assessments.
ClubReady is a functional system for franchise owners, but most of us in the industry need software tailored directly to our business.
Thankfully, you don't have to settle.
Exercise.com all-in-one software will take on the look of your business, do what your business needs for it to do, and take the work out of the busy work for you. Plus, we will be there to help develop features to meet the exact needs of your fitness business.
Exercise.com Pros
Exercise.com's team is constantly making development improvements and seeking out new ideas from our clients. We are always coming up with innovative ways to help your business grow. If we haven't created it yet, we will.
Your business won't have to adapt using Exercise.com software, as our tech team is built to adapt to you and your growing business needs on an individual to individual basis. We know your business isn't exactly like anyone else's, and we're here to help your business stand out from the rest. We celebrate that uniqueness.
Exercise.com all-in-one business software can serve you in a variety of ways, the most important being: giving you the necessary tools to grow your business, deliver value to your clients while keeping them engaged, and automate as much as possible—making your life as a business owner that much easier.
Hopefully, you see the benefit of not waiting to have a system and software in place that allows you to manage and grow your business for years to come.
What features are most important for your business?
If you're ready to grow and manage your business with a software that can be customized to your business, book a demo with Exercise.com.