Get the Basics...
Personal trainer organization systems will help you get organized as a personal trainer and will maximize your business success.
Track prospective clients in a detailed list so no one slips through the cracks in your follow-ups.
Get useful data from a client's initial fitness assessment and put future assessments on autopilot.
Manage your personal trainer certifications wisely and don't let renewal requirements sneak up on you.
Use the Exercise.com personal training software to manage your fitness business, whether you are a solo trainer, a large gym with many locations, or a social fitness influencer
Learning how to get organized as a personal trainer is an age-old conundrum for trainers:
There are only so many hours in the day. How do I maximize my effectiveness and grow my business when I already feel busy?
The answer is getting organized and optimizing how you operate.
But how do you get organized as a personal trainer? And how do personal trainers organize their clients in a way that doesn't lead to burnout?
When working as a personal trainer, developing methods for organizing your fitness job and your life are key to both business success and personal satisfaction. Follow this personal trainer organization guide to help you identify the leaks in your system and fix them with new, efficient methods that unlock your growth potential.
One option to help you stay organized is the Fitness Business Management Software Platform from Exercise.com. Request a demo today to learn more.
Streamline Sales and Marketing
#1 – Create a prospect tracking system
Stop letting prospects slip through the cracks! Just because they didn't sign up right away doesn't mean they never will. In fact, it's quite common to have 2-3 non-sale contacts with a prospect before they'll commit to a high-value training program.
Of course, you can't simply rely on memory for the prospect's details and timeline; trainers and gym managers who try to do so will often miss their window for signing the hot lead. Here's what you should do instead:
Create a system for tracking the status of each prospect in your pipeline using a simple spreadsheet. Use this to save all information that could be pertinent to acquiring the customer or observing trends. This should include the prospect's name, source, basic contact information, date of your last contact, and the result of that contact.

In this sample from my gym's real prospect tracking sheet, color-coding indicates when a prospect has signed up or said no. For the successful sign-ups (green), note the number of contacts made before closing. Only one was immediately signed, the rest were due to follow-ups!
In addition to preventing anyone from being forgotten, another strength of this system is that you can account for individual personality of each person and follow up with the appropriate tone. For example, rather than sending a single, generic message to everyone, you should use the last contact result to configure a personalized message that they are more likely to respond to.
Even if it takes a bit of leg work, the person you already have on the hook is easier and cheaper to sign than the one you've never met. When it comes to the various organizational personal training systems you'll use, this system is a must.
#2 – Separate business and personal contact info
Many trainers who work independently, or gym owners just getting their start, will be tempted to save money and keep things simple by using their personal phone, email, and social media accounts to run their business, but its much better to compartmentalize your business life from your personal.
Having distinct accounts will give your business a much more professional appearance and will help you maintain work-life balance. What's more, you can accomplish this with very inexpensive or free services.
Phone
You can get a new phone and business phone line from any wireless company and, without a lot of frills, pay less than $75/ month; or, even better, you can use Google Voice to get a distinct business phone number but still receive calls to your personal device.
You'll be able to give that line its own voicemail message and, because you'll know calls are coming to your business line, you can answer professionally with more than just "hello?" Google Voice starts at only $10/ month for basic business service.
E-mail
Sign up for services and contact clients using an email account that's just for business. As easy as it can be for emails to get backed up and important communication to get lost in the mix, you'll be glad you prevented business messages from falling through the cracks.
Email is another major point of professionalism. If you have a website, an email with that domain name is ideal but even a separate address from a typical domain like Gmail or Yahoo is better than your personal account.
Social Media
Rather than your personal Facebook or Instagram, create a page/profile for your business. Here, you'll put most of the focus of your posts on clients, content, and promotions. It's fine for you to be seen and let followers get to know you, but do so on your terms while keeping a veil around personal information, political stances, and non-work activities.
#3 – Implement a testimonial collection process
Testimonials should be a major part of your marketing, because what clients say about you is often trusted more by prospective customers than what you say in your pitch. As such, you'll want as much control as possible over the message they send and a steady stream of new ones that show consistency and keep things fresh. Check out the video below for some tips on how to get the best testimonials for your gym's marketing efforts:
For efficiency, you should have a pre-planned schedule for when to request a testimonial or review from a client and set up an automatic reminder for when to ask. A good window for checking in with the client and making your request is 60-90 days into their training. This timeframe is quick enough that they're excited about the novelty of training but long enough that they should be seeing measurable progress as well.
When it comes to implementing a process for collecting testimonials, your goal should be to have a systematic method without your clients realizing it. Here is what that method entails:
A set schedule for check-up conversations makes it almost automatic on your end, but don't reveal this schedule to members. From a member's perspective, it should be a casual, organic moment when you ask them, "Hey Ryan, I want to sit down with you soon and hear how things are going. Do you have 15 minutes after your workout on Thursday?"
The check-up process naturally flows into a process for receiving testimonials and online reviews, which are crucial for attracting new members. During your check-up with a member, if they are enthusiastic and report being very satisfied with the gym, ask them in a natural way if they'd leave you a review on Google, Facebook, etc.
You may say, for example, "That's awesome! I'm glad things are going well for you. Would you be willing to share that story as a review online? When people see a 5-star review it goes a long way in attracting them to working with me."
The client who's excited about the gym and grateful for your help will be more than willing to return the favor by taking a few minutes to give you a good rating. Also, note the mention of 5 stars, you've implied that's what you need without awkwardly asking, "Will you give us 5 stars?"
In the event that the member you see for a check-up isn't very happy with their progress or excited about the experience so far, of course, you will not yet ask them for a review. Instead, take their feedback and try to improve their experience between now and the next conversation so that you can get the great review then. By simply taking the time to ask and paying attention to how they feel, you will already put them on the road to a better experience at your gym.
Systemize Training
#4 – Perform initial and recurring fitness assessments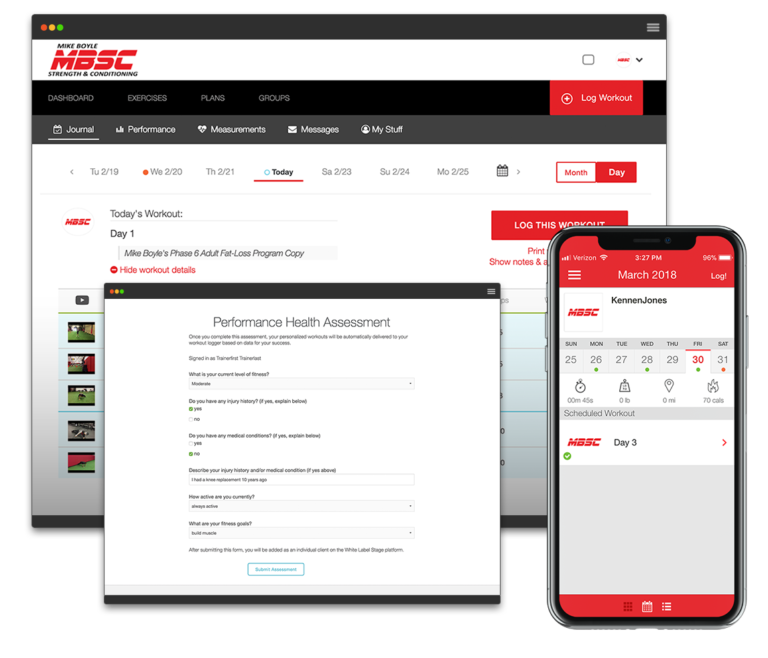 Knowing what you're training, why you're training it, and having a measurable gauge of success are the hallmarks of a professional coach. This is done by conducting assessments of your clients' performance both initially and on an ongoing basis.
With Exercise.com's customized health and fitness assessments, you can more easily collect data that helps you build the most effective initial training program for a new client and retain current clients with progress tracking that proves results.
Here's how online and in-person trainers utilize our software to enhance their results and their business:
First, take potential clients through a baseline assessment to show how you can help them achieve their goals. You can show them your success record by leveraging existing customer data.
Second, people often have short memories, so a client assessment in tandem with our powerful smart performance tracking empowers you to show clients where they have improved.
Third, the Exercise.com Assessment Software Platform allows you to deliver recurring assessments to re-engage clients and also provides progress photos, measurements like weight along their journey. Happy clients who can see their successes are clients that stick with you for the long haul.
#5 – Replace your old notebook with workout tracking software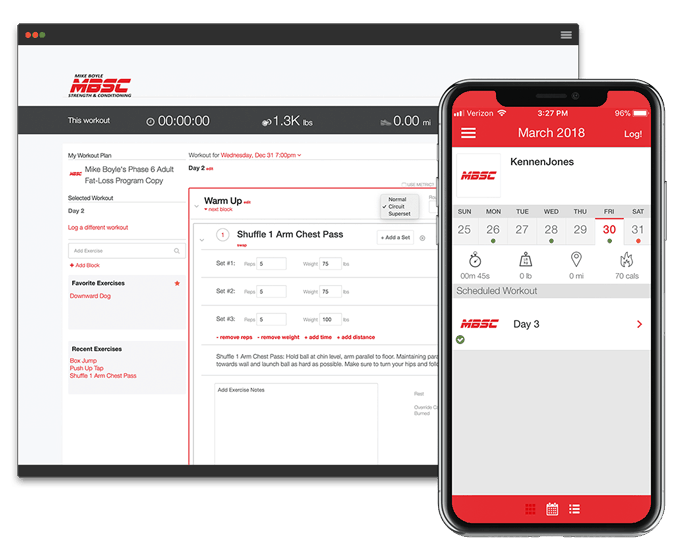 When it comes to training, the old school methods like basic barbell training and bodyweight exercises are tough to beat, but that doesn't apply to your system for planning and tracking workouts.
These days, trainers can do much better than the collection of worn-out notebooks you'd have to rummage through to find previous stats or worry about losing. New, cutting-edge software like Exercise.com's business management platform is a trainer's best friend. You can build and deliver workouts through a custom web and mobile app designed to meet your unique needs.
Use our workout creation system to organize programs made up of movements from our extensive exercise library or upload your own. Within a simple interface, our powerful creation software lets you design each session exactly as you want it and deliver the workout to your clients remotely or use it to track your in-person training.
Within your custom mobile app, you'll be able to easily access performance history, make adjustments on the fly, and capture progress photos. All your training data is at your fingertips any time on any device.
Speaking of devices, a common question among those who are starting out in the industry is, "What's the best tablet for personal trainers?" Simply put: the best tablet is the one that has the best software installed. Don't waste your time looking for free personal trainer software downloads. Invest in a good, high-quality fitness business management software platform that grows with you.
See for yourself - Meet with the Exercise.com Team today
Grow and manage your fitness business with Exercise.com
#6 – Make meticulous notes of every session
Figuring out how to organize personal training clients can overwhelm even the most seasoned professional; that's why the personal training client file is a must. In any given training session there are many points of information outside the obvious sets, reps, and weight. As a trainer, you should also be saving notes on your client's form issues, injury concerns, new cues, and extra information that could affect training such as lack of sleep, etc.
Particularly for trainers with a high client volume, memory can't be relied upon for these small but important details; make sure you save them securely for future reference.
Trainers using Exercise.com to create and track workouts will have the benefit of adding notes quickly while in session with a client. Your future sessions will be more effective and your clients will appreciate your attention to detail.
Organize Operations
#7 – Implement a consistent new client onboarding process
Given a choice between something that's complex and confusing or something easy to understand, which do you think clients will choose? Obviously, the latter; with everything else being equal, prospective clients will choose the gym/trainer who has a clear procedure for getting started.
Additionally, you're saving yourself a great deal of uncertainty by deciding upon the best practices and sticking to them. When you do so, you're much less likely to get stumped by questions or appear unprofessional in the eyes of your new client.
There's no one size fits all when it comes to onboarding as it will depend on what you offer and who you're marketing to, but here are the universal rules:
Keep it simple -Make it such that after a new client joins, they can confidently tell a friend exactly what to do. This is your best test of simplicity and will help gain referrals.
Spell it out – Don't give the client a chance to get mixed up or make them ask, "How do I get started?" Put it out there on your website or in a phone conversation so there's no doubt that you have a way of doing things and will guide them through the process:
Your journey with us begins with your Goal Consultation where we'll learn your history and motivation and will match you to the right training program for your needs. Then comes your Initial Fitness Assessment… it's as simple as that!
Apply it consistently – Whether the prospective client is a walk-in, a referral, or someone you meet at the grocery store, keep your onboarding recipe the same. Workouts are the place for customization; your operations should be universal.
#8 – Create business and training SOPs
As with the onboarding process above, think of how you can systemize or even automate what goes on in your business, these will be your standard operating procedures or SOPs. 
SOPs give you a playbook for both typical daily tasks and, when planned ahead, the irregular issues that are unavoidable in a person-to-person business. For example, set a standard way of dealing with no-shows and rescheduled appointments (common occurrences) as well as a procedure for how to fire or kick out a client (a rare necessity, thankfully).
Some examples of where you can apply SOPs are:
Membership cancellation policy
Session cancellation policy
Gym cleaning priorities
Consultation appointments
Onboarding method
Client assessments
Training program updates
See the video below for additional information on how to establish SOPs within your business:
#9 – Set boundaries in your schedule
Personal training is one of the toughest careers for maintaining a work-life balance. Rather than a standard 9 to 5 workday, you may have a 5 to 8, 10 to 12, 4 to 7 workday! On top of that, there are a host of other responsibilities, like sales and business management, if you are an independent trainer or own a facility.
There will always be pressure to take on that one more client or move an appointment and extend your already long workday. To improve your own fitness, avoid burnout, and maintain the value of your time, you have to draw the line somewhere and set some boundaries.
Here are some examples of boundaries that keep your life organized and contribute to job longevity:
Set a maximum limit for back-to-back sessions without a break 
Set an overall start time and end time for your workday at the gym
Designate at least one hour as your personal fitness time
Stop checking client emails and texts after a certain time of night
Carve out time for yourself to recover from the hustle and grind of a PT career. Just like in training, it can't be all stress and strain; you build in rest time and deload periods knowing that you can be more effective during work time if you have complementary recovery time.
#10 – Plan ahead for recertifications and continuing education
When you hold an accredited certification, as is expected in the fitness industry, tasks like recertifying and getting continuing education credits are part of the game and, unfortunately, can get rather expensive. You can, however, lessen the impact of these expenses on your bank account and your psyche by planning ahead and keeping a calendar of the required activities.
Research what you need in advance and space those tasks out evenly between recertification periods and you'll never get overwhelmed or risk missing your deadline.
Let's say, for example, you hold the CSCS credential from NSCA. The organization uses a universal recertification period in which every CSCS holder must recertify by the same date, December 31, 2020. If you require 4 Continuing Education Units (CEUs), you could be looking at a significant time commitment to attend a conference, clinics, or obtaining another certification to accumulate what you need.
If you wait until August 2020 to begin this process, the attention required to cram in those activities could detract significantly from your business and cost a considerable amount of money all at once. Instead, get started at least a year ahead; attend a conference in 2019, study and test for the Tactical Strength and Conditioning certification (for example) in spring of 2020, and in December, simply pay your recertification fee and you're good to go!
Conclusion
So, how do personal trainers stay organized? As you can see, it's not a simple answer, and you shouldn't expect it to be. The above top ten ways to get more organized as a personal trainer are just the tip of the iceberg when it comes to running a fitness business, but they're a great start for setting yourself up to grow your business and feel more satisfied in your career.
What methods are you ready to implement and use to accelerate your success?
As outlined above, the industry-leading software platform from Exercise.com can be the key to optimizing your current operations and it can open up brand new pathways to growth through online training, e-commerce, and workout challenges
If you're ready to grow and manage your business better with a software that can be customized to your needs, book a demo with Exercise.com.