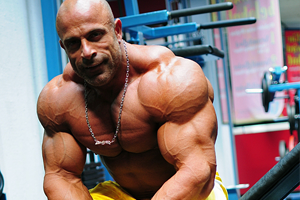 IFBB Pro Bodybuilders must have an inordinate amount of drive and dedication. Just ask Michael Kefalianos, a native of Greece and competitive bodybuilder.
Michael has competed in over 25 IFBB Professional shows and has placed in the top five in most of them. Find out more about how he got his start and how he maintains his competitive edge!
Become a PRO Member to get access to workout plans, diet plans and expert videos!
Tell our community how you first got into bodybuilding.
Watching Conan as a youngster I was impressed by his body and that got me interested in all the bodybuilding area. Also, I had the magazines which I bought and studied hours on end.
I idolized Lou Ferrigno, Lee Haney, and Arnold, of course. So I went down to the local gym and became a member.
Slowly I saw changes in my body that impressed me and I kept at it.
I never stopped going and I missed a few days here and there but there was never a long period that I didn't go. I felt guilty if I did miss days.
How do you prepare for a competition? And how does your regimen change afterwards?
I start about two months before the show with my trainer David Balasas. He sees me and works out what kind of prep I need, how much bodyfat percentage I'm at. He also makes out my meal plan for the day.
I keep that plan for a few weeks until he sees me again and if it needs changing or not. We work out together and do the same training routine, keeping it very simple.
Closer to the show, we change the training slightly to a more intense workout and I add about one hour of cardio. Meanwhile he checks me often to see we are on track.
After a show nothing much will change. I might eat whatever I want for a couple of weeks then I'm back on track again.
I might not be as strict with myself in that period, have a cheat day on Sundays, but that's the secret to me being in shape all year round. I don't let myself go in the off season.
Train Anyone, Anywhere in the World.
Who do you look up to, or someone you admire in this industry?
I admire Ronnie Coleman and respect him. I also respect most of the older bodybuilders that work at the shows and offer their advice.
Does the demanding schedule of bodybuilding ever inhibit your role as a father/husband?If so, how do you find a proper balance?

I've been lucky enough to have a wife and family that understand what I do. I have been doing shows since the kids were babies so they know no difference.
I'm always there for my family. If I'm away at a show, Helen is there at home for the kids. She comes to shows in Europe with me and Las Vegas if I get through to the Mr.O.
She likes to be close to home for them. Also when I'm away Helen enjoys the free time of not cooking all day for me. Summer here on the island is very busy for me. I drive the taxi for 12 hours, go swimming and have time for the gym.
Winter is less stressful with more time since I don't work 12 hours. In all the family is very understanding.
Do you have any traditions you hold to before going on stage – i.e. good luck charms, etc?
No, not really, I just go on stage and give it my all and I enjoy every minute up there.
What is one thing you've learned throughout your years of competitive body building?

To respect my fellow bodybuilders, to have patience in getting good, well-deserved positions, of moving up the ladder of getting 12th and 13th positions in the beginning to getting top five now.
It's a hard profession. Some days you're good, some days you're not 100 percent. I love what I do and wouldn't have changed anything if I had it to do over.
Getting Your Start
If you're ready to start training as a bodybuilder, or just want to lose a few pounds, you can greatly benefit from our Exercise.com Pro Membership.
By going PRO, you'll have instant access to countless workout plans, how-to videos, and a great support system.
Get connected to Michael and follow his competition progress on Facebook and Twitter.