Get the Basics...
If you have a desk job, there are several benefits to using spare time to work out.
An active body means a sharper mind, which means better productivity in the workplace.
Work your whole body at the office with ten exercises that require little to no equipment.
Work life can get monotonous, especially if you sit in the same spot all day, doing pretty much the same thing you do every day. Of course, work is work, but your body is your temple, and it deserves to be kept active!
In fact, many studies have shown that an individual with an active lifestyle and healthy body has better cognitive functions than someone who doesn't.
Working out your body will easily make you more productive, attentive, and efficient — even at work!
The great thing about working out is that you can do it just about anywhere, anytime, as long as you have the right technique. In fact, even small, basic things lying around the house can easily become workout "equipment" that can help you squeeze in some exercise, either during your break time or lunchtime.
Let's look at the main benefits of using spare time to work out at the office:
Keeps the mind active
Stores up adrenalin
Prevents you from falling asleep
Burns away all those calories from snacking
Leaves you looking fresh and awake
Might just fuel your brain into coming up with new ideas!
Gives you a good night's sleep when you're back home
For full workout routines that can be done anywhere, sign up for an Exercise.com PRO plan today.
10 Workouts for the Office
#1 – Push-ups
Believe it or not, you can do push-ups pretty much anywhere. You could use your desk, any table, or even the walls. Of course, you could do them on the floor as well, but as a beginner, using support is a better option. Remember to stay in an inclined position, thrust your hips inwards and not outwards, and put more of your body weight on your arms.
#2 – Pull-ups
The obvious next one would be pull-ups. Find a sturdy bar, pillar, or extension from a wall, and get started. Make sure that whatever you're balancing on is actually strong enough to take your weight. If you're new to pull-ups, don't go for anything that's too high off the ground because that would require more arm strength. If you're up for it, squeeze your core while doing this, and you've got a side-by-side ab workout as well!
#3 – Tricep Curls
If you're wondering, "But I don't have dumbbells to do these," fear not! Take a water-filled bottle and voila: You have a lightweight "dumbbell" to work with. You could do these curls seated, standing, lying down (preferably not), as long as you get the movement and technique right. Make sure your shirt is not too tight though, just for comfort's sake.
#4 – Plan(k) It
If your core isn't cooperating with you or you just need to tighten it a bit, then planking is the way to go. It's easy to plan for planks. All you need is some empty ground space and at least two minutes of uninterrupted time. Get your coworkers to join too, and it could be a plank fest!
#5 – Touch Your Toes
Stretch both your hands straight up in the air, bend forward completely, and try to touch your toes. You most likely won't be able to do it the first few times, but after the 10th try, you'll probably make it! This exercise is a great way to stretch out your limbs when you're feeling tired or lazy.
Get More Out of Your Health and Fitness Routine. Go PRO!
Sign Up
#6 – Take the Stairs
When it comes to exercising, cardio is and always will be your best friend. If your food court or lunchroom is a few floors below or above, ditch the elevator and take the high road! Walking up and down the stairs is a great way to squeeze some cardio into your daily routine.
#7 – Calf Raises
Calf raises are another highly versatile exercise that can be done absolutely anywhere and doesn't require any weights at all. Put your feet together, get your whole body on your toes, and stay there for 2 seconds. Then slowly lower your body back to the ground. Do these raises at least 30-40 times until you feel your calf muscles truly worked out.
#8 – Chest Presses
If you're looking to switch up your workout and really do something effective, then get your suspension trainers out! This equipment can be used for a number of workouts, but the best way to use these trainers is for chest presses.
Find two solid pillars or bars (preferably vertical ones), and attach the suspenders to it. They provide resistance and are also great for strength training in your arms and chest. And don't forget to check this out — the best suspension trainers reviewed by Garage Gym Planner!
#9 – Chair Dips
First and foremost, do not try dips on a chair that has wheels and can rotate. You'll most likely end up hurting yourself. Using your elbows and forearms for support, get your butt and torso into mid-air, and balance the bottom half of your body on your feet (flat on the ground). Next, bend your knees, and move your body up and down. You should feel the most pressure on your thighs.
#10 – Side Lunges
Finally, try out some side-lunging! Regular lunging may not be the best exercise to try in office attire, so go ahead and try them sideways. When you bend one knee, make sure your other leg is fully stretched out. Repeat the same procedure with each leg, alternating them. You could always use a desk or table for support to propel yourself off of it. Your hamstrings will be pleased with you!
Be Creative
You could use bottles, heavy files, paperweights, your laptop . . . maybe even a big stack of papers! Anything you find as equipment can become a useful aid to your office exercise routine.
After all, it's about getting innovative and quirky.
A lot of workplaces today emphasize keeping their employees physically strong and healthy because a weak body eventually leads to a weak mind. And obviously, a weak mind is not as productive as a focused one. So, the next time your lunch break is around the corner, wake yourself up and exercise your way to the cafeteria!
And if you're looking for a little more help in the exercise department, be sure to check out PRO plan. We'd love to help you stay motivated and focused on your goals every day of the year.
---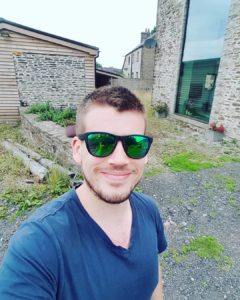 Gary Miller is the editor/content creator for Garagegymplanner (GGP) and writes in-depth fitness equipment reviews for home gym owners. He loves the great outdoors and has a penchant for long hikes through forests. Gary aims to enrich the fitness community with relevant information he has gathered firsthand through this journey called life. Check out www.garagegymplanner.com to learn more about his work!