Get the Basics...
When you're away from home and your usual routine, you can still find ways to stay healthy on a road trip.
There is no excuse to avoid working out; it's just a matter of priorities.
Pre-plan any meals you'll eat out by ensuring restaurants have a healthy section on their menus.
When embarking on a road trip, straying from your routine is expected. With that being said, just because your routine is being compromised, that does not mean that your health and fitness goals need to take a hit as well. While you should enjoy yourself and the relish in the memories made, if you have specific goals in mind, here are nine tips from certified personal trainer David Baillie on how to stay healthy while on the road.
For access to bodyweight workouts that can be done anywhere, sign up for an Exercise.com PRO plan today.
#1 – Set a Morning Workout Routine
Get up 30 minutes earlier than you plan to each day and fit in a high-intensity interval training (HIIT) session or sprint drills. HIIT is a fantastic way to burn a huge amount of calories in a short period of time. 10 minutes of hard work in the morning can burn the same amount of calories as 40 minutes on the treadmill.
HIIT boosts the metabolism by forcing your body to consume more oxygen than a normal workout. Excess post-exercise oxygen consumption (EPOC) can help boost your metabolism for hours after you have finished your workout, which in turn can lead to burning more calories throughout the day.
Sprint drills require you to find a spot where you can sprint for 30 seconds (which could be on a treadmill if you have one in the hotel).
Sprint as far as you can for 30 seconds, and then jog back to the start, taking no longer than a minute, and then repeat the process. Do this for 10 minutes, and you will really feel the burn! Sprinting is great for building power and cardiovascular strength.
#2 – Go to Hotels With a Gym
Plan your trip to include hotels that have gyms in them. They might not be the best gyms in the world, but as long as they have a bit of space and a treadmill, you can get in a short workout. There is also no excuse for not working out when there is a gym in the same building. If there is a swimming pool, you can get in a good workout by swimming a couple of lengths.
Get More Out of Your Health and Fitness Routine. Go PRO!
Sign Up
#3 – Find Your Local Gym
If you belong to a Gold's Gym or LA Fitness, you might be able to use their amenities free of charge. Do a little research, and plan your trip accordingly.
#4 – Carry Workout Equipment
I always take a few workout items when I am on my road trips. My go-to item is the TRX.
The TRX takes up about the same amount of space as a football and weighs about 1 lb. It can be set up pretty much anywhere and is ideal for bodyweight exercises. There are literally hundreds of exercises you can do with this one piece of exercise equipment.
The kettlebell is also a highly versatile tool for road trips. You can get a total body workout from using the kettlebell. It will take up the same amount of space as a football and can be stored easily.
#5 – Take Healthy Snacks
Gas stations and roadside diners are the enemies of the waistline when it comes to road trips. The convenience of a burger with fries and coke might seem like a good idea, but the amount of calories you'll be eating really isn't worth it. I always cook up a few chicken breasts before I go on the road. They are great for snacking on and can be safely stored in a cool bag.
Eggs are another great road trip food. Boil up a load, and they can last for days.
They can also be found while on your trip. When you buy more, just put them in the hotel kettle, and boil up a fresh batch. A protein shake can replace an unhealthy hotel breakfast as well. Fitting a tub of protein in with your luggage shouldn't be too hard.
#6 – Stay Away from Gas Station Drinks
Sugary drinks from the gas station or sweet coffees like the French vanilla latte carry a huge amount of calories and offer no nutritional benefits. Take a few big bottles of water with you, and make sure you stay hydrated on your trip without the added sugar.
#7 – Pull Over
Schedule in pit stops where you can stretch your legs and get a bit of exercise. Sitting down for long periods of time puts a load of extra pressure on your spine. Take a break to reduce the pressure and get in some exercise at the same time. A brisk, 10-minute walk will help you burn off some excess calories, and you may just find the perfect place for a cool selfie.
#8 – Pre-Plan Your Meals Out
If you are going for meals out, make sure you know where you will eat first and ensure they have a healthy section on their menu. Better yet, try visiting a health food restaurant; there are more popping up nowadays, especially in bigger cities.
#9 – Forget the Excuses
I have driven across the USA in my little truck and have always managed to find a way to work out. There is no excuse; it's just a matter of priorities. Make sure you give yourself every advantage when it comes to fitting in a workout!
Fit in workouts easily by creating your own bodyweight workouts using our exercise library and go PRO today for access to certified personal trainers, workout plans, and more. 
---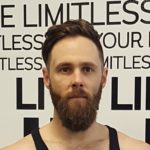 David Baillie is a certified personal trainer with a diploma in nutrition and weight management. He is the founder of Front-Line Fitness, a fitness and nutrition company that specializes in helping people get into the best shape of their lives and live life to the fullest. In his free time, David enjoys taking road trips across the USA in his bright yellow Chevy pick-up truck, affectionately known as Bumblebee. You can reach David at: [email protected]linefitness.com.