Get the Basics...
Demonstrating leadership as a personal trainer
Fitness built on core values
Time management challenges
Incorporating technology in a successful personal training business
When you find something that you love—whether it's a person, a hobby, a profession, or a meal—it's nearly impossible to keep it to yourself. You want to share that joy with others and have them join in the experience with you, don't you?
Today, we're talking to Ashton Roberts who utilizes his successful fitness practice as a platform to inspire, motivate, and empower his clients so that they can, in turn, pay it forward by elevating others with what they have received.
If you're ready to grow and manage your business better, schedule a demo today.
Meet Ashton Roberts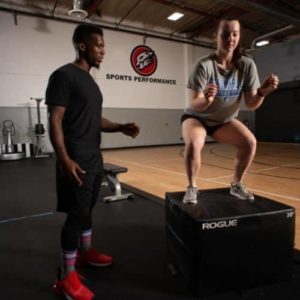 Schimri Yoyo: Alright, well if you don't mind, we'll just jump right in.  I'm Schimri Yoyo [and] I've been writing with the exercise.com now for a few months here. I just want to introduce, you Ashton Roberts, and your business, AR Performance Training to our audience.
Ashton Roberts: Yeah.
Schimri Yoy So, first of all, Ashton, just want to just get a little background about you. What kind of basketball player were you at Azusa Pacific University?
Ashton Roberts: Yeah, so at APU I was a point guard, real scrappy, very strong. I played high school ball and I got to Azusa still undersized, but my coach definitely believed that I can, you know, guard the best of them. They had a lot of great shooting guards in the league. So I was one of those combo guards who, you know, handled the ball on one end and then defensively was strong on the other end to defend both the point and shooting guard positions.
But also I was a big inspiration to my teammates. I led Bible Studies. I actually led a few of the strength and conditioning programs within our team cause we didn't have a strength conditioning coach at the time. [During] my junior and senior year, I was always the leader in the locker room and the weight room on and off the court. That was my role as a basketball player.
Schimri Yoyo: So, from the beginning kind of were on that [training and leadership] path. So during your time in class, what was your favorite class or what was one of the most memorable classes that you took either in undergrad or grad school that's been the most beneficial to you in your practice today?
Ashton Roberts: I think Exercise Physiology at APU. They incorporated a lot of—it's a Christian school—so a lot of Christian core values. Every single class, my Exercise Physiology class, it was that integration of Christianity: learning the body, learning beautiful movements of the body, why the body was designed that way, and then applying it to whatever your sport was or whatever you wanted to go into. And that's where I really kind of grasp[ed] onto strength conditioning, being able to take an athlete and I'm able to transform them, understand how they move in everyday life, you know, things like that. So, Exercise Physiology was that course for me.
Schimri Yoyo: Now growing up, did you personally use a fitness coach or strength and conditioning mentor before you became one yourself?
Ashton Roberts: No, not really. I never really used a fitness coach. My dad was very athletic. My dad was self-taught. My dad is a golf instructor, and even in golf instruction, he teaches himself a lot of those movements, and I do the same thing in mind. It's not saying that I don't a follow—like there's Bret Bartholomew, great strength and conditioning coach who I follow. Okay. I just never used personally.
Schimri Yoyo: Okay. Now would you say that when you were getting in the business that you had anyone that you sought counsel from or kind of mentored you as far as the transition to get into the sports performance industry?
Ashton Roberts: Yes and no. I was more so the one who just kind of reached out to different people. I wanted to do an internship at Pepperdine University. I stayed a day or two, [but] saw it wasn't for me.
I tried to do the same thing at Velocity Sports Performance: stayed a day or two, but it wasn't for me. I knew I can jump right in and get paid for what I was doing and also learn along the way cause I just had the leadership skills that it took, the instincts and the exercise physiology and anatomy and all those things. The book smart stuff would come out as long as my personality professionalism showed first.
Beliefs as the Foundation of Success
Schimri Yoyo: Okay, now I want to get some info about your philosophy and methodology of your training. I read in one of your past interviews about your a four F's: faith, family, fitness, and fun and that it kind of shaped your practice. Can you just elaborate a little bit more on how each of these elements impacts your day-to-day?
Ashton Roberts: Yeah, absolutely. I try to simply walk in all four of those lights. Faith for sure. When somebody introduces themselves to me or wants to come train with me, I think it's already evident when they hear about me or are able to see me face-to-face, I just try to walk in that light. My faith shows—I'm a true believer. I take care of my family: my family comes first.
Our fitness aspect is next in terms of my professional relationships. With anybody [I train], I know I'm there to be a fitness coach or strength and conditioning coach, performance coach, whatever light that may be. And then we're going to have fun in all of it. Whether it be, you know, a regular session in the park or at my gym in Pasadena or I'm coming out to watch an athlete's game. It's always a support system. So all four of those encompass each other.
Schimri Yoyo: Nice. Nice. So, now if you could describe your training philosophy and methodology in one word or one sentence, what would it be?
Ashton Roberts: That's a great question. Let's see. Hmm. In one word, one sentence. I would go with what I kind of use now. I think a lot of my programs, I name them, I use "Inspire. Motivate. Empower. Elevate." Those would be the four—I don't know if you want to call them methodologies—
Schimri Yoyo: Oh, like core values.
Ashton Roberts: Yeah, absolutely.
First of all, inspiration has to come from both of us. Motivation has to come from you and I have to be able to get you motivated. Empower: I got you motivated enough, now you're able to go teach somebody else. So you're showing other people exercises. And then elevating your lifestyle, elevating your game, elevating your performance. That's my world and my methodology right there.
Schimri Yoyo: Now you mentioned "motivate," that actually is perfect because it leads to my next question. What are some of the ways that you motivate your clients and motivate yourself as well?
Ashton Roberts: For me, it's family. My two kids are huge for me [and] my wife—they are my backbone in terms of pushing me forward. I know I've always wanted to be an entrepreneur. I always wanted to lead from [the time] I started at Azusa Pacific; I knew that's the route I wanted to go. I always wanted to be [at] the forefront, be a leader.
And then [when I] make mistakes though, not only my kids but other people see it, and then also [to] be successful after those mistakes. So they can see the road to take the road not to take, "Oh, he did it this way, but I can actually move in this direction and it actually works a little bit better." So, I always wanted that. My family is my constant motivation.
Schimri Yoyo: Okay. How about your clients? How do you, what are some of the ways you motivate them?
Ashton Roberts: It differs for each client. Like I tell each client I [will] find it as they go forward, as we continue to develop our relationship, whether it be intrinsic or extrinsic. I find I have a niche for finding what motivates them.
I always tell strength and conditioning coaches [that] you're not going to connect on the first day. You're not going to connect on the 10th day. You're not going to connect after the first six months. Sometimes you constantly work with that person and then you continue to pull and they continue to pull, and eventually, you guys will push each other to the boundaries, to the limits and you find that motivation.
So, it varies from person to person, from team to team. [There's] no one answer. I can give you a hundred different examples to motivate hundreds of different people. And I think that's what makes it beautiful.
Schimri Yoyo: That's actually the first time I've gotten that answer and I think that's actually profound. Just like a workout is customizable, the way you're going motivate people, it's going to be individualized to them. And that makes a lot of sense.
Also, you talked about elevating and wanting to elevate people's progress and their gain. What are some of the ways you measure that progress and success for your clients? What are some ways that you measure progress and success in your own business as well?
Ashton Roberts: Absolutely. So for clients, I always use numbers, use science. You know, go on the baseline, give them whatever their goal is. I use some type of metric for them to measure. Everybody wants to see measurable results in that realm. But then for me, I'm a golfer. So, golf is about feel. It's about, you know, I always don't want to know the number but I, I need to feel how hard I need to swing. I need to feel how far the hole is from where my ball lies.
So, I also use that for athletes and also from my regular clients. How do you feel if you're feeling a certain type of way but the numbers aren't showing? Go based on that feeling. Let's keep working on that because I know for sure that the numbers will start to catch up and you'll start to see the measurable results.
Schimri Yoyo: Trust the process, right? Made famous by Joel Embiid.
Ashton Roberts: Exactly. That's funny. For me personally, it's a constant reflection. I mean my wife will tell you we come home, we sit and we reflect on our day and, and a lot of my reflection is, "Man, I didn't get the best out of this team or this client."
And I piggyback off of her. She works in special education. She gives me ideas to constantly improve working with people and that's the biggest thing for me. The science and the movements I trust and people trust, so they came to me for that.
It's how do I connect with them as a person? How do I keep reflecting on how to improve them as a person? That's where the elevation comes in.
Schimri Yoyo: Oh, that's funny. Just an aside, I was actually a special ed teacher myself for a long time. I taught for nine years in the School District of Philadelphia. Your wife and I would probably connect on that level as well.
Ashton Roberts: Yeah, sure. She'd talk to you about that all day.
Schimri Yoyo: Oh, she's doing God's work out there, man.
Ashton Roberts: I'm telling you now…
Schimri Yoyo: Judging by your clients that have made the most progress under your tutelage, what are some of the common traits, if there are any, that you've seen that contribute to their success? Do people who are the most successful training with you possess these common traits?
Ashton Roberts: Yeah, grit is what I'm gonna call the first one, so grit. When I have somebody [with that grit], I know for sure how long it's going to take for them to reach their first goal, then another one pops up, and another one pops up, and another one pops up because they're constantly getting better.
And the grit shows first, so we're going to reach them easily because you're putting in the work, you're texting me, you're emailing me, you're on my online programs as well as coming to see me. The grit shows first, and then empowerment. The empowerment is next. After that, tell a friend or refer another person or go show another athlete [what you've learned].
Those two things are what I look for or [what I see from] the people who have continued to excel under me. Grit and empowerment.
Business Acumen
Schimri Yoyo: Now speaking about your business, you know, the day-to-day running of your business, what was the most difficult aspect for you transitioning from being an employee to an entrepreneur?
See for yourself - Meet with the Exercise.com Team today
Let the team at Exercise.com show you how to grow and manage your fitness business better!
Ashton Roberts: Yeah, managing time. Honestly, I was already busy as an employee. I still am an employee under my gym that I work [at]. And I also, my online business or people come to my gym from my online business.
So, I still handle both. Honestly, managing time. Like I said, family's first for me. So, the kids are constantly running around and we've got different recitals and basketball games and things. So, being able to handle online business or a client meeting or a workout for the next four weeks. And I'm in a gym watching my son, but I'm [also] recording, you know, so managing time was the first thing and the hardest thing.
And then next I would say understanding the financial aspect is the second thing, for sure. Branching out on your own, there's a lot of little things that you think, "Oh yeah, I can just go do this."
Well, paying for your website, constantly getting subscription-based things—you know, you gotta pay to get on some of these platforms for content and whatnot. Those little things add up. So having that money and educating yourself on what path you want to take for marketing or whatnot is huge.
Schimri Yoyo: Yeah, that's a common refrain [from entrepreneurs]. Obviously, I think that time management—no matter what industry you are in—I think a lot of successful people will say that time management is always a thing that you're always looking to refine and master. And then, as you said, the initial startup costs of becoming your own boss and running your own business—sometimes it's tough to manage in that first year or the first couple of years.
Is there a process that you go through on deciding on whether to take on a client or not? I mean obviously like you said, time management's a big issue, so you can't serve everybody necessarily. So how do you decide which clients to accept personally, one-on-one and which ones to pass on?
Ashton Roberts: Yeah, that's a great question.  When I saw that question I was like, "Man this is good cause I get to give you the [full] realm in which I train." [The youngest I train] is eight years old.
I train all the way up to college athletes in terms of performance. And then my general population, I have my older adults who were athletic all the way up to injury prevention or you know those who are going through rehab or coming off physical therapy. So that's kinda my clientele in terms of how I get my clients.
I always give an initial session—and it's usually on me—just so I can understand them as a person, to give them the opportunity to show me what they're about.
That's what I said about the grit and the empower. I see off the first session and I'm able to point them in the right direction, whether it be to stay with me, whether it be to join one of my online programs first, because some people need to move backward for me, where they have to empower themselves and try to get moving themselves before I get them moving. Then, I need to get them moving before they can go and show somebody else and start doing it on their own.
So, it kind of goes back to the motivation. It's person to person, client to client if I keep them or not. I have a great personal training [network] where I can send my clients or the potential clients to different trainers who will be a better fit.
Schimri Yoyo: Okay, that makes sense. It's a bit like a feeling out period and you want to make sure that you get to know them and once you have that knowledge or at least that initial prerequisite knowledge of them, then that will give you more information as to whether it makes sense for them to stay with you or go somewhere else.
How do you divide your time between working on your business and then working in your business?
Ashton Roberts: Yeah,  that's another great question. In terms of dividing, I pretty much train all day. I usually have maybe two one-hour breaks in between. One is usually for lunch and the other one is simply checking on my online clients or putting out another program. The way I do that is actually very interesting. I always have my exercises filmed while I'm actually doing them, and then I'm able to go in and edit and then put everything together.
Or I'll, I'll film an entire session with one of my clients doing it, then go back and film it or just use that for them on their online programs so they can see themselves doing it. Some people respond better to it on a video rather than seeing me on a video. So in terms of managing it, I'm constantly—during that I say 10 hours a day—working out or training, and then also online training at the same time.
Schimri Yoyo: That's great that you mentioned your use of technology because that leads into my next question. How do you use technology and online tools to promote your business and to grow it as well? I mean, obviously using it as far as taping some of your sessions, how do you translate that use technology to promoting yourself and your business?
Ashton Roberts: Yeah. So I use an email blast with those same videos with my small email lists of my clients and kind of their outside people. I blast videos and content to a lot of my teams with which I work in the area. And then I also use Instagram. Facebook. Yeah. Just constantly blasting different content. I've created my own blog posts. I don't post enough on it and I constantly get feedback, "Hey, can you send me this?"
That comes back to managing time and, and you know, building out content. But I utilize technology a lot, putting out a lot of the video stuff that I use now.
Schimri Yoyo: How do you decide what videos and routines you want to post online and what's the time commitment for you start to finish as far as, you know, shooting the video than editing it before you publish it online. Like what's that process?
Ashton Roberts: The shooting, editing, and posting online is quick for me now. I've been doing it for a while, so it honestly takes me 10 minutes to shoot, edit, and then post a video. In terms of what I post, it's usually themed for, you know, about a week. So, like this past week, I've been working with a lot of my females. So this past week, [we focused on summertime].
Everybody wants to have, you know, summertime, all the ladies want abs and legs and all that other stuff. So I've just been posting performance type training with all my female athletes, and have been getting a lot of great feedback and a lot of people are being referred to me because of that.
So each week is kind of based on a theme. Like next week, I'll do more performance-based stuff for a lot of my rotational athletes—my golfers, my baseball players, my tennis players—because I've been working with a lot of them in their offseason. That's how I post. Or if I have a new program launching out, I'll post videos based on a new program that launches to get some people to sign up and go from there.
Schimri Yoyo: Okay. And I see that you have a custom branded app, right? How do you use that, incorporate that to engage your clients or deliver a workout? How has that helped you leverage your business?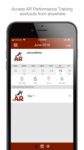 Ashton Roberts: It's been huge for me in this past year. I mean, it has transformed my training. Again, it goes back to inspire, motivate, empower, and elevate. I think the elevate part is the online training.
All my clients are required to use my online training. When training with me personally face-to-face, they have my app.
They train with me—let's say two days—and then they have the app for one. So they're constantly working out on their own or required to utilize the app log in so that I can now checking on them.
They can check in on me. [Ask questions.] "Can we up this?" Or "That was a little difficult. Can you give me a modification for that one?" We are constantly in communication that way, and it also helps me reach a huge audience having an online presence. Like, "Hey, who's this? Who's this Ashton guy? Who is AR Performance Training?"
And I constantly get emails, "Hey, what's this program about?" And I'm like, "Hey, just sign up. Everything's right there for you." [It has enabled] communication with the outside world.
Schimri Yoyo: That's awesome. Now, are they also able to track their performance manually and enter their own performance, their own results on your app?
Ashton Roberts: Yes. Yes. So a lot of them actually [upload] progress videos or progress photos within it. So they do, they go to the doctor and they get all their results. I see one of my clients just put all her BMI information, everything, and I was like, "Yeah, that's great." It's beautiful that she's able to put all of her information in one spot and then track her results, and then compare it to, again, how she feels and she has measurable results now.
Schimri Yoyo: It's like a two-way street. You're able to engage a lot more clients and give real-time updates using your custom map.
Ashton Roberts: Absolutely.
Schimri Yoyo: So, lastly, Ashton, what's next for you? What's next on the horizon for AR Performance Training? Is it expansion or are you looking to add new services? How do you see your business developing and elevating in the next few years?
Ashton Roberts: Yeah, again, I think it goes back to what I keep preaching is my leadership is constantly going to be challenged. I think in the next few years, what I want to do with AR Performance training—especially the online portion—is to make it more of a professional education tool for performance coaches. I want it to be where now performance coaches are able to use AR Performance Training [to develop young players].
So, let's say there is a basketball coach who's just doing line drills with his kids but doesn't really know how to develop his kids from a training aspect. He can utilize AR Performance Training: there'll be some educational coaching tips in there. Also, workouts in there that are youth-based for youth development. So, I want to go that route [with the business].
And then for me personally, I want to do the same exact thing, maybe another year or two in the field training. But then I want to become the educator of trainers, being able to provide content, workshops, and things like that to help young trainers grow.
Schimri Yoyo: That's awesome that you want to be a coach of coaches. I think that you will definitely be successful as long as you keep that same passion as you have now. It's definitely evident just in our conversation how passionate you are about your practice and helping your clients. And you definitely have that gift of inspiration and motivation. I feel motivated and pumped just conducting this interview. So, thank you again, for your time.