Mike Stella is a powerful example of perseverance and resilience. He was born with cerebral palsy and was supposed to live life from a wheelchair, yet here he is — a Certified Strength and Conditioning Specialist (among other certifications) who can stand, walk, run, and train on his own two feet!
Mike trains and mentors student-athletes. Embodying the values his role models instilled in him, he motivates high school and college kids to believe in themselves and push through their limitations. He also helps schools and other organizations develop high-quality sports and wellness programs that challenge people to grow in their athletic and fitness efforts.
Coach Stella doesn't just see a goal. He sees 10 steps beyond it. And he's the type of training visionary you want rooting for you and pushing you toward your best self.
Mike, Let's Get Started With Your . . .
Location: Greater Boston Area
Name of personal training business: Stella Strength
Years of experience: 15
One word that best describes your personality: Charismatic
Tell me a little about your background. How did you get into the training world?
I had some great coaches and mentors while at Penn State University, where I was involved with the football operations. I gained a unique perspective on coaching and athlete interaction. It was this environment that solidified my love for coaching and with guidance, I have had the fortunate opportunity to learn and pass on my experiences to other athletes.
How has your journey with cerebral palsy influenced your training approach?
My approach:
One must crawl before they walk, walk before they run, run before they sprint.
Master the basic movements — these movements serve our athletic ability and daily life well.
Push, pull, press, and hinge; this will take us farther than the gimmicks.
"If it hurts, don't do it!" Pain is a unique signal from the brain that something is wrong.
With all that you do for schools, organizations, and individual clients, what does a typical work-week look like for you?
Busy! Coaching and training for most hours, as well as mentoring my athletes via phone and in person. Emails and business calls are always on the agenda as well.
See for yourself - Meet with the Exercise.com Team today
Train Anyone, Anywhere in the World.
What's been the most rewarding part of your work?
The created and fostered relationships!
What business skills does someone need to become a successful trainer?
Communication is key, as well as being able to prioritize your time.
Now that you've joined our Exercise.com platform, how do you plan to expand your business through online training?
With my video released on Vimeo and a new website to release soon (coachstella.com), I am pushing for people and athletes to maximize Stella Strength's ability to assist them in becoming a better version of themselves.
What's one of your own health/fitness goals right now?
A little more sleep.
At the end of a long day, how do you wind down?
I play with my two kids and read with them before bed.
Who's your role model or mentor? How has this person impacted you?
First and foremost, my parents, who always said, "Dare to dream." Then there's Coach Larry Johnson (Ohio State football) who took me under his wing and assisted me in growing into the person I am today.
What's on the horizon for you?
Other than coachstella.com coming soon, I've always wanted to grow Stella Strength into an elite performance company.
Any advice for aspiring trainers?
Create an experience and memories with your clients!
Note: This interview has been edited for clarity. You can follow Mike on Facebook, Instagram, and Twitter.
Sign up for online training with Coach Stella today!
---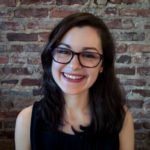 Lauren Smith is passionate about nutrition and holistic health (how the body, mind, and emotions intersect). She lives in Baltimore City, where she writes stuff, plays music, embarks on long power walks through the park, takes contemporary dance lessons, and enjoys healthy, flavorful cuisine. Lauren has written for a literary journal called Skelter and for Honestbodyfitness.com.