Get the Basics...
With Halloween quickly approaching, the bombarding of delectable treats is only getting more prominent
Don't be afraid — there are healthy options for treats around Halloween to stay fit and keep the extra pounds off
Stick to your exercise plans with our workout plans to make sure you don't go overboard during the holidays
October is known for being a month all about candy, chocolate, and heavy comfort foods.
Even though it's tempting to give in and eat a bowl of candy corn or have a hearty serving of baked ziti, there are some great Halloween-inspired options that will curb your craving while keeping the pounds off.
Read on the see our top five recipe choices for having a healthy Halloween — then, consider signing up for a PRO plan for workout routines that you can pair with your healthy holiday eating habits. Go PRO now!
#1 – Vegan Almond Butter Cups
Calling all Reese's lovers! With chocolate-peanut butter being one of the all-time favorite combinations in desserts, these Almond Butter Cups are the perfect alternative, courtesy of Rabbit Food for my Bunny Teeth.
Ingredients
Makes 12
1/2 cup Maranatha Coconut Butter
1/2 cup raw cacao powder
2 Tbsp grade b pure maple syrup
3 oz of Maranatha Raw No Stir Maple Almond Butter
12 mini cupcake liners
Directions
Line a mini cupcake tin with mini cupcake liners. Melt coconut butter/oil and combine with the raw cacao, and maple syrup in a medium-size bowl and stir until well combined.
Divide the chocolate liquid in half and reserve one half for the "top layer" of the almond butter cups. Pour the chocolate evenly in each liner and freeze for at least 15 minutes or until hardened.
Remove the tin from the freezer.
Drop 1/2 tablespoon of Maranatha Maple Almond Butter at a time on top of each frozen/hardened chocolate cup. After almond butter has been dropped into each cup, pour the remaining half of the chocolate until filled to the top and almond butter is covered.
Carefully place them into the freezer (to expedite the process) for at least 15 minutes or until hardened. Keep almond butter cups in the refrigerator until served because they will melt and lose their shape at room temperature if the coconut butter/oil begins to melt.
#2 – Green Goblin Milkshake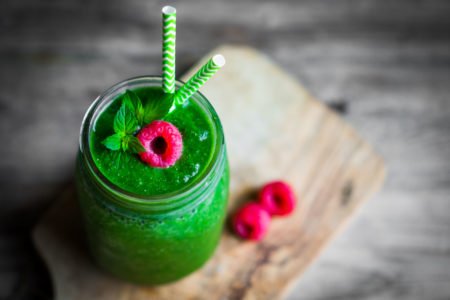 Who doesn't love a good milkshake? For those in the warmer states, having a nice cold dessert is the perfect treat any time of day.
This raw mint-chocolate chip milkshake recipe is courtesy of ChocolateCoveredKatie.com and is sure to be a new favorite.
Ingredients
1 frozen large banana, as ripe as possible
cacao nibs (or chocolate chips)
2 drops pure peppermint extract
2/3 cup milk of choice (For a super-rich shake, try full-fat canned coconut milk. Also, use more or less, depending on desired thickness.)
Frozen spinach (about 1/4 cup) *If you can't get on board with the greens-in-smoothies thing, you can opt for green food coloring (or just drink a white mint shake).
Add a pinch of xantham and guar gums to make pudding (or just reduce milk) to eat from a bowl
Directions
Blend everything together in a blender. Enjoy!
Stay fit this holiday season. Go PRO!
Sign Up
#3 – Healthy Halloween Snack Mix
Craving a salty snack? Try using your pumpkin seeds to whip up this yummy snack mix! As a great source of magnesium, zinc, and Omega-3 fatty acids, pumpkin seeds are perfect for creating a healthy yet satisfying snack.
Ingredients
Makes about 3 cups
15-ounce can chickpeas, drained and rinsed
2 Tbsp olive oil, divided
2 tsp spice blend, such as curry powder, garam masala, chili powder, divided (optional)
Kosher salt and ground black pepper
1¾ cups raw pumpkin seeds, cleaned and drained, but not patted dry
3/4 cup dried cranberries, dried cherries, raisins, or a mix
3/4 cup unsalted raw or roasted pistachios, peanuts, almonds or cashews
Directions
Dry the chickpeas thoroughly by spreading them on a large plate and patting them dry with kitchen towels. Transfer to a bowl, then toss with 1 tablespoon of the oil, 1 teaspoon of the spice blend, if using, and salt and pepper to taste.
Once the chickpeas are evenly coated, transfer them to a baking sheet and spread them in a single layer. Bake on oven's middle rack until golden and crispy, 25 to 35 minutes, shaking the tray to toss after the first 15 minutes.
Remove the baking sheet from the oven and transfer the chickpeas to a serving bowl. Reduce the oven to 300 F. Arrange the pumpkin seeds in a single layer on the sheet pan. Bake on the oven's middle rack for 10 minutes.
After the pumpkin seeds have baked, in a large skillet over medium, heat the remaining tablespoon of oil. Reduce the heat to medium-low, add the pumpkins seeds and cook, stirring, for 7 to 10 minutes.
Add the remaining teaspoon of spice blend, if using, and salt and pepper to taste. Continue to cook, stirring, until the pumpkin seeds are golden and crispy, another 3 to 5 minutes.
Transfer the seeds to the serving bowl. Add the cranberries and pistachios and toss well.
#4 – Pumpkin Cake
With all the craze of pumpkin-based desserts, we couldn't resist choosing this delicious pumpkin cake. It can be enjoyed with frosting as a true dessert, or with coffee for a special breakfast. Recipe courtesy of the blog RealFoodRealDeals.
Cake Ingredients
1¾ cup gluten-free flour
2 tsp baking soda
1 tsp cinnamon
1 tsp salt
4 eggs
1/4 cup coconut oil
1/2 cup maple syrup
1/3 cup applesauce
2 cups pumpkin puree
Directions
Add the dry ingredients to the wet ingredients and stir until well-combined. Bake for 30-40 minutes, until the cake is set and a toothpick inserted in the center comes out clean.
Icing Ingredients
1/4 cup palm oil shortening or softened butter
2 Tbsp solid coconut oil
1/4 cup maple syrup
1/2 tsp vanilla extract
1 Tbsp milk (can use rice, oat, or almond milk as well)
Directions
Combine all ingredients in a stand mixer and mix until well-combined and smooth. When the cake has completely cooled, spread the icing in a thin layer on the cake.  If you want a thick layer of frosting, double the recipe.
#5 – Chipotle Pumpkin Soup with Sweet Potato Cream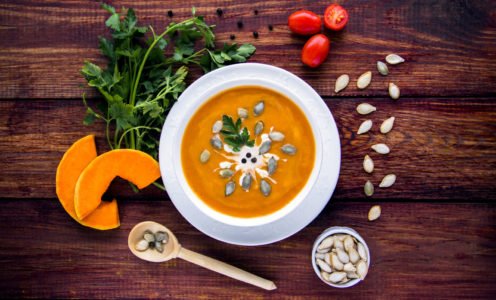 Has any dish ever sounded so much like fall? I think not. The warm flavors of chipotle mixed with the hearty pumpkin and sweet potatoes make for the perfect Halloween dinner.
Many thanks to Robb Wolf from RobbWolf.com for this fantastic recipe!
Soup Ingredients
1 small pumpkin
3 cups chicken broth
1 cup light coconut milk
1 yellow onion, chopped
3 cloves of garlic, minced
1-2 chipotle chilies in adobo sauce
1 tsp cumin
1 Tbsp olive oil
1/4 cup cilantro leaves
Sea salt to taste
Cream Ingredients
1/2 cup sweet potato, peeled, cooked, and cubed
1/4 cup coconut milk
1/8 cup chicken broth
1/2 tsp sea salt
Pumpkin Seed Ingredients
Pumpkin Seeds (optional):
1/4-1/2 tsp chipotle chili powder
1 Tbsp olive oil
1/4 tsp sea salt
Directions
Preheat the oven to 375 degrees. Cut the pumpkin in half and cut off the stem. Scoop out the stringy pulp, saving the seeds in a strainer. Cut the pumpkin into quarters and place skin side down onto a baking sheet. Bake for 45 to 60 minutes.
In a large pot over medium-high heat, add the olive oil, onion, and garlic. Sauté for five minutes. Then, add in the pumpkin, chicken broth, and coconut milk. Simmer the liquid for 20 minutes.
Add the soup to a blender along with the cumin and one to two chilies depending on your desired spice level. Make sure the blender has ventilation for the steam to escape. Then, blend on high until smooth. Return the soup to the pot and warm it over low heat. Season with sea salt to taste.
For the cream, combine the sweet potato, coconut milk, chicken broth, and sea salt in a blender. Blend on high until smooth. Add the mixture to a plastic bag.
Preheat the oven to 350 degrees. Rinse the pumpkin seeds to remove any strings. Pat them dry. In a bowl, toss the seeds with chipotle chili powder, sea salt, and olive oil. Spread in a single layer on a baking pan. Bake for 15 to 20 minutes until crisp.
To assemble the soup, place a large portion of pumpkin soup in a bowl. Cut a small corner off the bag filled with the cream sauce. Make a small, medium, and large circle with the cream sauce piped from the plastic bag.
Take a toothpick or skewer and drag it through the soup, starting from the center and moving out to the edge of the bowl. Sprinkle the top of the soup with some pumpkin seeds and cilantro to finish. Serve and enjoy!
Frequently Asked Questions (FAQ)
How many calories should I eat?
How many calories you should eat depends on a number of factors. To get a rough estimate, check out this article.
What is bulking? What is cutting?
Bulking and cutting are techniques used by bodybuilders to grow muscle and shed fat. Bulking requires eating in a surplus while weight training in order to build muscle. Cutting requires eating in a caloric deficit to shed body fat in order to "expose" the muscle built during the bulking phase.
Do I have to bulk? Do I have to cut?
No. Unless you are a professional bodybuilder, you do not have to bulk or cut to lead a healthy, happy lifestyle.
Want to Learn More Nutrition Tips?
Exericse.com is proud to work with registered dietitians to bring you healthy guides on weight loss and nutrition.
To get instant access to diet guidelines as well as workout plans and exercise how-to videos, simply click here to become a PRO member today!