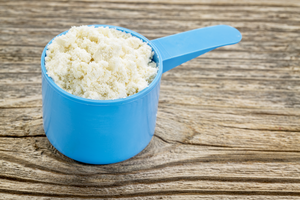 Most protein powders contain more than enough for what you'll need of both BCAAs and glutamine.
However, some people choose to cover all their bases and take supplements of glutamine and BCAAs in order to build more muscle at a faster rate.
Knowing the potential pros and cons of additional supplements of both amino acids is very important.
A study done by SportScience has shown that BCAAs and glutamine are possibly involved with keeping an athlete's fatigue induced by exercise to a minimum.
It also says that these two amino acids aid in keeping the immune system healthy, but as far as building more muscle that is still unknown.
What are BCAAs?
BCAAs are branched chain amino acids. They are considered to be the building blocks for the body.
In order for molecular development and growth to take place, BCAAs must be present. They account for around thirty-five percent of your muscle mass and can also form antibodies.
BCAAs biggest job is carrying nitrogen throughout in order to help the muscles with synthesizing amino acids that are needed during the anabolic action in the muscles. Basically, simpler amino acids and BCAAs join in order to form muscle tissue in its whole form.
When the body is under stress, particularly during weight training and other intense workouts, glycogen stores are being used up. When this happens the body releases BCAAs in order to stop the synthesis of protein in the muscle.
However, when you supplement with BCAAs the signal that stops protein synthesis will be affected, allowing the process to move onward without stopping.
How much BCAAs should you take and when should you take them?
For best results its best to take your BCAAs supplements before and after a workout. While you can start out with smaller amounts, it's usually recommended to take four to eight grams of BCAAs before and after a workout.
Taking the supplements after a workout is done to help replace the BCAAs in the muscle. This is done to speed up recovery of the muscles and also to prevent injuries due to overtraining. For those looking for optimal results they can supplement with BCAAs in addition to drinking a protein powder supplement.
What is glutamine?
Glutamine is the single amino acid in the body that is most abundant. It also aids in nitrogen transport as does BCAAs. Glutamine's structure is made up of not one, but two nitrogen chains. It contains around nineteen percent nitrogen.
Concentrations of glutamine become and remain low after heavy training. According to research that's been done it can take up to a month to return depleted glutamine stores. When there's a deficiency in glutamine, BCAAs separate from the muscle and the molecules resulting from this action synthesize glutamine.
Once synthesized, glutamine will move protein into the muscle cells in order to aid in muscle growth. This extra production of glutamine is necessary during intense workouts and weight training.
Glutamine is also utilized by other organs in the body besides the muscles including the stomach and intestines. The body's immune system can be seriously compromised during extensive exercise and training. Supplementation with glutamine can improve overall immune functions.
How much glutamine should you take and when should you it?
The best glutamine to supplement with is either the free form L-glutamine or the peptide bonded form that is found in meal replacements and protein supplements.
Depending on the person, the suggested dosage amounts can be from five to forty grams per day. For the best results start with around five grams and work your way up to at least eight to ten grams per day. For those who need more in order to see results, do not surpass forty grams per day.
Supplements of glutamine can be taken every day. It's best to take it on an empty stomach. You can take it two to three times per day so making sure to time it when you're stomach is empty is important.
While having a healthy diet can help you with your supply of glutamine and BCAAs, during intense workouts and training your body can't seem to take up enough of either of these essential amino acids.
It's important to research any supplement before taking it. Contacting your health professional with the results of your research can be helpful as well.