Motivation comes in all different forms, and Al Kavadlo's came to him at a young age. He is now a personal trainer as well as an author, sharing his knowledge of bodyweight exercises and calisthenics with his ever-growing following.
In today's interview, this founder of a successful fitness blog shares his journey from working out to lifting weights to pursuing his passion for calisthenics.
Tell Our Community a Little About Yourself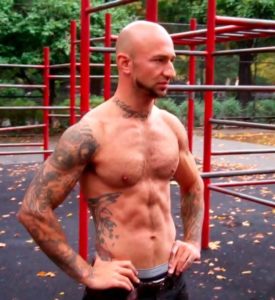 As a scrawny kid growing up in Brooklyn, I didn't want to get my ass kicked, so I started working out at age thirteen. I began with push-ups and pull-ups, then got into lifting weights during high school.
After graduating college with a degree in English in 2001, I found my way into the personal training business working for New York Health and Racquet Club, where I eventually became the top trainer in the company. Never one to be complacent, I left to go off on my own in early 2010.
In the last few years, I've kept busy by training people at local parks, independent gyms and other out-of-the-box scenarios using stripped-down, minimalist methods.
My workouts have shifted away from traditional weight training in favor of calisthenics. Both are great methods for building strength, but I love the simplicity of bodyweight training. You don't need equipment – plus you can do it outdoors!
I started my blog and my Youtube channel in 2009, and over the last few years, I've made a name for myself in the growing body weight strength community. I've written two books so far and I'm currently finishing up book number three which will be out in early 2013.
What would you say is the most important thing to keep in mind while on your fitness journey?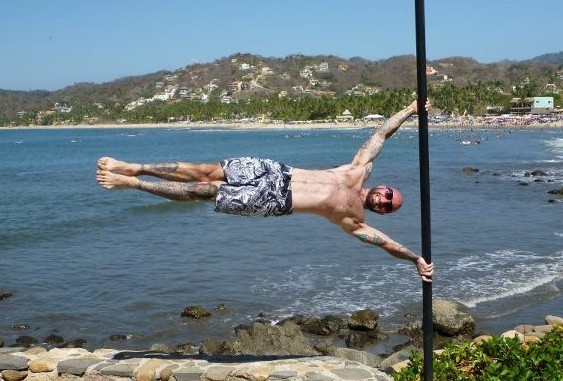 I'm glad you used the word "journey" because one of the most important things to keep in mind is that fitness is a journey — not a destination.
People are too concerned with "getting results" rather than enjoying the process. Getting caught up in that mentality ruins the journey and can leave you feeling inadequate.
Which trick or move took you the most practice to master?
The one arm pull-up and the human flag are probably the two most difficult moves that I am known for. Both have taken me years to get good at, and both continue to be a work in progress.
At this point in your career, what would you say has been the biggest thing that has happened to you?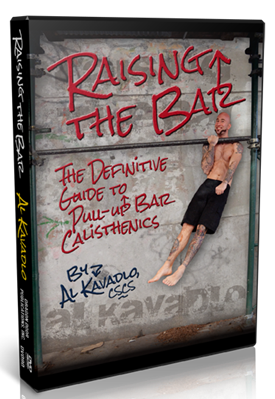 I've got to take issue with the way this question is worded — nothing has ever "happened to me" — I've had to make things happen for myself by working hard each and every day.
Having said that, 2012 was a huge year for me. The release of my second book (and the accompanying DVD), Raising The Bar: The Definitive Guide to Pull-up Bar Calisthenics is the accomplishment that I feel most proud of at this point in my career.
For someone looking to start a primarily calisthenics workout, what are some beginner exercises that will help build strength and endurance to a more advanced workout?
Beginners are best off focusing on the basics for the first several months or possibly longer in order to build a foundation to work on more difficult moves.
Push-ups, pull-ups, dips, hanging knee raises, squats and lunges are enough to keep any calisthenics newcomer busy for a while.
What's the next step? Is there something you're in the process of training for, working on?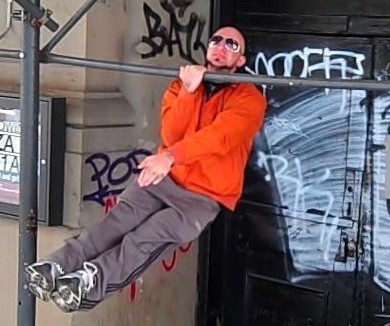 I've always got new things to keep me challenged! As far as my workouts, I'm constantly looking to get stronger as well as improve and refine my skills.
As a writer and trainer, I'm very excited about finishing my next book, which is all about strength training with no equipment at all. The book will be released by Dragon Door Publications in early 2013.
Exercise.com would like to thank Al Kavadlo for sharing his story and tips with our community! Be sure to check out his website and follow him on Twitter and Facebook! He also has tons of high-quality videos and tutorials on his YouTube channel.