Exercise.com is excited to introduce you to a man who is known and respected for his knowledge of strength training and post-rehabilitation workouts. This week's fitness expert is Dean Somerset!
Dean is a personal trainer, author, and international speaker. His main focus of expertise is designing effective workouts for people who are overcoming an injury. Check out the interview with him below!
Could you tell the Exercise.com Community about your background and where you're from?
So is this the part where I talk about how dashing I am and how I can lift world record totals in each of the big three, while simultaneously rocking out at 6 percent body fat on a daily basis? Because that would be awesome.
In all seriousness, I'm a personal trainer in Edmonton, Alberta, Canada, and spend the majority of my time working in a big-box facility trying to make people less broken.
My main area of specialization is post-rehabilitation training, meaning most of my clients are medical referrals from physiotherapists, chiropractors, and physicians. I help them recover from injuries, medical conditions, and chronic disorders.
At heart, I'm a meathead who likes to lift heavy things, but previous injuries left me unable to train the way I wanted to, and I had to figure out different ways to try to lift heavy things.
This firsthand knowledge and experimentation helped to form what I do with my clients and helped me understand what they're going through, which I feel has made me a better trainer.
Tell us about DeanSomerset.com and what you do.
My website is a take off on classic heavy strength training and conditioning but involves a lot of newer techniques for things like breathing, mobility, neural physiology, and different ways to get jacked.
On top of that, I try to make people laugh a little bit once in a while which I feel makes the reader want to actually pay attention than simply regurgitating the same old "dry as a popcorn fart" stuff that you see all over the net. Hopefully, it helps a few people out.
What's your favorite style of training?
I'm a big believer that there really isn't one style of training that should be used over any others. Instead, your workouts need to be varied based on the specific goals you're trying to work towards. But in lieu of that: lift some heavy stuff, and the rest will sort itself out.
In essence, I mix a bunch of different things together and come up with a small method of working out that seems to work well for me. One day a week I work on heavy deadlifts, coupled with some accessory hip and hamstring work.
Another day I work on pressing, combined with pulling strength, single leg work, and lighter deadlifts either for speed or from a deficit.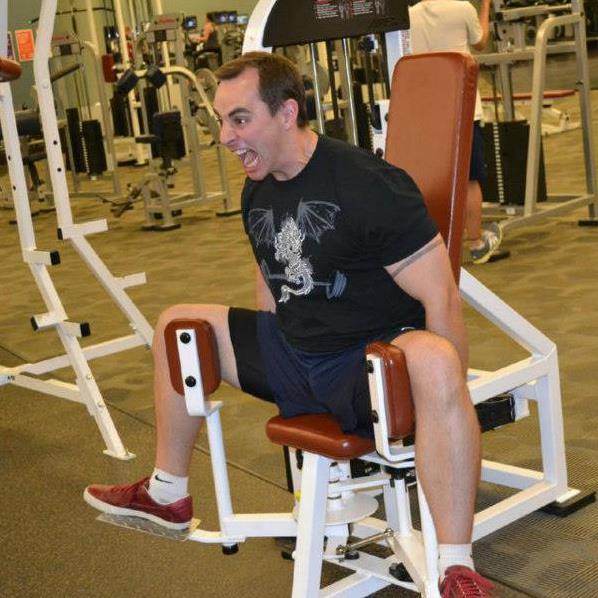 Another day could be what I like to call a "gun show" day for lack of a better politically correct term, where I work on dumbbell pressing variations, arms, shoulder strength, and explosive power.
A final day is focused on mobility through the hips and shoulders, stability through the lumbar spine, and creating a linked chain system from the hips to shoulders.
That's the kind of new technique stuff I mentioned previously. It's pretty boss.
What are your top 3 favorite exercises?
Deadlifts, naturally. Having suffered an SI joint injury and disc issues, being able to pull a heavy deadlift is both internally satisfying and also a great showcase to myself that anything can be overcome.
Aside from that, power cleans do something to make you feel like a beast that very few other exercises can ever do, and glute hip presses can get some awesome looks from other patrons in the gym.
Some good, some REALLY good, and some that are somewhat worried about what is going on.
What's your favorite post-workout meal?
I typically have a protein shake with some cold coffee mixed in. The combination of caffeine and protein gives me the extra kick I need to get through another 8-10 hours of training others following my own workouts.
What's the best fitness advice you've been given?
"There is no fixed teaching. All I can provide is a specific medicine for a specific ailment." – Bruce Lee
By trying to conform everyone to a fixed program, you will undoubtedly underscore the benefits of that program for some, overshoot the potential capacity of others, and hope for the best with the rest.
By building a specifically tailored program that focuses on achieving one or two specific features, you'll have greater success in any program than by trying to get everything done at once, or by following a program that may not have been made with you in mind.
What tips do you have for people just getting started?
We are all apprentices of this craft, of which no one becomes a master. Never fear beginning something simply because there are those who are farther along than you are. They started somewhere too and were in your very steps.
Take that first step. Then another. And continue until you feel your forward momentum is so pervasive that you could never stop even if you wanted to.
Success is not defined by your ability to lift weight or run quickly, but in the consistency of your actions, so start doing something, and continue.

Special thanks to Dean Somerset for sharing this with us! Be sure to check out DeanSomerset.com, as well as his Facebook and Twitter page!