Here at Exercise.com, we want to give everyone a glimpse of all the different types of fitness-focused lifestyles that people are involved in.
Today we're bringing you a little inside information from pro fitness model John Quinlan, who recently placed first at the 2012 NPC Rhode Island competition in Men's Physique!
What are some things our Exercise.com Community should know about you?
I have been involved in athletics, professional wrestling, fitness & modeling over the years since the age of 19.
I have been an image model for dozens of apparel brands over the years along with appearing in television documentaries, commercials, art gallery print work and having my likeness used on children's literature book covers.
I have been a spokesmodel for apparel brands as far away as Japan and Asia just to name a few. HUF magazine named me male fashion model of the month for January 2011. I am short for a fashion model (my real height is 5'9"), although I have always been billed as 5'11".
I am also an NPC Physique competitor and a Romance Novel Cover model as well. I am the book cover model for the Romance novel 'Captive Fantasy' by Ann Mayburn due out in late June 2012.
I am currently an Image Model for Nutrabolics Supplement Company.
When did you first get started working out?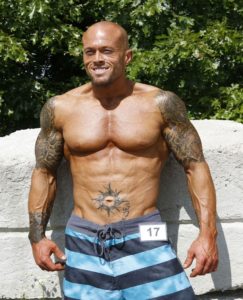 I began working out at age 14 to get stronger for sports, and I just got more into it as time progressed. I became more serious about it while in my freshman year in college as I began hanging out with the powerlifters and bodybuilders on campus.
Is planning your diet a significant part of your training schedule?
Diet is a key part of my training schedule for sure; many say a well-built body is a product from work outside the gym not just inside it.
Quality protein and carbohydrates are the building blocks to always have as a foundation. Then it's just adding and subtracting them based on your current goals. Contests and model shoots require me to up my protein intake and cut back on carbohydrates a bit.
While when I am taking time off I will consume more carbohydrates and those in forms I normally would not eat when training for an event, like pasta. I love pasta!
Train Anyone, Anywhere in the World.
What advice do you have to offer people who are considering getting into competitions and shows?
The best advice I have is really two things that go together. Be focused, as training for a show takes a lot of time. It's a constant job to be spot on with your diet and exercise routine.
On top of that my best advice is never be concerned with what others are doing, stick to your plan. I saw an interview with Tyrese Gibson, and he had similar advice. He said he never worries about the other guy, he does his routine his way, and it works for him.
You will find over the course of time what routines work best. Once you find it, stick with it.
Is there anyone in particular that has really inspired you?
My friend Manny Catalano, who passed away in 2005, was one of the greatest human beings and was one of the best training partners I have ever had. He always had a smile on his face and was so very supportive of me in everything I did. Thanks, Big Manny for everything!
What motivates you to keep working hard every day?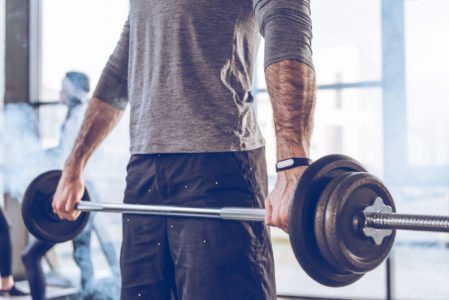 I have so many great memories being in the fitness world for over two decades now that working hard at what I do keeps me feeling young. Training is the one direct link to my past, being that young guy in the gym back then with all his friends without a care in the world.
I miss those days for sure and my training routine keeps those memories "fresh" in my mind.
What's one exercise that people don't emphasize enough?
I think it would have to be related to legs. I can't really pin point one exact exercise but I have known more guys over the years in the gyms that trained their upper body and neglected legs.
I think an even balance of quads and calves along with upper body training is optimal for everybody.
As you can see it takes a lot of hard work and determination to be a fitness model. You need to learn what works best for you personally, plan your workout and diets meticulously, and put in hours of hard (and smart) work!
We'd like to thank John for taking the time for this interview! Be sure to check to follow him on Twitter! Stick with us on the blog as we keep digging up awesome advice from fitness professionals of all kinds!
Don't forget to Like us on on Facebook and follow @Exercise on Twitter for daily updates!