Jason Fitzgerald of StrengthRunning.com stopped by for an exclusive interview with Exercise.com! Jason knows his stuff when it comes to running. He is a running coach, 2:39 marathoner, and creator of the Strength Running blog.
Not only did he run in college, but he has been mentioned in LifeHacker, SHAPE, Marathon Nation, and many other fitness websites for his knowledge on running.
So get your reading glasses on and check out the interview with Jason! Who knows?
Three Interesting Running Tips the Common Person Wouldn't Know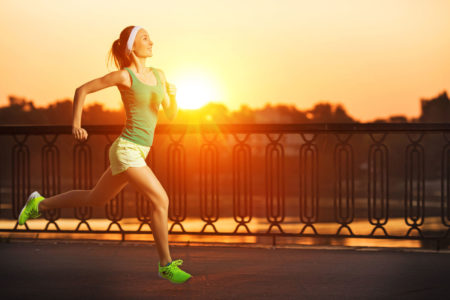 The following are some things that many runners overlook:
Train smarter — Most runners think that they need to "just run" to get better. But to realize your potential and stay injury-free, there are a lot of non-running parts of training that are needed, like core exercises, strength workouts, flexibility work, etc.
Include sprints — All runners should include a few sprint workouts in their weekly training. Even 4 x 15-second sprints during the final mile of an easy run will do the trick. The idea is to build your fitness on both ends of the running spectrum.
Consistency — The easiest way for new runners to get faster is to simply run a little more and stay consistent. Too often they think they have to run tough interval workouts on the track — which is usually too advanced for beginners anyway.
Why is running so attractive to you?
I love running because of its simplicity — just lace up your shoes and you can run almost anywhere. Simple isn't always easy though. The process of designing a training plan for a race can be complicated sometimes, but I love doing it.
The personalized race plans I write for runners are incredibly rewarding, especially when I hear back from runners who have run significant personal bests!
What distance do you enjoy running the most and why?
This is a tough question! I think it's a tie between the 8k (about 5 miles) and the marathon. I love the combination of endurance and speed in the 8k. I don't think I've raced to my potential yet at this distance, so it still holds that allure for me.
The marathon is just a great distance — it requires a lot of preparation, patience to execute, and tenacity during those final miles. A good marathon is something to be celebrated and I hope to do a few more in the years to come.
What do you think separates the good runners from the great ones?
Aside from talent, great runners are much more consistent and are constantly trying to improve their running. Almost every great runner understands that to reach their potential they need to progressively run more and run faster. You'll never see a great runner doing the same mileage and workouts that they did years ago. Everything has to improve as they mature as a runner.
You'll never see a great runner doing the same mileage and workouts that they did years ago. Everything has to improve as they mature as a runner.!
See for yourself - Meet with the Exercise.com Team today
Train Anyone, Anywhere in the World.
How important would you say weight training is with running?
I advocate strength training for every runner that I work with through my 1-on-1 coaching program or with a custom training plan.
But some runners aren't ready to jump into gym workouts when you consider how new they are to the sport or what type of race they're training for, so bodyweight exercises are substituted.
Side Note: Here is the Strength Building Running Workout Plan from Exercise.com!

Whether a runner uses weights or their body-weight, strength exercises should be a regular component of every runner's program.
They minimize imbalances that are caused by running, help prevent injuries, improve stride power when done correctly, and can help with a runner's finishing kick.
What are the three pros of logging running workouts? And do you log your runs regularly?
Notebooks are just as helpful as online tools, but many of the online running logs can graph your mileage and enable other runners to comment on your workouts.
I definitely encourage every runner to write their daily workouts down. After all, how do you know what to improve if you're not sure what you did in the past?
We would like to thank Jason for doing this interview. We'd also like to thank you for putting on your reading glasses and joining us for the ride. Be sure to follow @Exercise and @JasonFitz1 on twitter for the perfect combination of running and logging your workouts!