Mother Fitness creator Kellie Davis knows a thing or two about being fit while maintaining a hectic lifestyle. After all, being a wife and mother is a full-time job within itself, without considering the added time for career, health, and fitness.
Kellie has empowered countless women with her story and the Mother Fitness Revolution to look within their self and discover the strong, confident woman they've always wanted to be.
Be sure to learn more about the tools that an Exercise.com PRO Membership offers. You can have access to hundreds of workout plans, nutrition guidelines and more by joining today!
What caused the start of your site and the Mother Fitness Revolution?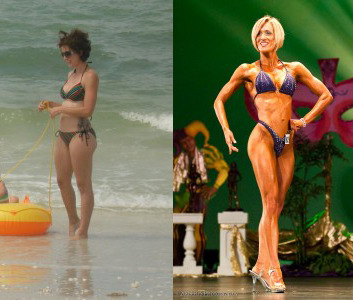 I was in terrible shape after my second child, and I stayed that way for two years. I finally decided to head back to the gym and do something about it.
After training for several months, I decided I wanted to compete in figure modeling. I joined a few online forums for women who were into fitness at this time.
Inside these forums, I discovered that many of the practices and beliefs within the sport of figure were not healthy. I also fell into some of these practices and reflecting upon my lifestyle choice I knew there was a better way. I was a figure model.
Other women looked at me as a representative of health, but I was not at all that person. I was under nourished, training in excess, and completely exhausted all the time.
I knew there was a better way, so I began reading everything I could get my hands on. I also step out of the realm of the 'bodybuilder mentality' and decided to do things my way, and not the ways preached to our community.
See for yourself - Meet with the Exercise.com Team today
Train Anyone, Anywhere in the World.
That's when I started Mother Fitness. I wanted women to see that they didn't have to destroy their bodies in order to look good. They could represent a healthy lifestyle in a positive light and I wanted to provide them the tools to do this.
I also started it because I was the person who thought my body was ruined after children and I would never have time to get back in shape.
I figured out how to do this and make it all work. It was my goal to help other women achieve this as well.
How did you get to the point of deciding to compete in an NPC Figure Athlete Competition?

When I was in college the sport of figure was new. But I would read about it in magazines and always admired what the competitors did to get on stage.
I just felt it wasn't the right time in my life for it. After meeting my goal of being in the best shape of my life by my 29th birthday, I wanted to reach for something bigger. That's when I finally decided to step onto the stage for the first time.
I did just about everything wrong that a girl could do for her first show, but I kept on trying. I competed in NPC 3 times, and also an INBA show and an OCB show.
What advice would you give to other moms and women who have felt how you feel and are getting to that place where they want to change something in their life?
It's never too late to change your life and your body. But you have to mentally be in a place that will get you there.
The hardest part about being a mom or even just a career woman or married woman is that we are very good at putting everyone else before us. We meet our own needs last — if ever we meet them at all.
I learned that when I started putting myself first — my health first, I should say — everything else improved. My family was happier because I felt good about myself. We were more active together because I had more energy. My marriage improved because I felt more confident and determined.
I think a lot of women don't realize — which is something I had to come to terms with — is that how you physically feel can affect every other aspect of your life.
It really doesn't take much. Setting aside a couple hours a week is all you need to get started in fitness. You can break this up into small segments of exercise and you don't have to commit your life to the gym.
You don't even have to go to the gym at all. There are plenty of at-home workouts and activities that will improve your health.
Did nutrition or the amount of exercise you put in have a bigger impact on you personally?

Yes, I learned over time how to balance it all out. Too much or too little concentration on either can completely change how you feel and how you live.
Too much one way or the other and you feel rundown, moody, out of control, and completely consumed by food and exercise. You have to make your nutrition plan and exercise regime work for your lifestyle.
That's always the hardest thing to figure out. I think it's because we are in need of instant gratification. We want results yesterday and when that doesn't happen we throw in the towel.
I've been working on my strength and physique for four years. It didn't happen over night. You will see positive changes right away with any plan, but making it work long-term takes balance.
What new goals have you set for yourself and for MotherFitness.com?

Bret Contreras and I released a book in early April titled Strong Curves: A woman's guide to building a better butt and body.
Publishing my first book was an incredible experience. So far, that is the highlight of my career. I still can't believe a book is sitting on shelves in homes all over the world with my words and photos printed inside. As a writer, that's something so meaningful.
So, many good things are coming from my journey with MotherFitness. Hopefully, we will see lots more branches form with it.