What do you look for in a personal trainer? What are the qualities you find most important when making that plunge and basically sign your life (and your paychecks) over to the hands that are going to transform you into the best YOU there is?
Todd Bumgardner, trainer and founder of Beyond Strength Performance, does not attribute his expert status to his multiple degrees, years of coaching, or background in lifting.
He knows what clients want — a coach who genuinely cares about the overall health and wellness of the client. And he has hundreds of testimonies to prove it.
And he has hundreds of testimonies to prove it.
This interview comes from a well-respected trainer, and Exercise.com is honored to bring to you the expertise of Todd Bumgardner.
Tell us a little about your background and where you're from.
Before I get into my background, I want to say thanks for asking me to do this interview. Interviews are always fun and I'm always humbled when I'm given the opportunity to answer some questions.
I've grown up — and still, live in — Central Pennsylvania, a place where folks wear a lot (and I really mean a lot) of camouflage. So I grew up running around in the mountains, fishing and playing a lot of sports. Football was my first love, and it led me into the weight-room.
Training for sports led to training for fun and I started competing in powerlifting when I was 14, and I've continued intermittently ever since.
While I was in college I started working as the strength coach for two female sports—lacrosse and softball. At first, I was terrified. Thirty college girls staring at me like I was stupid wasn't great for my twenty-year-old ego. But it spurred me on to get my Master's in Exercise Science.
I've been coaching ever since!
See for yourself - Meet with the Exercise.com Team today
Train Anyone, Anywhere in the World.
Tell us about Beyond Strength Performance and how it got started?
Ah! BSP! It started as a conversation with my good friend, and now business partner, Chris Merritt. We had worked together at a facility in State College, PA but had since moved on to other jobs. I had an idea for starting an online programming and consulting company and Chris was in.
Basically, we had clients we had worked with in the past that still wanted to work with us, so we developed a platform that allowed us to work with them again.
Beyondstrengthperformance.com was born and ended up turning into something bigger than we expected.
All we were really shooting for was the opportunity to help people we'd worked with in the past and store away some cash for continuing education costs.
Now BSP has a full strength and conditioning facility in Northern Virginia and I am in the process of opening another location in State College, PA.
We also have people from all over the world reading our blog; that still blows my mind. We're just dudes that love to get stronger and help people do the same. It's awesome that we've had the opportunity to reach so many people.
What's your favorite style of training?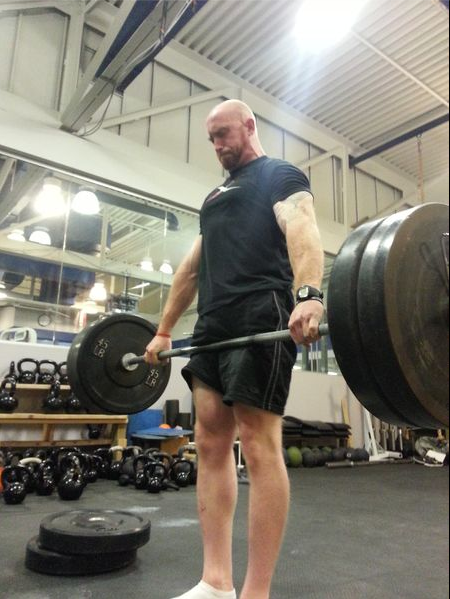 I'm a lifter, man — it's what I love. I grew up training with Westside templates. I've simply modified them over and over again. Other than with extreme cases — beginners and fat loss-only-clients — I mold most of my programs based on Westside training.
 A lot of folks think that Westside is too complex, but it's truthfully simple — lift heavy, lift fast, lift for reps. It covers all of the bases.
Is there a supplement brand you're loyal to? Certain supplement that is most important in your workout?
I don't know that I'm completely loyal to one supplement brand, but there are definitely a few that I like. It really depends on the product. For example, when I want a good BCAA supplement, I pick up USPlabs Modern BCAA. My body responds well to the product so I continue to use it.
When it comes to post-workout supplementation, I love Biotest's Surge. I'm also a huge fan of their Flameout (fish oil), Curcumin and creatine.
When it comes to general health maintenance supplements, I'm a big fan of Designs for Health. They make a great greens product and a lot of great vitamin and mineral formulations. The problem is, you can't buy their stuff in stores — you have to get it from a licensed health care provider.
Luckily I have a nutritionist!
What's the best fitness advice you've been given?
Wow…The best fitness advice I've ever received. That's a tough one. I think, though, it would have to be something my brother said to me a few years ago.
I was excited and I got overzealous; I was trying to accomplish too many things at once. I wanted to deadlift 600 pounds, dunk a basketball, run a 40 in 4.5 again and have my body fat at a ridiculously low percentage.
He saw my frantic progression and disjointed training and told me that I needed to relax, pick one goal and accomplish that before I work on anything else. Ever since I've coached myself, and everyone that I work with, to pick one or two goals and accomplish them before moving on.
From his college days working in female sports, to Beyond Strength Performance, this is Todd's story. Want to know more? Be sure to like him on Facebook and subscribe to his YouTube channel.
And while you're at it, why not go PRO already? Click here to upgrade your membership and take advantage of all the perks Exercise.com has to offer!