Get the Basics...
💡 Using software to automate your fitness business
The usefulness of brand ambassadors
Deriving power and connection from Instagram carousels
Interview with Timothy DiFrancesco 💬
Welcome back to Sweat Equity Digital. We're continuing to look into Fitness Business Management Software and how its various features can increase your bottom line in the midst of COVID-19. This week, we're diving into the power of automated workout and assessment software and why it's important to automate your fitness business.
New This Week: Dominating customer experience automation…Does your fitness brand need an ambassador?…Instagram: the power and connection of carousel posts…What fitness clients want in a coach…Interview with Timothy DiFrancesco on training sustainability
Still with us? Great. Let's get started.
And if you're ready to grow and manage your business better, book a demo with our team today.
---
Dominating Customer Experience Automation
The power of automated training delivery and management
It seems like everything under the sun has gone digital.
And digitization is now what your gym and fitness clients are becoming accustomed to––they want to order their groceries online, meet with their physicians virtually, and order a car directly from an app. It's a safe assumption that they want similar convenience when it comes to their fitness programs as well.
Using Fitness Business Management Software to deliver your training services is non-negotiable. You need a competitive strategy to increase your fitness business's competitive edge and build your reputation. It's not enough anymore to simply "be the expert."
While many software programs provide automation features, few provide custom assessment and workout delivery automation. Fortunately, setting your brand apart with assessment and workout automation and digitization is easier and more affordable than you might think.
Here's what it looks like when you give your clients all-inclusive access to your training programs directly and efficiently from a custom branded app:
1-   Workout delivery. When you use automated workout delivery to get personalized workouts to your clients, they're more likely to stay motivated and engaged. And digitization isn't only about your customer's experience, it's about your efficiency too. Automation simply makes your life easier!
When you can step away from managing the minutia of your day-to-day operations, you've got more time to dedicate to growing and developing your business. You're able to expand your reach to acquire and service more clients – and even if you train in-person, why not give your clients online access to their workouts?
2-   Assessments and workout logs. Fitness assessments should never be a headache for you or your clients. With the right software, you can schedule automated and personalized assessment deliveries to each client. When you're working with timely assessment data, you can keep your clients' workouts customized to their individual needs.
When you give your clients the power to own their fitness success with in-app workout logging capabilities, personal responsibility sky-rockets. And bonus: your software platform's dashboard keeps you up-to-date on who's done what (and who needs a nudge from their trusted trainer).
Be warned though: not every gym management software platform includes an assessment feature – and, even if they do, there is no guarantee that the workouts following an assessment, can be automated based on a client's performance.
3-    Exercise libraries. Why reinvent the wheel? Dedicating massive amounts of time to filming, editing, and uploading fitness tutorial videos can be a colossal time-eater. Think of how streamlined the workout building process could be with access to 100s (even 1,000s) of digital exercise tutorials. Look for a fitness management platform that comes with its own exercise video library.
With that said, if using your own videos is an important part of your brand's mission, then make sure to choose software that allows you to upload and replace the library's preloaded video with your own video content to your library.
And don't forget a workout builder feature. It gives the autonomy to create workouts on the go, save them for future use, and then use them later to customize workouts for each client.
Fortunately, Exercise.com provides all of the above (and more). If you want even more information on our automated workout and assessment features, contact our team today.
Covid-19 News & Updates
Your bi-weekly snapshot of all things COVID-19 
A shock to none, COVID-19 is still very much a part of day-to-day life. Here's what's trending:
And, in case you missed it, President Trump announced in the late hours on Thursday, October 1, that he and his wife tested positive for COVID-19:
Tonight, @FLOTUS and I tested positive for COVID-19. We will begin our quarantine and recovery process immediately. We will get through this TOGETHER!

— Donald J. Trump (@realDonaldTrump) October 1, 2020
Does Your Fitness Brand Need an Ambassador?
Strategy differences between sales reps and brand ambassadors
According to Neil Patel, educating your customers is key to building trust and to landing repeat business. The fitness industry has shifted massively and customers are wanting a more personalized customer service experience – and brand ambassadors can help with that.
The philosophy behind the role of a brand ambassador includes walking with a customer throughout their entire customer journey––marketing, sales, support.
You may not even need to hire-out for your ambassadors. When it comes to increasing your brand's influence, employee-generated content and social advocacy can effectively leverage growth. Hubspot's Brand Advocacy: Unleashing the Power of Employees in 4 Steps describes how to transition your staff from the traditional employee mindset to brand advocacy.
In the world of content noise, standing out is key. And utilizing employee expertise and employee-generated content can drive real brand awareness, business results, and internal innovation. #EmployeeEngagement #ContentMarketing https://t.co/ifDBEUHKHW

— EveryoneSocial (@EveryoneSocial) September 29, 2020

[Related: Companies With Brand Ambassador Programs. 7 Examples and Learnings.]
Instagram: the Power and Connection of Carousel Posts
Socialinsider reported numbers from Instagram's July study which found that using carousels for business brought a higher engagement rate and increased comments.
Here are its findings:
"19.44% of Instagram posts are carousels, a significant growth compared to approximately 4% recorded when they were first available.
Carousels are the most engaging Instagram posts: 1.92% average engagement per post.
The most common carousels have two slides (33.10%) or three slides (19.69%), but some carousels use the maximum number of slides (6.77%).
When making use of all ten slides available, the average engagement rate per carousel goes over 2%.
While image carousels are more frequent (88.8%), carousels that mix images with videos bring the highest engagement rates per post – on average 2.33%.
4.9% of carousels have messages that encourage users to swipe left, and they perform better, bringing the average engagement rate from 1.83% to 2%."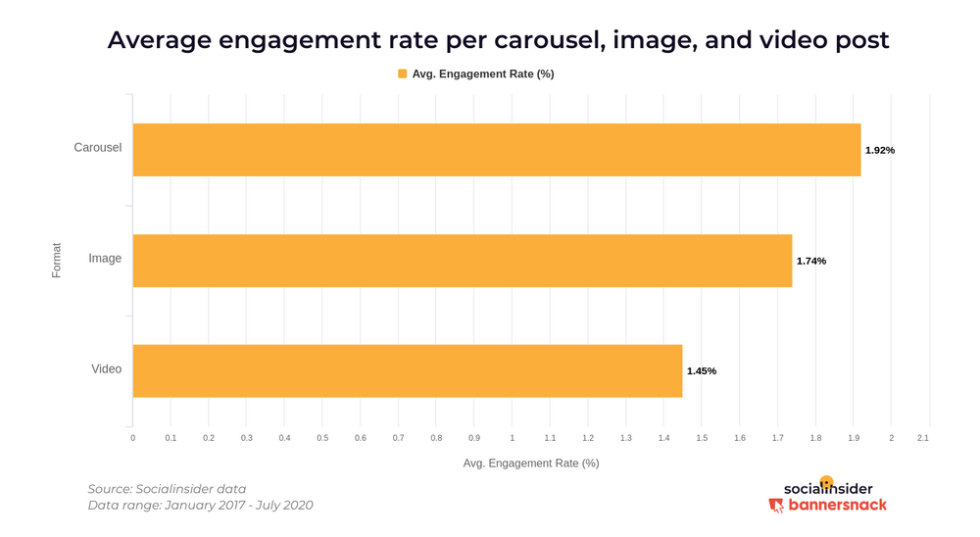 [Related:
How to Use Instagram Carousel Posts: 10 Tips
,
11 Creative Ways to Use Instagram Carousel Posts for Your Business
]
What Fitness Clients Want in a Coach
Clients want more than just a workout program – they want genuine, human connection
Everything else in our world seems to have turned upside down, so what about client expectations? With society's switch to everything digital, are people expecting less––or more––from humans? Trends are suggesting that your fitness clients are definitely expecting more both in terms of quantity and quality.
Here's the breakdown of your clients' expectations:
1-    What clients are looking for before they hire you:
Availability – Use whatever tools are available to make your services convenient and accessible.
Success stories – Potential clients want proof that your services are effective before signing on the dotted line.
Philosophy, personality – Transparency and consistency are key.
Trainer certifications/specialties – They can find anything on Youtube for free, so make sure they know why should they spend money on your services.
2-    What clients are expecting after they hire you:
Human connection – Do you just email workout plans to your clients or do you engage in conversation with them?
Genuine focus/attention – How are your listening skills? Do you make your clients feel seen and heard?
Feeling of community – Have you implemented practices within your business that make your clients feel like they are apart of something? A great example of this for fully online trainers is using a private Facebook group that only your clients can access. There, they can share their PRs, before and after photos, and can offer one another words of encouragement on those less-than-optimal performance days.
Accountability – Do you check in with your clients regularly to make sure they're doing their workouts – and doing them to completion?
3-    Increasing your value as a personal trainer includes providing:
Consistent customer experience
Personalized solutions to specific problems
Emphasized benefits
Respectfulness
Responsiveness
4-    What are the top reasons a client would hire you? Try asking yourself:
Do my clients sense from me the potential to reach their goals?
Do I have proven experience?
Am I actively seeking to develop as a problem-solver/creative thinker?
Is my personality genuine and inviting?
[Related:
How To Stand Out From Other Personal Trainers
]
Timothy DiFrancesco on Training Sustainability
Our resident interviewer, Schimri Yoyo, sits down Timothy DiFrancesco, founder of TD Athletes Edge, to discuss training sustainability.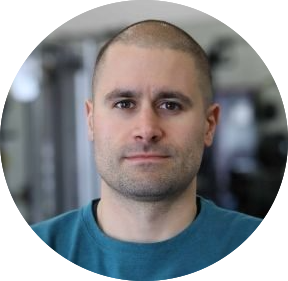 Notable Quotes:
"…the way that I look at training or preparing your body to either achieve results, goals, or solve nagging injury issues or things that have limited you, is finding the plan and the program that you feel like can be sustainable."
"I think that it is often exciting in the first 10 days and then you realize that, 'You know what? If I had to play this out for the rest of my life, I don't think I could.'"
"Getting out of that mindset and getting into this mindset of it doesn't always have to be bigger, faster, stronger. And a workout that can be valuable, whether it's a real aggressive one or not. It doesn't always have to be at the highest intensity. All that kind of stuff. It's what is going to make this a sustainable process."
Interesting Internet Finds
Share these links on your social media platforms for increased reach and engagement
Taste: With the weather changing, time to get your soup game on. Kick it off with this high-protein Peruvian Quinoa recipe.
Buy: The bathroom scale has come a long way: Anker's top-rated eufy Smart Scale P1 measures full body composition metrics and syncs with popular health and fitness apps like Apple Health, Google Fit, and Fitbit for dominating a host of fitness and health goals.
Read: Vitamin D's in the news again: More Evidence That Vitamin D Sufficiency Equals Less Severe COVID-19
And that's a wrap! We hope you've enjoyed this week's digital issue of Sweat Equity: Insider Fitness Business Insights. We'll see you in two weeks! Stay safe. Stay kind. And wash your hands.
If you're ready to grow and manage your business better, book a demo with our team today.
---
This week's newsletter was brought to you by Brittany, Mathew, and Jeff.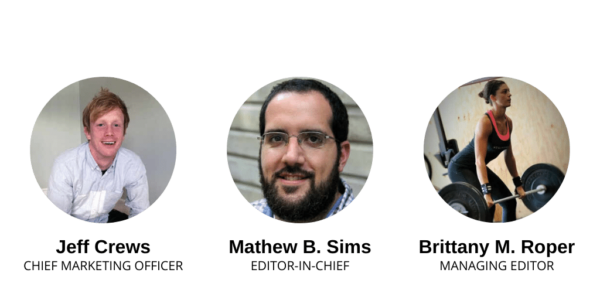 Want Sweat Equity delivered straight to your inbox? Sign up for our email list now!