Get the Basics...
💡 Prepping your fitness business for online holiday shopping
Using genetics to personalize training
Becoming an innovative fitness entrepreneur
Interview with Jayme Limbaugh 💬
Welcome back to Sweat Equity Digital. We're continuing to look into the 2020 holiday shopping season. This week, we're diving into keeping sales strong beyond the Black Friday online shopping extravaganza. With a little analysis and optimization, you can make a seamless transition from Black Friday deals to full-on holiday sales.
New This Week: Preparing your fitness business for online holiday shopping…Fitness professionals and the use of genetic information to personalize training programs…Harnessing innovation during times of uncertainly…Interview: Empathy and Exercise With Jayme Limbaugh
Still with us? Great. Let's get started. And if you're ready to grow and manage your business better, book a demo with our team today.
---
Preparing for Online Holiday Shopping
Keep your fitness business's 2020 holiday sales revenue pouring in
Although Black Friday has come and gone, the opportunity to pad 2021 revenue with holiday sales is still a reality. And what about the new wave of lockdowns? Will they affect holiday shopping this December? Economists don't seem to expect serious implications unless a wave of job loss hits simultaneously. In fact, in its annual holiday retail forecast, Deloitte has projected that "ecommerce holiday sales [are] expected to surge by 25% to 35%."
And in ACI Worldwide's, new holiday shopping data,  it's noted that ecommerce transactions during the holiday season will "soar" due to increased lockdowns: "With the U.K. already in another lockdown and the U.S. potentially heading toward one, we're seeing consumers prepare to hunker down for the holidays and get their shopping done earlier than ever," said Debbie Guerra, executive vice president, ACI Worldwide. "Related, merchants are offering deals earlier, which has also driven increases in transaction volumes in October compared to the same time last year. We're expecting this trend to continue as we move further into the holiday season."
2020 holiday predictions include continued online shopping: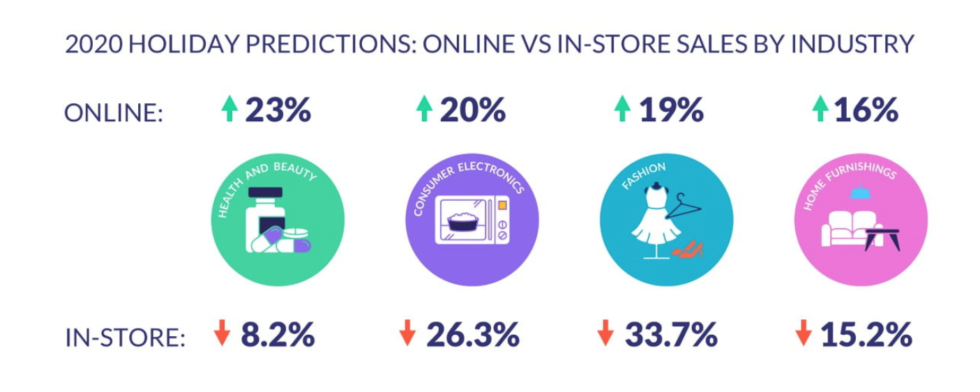 [Source:
Bitcoin Warrior
]
So, what can you do to keep your gym or fitness business competing for 2020's holiday dollar? Keep promoting your business's promotions and deals. Don't assume that your Black Friday advertising efforts will remain at the forefront of shoppers' minds. Evaluate your Black Friday sales––make sure the deals and promotions that you're offering are resonating with your target audience and clientele. If not, follow the clicks and tweak your strategy to match whatever is generating the most interest.
5 Ways Your Fitness Business Can Make Online Holiday Shopping Easier
In its piece 5 Considerations to Make Shopping Online Easier for Your Customers, Facebook has compiled a list of five recommendations to make online shopping easier for your customers:
Make sure you're offering mobile accessibility that actually works. Customers want to access your promotions and make purchases directly from their smartphones with minimal effort.
Minimize clicks. Links from your ads and CTAs should land potential customers directly at your payment options.
Optimize your website's load time. Your website should fully load in at or under 10 seconds on a desktop and at or under 27 seconds on a mobile device.
Offer multiple payment options. Credit and debit cards aren't the only game in town these days. Make sure to include payment options such as PayPal and Apple Pay.
Give your clients confidence that if for some reason they're not satisfied with their purchase you have a transparent refund process.
Let's break each of these down.
#1 – Mobile Accessibility
Why is it important? This year, it is expected that mobile commerce sales (m-commerce) will account for 44% of all ecommerce sales and will generate $314 billion in revenue.
What is it especially important for fitness businesses during the 2020 holiday season? What has typically been a sales medium for younger generations is being adopted by older generations due to the fact that older age groups are urged to stay home as they are at a higher risk of contracting a more severe case of COVID-19. With more users, comes more demand. In fact, it has been reported that 80% of shoppers have been shopping on their mobile devices more since the start of the pandemic. You're likely selling a lot of digital services right now (online training, at-home workout plans, etc.) – capitalize on that!
Need to see if your website is mobile-friendly? Check out Google's Mobile-Friendly Test.
If you've found that your website needs some work, Exercise.com software comes with custom-branded apps and mobile-friendly websites.
#2 – Minimizing Clicks
Why is it important? All in all, the 3-click rule has been debunked. But, providing your potential client-base with a user-friendly experience is still necessary. When it comes to your ads and CTAs specifically, you want to lead the user directly to your intended destination. If a client is interested in purchasing a monthly membership with your gym, the link they click on should take them directly to your payment options – not to a questionnaire or another landing page.
Why is it especially important for fitness businesses during the 2020 holiday season? We're all suffering from information overload. All news lately is "breaking" news. If someone is purchasing a fitness experience for themselves, they're likely doing it because they need to treat themselves to something positive amidst the negative. Make the purchasing process easy and enjoyable for them.
#3 – Optimizing Load Time
Why is it important? We live in a "right now" kind of world. We can have our groceries delivered to us within an hour. We can get food to go in under ten minutes. We can place an order for a car online and have it sent directly to our homes. Technology has made life easier. As such, we expect the websites we visit to load quickly. A slow-loading website is not accepted in today's fast-paced, tech-driven society.
Why is it especially important for fitness businesses during the 2020 holiday season? 2020 has seen an understandable increase in online training. If your website doesn't load, what does that say about your digital training services? Clients want to be confident in their purchases, and they want to know that when they log into a live stream group class, the experience will be worth the money they've invested. (To learn more about live streaming, check out Exercise.com's Tips for Live Streaming Fitness Classes.)
#4 – Multiple Payment Options
Why is it important? Gone are the days of one way to pay. Some people prefer using PayPal, others prefer using Google Pay or Apple Pay. Accepting additional payment options opens up your potential client pool.
Why is it especially important for fitness businesses during the 2020 holiday season? Simply put: more companies are accepting additional payment methods. Don't be the one company that doesn't.
#5 – Refund Transparency
Why is it important? Establishing trust with your client base leads to brand loyalty. By being transparent about refunds from the get-go, you ensure that your clients aren't met with any shocking surprises. For example, if you have a 24-hour cancellation policy in which no refunds will be administered if a personal training session is canceled after the 24-hour mark, let your clients know this when they're signing on the dotted line. Don't hide it in the fine print.
Why is it especially important for fitness businesses during the 2020 holiday season? You may want to tweak your policy a bit this season to accommodate any emergencies (like if your client contracts COVID-19 or loses a family member). Even with the tweaks, transparency will help to maintain a trusting client-trainer relationship.
Covid-19 News & Updates
Your bi-weekly snapshot of all things COVID-19 
A shock to none, COVID-19 is still very much a part of day-to-day life. Here's what's trending:
Personalized Genetic Analyses: A Toxic Trend?
Should fitness professionals use genetic information to personalize training programs?
Personalized genetic analyses are all the rage these days. Most commonly, you can have your genes analyzed to learn more about your family's ancestry or to learn more about your predisposition towards certain genetic diseases. Over 30 genomics companies are offering wellness reports as well, which has become a popular training tool for professional athletes––and it's even FDA-approved. As an example, the current 23andMe wellness report includes a section detailing each of the following:
genetic weight
saturated fat and weight
muscle composition
lactose intolerance
deep sleep
alcohol flush reaction
caffeine consumption
Here's a 23andMe sample muscle composition analysis excerpt: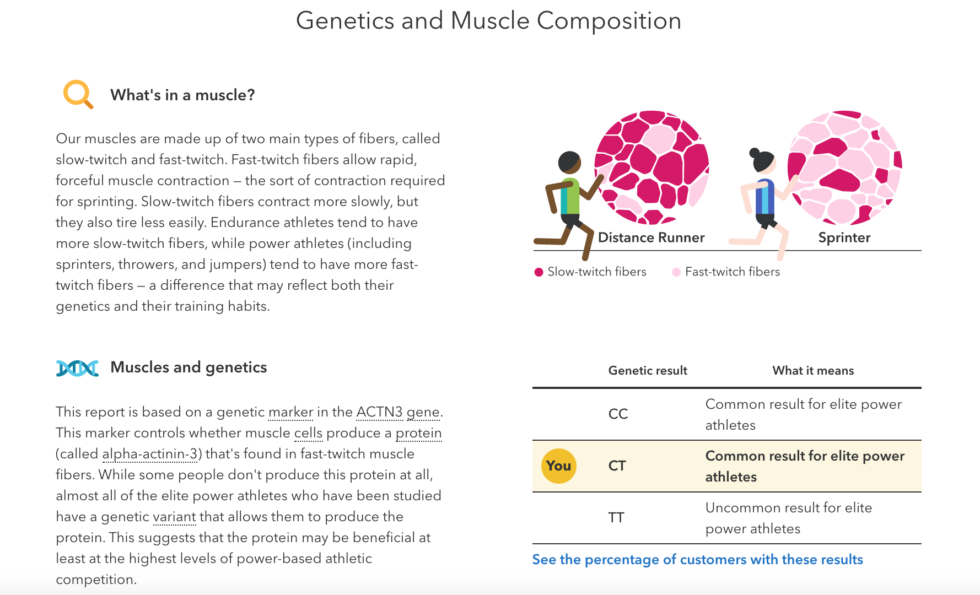 [And, you can find the sample report
here
.]
Information from these reports could help predict how your client's DNA may affect their body's response to diet, exercise, and sleep; which is why genomic companies like 23andMe are now pursuing relationships with coaches and personal trainers to push their tests and reports. It's been reported that some gyms might be in negotiations with genomics companies to add genetic testing for premium members.
A study conducted by DNAFit found that when athletes were assigned training programs that "matched" their genes, their performance increased in comparison to athletes whose genetic traits and training were mismatched.
A handful of positive studies aside, the British Journal of Sports Medicine's consensus statement on the topic says that "…genetic tests have no role to play in talent identification or the individualized prescription of training to maximize performance."
Our take? Everything in moderation. Uncontrollable variables, such as genetics, can be valuable in designing personalized fitness programs but not to the neglect of controllable variables, such as diet (more specifically, a variable like protein intake), that has the potential to influence performance traits and transform the distribution of intermediate muscle fibers via specific training.
[Related:
How Genetic Testing of Dubious Value is Infiltrating the World of Sports
]
Scientists continue to speak out against the prospect of "designer babies."

But it turns out that the genetics behind traits like intelligence and athleticism are so complicated, it may not *ever* be possible to make targeted changes. https://t.co/uUkOL40oUl

— NPR (@NPR) May 3, 2019
The Innovative Personal Trainer: Nature or Nurture?
What are the genetics of innovation? Are you born an innovator?
Business professionals have long pondered the origination of innovating personality types. Is the predisposition towards being innovative an inherited trait? Or is it something that can be developed? With the delivery mode of personal training and fitness programs becoming increasingly digital and automated, it's critical that as a fitness professional, you develop innovative approaches to keep your business relative and competitive.
But you may find yourself wondering, "What if I'm not an innovator?"
Harvard Business Review's The Innovator's DNA discusses four discovery skills associated with the success of innovation behavior and has outlined them as so:
Associating. "Associating, or the ability to successfully connect seemingly unrelated questions, problems, or ideas from different fields, is central to the innovator's DNA."
Questioning. "…innovative entrepreneurs do the following: Ask 'Why?' and 'Why not?' and 'What if?'…focus[ing] on understanding how to make existing processes—the status quo—work a little better."
Observing. "Discovery-driven executives produce uncommon business ideas by scrutinizing common phenomena, particularly the behavior of potential customers…Innovators carefully, intentionally, and consistently look out for small behavioral details—in the activities of customers, suppliers, and other companies—in order to gain insights about new ways of doing things."
Experimenting. "The world is their laboratory. Unlike observers, who intensely watch the world, experimenters construct interactive experiences and try to provoke unorthodox responses to see what insights emerge…all engaged in some form of active experimentation, whether it was intellectual exploration…physical tinkering, or engagement in new surroundings "
Networking. "…innovative entrepreneurs go out of their way to meet people with different kinds of ideas and perspectives to extend their own knowledge domains. To this end, they make a conscious effort to visit other countries and meet people from other walks of life."
Researchers have found that some innovative entrepreneurs do, in fact, have a specific kind of intelligence – creative intelligence – and they employ both sides of the brain (as opposed to being more left- or right-brained).
Fret not, though, if you're not innately innovative. It seems that innovation can be either natural or nurtured: "Though innovative thinking may be innate to some, it can also be developed and strengthened through practice. We cannot emphasize enough the importance of rehearsing over and over the behaviors described above, to the point that they become automatic. This requires putting aside time for you and your team to actively cultivate more creative ideas."
Times of Uncertainty Lead to Innovation
COVID-19 has ushered in a unique opportunity for innovation. As a fitness professional, you can learn to develop and maintain your analytical abilities when confronting risk and uncertainty by developing the aforementioned discovery skills of innovation.
Here are a few key take-aways from Fast Company's latest You Too Can Be a Great Innovator, if You Just Learn To Work With This:
"Uncertainty is when the factors determining success or failure are not necessarily out of your control but are simply unknown. It is accepting a challenge to play a game that you do not completely know the rules of. Innovators tend to be more willing to venture into the unknown, and therefore are more likely to engage in ambitious projects even when outcomes and probabilities are a mystery."
"The chemical response to risk and uncertainty may be hardwired in our brains, but that doesn't mean you are either born an innovator or not. Innovative capacity can be learned."
"Finally, innovation takes persistence. As Walker experienced, growing a business—even with proven products—does not happen overnight. It takes someone willing to push the boulder uphill to make it happen, and often, the more disruptive the innovation, the longer society may take to embrace it."
Innovation skills, Like any skills, can be learned and cultivated…#innovation #Discovery#fastcompanyhttps://t.co/4Exot7V9i6

— Praveen Vijapurapu (@pvijapurapu) November 28, 2020
[Learn More: You can also check out the
IHRSA Innovation Summit
for on-demand access to keynote presentations from this summer's summit through the end of 2020 for a reduced rate.]
Empathy and Exercise With Jayme Limbaugh, Co-Owner of Crystal Coast Wellness & Performance
Our resident interviewer, Schimri Yoyo, sits down with Jayme Limbaugh, Dietitian and Co-Owner of Crystal Coast Wellness & Performance, to discuss the role of empathy for fitness professionals in exercise training.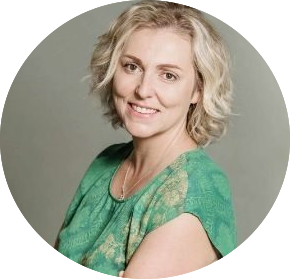 Notable Quotes:
"You have to be able to put yourself in that person you're speaking to, into their shoes. Without being able to relate to anybody, you're never able to fully help them, and I truly believe that."
"Nowadays, we want things now. We're not willing to wait. We want to lose five pounds tomorrow. So really just going slow and steady and being like, 'No, we're just going to change two things over the next four weeks. Once those are accomplished, we'll build on them and build on them and build on them.'"
"Whether others may not believe that to be true, I've worked with people that lack compassion, but their brain is just brilliant, but they can't get that information to the next person. So I think, really, being able to be empathetic, sympathetic, and compassionate to that client that you're working with is absolutely pivotal."
Interesting Internet Finds
Share these links on your social media platforms for increased reach and engagement
Taste: The perfect pairing for your holiday blend coffee or spiced cider, check out the world's best fruit cake recipe for a fresh approach to the holiday season's most controversial sweet.
Buy: Got a hard-to-shop-for athlete on your Christmas list? Check out DNAFit's holiday sales on their most popular genetic analyses reports.
Watch: With a combined age of 105 years, Mike Tyson and Roy Jones gave an 8-round exhibition before their upcoming match: Mike Tyson vs Roy Jones Jr Highlights
And that's a wrap! We hope you've enjoyed this week's digital issue of Sweat Equity: Insider Fitness Business Insights. We'll see you in two weeks! Stay safe. Stay kind. And wash your hands.
If you're ready to grow and manage your business better, book a demo with our team today.
---
This week's newsletter was brought to you by Brittany, Mathew, and Jeff.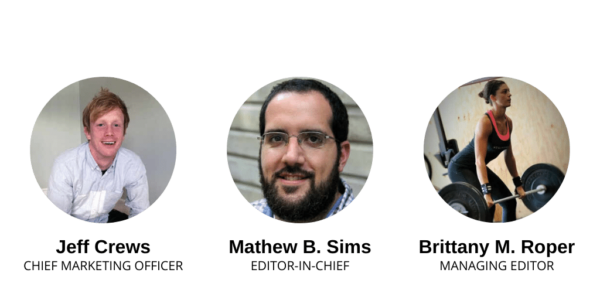 Want Sweat Equity delivered straight to your inbox? Sign up for our email list now!