As a part of our App Launch celebration, we're excited to announce that Molly Galbraith has designed a workout plan for us that will be included in the App! We're going to be offering some awesome giveaways for Molly Galbraith fans too!
Here's everything you need to know to make sure you're a part of the giveaway:
Step 1: Join the Friends of Girls Gone Strong Group
This is the place to team up and keep track of each other's workouts, help out with motivation or tips, and maybe even enjoy some friendly competition on the leaderboard!
Click the picture to visit the group page, and make sure you join it!

Step 2: Download the App on Launch Day
CLICK HERE TO VIEW AND DOWNLOAD THE APP ON ITUNES!
In order to be entered in the giveaway, you need to download and log a workout via the iOS App within the first 24 hours.
As an added bonus, everyone who downloads the App on Day 1 will receive a Free month of WeightTraining.com PRO membership!
This way you can follow Molly Galbraith's Strength Workout Plan, and get automatic workout reminders, receive in-depth fitness stats like calories burned, and more!

Here is how to follow Molly's workout once you're using the WeightTraining.com iOS app:
From the Dashboard screen, tap "Plans" in the bottom right-hand corner: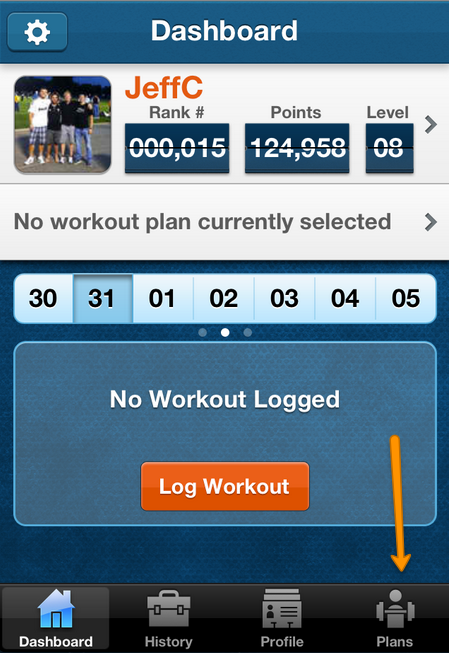 Scroll down the Plans page until you find Molly's Strength Workout Plan: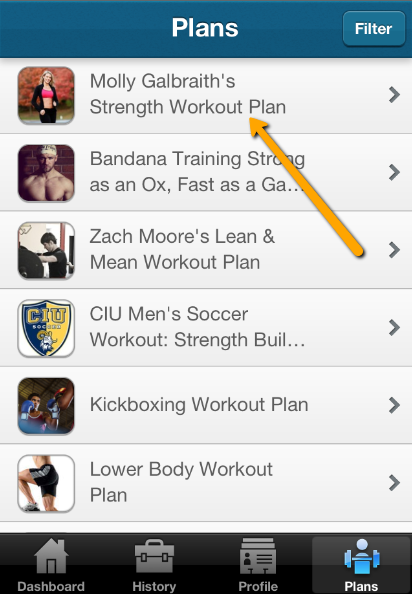 Tap "Start Plan" button to begin following the workout: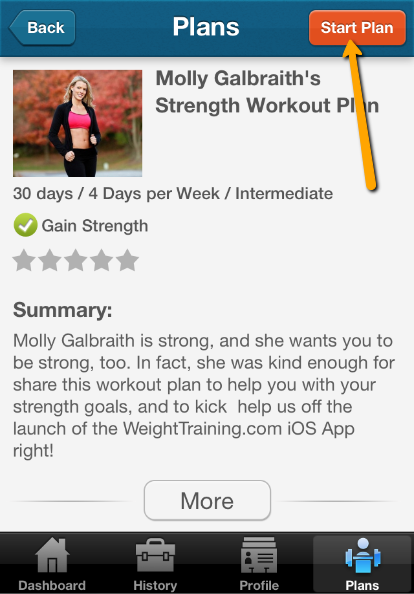 On the next screen, you will choose the days you're going to work out on. Molly designed this for 4 days a week: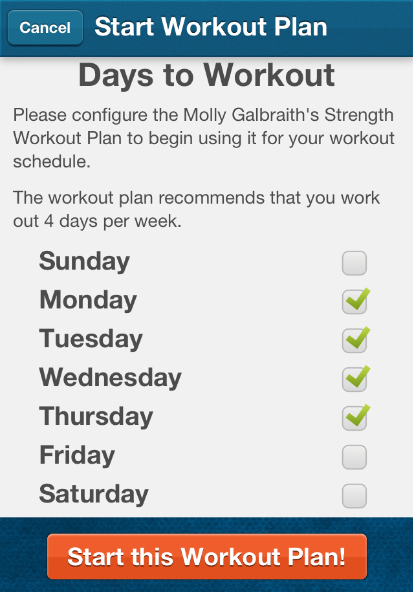 Tap the "Start this Workout Plan!", and you'll be all set! You will then be sent back to your Dashboard, where you will see your workout schedule: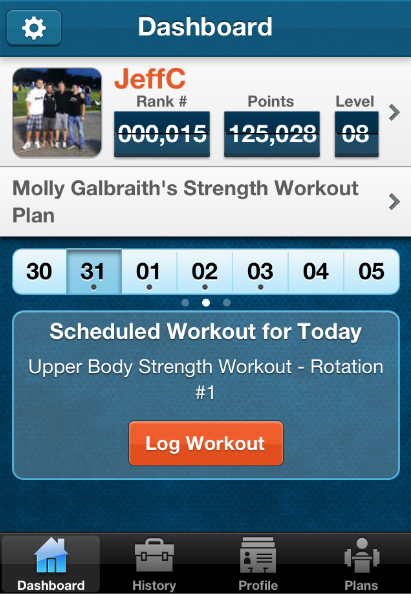 Whenever it's time to log your scheduled workout, tap "Log Workout". Your workout for that day will be loaded into the Workout Log automatically: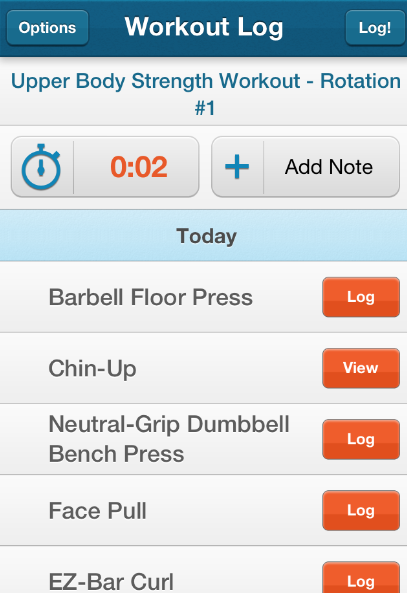 Step 3: Log a Workout via the App on Launch Day
This last step isn't complicated: get off your butt and work out, then log it via the iOS App right away on Launch Day!
This is why that text notification for the App release comes in handy – Sign up for the reminder so you don't forget to download the App and log your workout on Day 1!
Giveaway Prizes
Here's what we've got lined up for the prizes:
Make sure you Like WeightTraining.com on Facebook and follow @WeightTraining on Twitter to stay in the loop with everything going on!
UPDATE: Here are our winners!
Here are the 4 winners who will receive the WeightTraining.com shirt of their choice and wrist band:
laurawilsonsi
kaytique
mjackson64
AGranath
And the Grand Prize winner, who also gets a 25-pound kettlebell:
Congratulations to all of our winners!!! You will be contacted shortly. Thanks so much to everyone who participated, and made our App launch a huge success!