Our Exercise.com community is made up of members of all ages from all over the world. It's exciting to see people of all ages staying active and working towards their goals!
User CopeFIT is a dedicated member who has really transformed his body through 3 years of hard work.
Read on to learn a little bit about him, including his favorite supplement and style of working out!
Tell us a little about your background and where you're from.
Hey everyone, my name is Adam and ever since I can remember I have been involved in sports and physical activity in general.
My earliest memories of being active are with my dad throwing me some batting practice at a nearby park here in New York City.
I know what you are thinking and yes, I crushed the ball even back when I was a little guy. I continued to play sports throughout my entire life, concentrating mainly on baseball, basketball, and soccer.
Unfortunately, despite my activity and due to my affinity for chocolate, I was always a little pudgy. Then high school rolled around, and everything changed.
What got you started with working out? How long have you been working out consistently?
However vain it might sound, the first thing to get me interested in health was the desire to appeal to the ladies. Looking back, I'm happy I made the decision to get fit.
I started to learn more about proper nutrition and training from magazines and websites. After a while, the baby fat came off, and I looked like a whole new person.
That experience made me want to pursue health and fitness as a career.
I started to think about becoming an athletic trainer but found my passion the summer after my senior year in high school, three years ago.
I spent that summer as an intern at Peak Performance (which was just featured on the blog), learning as much about training as possible.
During my time at Peak Performance, I also developed a serious love for weight training, which has only grown over the past 3 years.
What are your current workout goals?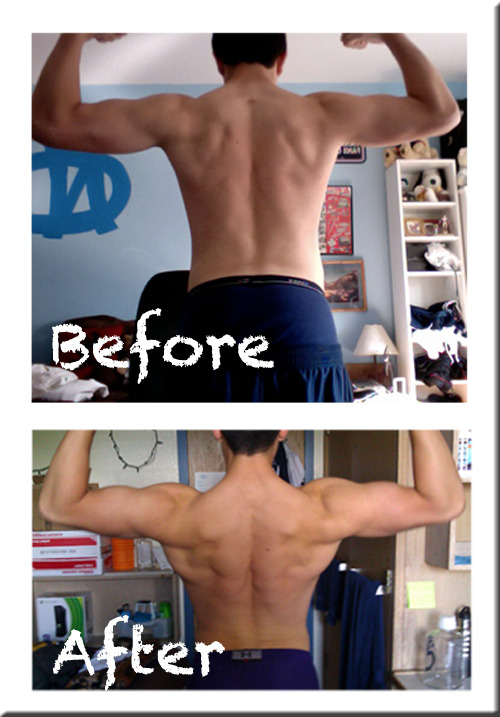 As of now the main focus of my training is performance. I and the other members of my training group put an emphasis, on power, strength, and work capacity.
There is a method behind the training madness. We want to be able to develop usable power and strength. None of us are training to be Olympic lifters, powerlifters, or bodybuilders, so we all try to stay athletic and healthy.
What's your favorite style of training?
I personally respond very well to power and strength training. I am never going to be a bodybuilder, but I can move some weight when it's time to lift.
The style of training that really suits my strengths is Olympic lifting. It is something I do almost every day and will continue to do. I typically perform about 5 sets of a lift (snatch, clean, jerk) before getting into the more traditional strength training.
Olympic lifting has increased my explosiveness, and that has a much-welcomed carryover effect on the rest of my training.
I highly recommend spending the time to learn and master the Olympic lifts. You won't regret it!
How often do you like to change up your workouts?
The variation of my program depends on the goal, but the usual duration of a program is about 3-4 weeks. As I get further into a program, I start to pay attention to my training desire, performance, and recovery.
All of those factors come into play when deciding to stay the course or rattle the cage.
When it comes time to change things up, I rarely perform a complete overhaul. The more training experience you get under your belt, the more you realize manipulating the variables like sets, reps, and rest is very important in continuing to progress.
I've learned not to lose the forest for the trees and get caught up in exercise selection when writing new programs for myself.
Is there a supplement brand you're loyal to?
When it comes to supplements, I am a big believer in their ability to help with performance, recovery, and ultimately getting results.
That being said, I have yet to develop any significant brand loyalty, but I do have a favorite supplement that I think most people can benefit from.
My go-to performance and recovery-enhancing supplement would have to be Xtend from Scivation. It is a Branched Chain Amino Acid product that also contains glutamine, electrolytes, and citrulline malate.
I usually start sipping it before my workout, through the workout, and I'll even have it between meals to stave off hunger. There isn't a time when it can't be used.
Definitely check it out if you are looking for an easy, cheap way to get more out of your training.
What's the best fitness advice you've been given?
I get to work around some of the best trainers while at Peak Performance, so I have been given more strength training advice than I know what to do with.
As I reflect on everything I've picked up, one sobering piece of advice always comes to mind whenever I think about trying to get better:
"If you don't want to do something, that probably means you should do it."
I keep that with me and recently put it into action on Exercise.com. My upper body is my weakest link, but over the past 3 weeks, I have competed in both a pull-up and push-up battle.
The winning or losing wasn't as important to me as the fact I was addressing a chink in my armor and getting better.
If you know what's good for you then do it! No excuses!
Finally, give us an interesting fact about yourself to remember you by!
I was lucky enough to be the first-ever intern at Peak Performance in New York City. That is a distinction that I will always remember as I move on to bigger and better things.
I owe so much of who I am to that gym and the amazing people who make it what it is!
Thanks, CopeFit!
What an awesome opportunity to be an intern at Peak Performance! So much knowledge to soak up and apply to your workout and fitness career. As CopeFIT mentioned above, be sure to check out our interview with Peak Performance.
If you're looking for someone to tailor a workout after, Follow CopeFIT and keep up with his progress and dedication to a fit lifestyle. While you're at it, don't forget to "like" and follow Exercise.com on Facebook!