June's Giveaway: Steve's Original Paleo Gift Baskets and Official WeightTraining.com T-shirts
We want everyone to live healthy lives, eat right, and exercise. The problem is we can't make everyone do that, BUT we can do the next best thing: Give away awesome stuff to motivate you to work out, eat right, and give you even more reasons to encourage your friends and family to do the same!
That's what we're aiming for with this month's fitness Giveaway, and we've made it ridiculously easy for you!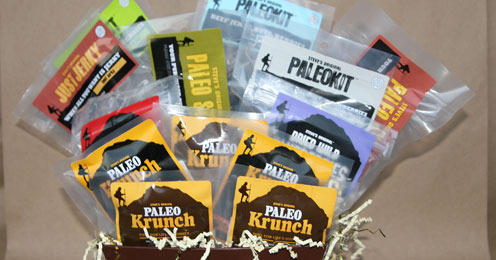 Here's how to enter:
Join the Fitness Giveaway Group and start logging your June workouts!
Tell us what you're doing to eat healthier in June in the Fitness Giveaway Group Discussion!
You can increase your chances to win by sharing your June workouts via Twitter using the hashtag #WTGiveaway!
We're going to have 10 winners once again! 2 Grand Prize winners will receive an entire basket of goodness – 1 Large Steve's Original Gift Basket and an Official WeightTraining.com T-shirt! 8 Runners-up will receive a taste of Paleo jerky with a pack of Steve's Original Just Jerky and also their very own Official WeightTraining.com T-shirt!
Update: The winners have been chosen! (We will be contacting you via email shortly!)
First off, some serious congratulations are in order for both of our Grand Prize winners! Full-size Steve's Original gift baskets, plus WeightTraining.com T-shirts – so awesome!!!
Grand Prize 1: bwyrwitzke
Grand Prize 2: chelss
For the runners up, a little taste of victory (in the form of beef jerky), plus their very own WeightTraining.com T-shirt to represent at the gym!
Carl J.
theraptor
moody
m1m2
looly62
maggieos
JohnL
bwoolsey
If you're not following their workouts yet, you better start now so you can learn their secrets to success! Just kidding – the winners are chosen at random from the Fitness Giveaways group.
If you haven't joined it yet, get in it and start logging your workouts. That's all it takes, and you could be our next winner! Stay tuned for more giveaways coming soon!