We want to thank all of our members for their continued support as we get closer to the launch of our iOS App! As a part of the Launch Day festivities, we've got some exciting giveaways going on! Up for grabs is a brand new iPad Mini!
That's right, if this doesn't get you motivated to get out there and exercise, you're in trouble (unless you're Apple's #1 fan and already have 5 iPads and 15 iPods lying around the house… then you're excused)!
CLICK HERE TO VIEW AND DOWNLOAD THE APP ON ITUNES!
How to Enter
Ok, it all sounds cool, but how do you enter? First of all, if you don't have a WeightTraining.com account, you better get signed up! It's quick and easy!
Once that's done, here's what you need to do:
1. Download the iOS App on Launch Day (January 7th). 
2. In order to be entered, you MUST log a workout on Launch Day via the iOS App.
You'll also automatically receive one month of WeightTraining.com PRO membership just for downloading the app within the first 24 hours.
That means you get all the benefits of following a workout plan plus in-depth workout stats – Bonus!!
Tell Your Friends!
We're going to be giving away awesome prizes left and right as a way to celebrate Launch Day and say "Thanks!" to all of our members! We will have random drawings for RunKeeper and WeightTraining.com T-shirt prize packs and more, in addition to the Grand Prize: the 16GB Wifi iPad Mini!
Please help us spread the word! LIKE THIS POST on Facebook, and share it on Twitter (Click to Tweet this announcement!) and the rest of your social networks! You need to tell anyone who loves free stuff! (HINT: That's everyone!!)
CLICK HERE TO VIEW AND DOWNLOAD THE APP ON ITUNES!
Remember, your workout logged via the iOS App on Launch Day is required for entry – don't miss it!
UPDATE: We have a winner! Drumroll, please!
Here is our iPad Mini Winner!
User: anailor

Here's the winning workout, with a little bit of everything! Nice work!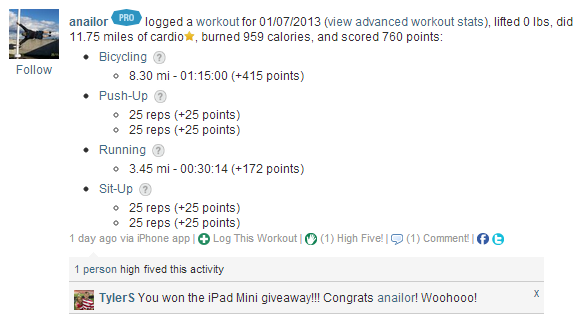 Congratulations to anailor, and thanks to everyone who participated! We were pumped to see the huge response from all of you!