Get the Basics...
👍 Member engagement post-COVID closures
Recession economics 101
The future of plant-based diets
Interview with Eric Martinez 💬
Welcome back to another installment of Sweat Equity Digital! Although COVID measures are waning in several states, the pandemic is hardly over. And there's no doubt the health club scene will offer a much different feel with its socially-distanced workout areas and extreme sanitizing protocols.
The main focus for fitness businesses in the months to come will continue to be the customer experience; in reaching out to your clients and potential customers with the goal of demonstrating knowledge and providing understanding, patience, and (most importantly) solutions.
People are confused, many jobless, and others are simply scared. Seek every opportunity to affirm your commitment to, in the words of McKinsey & Company, "digital excellence, safe and contactless engagement, and dynamic customer insights."
New This Week: Reaching out to gym members post-COVID closures… Generating revenue with video streaming… The future of plant-based diets… Interview with Eric Martinez on harmony in health and fitness
Still with us? Great. Let's get started.
If you're ready to grow and manage your business better, book a demo with our team today.
---
Gym Member Engagement
It's time to tweak your customer engagement strategy.
How can you, as a club owner or fitness professional, prepare to engage your club members and clients after your gym reopens? Your clients will undoubtedly range from completely apprehensive about using social space to completely insolent that there was (and continues to be) an infectious disease lurking about.
While the answer to this question is still forthcoming, there are some insights to glean from COVID-19's effects on the fitness industry. We've summarized a few:
Increased consumption of fitness on-demand and live streaming services and memberships. What was once a niche has now become mainstream.
Decreased overall fitness activity, even among committed fitness enthusiasts.
Increased e-commerce spending.
Heightened cost control measures for gyms and clubs, affecting both employees and members.
Shifted client demands (for example, some clubs in China saw an increase in personal training demand upon club reopenings).
Implementation of staff training for new safety measures.
Whether you subscribe to the idea that the fitness industry simply adapted to the pandemic or that it completely reinvented itself, accepting this truth is non-negotiable: at-home training must become a permanent membership feature.
And adults aren't the only ones to have been affected by COVID's hit on physical health; in many instances, kids at home have reduced their physical activity as well. Parents now have a new reality that includes incorporating their children's exercise into their own fitness goals.
Not surprisingly, the general public has purchased a plethora of at-home fitness gear. Whether they are actually using it or not, it's been reported that sales for exercise equipment grew by 300% to 400%. When you add to the mix all of the new online subscriptions to various fitness apps, it's safe to say that at-home training is booming.
As such, business-as-usual might be a hard-sell to members who've found their groove with at-home training. It won't be impossible to bring them back, but you'll need to rework your club's feature-to-value ratio: meaning they're going to want more options for less money.
With our fitness business management software, Exercise.com is already in full-swing helping clubs and trainers as they transition to meeting the fitness industry's new demands.  Don't hesitate to reach out to see how we can help.
See for yourself - Meet with the Exercise.com Team today
Grow and manage your fitness business with Exercise.com
Recession Economics 101
Re-establish, Rebuild, and Reconnect
This may be your first recession to endure as a business professional. (Or possibly the second, if you were in business when the economy tanked in 2008.) Either way, it's all a bit surreal. And you may be finding it difficult to fully grasp the reality that your business may never run quite like it ran pre-COVID.
A few stop-and-breathe strategies to consider in case the recession hits as hard as some predict:
Re-establish your value! Remind your customers and community what services you offer to keep adding value.
Rebuild your social media presence!
Reconnect with everyone that your business has touched! Don't assume your clients/members will come running to you.
Perfecting the customer experience journey is a top priority, but so is generating revenue. Make sure there is no confusion surrounding the details of your business's offerings and operations.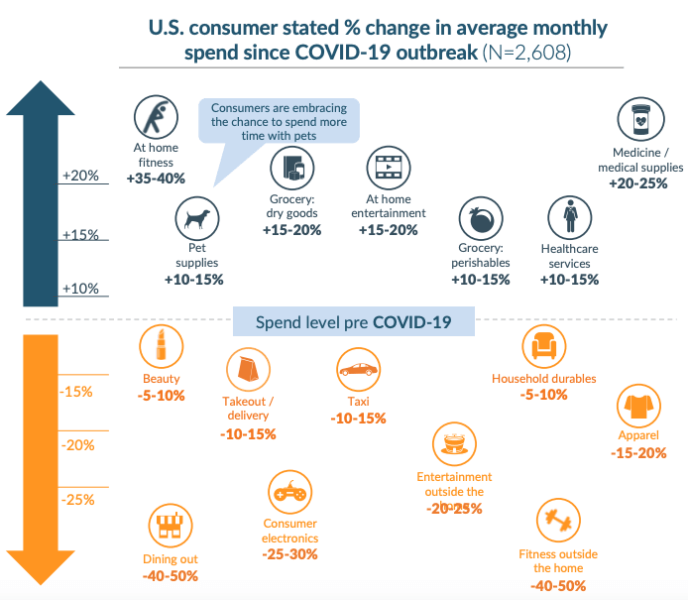 So what will changes in consumer spending behavior mean for the fitness industry?
The managing director of investment banking firm, Lincoln International, highlights the emergence of significant trends that could alter consumer habits long after we emerge from this immediate danger:
Increased value of time at home could engrain nesting tendencies
Less comfort with large group settings
More conservative spending patterns to recuperate equities losses
Less travel in captive, highly populated settings like cruise ships
Increased use of video conferencing as an acceptable means of communication
A desire to support local neighbors and community
Adding to that, here's an excerpt from B2B Marketing After COVID-19: What Changes and What Doesn't?:
In 2010, Harvard Business Review conducted the most extensive research ever undertaken on the impact of past recessions on corporate performance. It studied 4,700 companies over the three recessions prior to 2008. The results were sobering.
17% of companies didn't survive a recession.
80% hadn't regained their pre-recession growth rate three years after the recession (40% hadn't even returned to the same revenue and profit level).
Only 9% flourished—outperforming competitors by at least 10% in revenue and profit growth.
Harvard Business Review then went on to detail a study analyzing "strategy selection" and "corporate performance" from the three most recent global recessions of the 21st century. In summary, companies that skillfully balanced cutting costs with investing strategies faired the best.
[Related:
Covid-19 Will Revolutionize The Fitness Industry Globally In These Key Ways
]
What About That Swath of Millennials?
Younger generations have traditionally been impacted the greatest by recessions, so what does that mean for the millions of millennials participating in the fitness industry?
Perceiving and understanding their behavior will be paramount to the survival of the local fitness club/boutique. According to IHRSA, "Millennials are the largest generation in U.S. history (92 million)," and "represent the largest health club demographic, comprising 33% of all members."

And, specifically, what about small businesses? Here's some advice worth reading from a few of the experts:
COVID-19 Outlook & Updates
Your bi-weekly look at the coronavirus pandemic
To help you sift through the sheer amount of coronavirus-related resources available to you online, we've compiled a few articles on the virus, specifically for those in the fitness industry that are reopening their fitness club doors to the public:
And here is how the rest of the world is handling reopening fitness centers: India, Hong Kong, Australia
We've updated our coronavirus resources page so you can find the information you need more quickly based on topic. Take a look! https://t.co/UQFAQfrifQ

— IHRSA (@IHRSA) May 14, 2020
Generating Revenue With Video Streaming
Video streaming is not a necessity for fitness businesses – here's how to capitalize on it.
It's no secret that the fitness industry has experienced a boom in the demand for online fitness programs, especially programs that offer video instruction. On-demand video training certainly has the advantage when it comes to convenience, but live-streaming events offer their own benefits as well.
Now, more than ever, your members want all options: they want to return to their favorite spin class but they also want access to virtual exercise on the occasions they get spooked about club cleanliness. Before comparing video options for your fitness business, it's imperative to, first:
Provide accessibility and value to services by having an offering for every scenario your client base might want with ultra-competitive pricing.
Increase loyalty with innovative membership options that stimulate customer connection anytime, anywhere.
This graphic from Ameri Research Inc. shows just how important it is to include video streaming in your overall fitness business plan: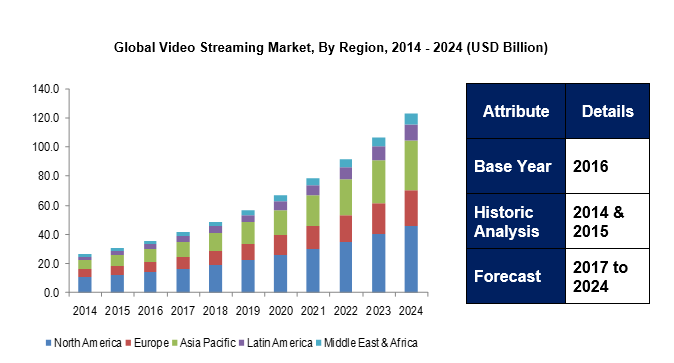 Live Streaming for Outreach & Growth
Long before COVID, your club clients were probably working out at home occasionally and were likely using a fitness app. Now's the time for your business to organize and manage each client's entire fitness journey from one platform. With the right strategy and software, your fitness business can meet all their fitness needs.
A powerful thought to consider when investing in off-location training options like on-demand video workouts: "The member's activity still takes place in the club's own space, whether or not they're in the club." Bryan O'Rourke (Fitness Industry Technology Council)
Peloton is a great example of a company that has tapped into the on-demand market and has seen amazing results. Take a look at this graphic by Crunchbase that highlights the uptick in subscribers to the company's on-demand subscription service.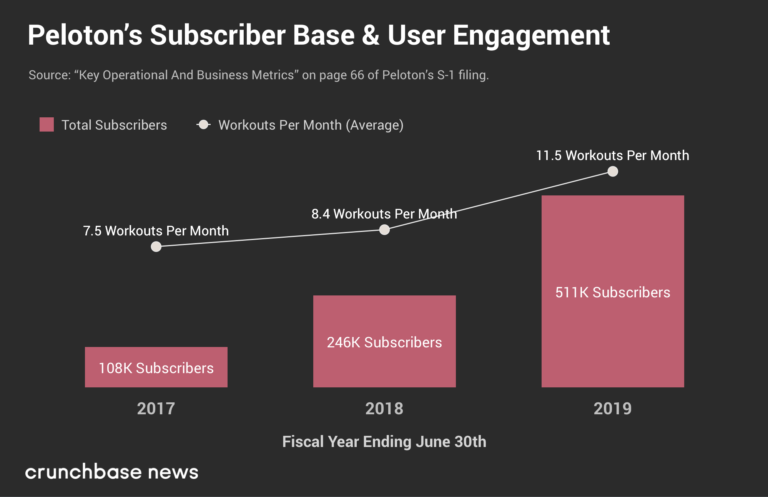 Note that this is simply the app's subscribers; this does not mean that every subscriber owns a Peloton bike. In fact, the company allows anyone to use their subscription-based service and now offers additional workouts like strength, HIIT, core-specific, and cardio. They also provide guided meditations. This is the kind of forward-thinking that is required to engage with home-based users.
Live-Streaming How-Tos and Revenue Engagement
Hosting live streaming events doesn't have to be complicated, however, there are a few details that should be considered in advance. Here's what your audience is looking for:
Make sure the purpose of the event is clearly stated
Consider implementing a countdown for new streaming events to keep it actionable
Use a video player with controls so customers can pause the video feed
Consider starting out with Facebook or Youtube
Be interactive during the stream: accept questions and give "shout-outs"
Plan for an early log-in to address buffer considerations
[Related:
9 STEP-BY-STEP TIPS FOR DESIGNING WORKOUT PROGRAMS
]
Use your live-streamed events to generate additional revenue:
Capture/record the event to sell afterward
Offer a "best of" live events compilation
Offer discounts to live-streaming events for on-demand clients
Here's what it looks like in action for Exercise.com partner, Fit Factory:
Did you know that members have access to a wide variety of both #live and on demand virtual #groupfitness classes? Stay #active and #healthy at home! Access classes via the "Extras" tile in our app! Want a Sneak peek? Give #HIIT & Flow a try! https://t.co/o7J3dTBbT6 pic.twitter.com/0kqBWVim7N

— Fit Factory (@FitFactoryClubs) April 2, 2020
Of course, there are a few general video streaming stats to keep in mind from a marketing perspective:
In 2019, 87% of businesses used video as a marketing tool (an increase from 63% in 2017 and 81% in 2018)
96% of people say they've watched an explainer video to learn more about a product or service
79% say a brand's video has convinced them to buy a piece of software or an app
Videos on social media generate 1200% more shares than texts and images
The key phrase "Facebook live stream" has enjoyed a 330% increase in searches from 2016 to 2018
Companies that use video enjoy 41% more traffic from searches
40% of consumers state video increases the chance to purchase a product on their mobile device
74% of millennials find video helpful when comparison shopping
(Source: TechJury)
[Read More:
47 Must-Know Live Video Streaming Statistics [UPDATE]
,
The Best Social media Aoos for Livestreaming [gifographic]
]
A few benefits of live-streaming events:
Content exclusivity: increase viewers by creating a sense of urgency
Emotional engagement: viewers feel more connected to your brand when they "feel a part" of the story
More than just workouts: use live streaming to give your audience insight or a sneak-peak into your fitness business's happenings
[Related:
Building A Successful Digital Fitness Platform For The Coronavirus Era And Beyond,
7 Live Streaming Solutions for Broadcasting Private Events,
Comparison of the Top 7 Live Streaming Platforms: What You Need to Know [2020 Update
]
Are you ready to start live streaming your fitness classes? Book a demo with us today to learn more about how you can use our software and our newly added Zoom integration to live-stream to your gym members and clients.
See for yourself - Meet with the Exercise.com Team today
Grow and manage your fitness business with Exercise.com
Plant-Based Eating Has Many Benefits
Are plant-based diets here to stay? It's debatable.
Vegan products continue to make traction among non-vegans for their purported health benefits and environmental sustainability. But will we ever settle the hotly-debated question, "Are animal products really that bad for our health?" Probably not.
So, to find some middle ground, here are a few articles that explore the benefits and how-tos surrounding plant-based diets as you navigate vegan eating with your fitness clients:
Food Trends for 2020: Plant-Based Continues to Sprout, Focus on Mood-Boosting Ingredients: USA Today sees the trend gaining stream as vegan products begin to replace meat products both at home and in the restaurant industry – due to the fact that plant-based products are more take-out friendly. Keep your eye out for vegan products that promise emotional and mental health benefits too.
Complete Guide to Plant-Based Diets: Noom, a proponent of plant-based eating habits, provides a comprehensive explanation of the plant-based diet, including food types and types of diets.
Plant‐Based Diets Are Associated With a Lower Risk of Incident Cardiovascular Disease, Cardiovascular Disease Mortality, and All‐Cause Mortality in a General Population of Middle‐Aged Adults: The Journal of the American Heart (JAHA) Association published findings in 2019, concluding, "Diets higher in plant foods and lower in animal foods were associated with a lower risk of cardiovascular morbidity and mortality in a general population."
Plant-Based Diets Are Best…or Are They?: Harvard Health points out a UK study that loosely associates veganism and stroke risk. However, individuals who follow plant-based diets generally benefit from reduced rates of heart disease.
Harmony in Health and Fitness With Eric Martinez
Our resident interviewer, Schimri Yoyo, sits down with Eric Martinez, co-founder of Infinity Sports Institute, to discuss the importance of sleep and active rest concepts.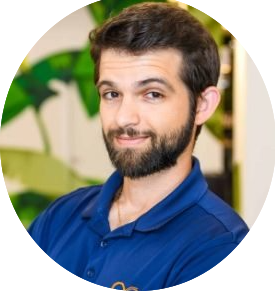 Notable quotes:
"Everybody's in a sympathetic state. Super fidgety, anxious. You need built-in sleep and some form of recovery so that you could get out of that sympathetic state. Once you're out of that sympathetic state, your body allows you to do a lot of those things."
"If not, you're always going to be in this fight or flight mode, in the sense of 'I'm hurt. I'm not going to use that muscle anymore. I'm going to use something else.' Then that creates pain. Or 'I'm too scared of doing this.' Well, you're never going to do it because you're too bunched up. That's one sense of rest and recovery."
"…sleeping is important because that does help you get into delta waves when you're sleeping. It helps hemodynamics of your body, your endocrine system, testosterone to build, cortisol to drop, fat burning. It's a whole bunch of stuff. The same thing with recovery, in the end, you just need it overall."
Interesting Internet Finds
Share these links on your social media platforms for increased reach and engagement
Taste: Because June is for grilling, get the low-down on turkey burgers with this Ultimate Classic Turkey Burger Recipe. Looking for a plant-based alternative? Take these Easy, Grillable Veggie Burgers for a spin.
Buy: The Father's Day gift every man will love: Crossrope's Get Strong jump rope kit for strength building.
Follow: The CDC is changing nutrition labels later this year: Learn How the NEW Nutrition Facts Label Can Help You Improve Your Health
Read: Check out this intriguing story of a writer who "spent a summer living and training with a team of professional runners" (The New York Times, 2020) – Running the Dream: One Summer Living, Training, and Racing with a Team of World-Class Runners Half My Age.
And, that's a wrap! We hope you've enjoyed this week's digital issue of Sweat Equity: Insider Fitness Business Insights. We'll see you in two weeks! Stay safe. Stay kind. And wash your hands.
If you're ready to grow and manage your business better, book a demo with our team today.
---
This week's Fitness Business trends was brought to you by Brittany, Mathew, and Jeff.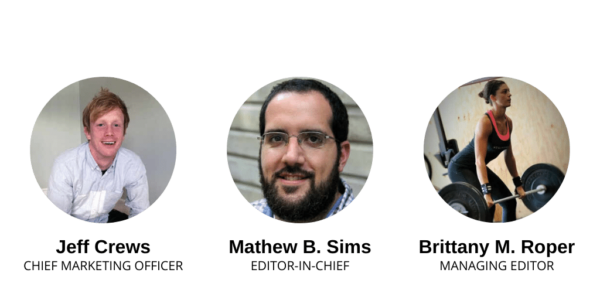 Want Sweat Equity delivered straight to your inbox? Sign up for our email list now!