Get the Basics...
It's important for fitness businesses to think of creative ways to increase revenue without adding new clients or new memberships.
There are many strategies that can help you create additional sources of revenue listed in this article.
Try one or more of these options to see what might work in your fitness facility, gym, or health club.
Selling memberships to potential customers is a vital part of the success of a fitness business. But it's also important for gyms, fitness facilities, and health clubs to think of creative ways to increase profit margins without increasing gym membership sales.
Finding areas of improvement for your business, using an all-in-one fitness business software like Exercise.com, and creating a great customer service experience are a few ways to increase revenue in your business. Engaging with clients through social media, creating workout challenges, or having special events are also fun ideas to engage with clients and develop additional revenue streams.
Ready to see how Exercise.com can ensure additional revenue by helping you grow and manage your fitness business? Schedule a free demo today.
#1 – Find Your Niche
Your niche is what sets you apart from your competitors in this highly saturated fitness market. What stands out about your business? Do you have specialized equipment, classes, a great pricing structure, or appeal to a specific age group?
If you have identified your niche, you can capitalize on that. You can offer programs, classes, or services that are specialized for your niche that you can offer to your current members at an additional price.
For example, do you have trainers who are specialized in certain areas or those that can offer youth fitness classes or TRX training classes? That will set you apart from other similar fitness businesses and enable you to charge competitive fees for those classes or offerings.
#2 – Identify Areas of Improvement
Every business has areas where they can improve. This could be improvements in staff and employees, classes, services, or in the facility. Ask staff, members, and the fitness professionals to identify areas where your facility and business could improve. Identify the low hanging fruit so you can start implementing some of those areas for improvements.
One area of improvement for staff and employees may be to focus on upselling. Upselling could mean selling more expensive membership tiers, retail items, upgrades, or additional services. With proper training, all staff could learn techniques to improve their upselling abilities.
One area of improvement might be providing small toiletries or items in the locker rooms or changing rooms for members to use. Deodorant, hairspray, ponytail holders, locks, or headphones are pretty easy to keep on hand but could be important for your members.
#3 – Use Fitness Business Software
Fitness business software is an all-in-one solution to managing every aspect of your business. It does require an investment but is worth its weight in gold over the long-term. There are so many options built into these software platforms that can create additional sources of revenue.
This software enables you to manage schedules and classes, process payments, send documents to members, and send marketing information to members. Personal trainers can use this software to design and deliver workouts, set up workout challenges, and send files and documents to clients. This software also makes it easy for members to book and manage classes and appointments, view workouts, set up automatic payments, and set up notifications and reminders.
For example, Exercise.com makes it easy to increase revenue with a number of e-commerce options, like selling workouts and memberships online.
"Champion Physical Therapy and Performance created over $4,500 monthly recurring revenue within the first month with Exercise.com." – Mike Reinold, PT, DPT, SCS, CSCS
#4 – Have Special Events
Special events are a great way to boost your revenue. There are numerous opportunities to offer fun ways for your members to get involved, like celebrity guests, workout challenges, themed workouts, and partnerships for community events. Some ideas for special events are:
Celebrity guests or guest instructors
Training programs for upcoming local races like 5Ks, 10Ks, or marathons
Tasting events
Retreats
Member appreciation week
January resolution party
#5 – Provide Loyalty Incentives or Rewards
A loyal customer is one of the best assets for your business. Customer retention may not add much extra revenue, but it keeps you from losing revenue, and loyal customers will usually participate and spend more money on events, retail items, or workout challenges.
A loyalty program will keep members feeling more like a family and feeling a sense of belonging. Loyal members are more likely to purchase additional items, classes, or services.
#6 – Use Payment Processing Software
Payment processing software helps cut down on returned or delinquent payments. Each time a payment is declined, returned, or delinquent, that affects your bottom line.
Many fitness business software platforms include payment processing as one of their options. This all-in-one solution, like Exercise.com, gives you all the administrative and workout options along with secure payment processing included or as an integration. Members can also set up automatic payments or send payments directly from the app or online dashboard, which makes it easier for everyone.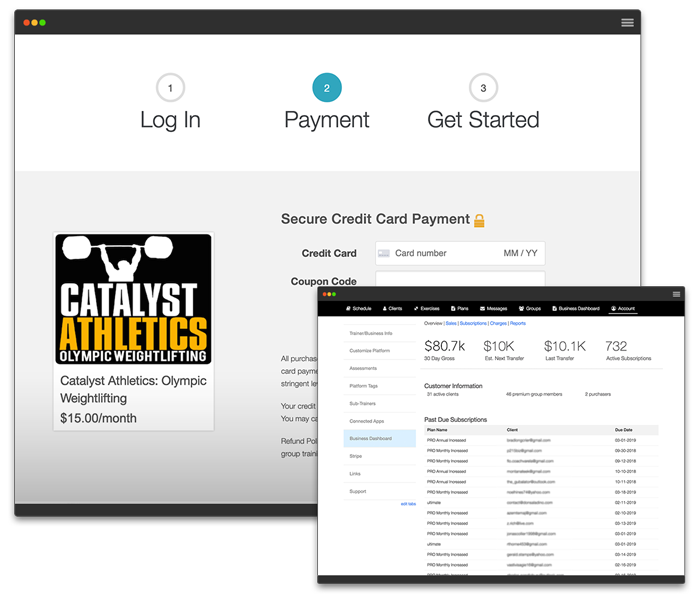 #7 – Amp up Your Personal Training and Group Fitness Classes
This will vary by facility depending on if and how much you charge for personal training sessions and group fitness classes. You will need to have marketing efforts targeted at these personal training sessions and group fitness classes.
If you offer free group fitness classes, maybe you could offer premium classes or special themed classes for an additional fee. For example, you could offer a special New Year's Eve themed class with the top songs of the year played for the music. Or you could offer a premium group fitness class with a smaller number of members to give more personalized attention.
If you offer paid personal training sessions, consider revamping your package pricing, structure, or details to entice more members to try personal training. Make sure you are marketing personal training in your facility and on social media as well.
Let's say you run a promotion on a package of 10 personal training sessions for $250 for existing customers who are not currently using a personal trainer. If you sell 10 additional personal training packages to current members, that's $2,500 in extra revenue.
#8 – Sell Retail Items
Retail item sales are a good way to create a new revenue stream and increase brand awareness. Holidays and special times of the year, like Black Friday, are a great time to discount retail items or offer special promotions for retail items.
You can also create an online retail store, so customers can choose items from any device and have them shipped directly to their home. Online sales are convenient for members to make purchases anytime and from anywhere.
See for yourself - Meet with the Exercise.com Team today
Grow and manage your fitness business better with Exercise.com
#9 – Sell Health Supplements
Health supplements can also create an additional sales opportunity for your gym business. The tricky thing here is that you want to avoid having under-qualified staff give advice about supplements.
If you are only interested in selling effective supplements that are backed by research, you can find information about those supplements from organizations like the International Society of Sports Nutrition. Examples of sports nutrition supplements or ergogenic aids that are effective would be creatine monohydrate, beta-alanine, whey protein powders, BCAAs (branched-chain amino acids), caffeine, or sports drinks.
There are also other nutrition and health supplements that members might purchase from your facility include fish oil, multivitamins, or single vitamin or mineral supplements. Competitive pricing is important because many pharmacies, retail outlets, grocery stores, and online stores sell these products at reasonable prices.
#10 – Offer Personalized Assessments
Ideally, personal trainers should be offering health and fitness assessments to their clients before beginning an exercise program. This gives the trainer and clients good baseline measurements for comparison down the road. It also helps the trainer plan an effective exercise routine to help the client meet their fitness goals.
However, not all clients will be working one-on-one with a personal trainer. Your facility could offer the same assessments to members who are working out on their own without a personal trainer.
You would need to decide an appropriate fee and the assessments that should be conducted. Those results should be shared with the member either electronically or with a hard copy. 
Fitness business software, like Exercise.com, can give you a platform to share fitness and health assessment information with clients via email or through the online dashboard. Clients and members can use this information to stay motivated and view progress toward their fitness goals.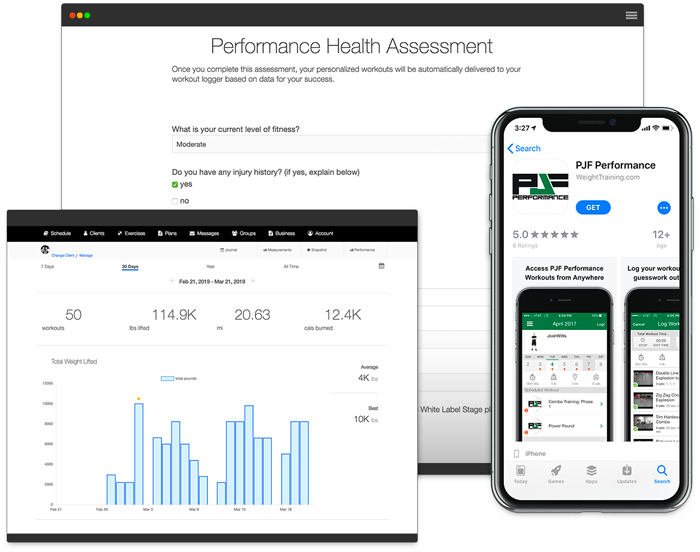 #11 – Offer Nutrition Consultations
Nutrition and fitness go hand-in-hand. While some of your members may be working with a personal trainer or have an exercise routine that works for them, many members would benefit from nutrition education or information. Personal trainers are not usually qualified to give personalized nutrition counseling or recommendations other than just general nutrition information.
Find a local registered dietician and hire them to do some nutrition education or counseling contract work in your facility. Ask them what their fees would be, add your fee on top of that, and that's what you can charge members.
#12 – Rent out Facility Space, Equipment, Studio Space, or Meeting Rooms
If you have spaces in your facility that are not being utilized at certain times of the day or certain days of the week, why not rent them out the individuals or businesses in the community?
Maybe a local preschool is looking for a meeting room to do a child care provider training course for its staff. You could charge them a small fee to use one of your empty group fitness rooms or meeting rooms.
If you have private rooms, you might be able to work with a local massage therapist to offer massage therapy once or a few times a week. This is a good opportunity to create partnerships with local professionals, which could end up a win-win for everyone involved.
#13 – Have Educational Workshops
Educational workshops like nutrition classes, CPR/AED training, personal trainer continuing education, or community health education classes are great opportunities to create an additional revenue stream. Fitness and exercise is only one area of health and many members are interested in improving their health through eating better, engaging in mental health awareness, or participating in social health activities.
These workshops can be offered by professionals at your facility or you could bring in professionals, experts, or community members to offer workshops. These workshops could be offered to your existing members at a discounted price and could be open to non-members as well.
#14 – Create an Excellent Customer Service Experience
An excellent customer service experience will keep members loyal. Loyal members will keep their investment with your business and are more likely to make additional purchases and bring new members.
Encourage staff to learn the names of members and greet them when they come into the facility. Make sure that personal trainers and group fitness instructors are providing excellent customer service to their clients and members.
If you find that your staff needs training or education in customer service, use this as an opportunity for professional or staff development. This is one area where microlearning could be used to engage staff and employees.
#15 – Engage with Clients Through Social Media
Social media is one of the most inexpensive options for interacting with members and clients. You can use these outlets for contests or advertise upcoming events or promotions. Personal trainers could do a live video to give a sneak peek of one of their premium classes or workout plans.
The options are endless on how you can engage with clients via social media like Instagram and Facebook. Encourage your technology-savvy or Millennial staff to contribute creative ideas on how to market your business using social media.
#16 – Focus on Digital Marketing Strategies
Having a solid gym marketing strategy is important for any gym. Digital marketing is also a great tool to showcase your business, programs, and services.
Text messaging and email marketing are inexpensive and convenient methods to get communication out to members. There are even ways to set up automatic notification or messages that can be sent out about promotions, special events, or reminders.
#17 – Ask Members for Suggestions on Additional Services
You could conduct a simple text message or email survey to ask members what additional services or programs they would be interested in. Some of their suggestions could be quickly or easily implemented, like toiletries in the locker rooms, adding retail items for sale, or a new class that competitors might be offering at their gym.
#18 – Evaluate Your Prices and Fees
Are you charging what your gym is worth? Raising prices too often is not a good idea, but if the market will support a price increase then it's a good idea.
You can use your fitness business management software to run reports on various age groups, various membership levels, or other parameters that might be helpful in evaluating your prices and fees.
If you do raise prices, consider grandfathering customers in. Communicate any pricing changes and give plenty of notice.
#19 – Coordinate Workout Challenges
Workout challenges are a great way to keep members motivated and increase your revenue without adding new potential customers.
For example, for the new year, you could coordinate an eight-week workout challenge. You could offer prizes to the top finishers or randomly award prizes among all finishers. Members track their workouts, calories burned, distance, classes attended, or any parameters.
A weekly email newsletter could be sent out to all participants with encouragement, updates, healthy recipes, an exercise of the week, and more. You could charge $20 to participants with a chance for them to win prizes at the end.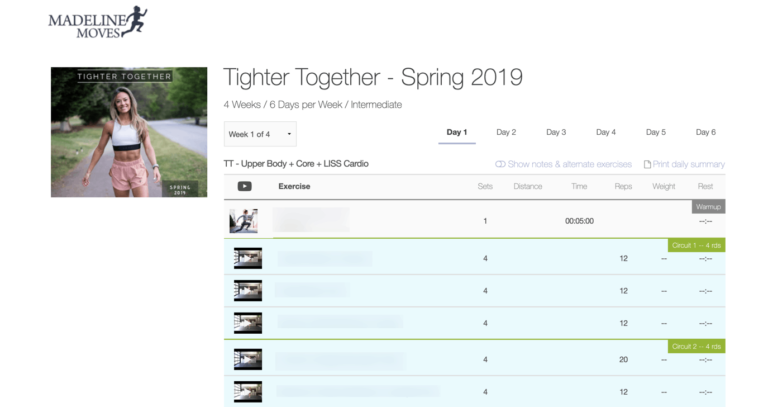 #20 – Hire the Best Staff Possible and Treat Them Well
If you can create a great group of staff and employees that contribute to your mission and vision, this keeps more revenue within the business. It's expensive and time-consuming to hire new staff when you have a lot of turnover. Turnover will happen but do your best to manage that by treating staff well so they want to stay.
Frequently Asked Questions (FAQs)
Is it possible to boost revenue in the fitness industry without adding new customers?
Yes, but it takes creative thinking to create new revenue streams with your current customer base. Selling retail items, amping up personal training or group fitness classes, or evaluating your pricing structure are a few ways that you can increase revenue without adding new customers.
I own a small fitness studio. What options would work to increase revenue for my fitness studio?
Many of the above would work for small fitness studios. You could run workout challenges, engage with clients through social media, provide loyalty incentives, or offer personalized fitness assessments. Survey your existing members to find areas of improvement or additional services that could be implemented.
My gym members are already paying for a monthly membership and are not eager to spend additional money. What would work for my gym?
This is where you might look at services that community members outside of your current members base would use, like educational workshops, renting out extra spaces, or by having special events.
For an even better chance at increasing your revenue, request a demo of our All-In-One Fitness Business Management Software today!