Get the Basics...
Microlearning is education or training delivered in short bursts, anywhere from 15 seconds up to 15 minutes.
There are numerous advantages to microlearning, but it will probably not replace all forms of formal and informal education.
Microlearning can easily be implemented with your staff to help address knowledge or skills gaps in employees.
There are a number of existing resources that can be used to incorporate microlearning in your fitness business.
Microlearning is a fairly new term in the field of education and training. It is a method of delivering content and learning in small short bursts using videos, text, or graphics. There a number of benefits of using microlearning in the workplace because it helps meet the needs of the current younger generation of workers.
Microlearning is not necessarily a brand new concept, as organizations may have been using microlearning in some form. But more research is being done on microlearning and evidence now supports microlearning as an innovative tool to help engage and excite learners. While microlearning will not replace all formal and informal types of learning, it can be used in many businesses and organizations to help educate and develop employees and staff.
Ready to see how Exercise.com can help you manage and grow your fitness business? Schedule a free demo today. 
What Is Microlearning?
The prefix micro- usually means smaller or less, so if you combine that with learning, microlearning (or micro-learning) can simply mean "smaller learning." More specifically, it can be learning in short or small segments, anywhere from 15 seconds up to 15 minutes.
Research on microlearning started around 2004, so it is a relatively new innovative term in the field of education, training, and professional development. Some organizations have been using microlearning strategies for years, but may not have been using the terminology. Many experts are recognizing the value that microlearning can add to training and learning opportunities.
Watch the video below for an explanation of microlearning delivered in a microlearning format (less than three minutes).
There are multiple ways to deliver microlearning. One is by breaking a longer training into short focused modules offering "bite-sized learning" that may contribute to multiple learning objectives. The other is by focusing the training on one topic or one learning objective that is covered in a short, directed learning format.
Microlearning can be used to address knowledge and skill gaps in employees and staff. It can be used for both formal and informal learning. It can also be combined in a blended format with short bursts of learning that complement longer or face-to-face learning sessions.
There is some evidence that attention spans range from 90 seconds to two minutes or even shorter for some individuals. Microlearning addresses that lack of focused attention by delivering information and content in short bursts, like 90 seconds to two minutes.
The composition of Millenials (those born between 1981 and 1997) in the workplace is substantially increasing and that change demands new strategies and techniques that work best for this generation. It is estimated that in five years, Millenials will make up the largest percentage of the workforce.
Millennials are avid viewers of YouTube and users of social media, like Instagram and Snapchat. YouTube videos vary in length, but many are shorter than a few minutes. Snapchat uses short "chats," Instagram stories are short, and Instagram posts are short. The idea of microlearning can appeal to this generation because that is what they prefer and are used to.
Infographics, YouTube videos, short training modules, and mobile apps can be used for microlearning opportunities. Take a look at the following infographic from the American Heart Association on physical activity: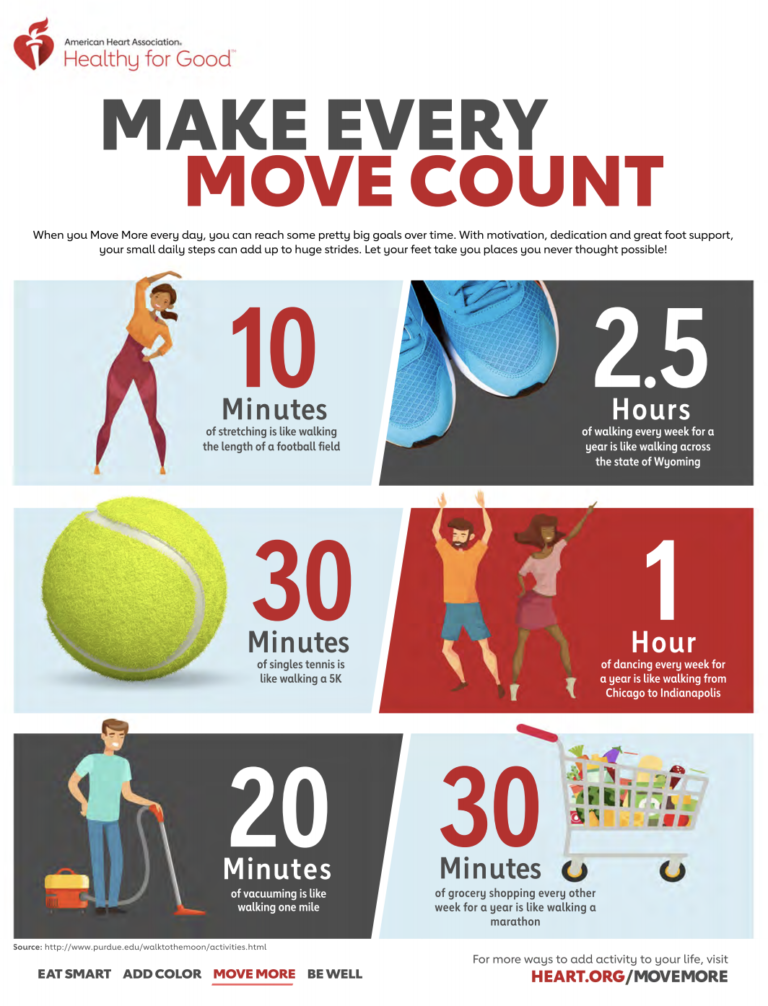 How long did that take you to review? Most likely less than two minutes. Did you learn something new? This showcases the power of microlearning and how it can be useful in your workplace.
Advantages of Microlearning
There are numerous advantages to microlearning. Humans tend to have a short attention span, so microlearning really capitalizes on this by offering short doses of education and learning in bite-sized chunks.
Remember the last time you sat through a long presentation or educational event? It can be tough to stay focused for long periods of time. Microlearning is delivered in short intervals so it eliminates boredom, daydreaming, or wasting time.
Microlearning can also help manage staff training by cutting back on time needed for half-day or all-day staff development, in-services, or training. There are probably times of the day when you could pull staff away for 5-10 minutes to participate in a microlearning event or they can participate at home, on their commute, or anywhere they wish.
Here are other advantages of microlearning:
It can be done anywhere. Microlearning can also be conducted via online training or mobile devices, such as apps or mobile learning.
It requires less time and resources. You can use pre-existing resources to deliver microlearning. Why reinvent the wheel when infographics and YouTube videos are already developed for you?
Microlearning is great for just-in-time learning. Allow employees and staff to learn what they want to learn when they want to learn it.
Microlearning allows for self-directed learning. This puts the responsibility and initiative on employees to control their learning, which increases independence and motivation.
Microlearning allows for flexibility on when and where employees and staff can participate. They can complete training or learning from their pajamas in the comfort of their own homes after their children have gone to bed if they want to.
It can be fun and casual. Everyone loves games. Game-based learning can be a fun opportunity to encourage learning for all staff and employees.
Microlearning can address different knowledge levels also meet learners where they are. You can have a pre-test and then assign learning modules based on results.
Less is definitely more when it comes to microlearning.
See for yourself - Meet with the Exercise.com Team today
Grow and manage your fitness business better with Exercise.com
Disadvantages of Microlearning
While microlearning has a lot of advantages, it will probably not replace all types of education and training. Microlearning is not appropriate to develop professionals in a formal educational setting, like schools or universities, although it can be integrated into a holistic approach to education.
While microlearning can be integrated into more complex learning opportunities, it would not be appropriate when a large amount of information is needed to learn and understand certain topics. For example, microlearning could be integrated into lessons to help learn all the muscles and bones of the body, but would not take the place of coursework to learn these more difficult anatomy concepts.
Certified personal trainers must obtain continuing education units (CEUs) or continuing education credits (CECs) every few years to maintain their certification. It can be anywhere from 20 to 60 hours every two to three years. Microlearning cannot and should not replace this continuing education, although it could be incorporated as part of the overall experience.
Microlearning will also not replace traditional professional conferences and expo events. The face-to-face interaction at these events and networking is crucial. Microlearning could be used to complement these events.
Similarly, certified personal trainers and group exercise instructors need to maintain a current CPR/AED certification. Microlearning would not be appropriate for CPR/AED skills-based training.
One question that some experts have is: Does microlearning impact long-term memory and cognition? Typically long-term cognition requires repetition, practice, and engagement with content. Microlearning that offers spaced repetition or opportunities to engage with the information is helpful at increasing long-term memory.
For example, first, you have employees and staff review a short video on customer service. Following the video, staff and employees are instructed to write down two things they learned from the video that they plan to implement with customers, clients, or members. A few weeks later, you follow up with additional content and ask employees to reflect on the strategies they wrote and how they have worked.
Some authorities also question the assessment of learning following microlearning opportunities. To combat this, you can ask for a response, either a post-test, written response, or even a video response as part of the learning activity.
Most businesses are not able to employ instructional designers to design optimal microlearning experiences, so using existing resources is crucial. This may limit the information you are able to provide for microlearning. Using a platform that develops and delivers training opportunities does come at an additional cost.
Why Should I Incorporate Microlearning?
The success of your business begins with effective management strategies, which include training and development of employees. As indicated above, there are numerous advantages to microlearning. A microlearning initiative within your business or organization can begin with a very small investment and this investment is important to train, retain, and motivate employees.
Micolearning can be a great opportunity to engage employees and staff in learning opportunities that are flexible, informal, and bite-sized. Staff and employee training and professional development can require a number of resources, including time and money, so microlearning can help make you a better steward of those resources.
Employee and staff training and professional development can include a combination of microlearning and traditional in-services/training events. For best results, try to find a way to complement these two strategies for the best professional development experiences for all staff.
For example, let's say you are planning a half-day training event for your staff. Are there ways you could utilize microlearning prior to and after the event to address training topics that are better delivered in short segments? You could have videos, short modules, or infographics that are to be completed before the face-to-face training.
There are platforms available that develop and deliver educational content for businesses. These e-learning opportunities offer employees and staff access to training and education that you make available for on-demand use or assigned training.
These platforms come at a cost but are useful for ongoing professional development. Many of these platforms offer a free demo or trial so you can try the software or platform to make sure it meets the needs of your business or organization.
Best Practices for Microlearning
Ask staff and employees to provide insight on topics they would like to learn about; you would be surprised at the list you could develop from that. This way it also feels more customized to their needs.
Make the microlearning content easily accessible and available, like from mobile devices. It should be available anytime and from anywhere.
Look at current areas where staff and employees might be lacking. You can provide microlearning to address these gaps relatively quickly and easily.
Think about video and visuals. Watch YouTube and view some current infographics to tap into existing resources to get your microlearning practices off to a great start.
Less is more. Avoid using fluff and focus on the learning objective at hand.
Make it fun! Include games, quizzes, self-assessments, discussion boards, etc. to keep learners engaged and excited.
Quality is important. If you design your own videos or visuals make sure they are comparable in quality to other resources available.
Compensate employees for their time investment, especially if they are completing microlearning at home or on their own.
Examples of Microlearning for Fitness Businesses
There are a variety of ways that fitness businesses, health clubs, gyms, and personal training studios can use microlearning with their employees and staff. Consider developing a resource library where the content that you use or develop is available to learners anytime they wish to access it.
Customer Service
Strategies and tips to improve customer service are helpful in any business setting. Videos, games, or short quizzes can be used to educate and assess a variety of customer service topics.
The four-minute video below is a great example of an explanation of why good customer service matters. This YouTube video can be watched from any device, is less than five minutes, and has great information that can resonate with staff.
How to Use Fitness Business Software
Let's say your business has recently started using a new all-in-one fitness business management software. Instead of scheduling a full day for training, you can use microlearning to help staff and employees learn how to use the software.
If the software company provides training videos, you can allow staff to choose the order of the videos they watch outside of work while they track the time spent watching the videos. Or if no videos are provided, you can develop short training videos of yourself interacting with the software with verbal instructions.
Managers can track these microlearning opportunities by providing a few assessment questions at the end of the learning opportunity or a brief post-test.
Membership Sales
Membership sales are always ramped up at the start of a new year. Prior to this craze, how about using YouTube videos or short modules to help train staff on effective membership sales?
For example, let's say you have one staff member who always kills it with membership sales and is your leading membership sales professional. Have them record a short video or develop a short quiz (less than five minutes) with their best tips or strategies for selling or upselling memberships. Make this video available for all membership sales staff to use for a microlearning opportunity.
E-Commerce
Upselling membership, packages, or other services is a vital skill for all front desk staff and personal trainers. Some staff may not be well-trained or knowledgeable about sales and marketing, so include training for all staff on e-commerce options and how to best implement practices that will increase your revenue.
Health and Fitness Information
Some of your staff and employees may be lacking in their knowledge of basic health and fitness. They should not be providing fitness expertise to members and should be referring members to the qualified experts, but having some basic knowledge of health and fitness is helpful.
You would be surprised at how many FREE toolkits and resources are available from educational and governmental organizations, like the United States Department of Agriculture, United States Health and Human Services, and the Academy of Nutrition and Dietetics.
Here's where you can use Infographics or YouTube videos for short educational opportunities, like MyPlate's 10 Tips: Build a Healthy Meal resource or the YouTube video below on the physical activity guidelines from the JAMA (Journal of the American Medical Association) Network.
Social Media Engagement and Marketing
Social media engagement is one of the most effective and inexpensive tools to help increase your revenue and ensure the success of your business. There are a variety of quick and easy ways to help train staff in using social media effectively for your business.
Daily emails
How many times do you open an email, see how long it is, and then close it to read later? What about emails that only have a few sentences, a few pictures, or promise a one-minute video?
A daily email with helpful tips, videos, pictures, or innovative concepts can be sent to staff and employees. Make sure the email can be read in less than a few minutes and has some interesting or useful information. You could also provide a giveaway, prize, or another incentive to those who read the email by hiding a fact or statement in there for staff to find.
TED Talks
TED Talks are usually a little longer than most microlearning opportunities, but do a great job at keeping learners engaged. There are popular TED talks on leadership, motivation, productivity, creating a happy work environment, and stress that would all be beneficial to employees and staff. You could have employees and staff view a TED talk prior to a staff meeting or in-service event, then allow for discussion during the face-to-face meeting or event.
The Bottom Line
Microlearning can provide an opportunity to engage staff and employees in learning opportunities. While there are numerous advantages to microlearning, it will probably not take the place of all staff learning, training, and development. There are many existing resources available to being a microlearning initiative within your business and creativity is key.
Frequently Asked Questions (FAQs)
What is the easiest and quickest way for me to incorporate microlearning with staff?
Use existing resources like YouTube videos, Infographics, or other media as a trial to see how microlearning works for encouraging an engaging learning environment in your organization or business. You can also survey employees using a quick online survey to see what topics they would be most interested in or would benefit the most.
Why should I incorporate microlearning in my fitness business?
Investing in your employees is one of the best ways you can manage your business and ensure that your gym, health club, or fitness facility is successful. Microlearning is just one learning tool you can use to encourage self-directed, just-in-time, and fun learning opportunities for your staff and employees.
What is the biggest advantage of microlearning?
The biggest advantage is that microlearning is flexible enough that many different types of businesses can easily integrate some type of bite-size learning activity into their employee training and development.
Microlearning can be beneficial for managers as well as for staff and employees, so it's a win-win for everyone. Ready to see how Exercise.com can help you grow and manage your fitness business? Schedule a free demo today.