Today is a special day! The one and only "Bandana Trainer" stopped by to do an exclusive interview with Exercise.com. We have been lucky enough to have some of the best in the business take the time to give our readers some inside fitness information.
Rob Sulaver is owner and operator of Bandana Training in NYC and has been seen on Men's Fitness, Muscle & Fitness, and many other influential, fitness websites.
A former NCAA D-1 wrestler for the University of Michigan, Rob has seen it all when it comes to fitness. So check out our interview with the Bandana Trainer himself below!
What is with the bandana?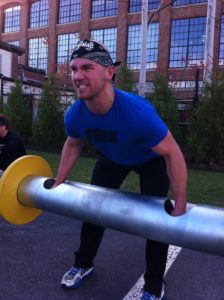 The bandana dates back to when I was a wrestler at the University of Michigan.  During our workouts, a bunch of my teammates and I starting wearing bandanas. At first, it was purely practical — like a sweat band — but it eventually evolved into a bit of a thing.
Our bandanas became part of our swag — a symbol of our dedication and camaraderie.
After I graduated and moved to NYC as a trainer, the bandana was a necessary part of my workout — I was always rockin' it. People would ask the front desk about, "that trainer in the bandana." It only seemed logical to go with it…and Bandana Training was born.
What are the three things you like to accomplish with clients?
With my clients, I like to establish good habits outside the gym; I like to redefine what clients think they're capable of; and, I like to have a good time. When I do that, we always end up in a solid place.
See for yourself - Meet with the Exercise.com Team today
Train Anyone, Anywhere in the World.
What are your thoughts on logging daily workouts?
Logging workouts is almost always a must.  Unfortunately, you don't see enough trainers making it happen. The iPad was a game-changer for me — I log all my workouts there.
What type of supplements do you take?
I take the standard staples most people should be taking — fish oil, a multivitamin, zinc, magnesium, vitamin D, Creatine, pre-workout caffeine, post-workout protein, and a P+C drink.
I also dabble with some others for certain phases. Supplements are so important. You need to study them and understand them (because there is a lot of trash out there).
But because of the quality of our current agricultural system, you can't get everything you need without supplementation.
What are some out-of-the-box training methods you would suggest?
Out-of-the-box? I'm a big fan of Romanian Deadlifts. Do those come in a box?
We would like to thank Rob for taking the time to stop by and do one awesome interview! He is a great guy, and we love what he is doing in the fitness world!
Be sure to check him out at BandanaTraining.com, on Facebook, and Twitter. Don't forget to Join the Official Exercise.com Bandana Training group and connect with other Bandana Training followers!