Now that we've been properly introduced to Ronnie Coleman and Shawn Rhoden, it's time to announce our winners from the Total Weight Battles these two amazing competitors participated in as a part of their recent tours.
There were ridiculous amounts of weight lifted in both battles, and one dedicated lifter in each battle rose to the occasion and came out victorious! It's time for all of your hard work to pay off – let's get to the prizes!
Each of our 2 winners will receive the following: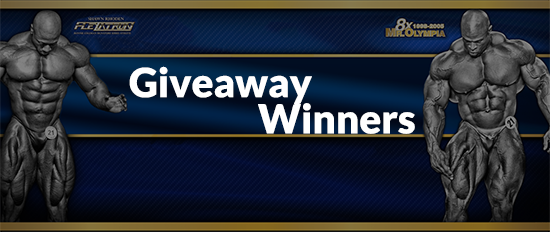 Shawn Rhoden Battle Winner
Our first battle was all about Shawn Rhoden, but user SDDennis stole the show! He lifted 933,100 pounds in total!

Ronnie Coleman Battle Winner
In Ronnie Coleman's featured battle, there was only room for one at the top, and user Tfbill6 took first place, with 805,286 total pounds lifted!

Congratulations to both of our winners, and Thanks to everyone who participated! We were pumped to be able to feature the hard work of Ronnie and Shawn, and we hope that they inspire you to keep fighting to improve every single day!
Keep an eye out on our Facebook and Twitter pages for more updated on future giveaways like this and everything else going on here at Exercise.com!