As part of our massive App Launch celebration, we're going to be offering some awesome giveaways all week for RunKeeper fans! With the power of WeightTraining.com and RunKeeper combined, you've got access to the best of the best in strength and cardio workout logging.
Here's how to enter the giveaway:
Step 1: Download our iOS App
Our App is here, and we couldn't be more excited! Click the button for the iTunes download link:

Step 2: Sync your WeightTraining.com and RunKeeper Accounts
Here's how to sync via the App:
Once you have signed in (create your account HERE if you haven't already), tap the Settings button in the top left corner: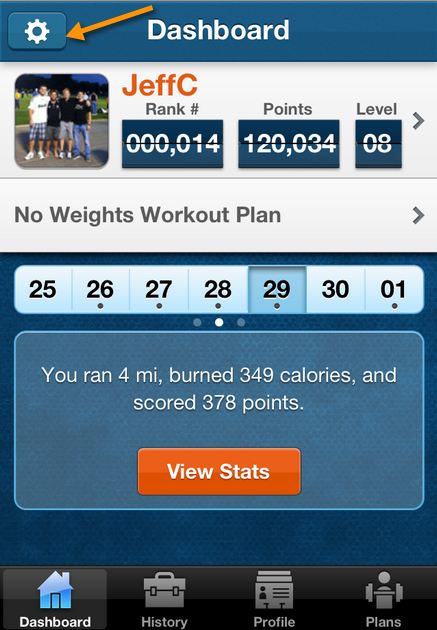 From the Settings screen, you can scroll to the bottom and tap "Connect to RunKeeper":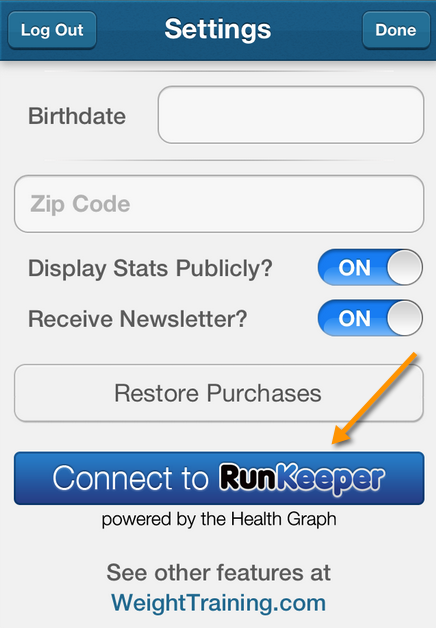 You will be taken to RunKeeper's Login / Signup Page, where you will need to log in or sign up for a new RunKeeper account if you don't already have one. Once you're returned to the Settings screen, you're all set!
Step 3: Log a workout via our App this week! (Jan. 7-11)
Our iPad Mini winner will be selected on January 8th, and our RunKeeper prize pack winners will be randomly selected throughout the week (starting on Monday at 2pm EST and continuing until Friday, 8pm EST).
Here's what the Prize Pack includes:
We will be giving away 25 RunKeeper Prize Packs throughout the week (5 each day). Download the App today, get it synced with your RunKeeper account, and start logging those workouts to give yourself the best shot at winning!
CLICK HERE TO VIEW AND DOWNLOAD THE APP ON ITUNES!
Giveaway Winners
Here are all of the giveaway winners!
Day 1 Winners:
All of Monday's winners are here:
User: JayH16

Take a look at his workout to start the week strong!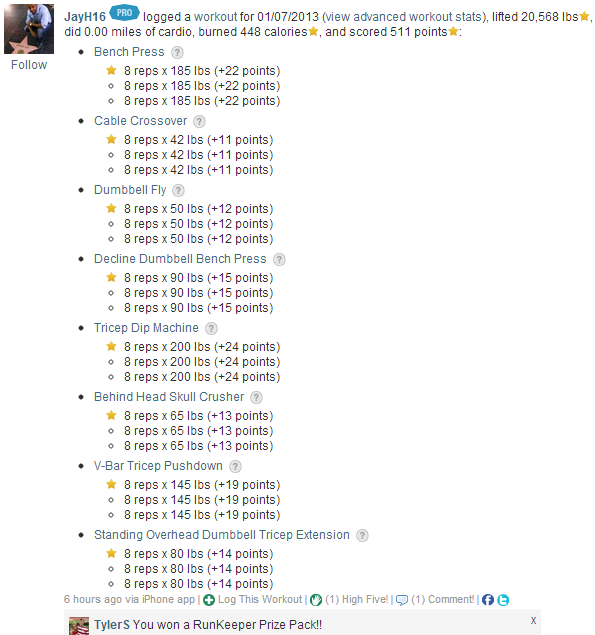 User: robertojira

He didn't take day 1 for granted!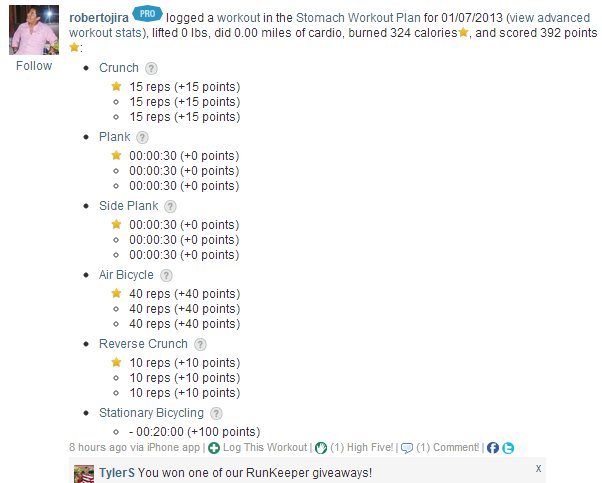 User: Coley

He hit the weights and the treadmill!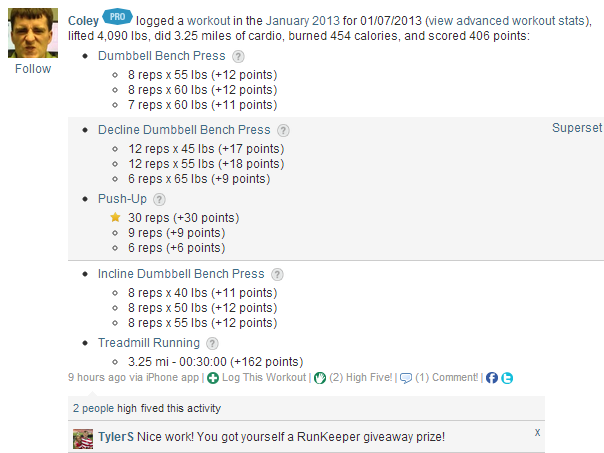 User: seanstoube

He worked on a little bit of everything: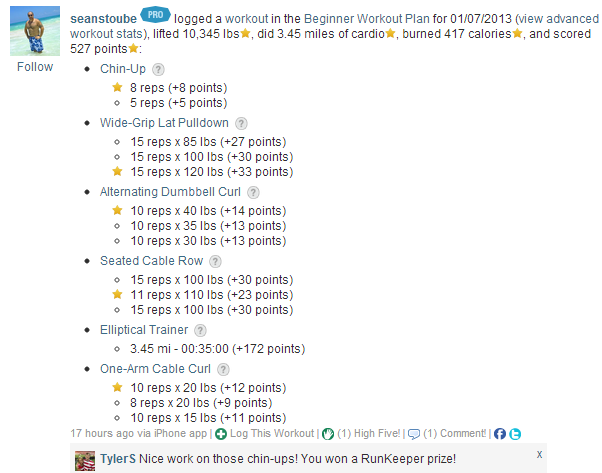 User: patboxer

Machine work was the focus here: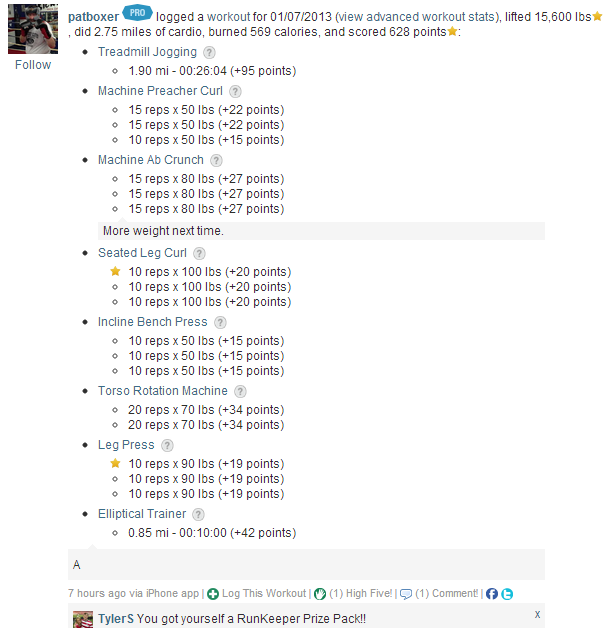 Day 2 Winners:
User: rorge16

Lots of bodyweight work in this one, great stuff: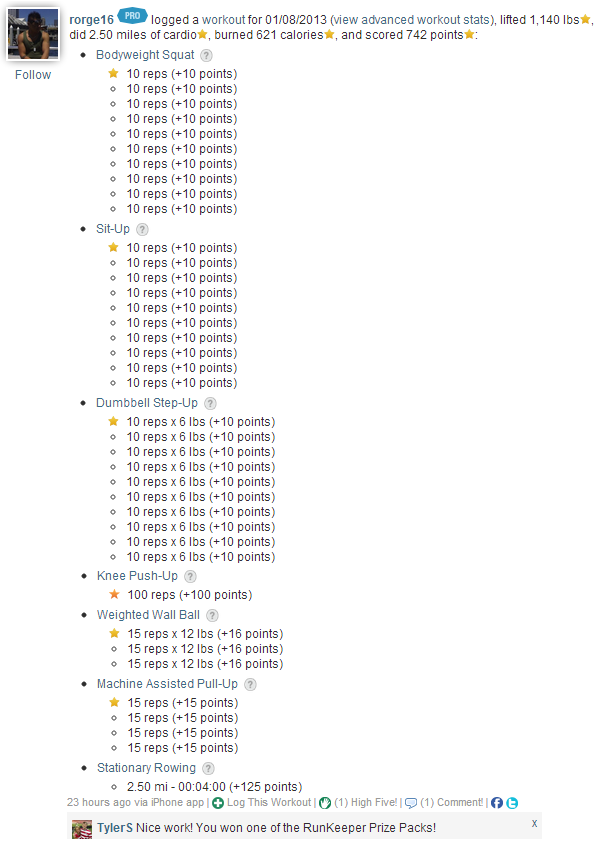 User: jmkirwin

Here's his Tuesday workout!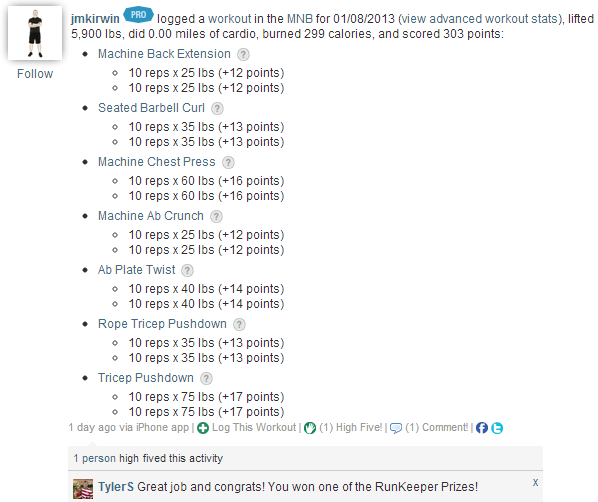 User: Gordito

Nice work on those 2-minute planks!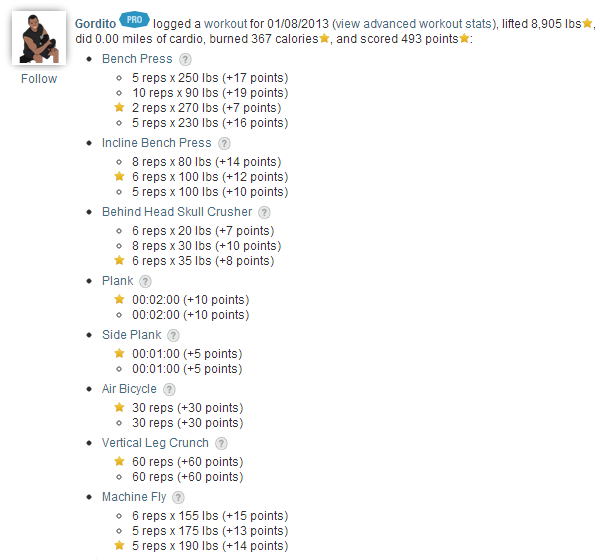 User: kkaczor

Here's a well-rounded workout = awesome!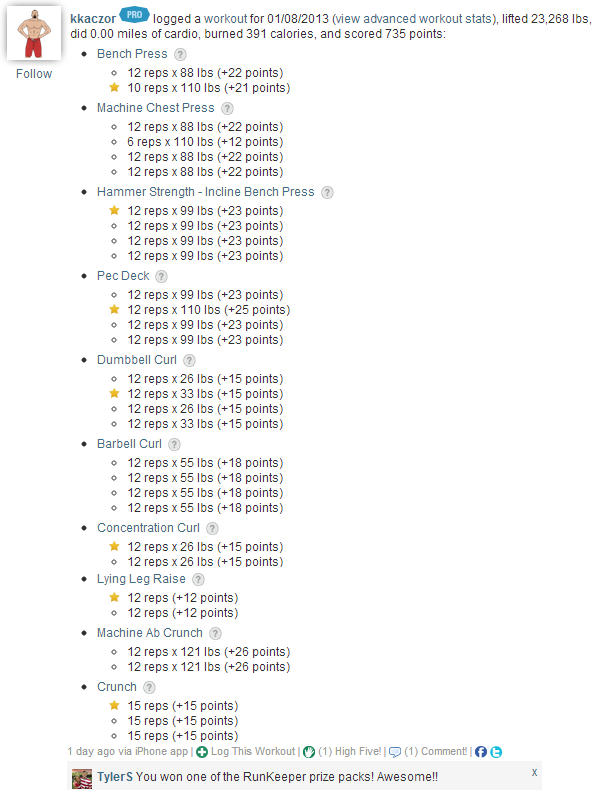 User: johnnyworthin

He put those dumbbells to work, nicely done!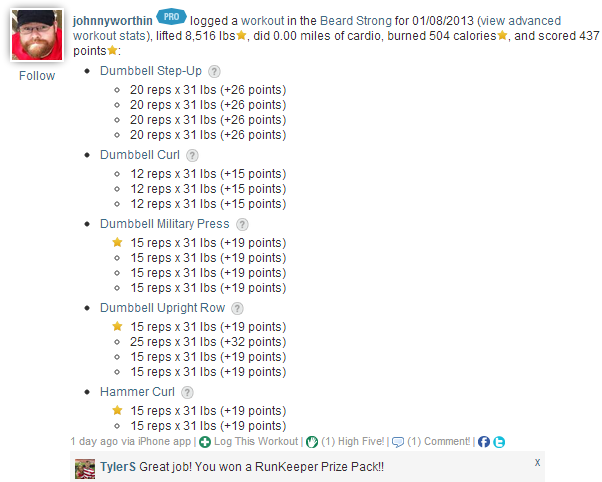 Day 3 Winners: 
User: Sailbiker

Gotta love those Knee Raises!

User: GuruGuy00

Nice job on that bodyweight routine!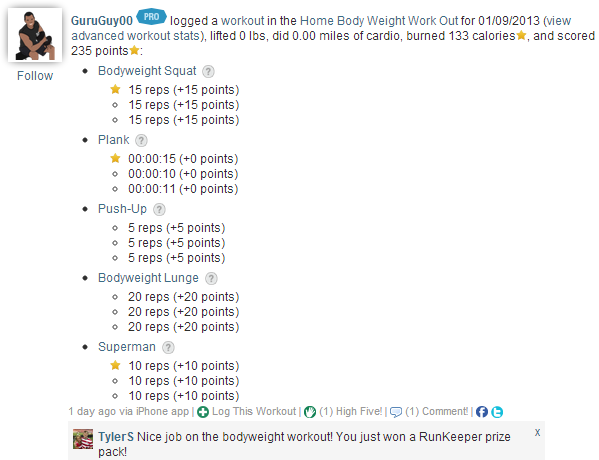 User: Lembasbread
This user's activity is set to private, so we're going to keep it private! 🙂
User: bastiaanvande

Awesome work with the kettlebell!

User: datgordon

Check out their bench press! 205!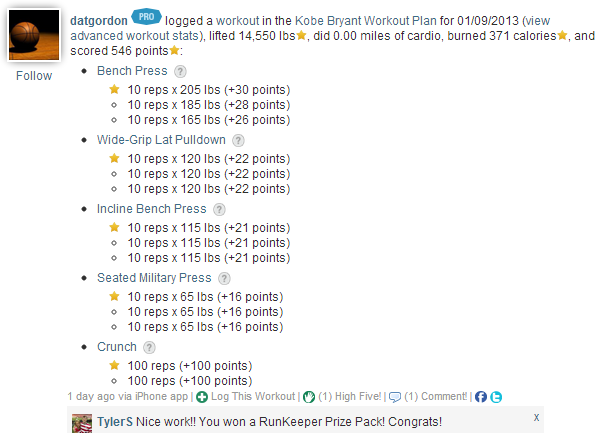 Day 4 Winners:
User: zacharyculver

He did some excellent work with the perfect push-up!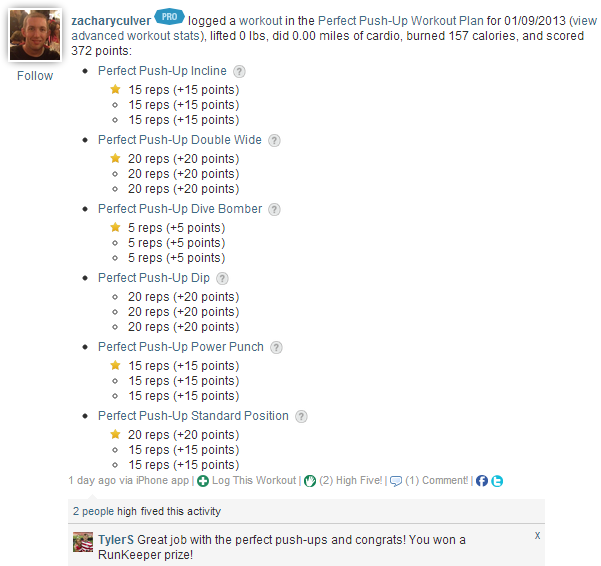 User: RichG
This user's activity is set to private.
User: cjrawlinson

Nice work on those push-ups!

User: stuberto

Way to finish strong with those pull-ups!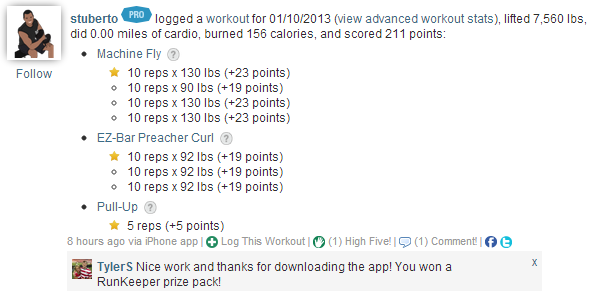 User: dids17

Here's his beast of a workout: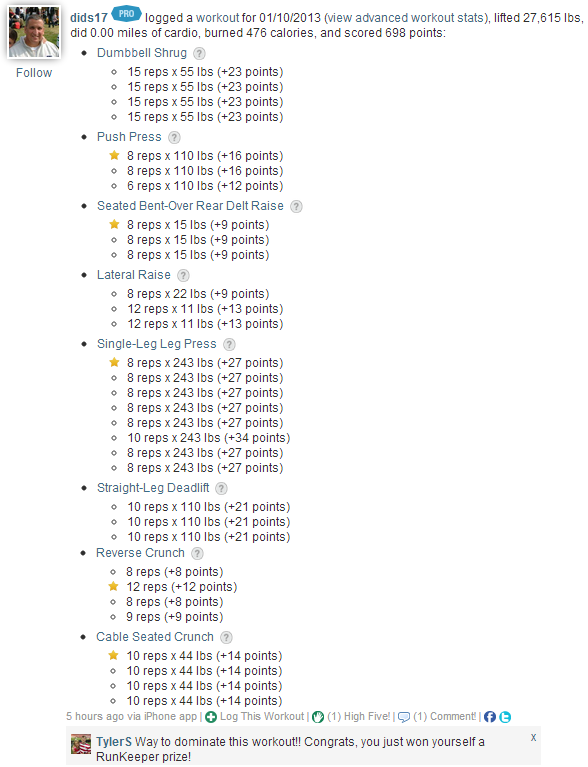 Day 5 Winners:
User: Jaime.Palma

Way to put that workout plan to work! Awesome job!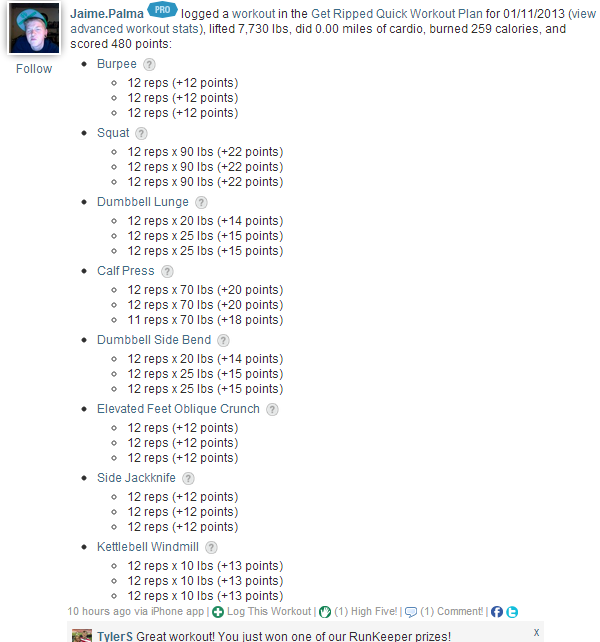 User: rider35
This user's activity is private.
User: bernar44

Awesome weights session followed up by a run!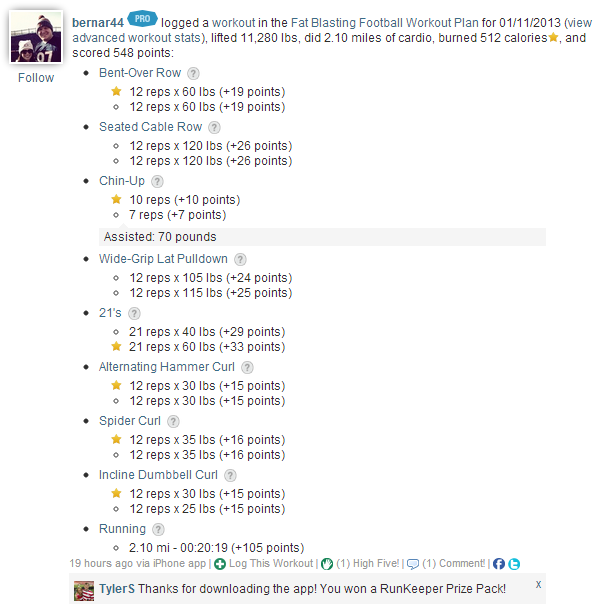 User: jdoggbj

Great job on this workout, and thanks for downloading our app!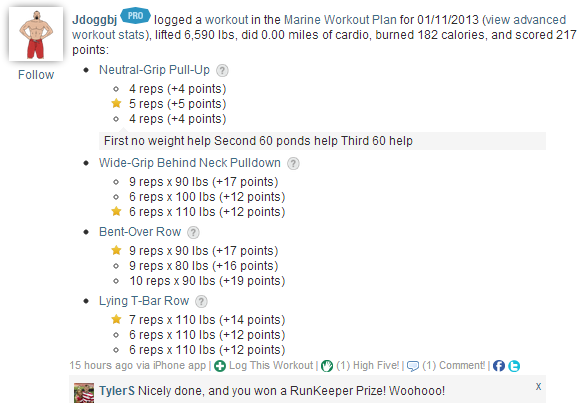 User: sarahsteyn

How's that for a strong bodyweight workout? Way to go!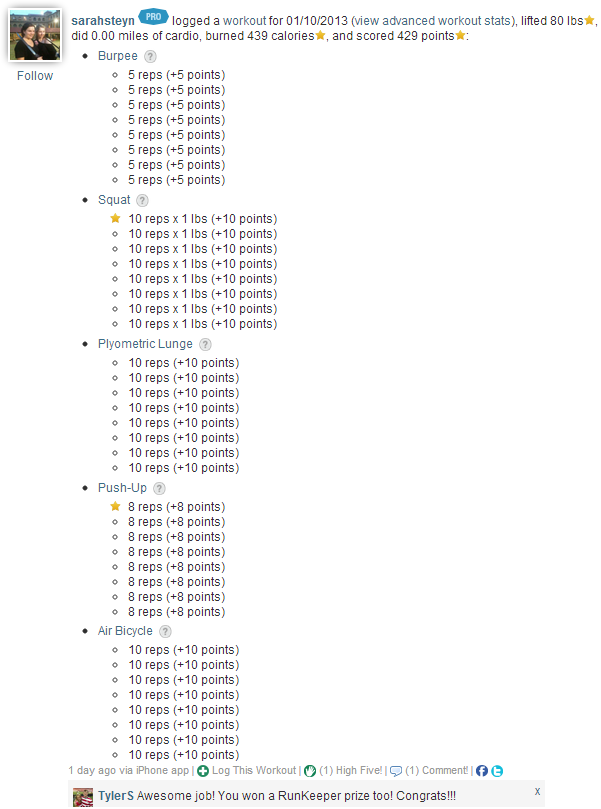 Thanks so much to everyone for participating, and especially to our friends at RunKeeper for helpings us put together an awesome giveaway!
Make sure you Like us on Facebook and follow @WeightTraining on Twitter to get the word on future giveaways!